Red Lobster Cheddar Bay Biscuit Mix from Costco is a culinary creation that brings the iconic taste of Red Lobster's famous Cheddar Bay Biscuits straight to your kitchen. Loved by seafood enthusiasts and biscuit connoisseurs alike. Does this mix capture the essence of the beloved restaurant's warm, cheesy, and buttery biscuits, allowing you to enjoy them in the comfort of your own home?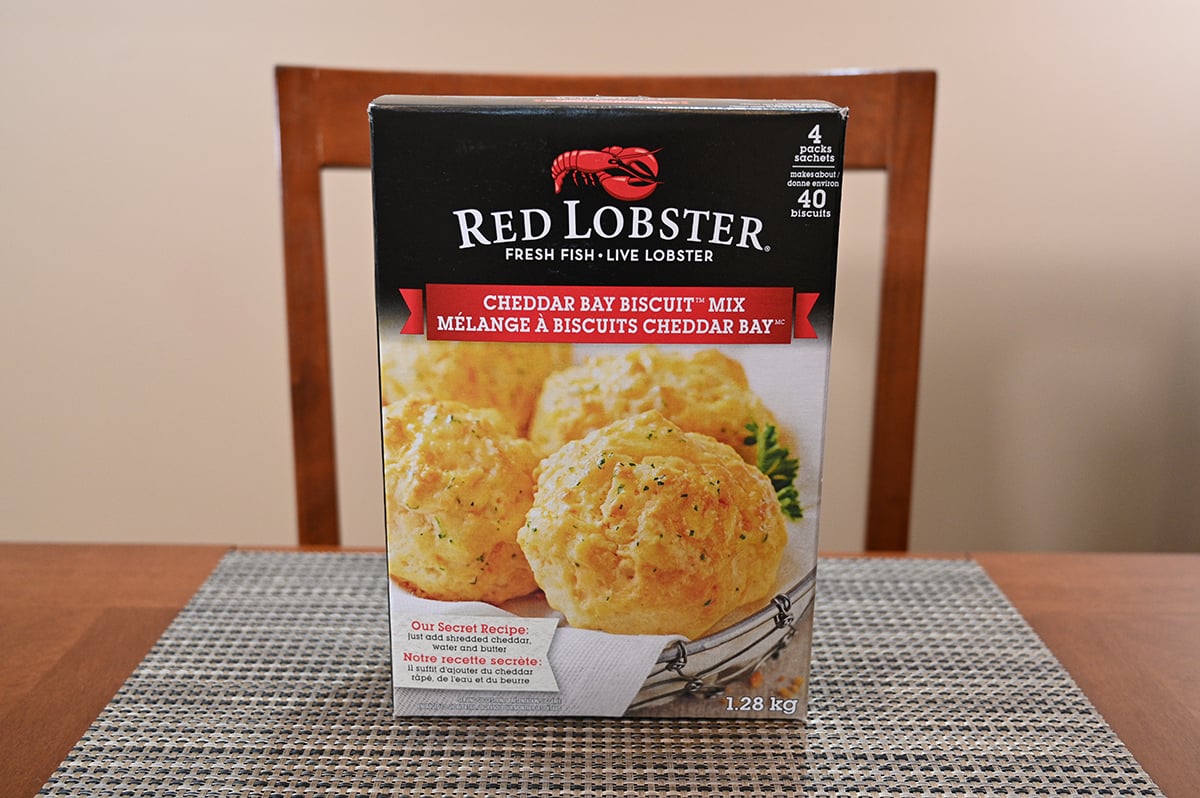 Sean and I are both bread people. We love anything like biscuits, baguettes, buns, garlic toast, breadsticks and even pretzels. I initially reviewed this Red Lobster Cheddar Bay Biscuit Mix from Costco back in 2018 but I bought the product again to make sure it hasn't changed and update some very amateur photos!
Other baking mixes I have reviewed from Costco are the Krusteaz Meyer Lemon Bar Mix, Krusteaz Triple Chocolate Brownie Mix, Back to Nature Gourmet Stuffing Mix, Krusteaz Buttermilk Pancake Mix, Ghirardelli Triple Chocolate Brownie Mix, Krusteaz Pumpkin Spice Quick Bread Mix and the Kodiak Cakes Power Cakes Mix.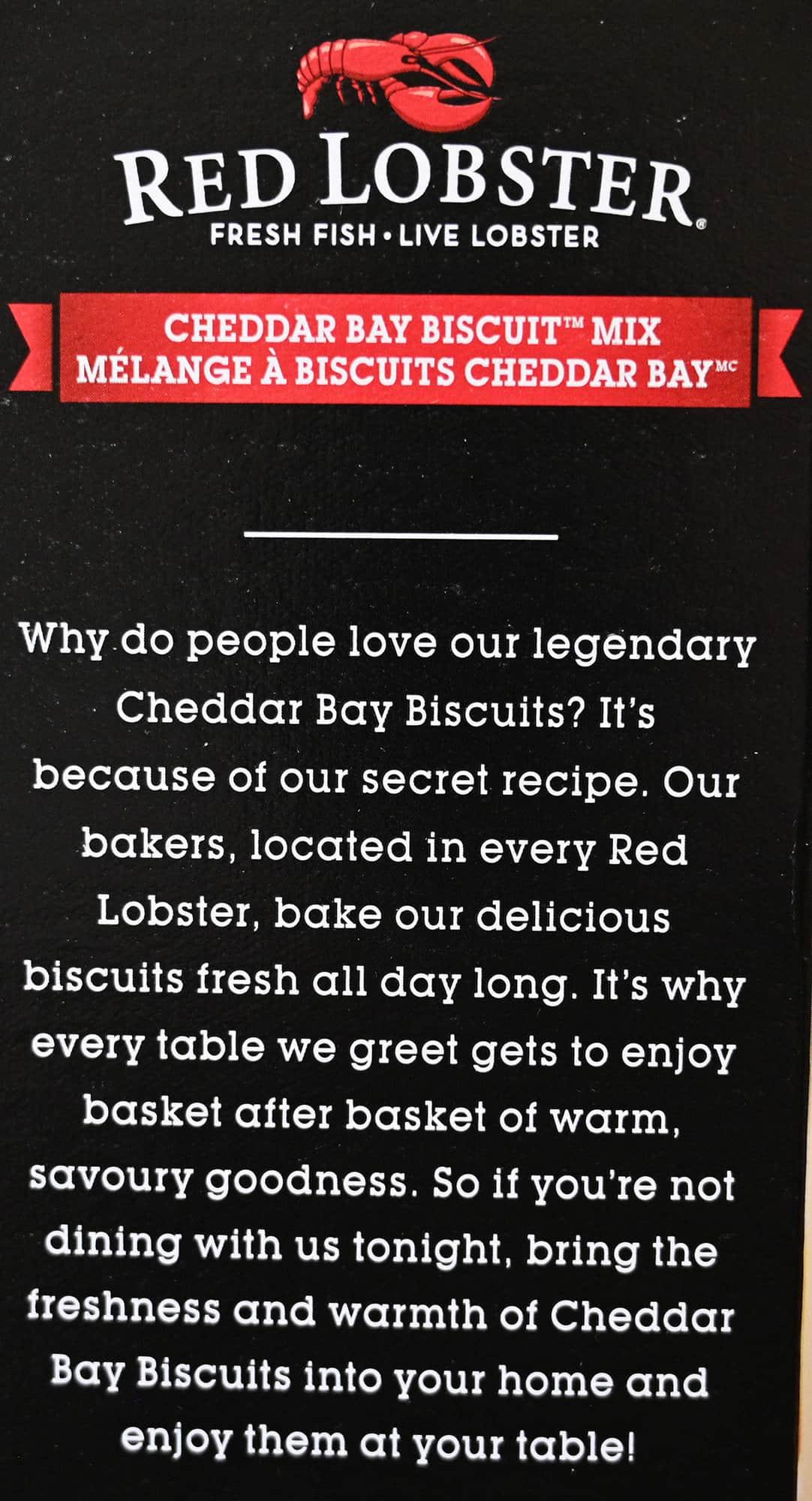 Location in Store
This is located in the aisle at Costco with the flour, sugar, rice and condiments like jam. The item number is 435697.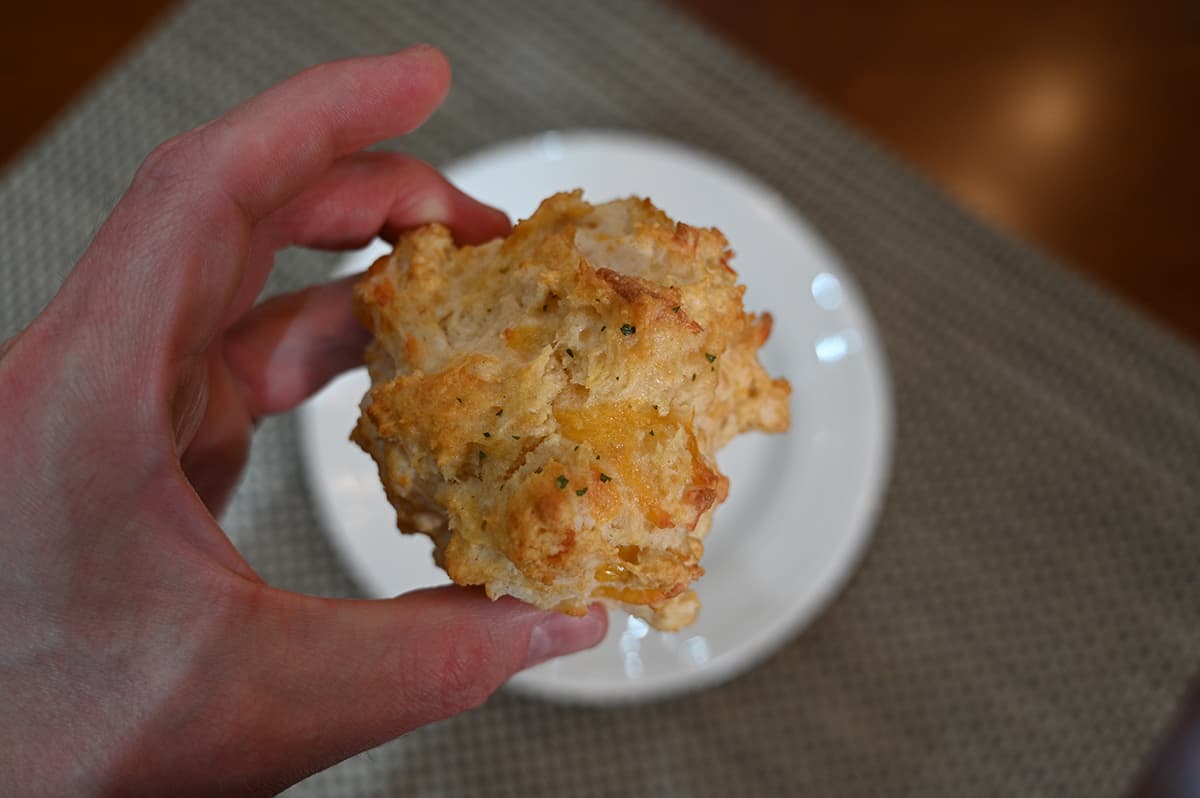 Taste
The recipe seems to make a lot of extra garlic butter! I brushed my biscuits very generously and still had plenty left over. You'll have extra to put on the table if you're so inclined.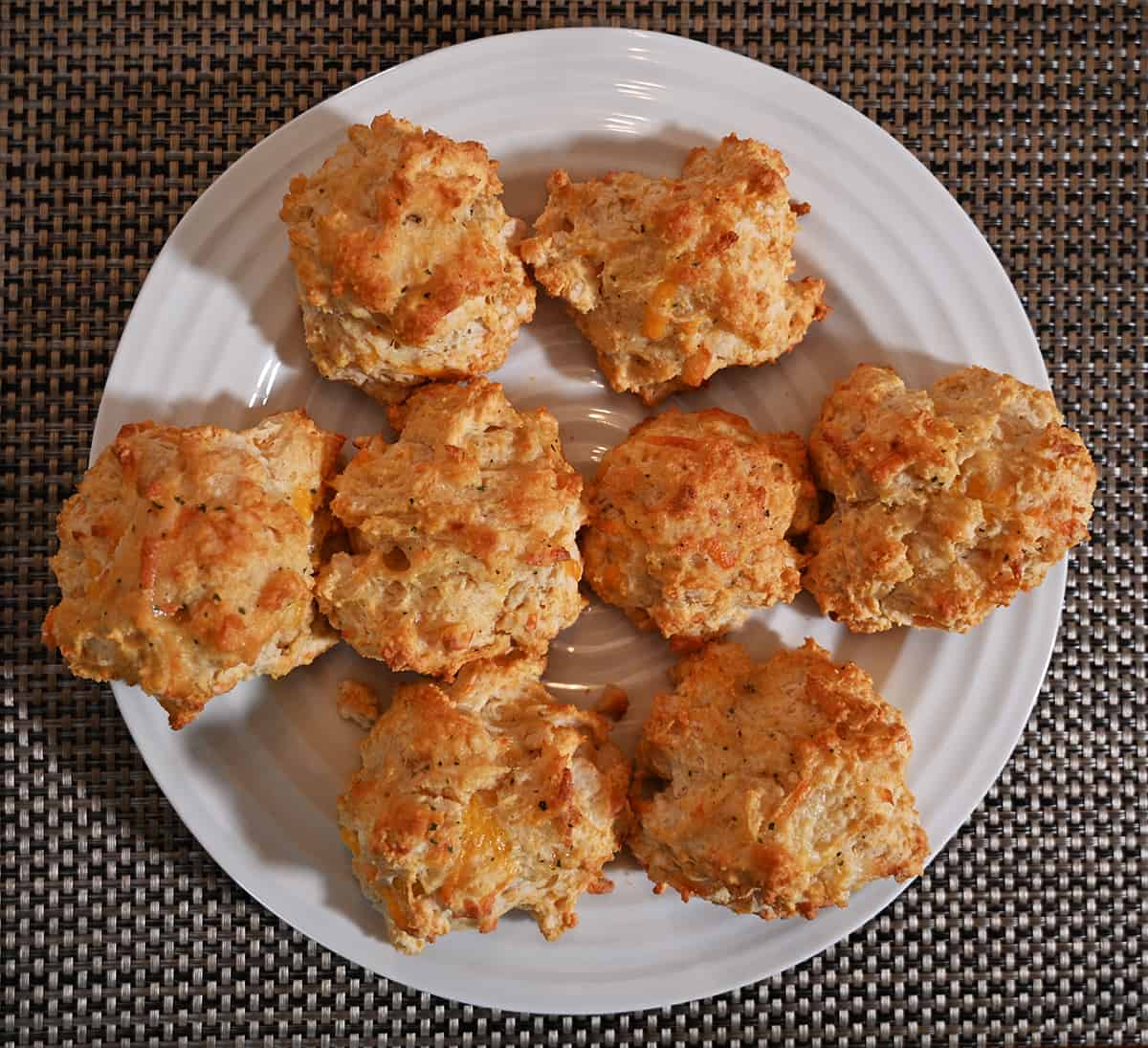 The biscuits themselves are very tasty and satisfying. They're golden brown and slightly crisp on the outside and soft, fluffy and chewy on the inside. They're pleasantly salty and a bit lighter than you might expect. They're more biscuity than cheesy, but I thought the balance was good.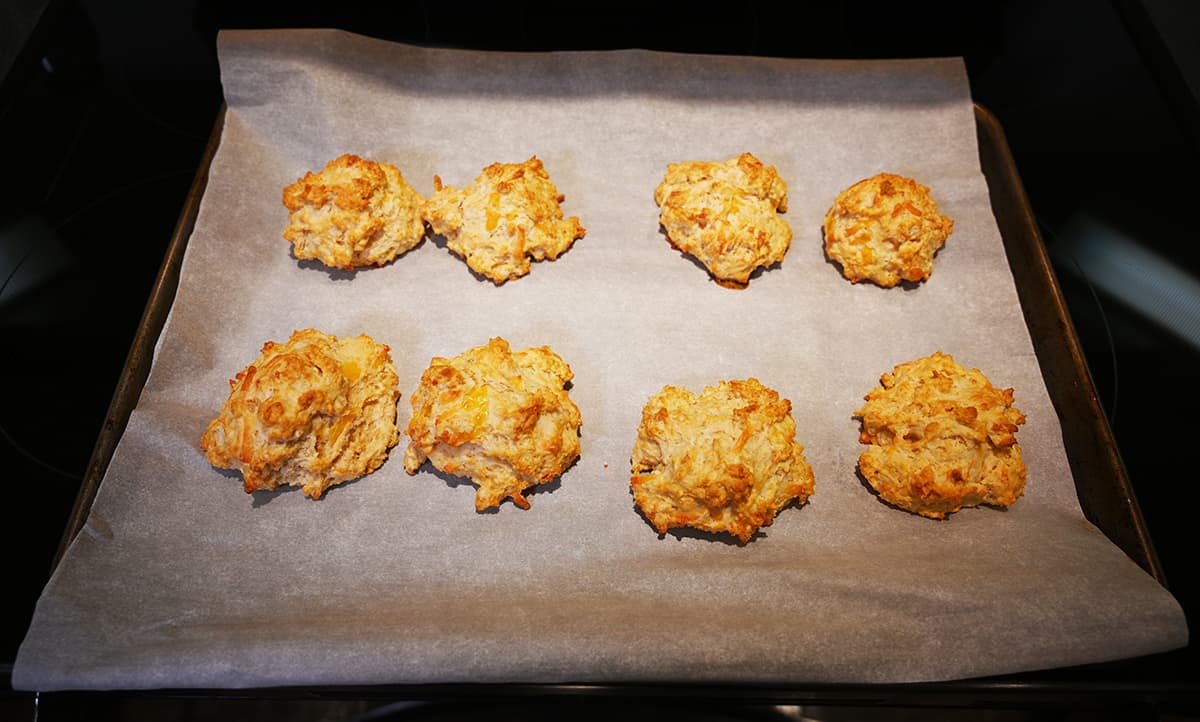 The garlic butter mix makes a very garlicky and salty butter (I used salted butter too). I enjoyed it, but a little goes a long way. People who don't like garlic may prefer it if you leave the garlic butter off and just put butter on the table.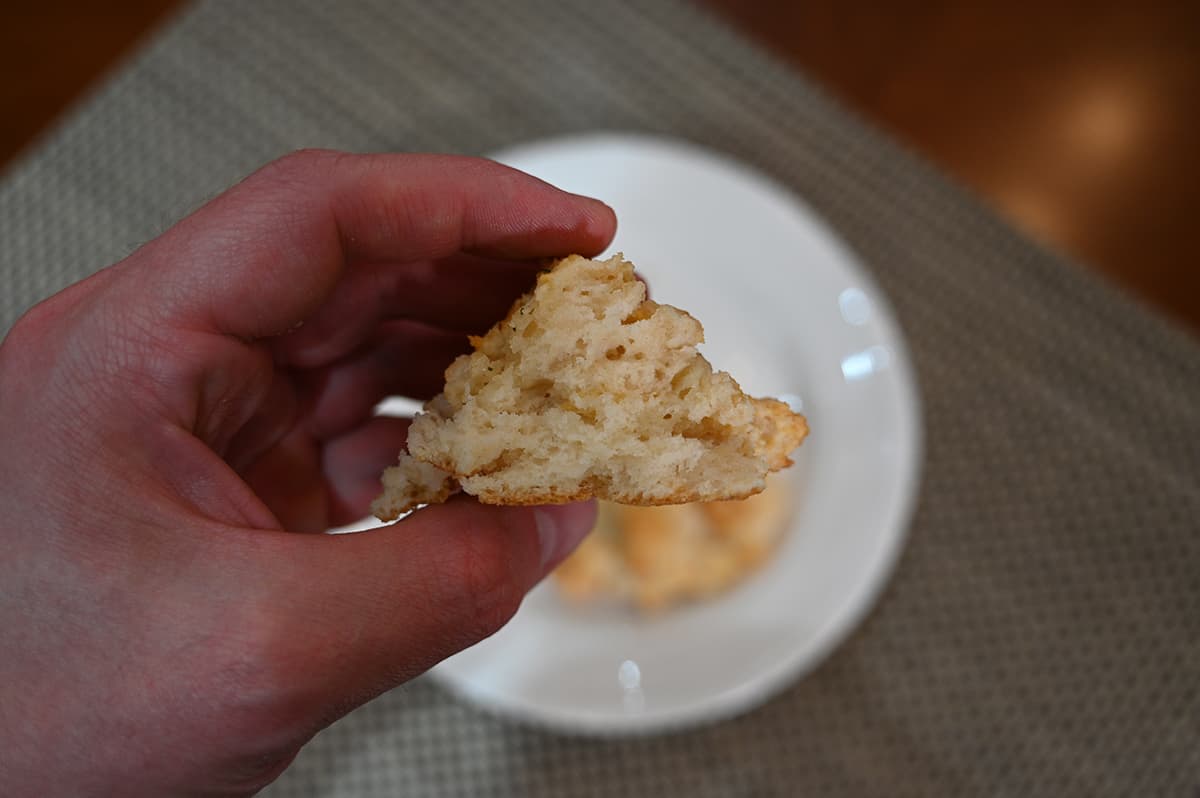 Overall these biscuits are super tasty. It helps that they're easy to serve right out of the oven – any kind of freshly-baked bread is tastes better. The biscuits are also pretty versatile. I could see eating them as a side with most meals.
Cost
The box of Red Lobster Cheddar Bay Biscuit Mix costs $10.99 Canadian at Costco which is two dollars more than it was in 2018. The box includes four packages of biscuit mix and four packages of herb and garlic spice.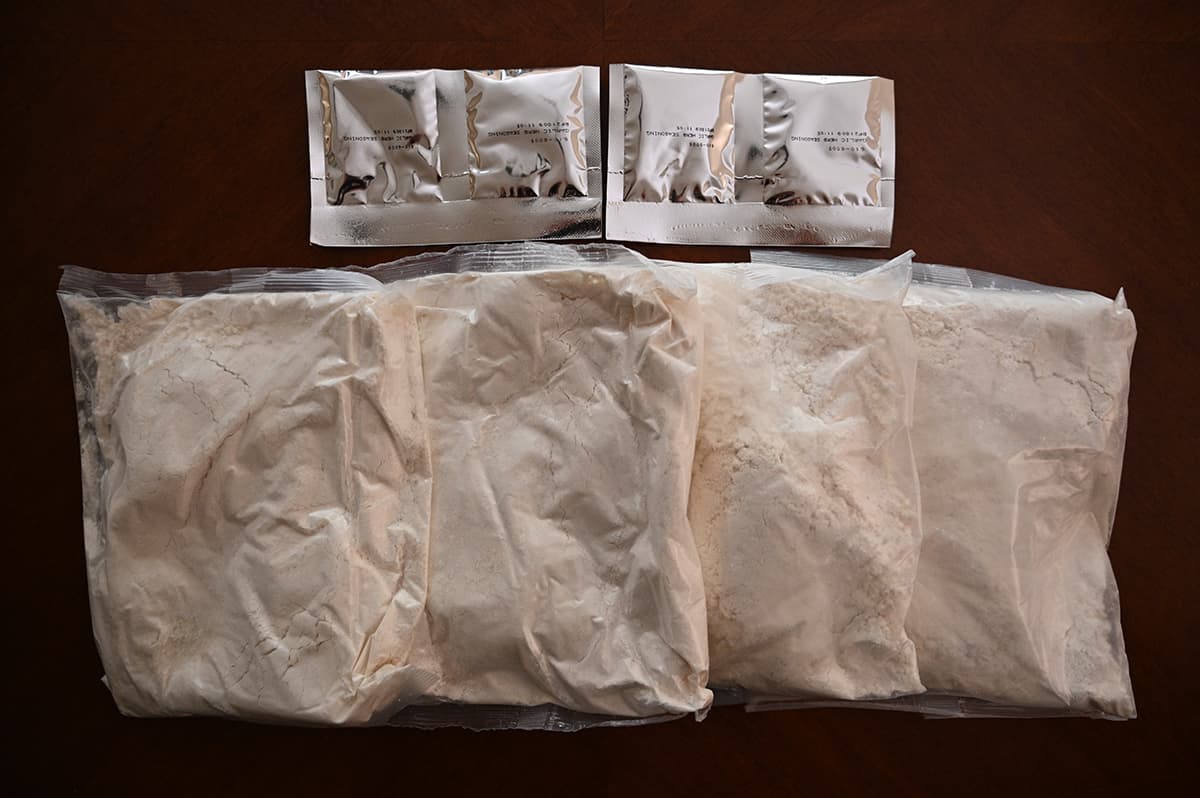 Each bag of biscuit mix makes about 10 biscuits. In my opinion, four batches of biscuits for $10.99 isn't that expensive. Keep in mind you need to supply your own cheese and butter to make the biscuits following the directions on the box.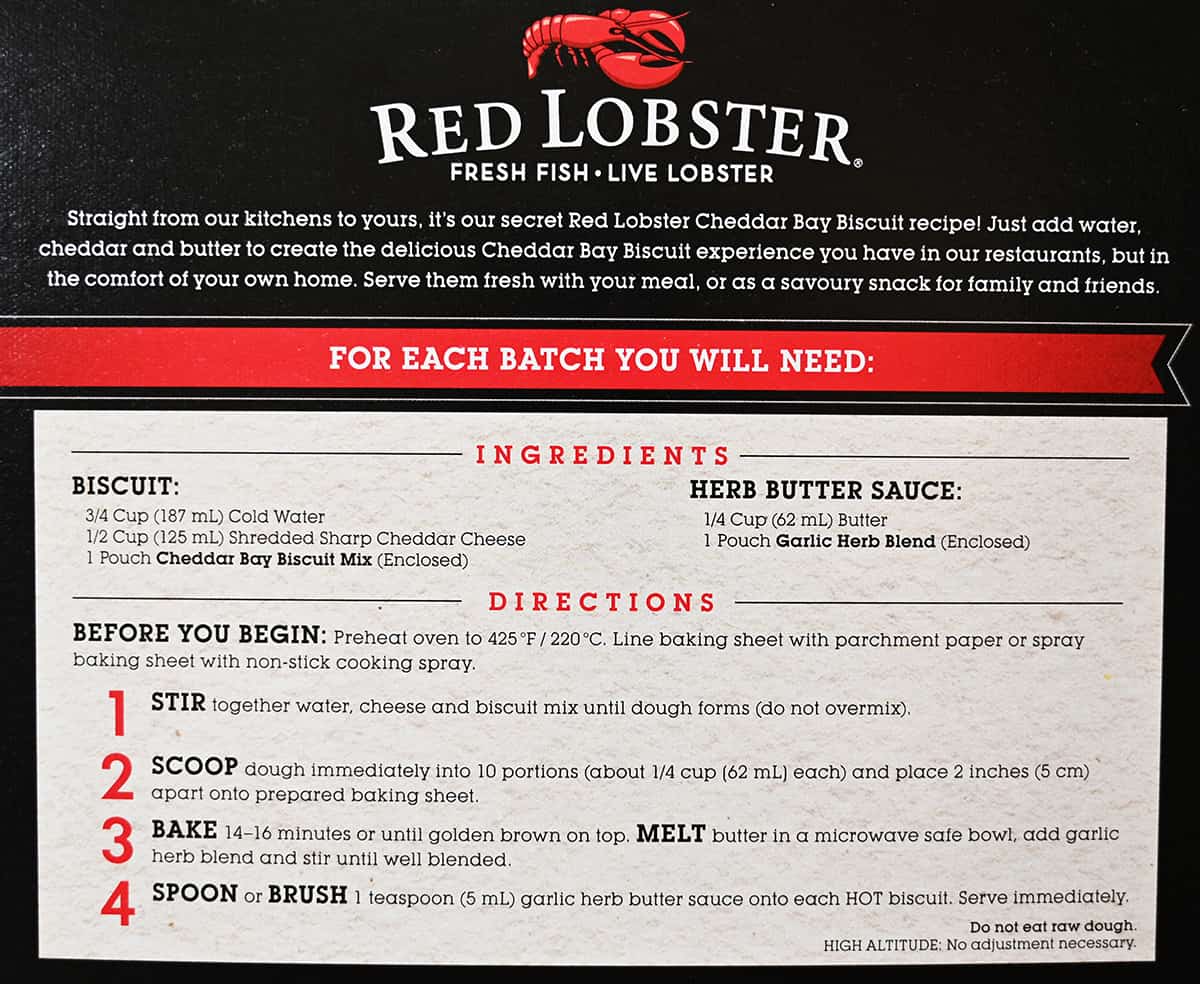 Convenience
These biscuits are so convenient and easy to whip up. I timed myself and had them mixed up in only a minute and a half. em up in less than a minute and a half. Just before the biscuits were finished baking, I melted a bit of butter in the microwave and added the seasoning packet.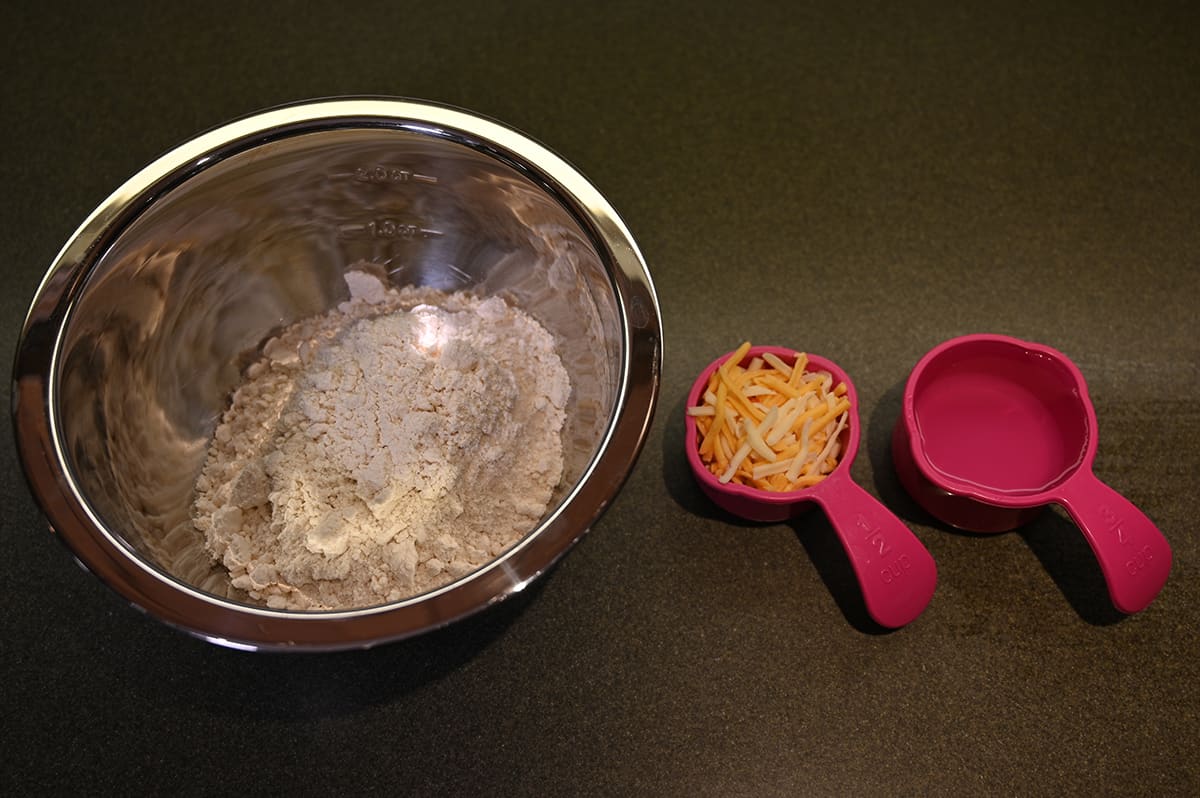 Then when I pulled the biscuits out, I brushed a bit of the butter/herb mixture on top of each biscuit.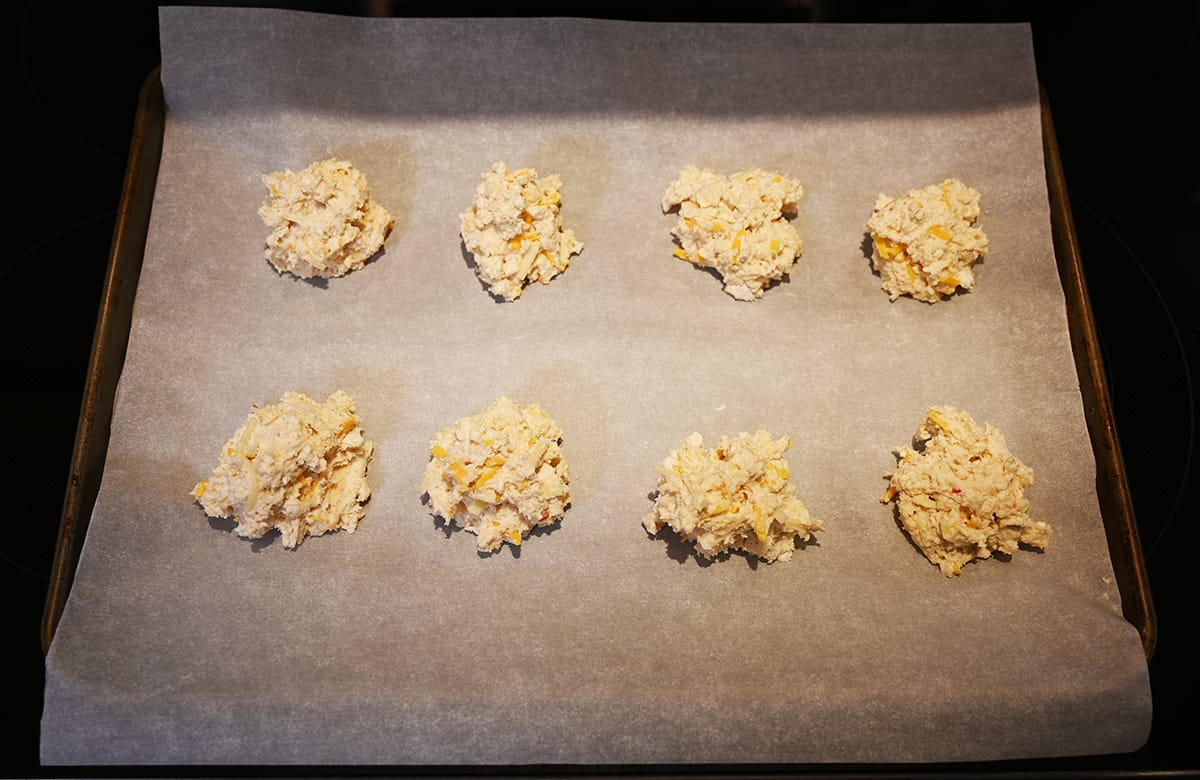 After preparing a batch of Red Lobster Cheddar Bay Biscuits, my husband and I found ourselves with leftovers we couldn't finish. I made a discovery that freezing the biscuits immediately proved to be a better option than leaving them out or refrigerating them, even if we planned to consume them the following night. The biscuits retained their light and fluffy texture on the inside despite freezing them.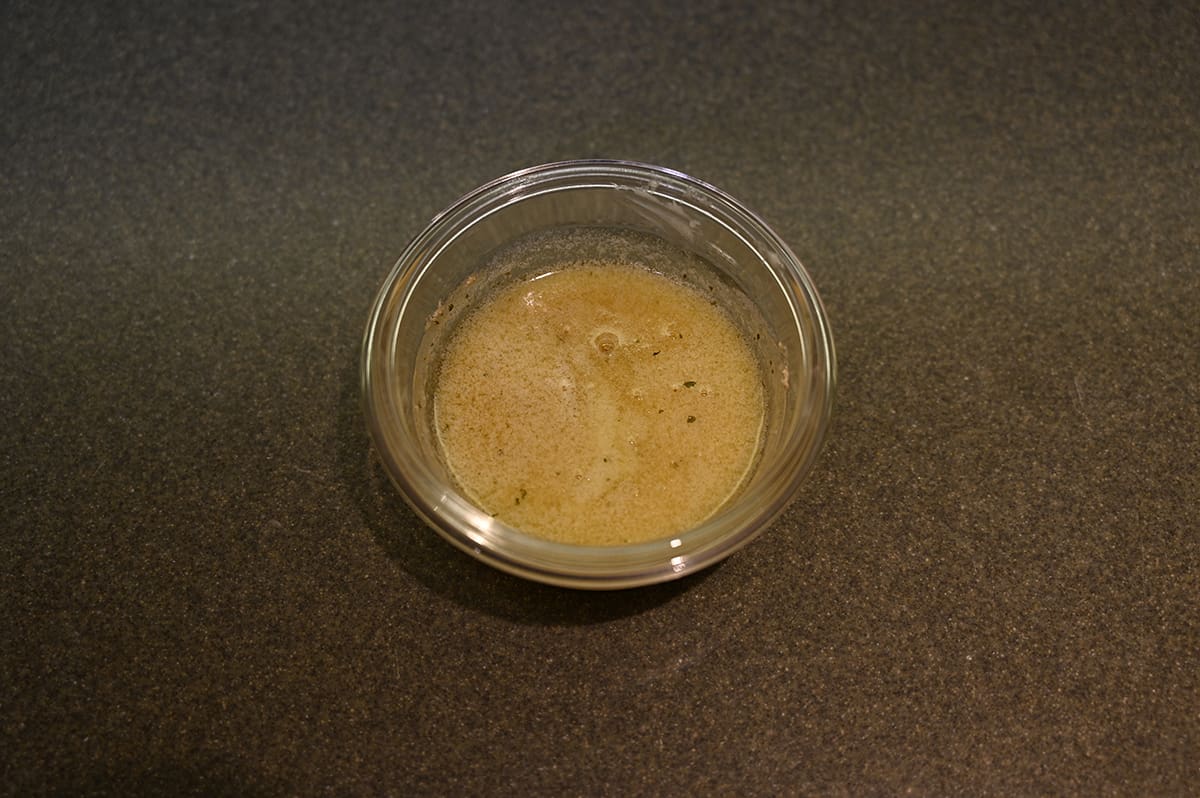 Nutrition
Calories
It's pretty hard to know exactly how many calories you're consuming but in a 1/2 cup of mix and 1/8th tsp of garlic herb blend, there are 45 calories, two grams of fat, six grams of carbohydrates, zero grams of fibre, zero grams of sugar, one gram of protein, and 130 milligrams of sodium.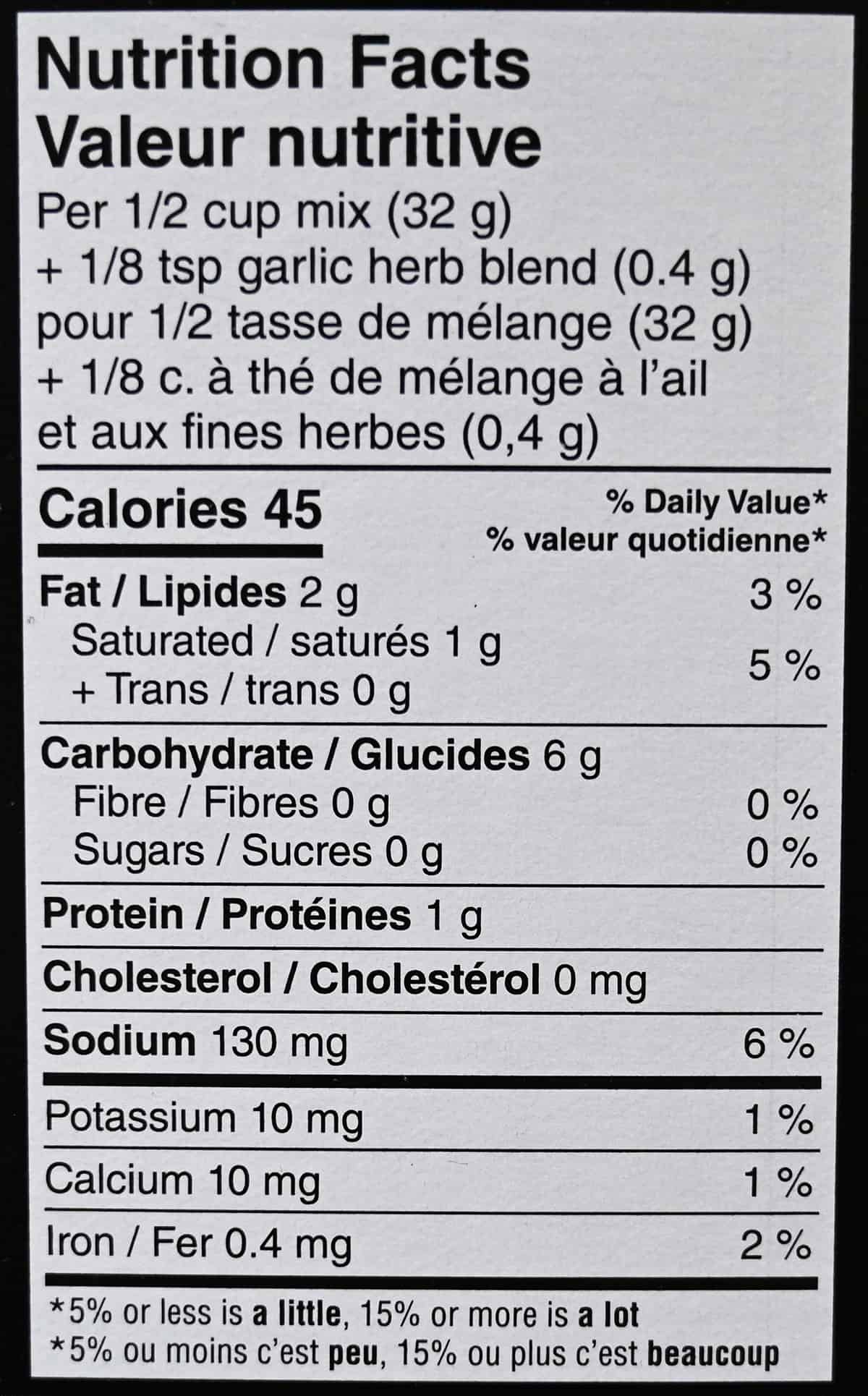 Ingredients
The ingredients are pretty straight forward and there's nothing too surprising. I don't love the palm oil and soybean oil in the biscuit mix but truthfully it's in a ton of foods these days.
The garlic herb blend has artificial flavors, corn oil and soy protein which are all ingredients I don't love to see but I don't feel like I can expect these to be healthy.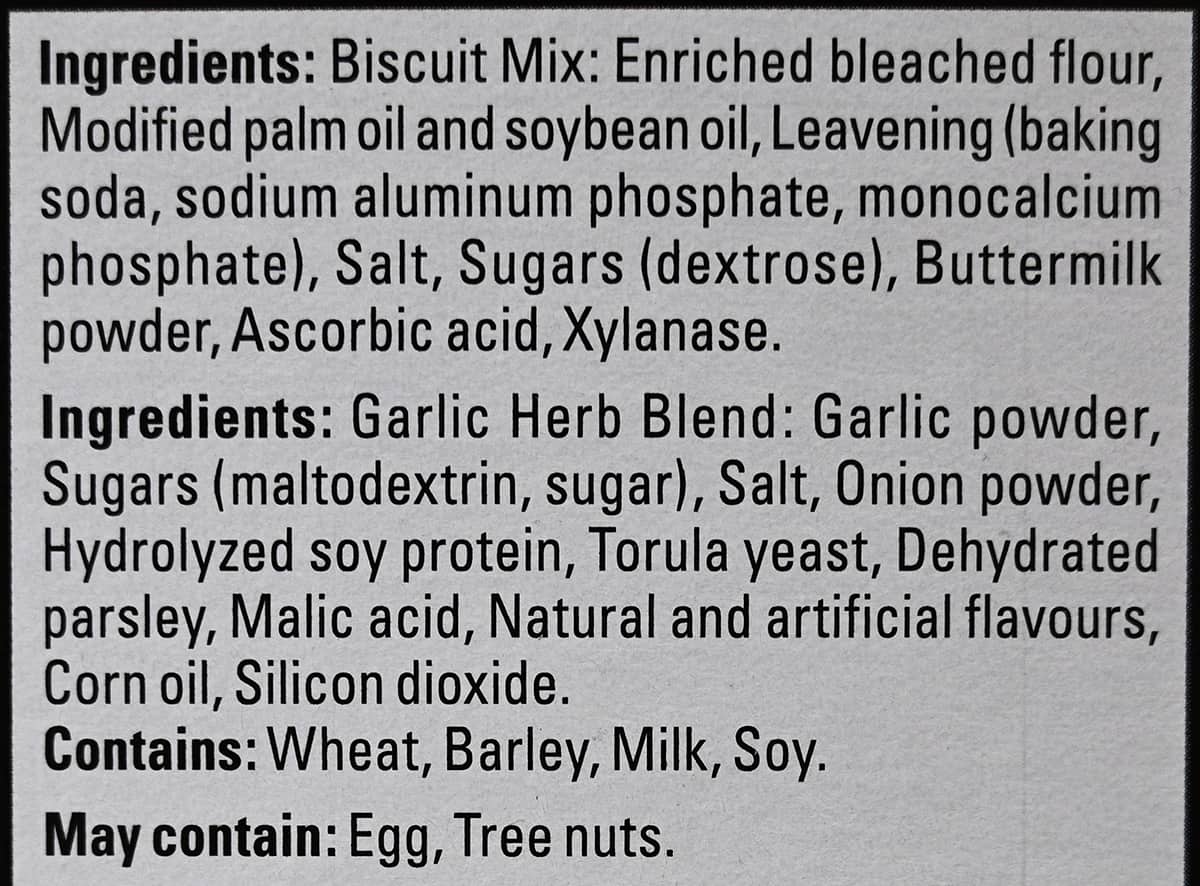 Scoring
Taste: 9/10
Cost: 8/10
Convenience: 7/10
Nutrition: 1/10
Overall
Must buy!
With this mix, you can recreate the Red Lobster restaurant experience anytime you want. Furthermore, the convenience of the mix make it a must-have for any home cook who loves biscuits.
Have you tried this biscuit mix? What did you think of it?
---
Please note that this review was not paid for or sponsored by any third party. This product was purchased by Costcuisine for the purpose of producing this review. The opinions in this review are strictly those of Costcuisine. Costcuisine is not affiliated with Costco or any of its suppliers. In the event that Costcuisine receives compensation for a post from the manufacturer of a product or some other third party, the arrangement will be clearly disclosed (including where the manufacturer of a product provides Costcuisine with a free sample of the product).