Pretend you're Martha Stewart or Paula Deen and make these!
Please note that this review was not paid for or sponsored by any third party. I purchased this product with my own money and the opinions in this review are strictly my own. I am not affiliated with Costco or any of its suppliers. I am just a fan of the company. I write these reviews to help my fellow shoppers. If you like my blog and want to show your appreciation, please follow me on Instagram or Facebook, or tell your friends to check out my blog!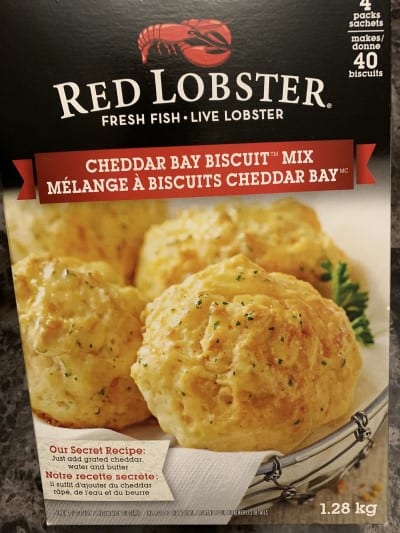 I was unsure about the Red Lobster Cheddar Bay Biscuit Mix from Costco when I first saw it. I've never eaten at Red Lobster – not because I dislike it, but because I kind of have my established list of favorite restaurants that I like to go to whenever we go out to eat (I'm a creature of a habit and hate change!). Red Lobster also isn't the first place that would come to mind for me when I think about freshly-baked biscuits, although they must make pretty good ones to be selling their mix in Costco. Anyway, I still wanted to try these because I love biscuits and haven't ever made my own. The idea of pulling hot biscuits out of the oven just in time for dinner really appealed to me.
Taste
Even though he didn't say it, I could tell my husband was skeptical about these biscuits too. I think he decided at some point that he doesn't like Red Lobster because that he doesn't like seafood (even though he's never actually been to one). That bias aside, it turned out he really liked these biscuits, and so do I. They came out of the oven golden and crisp on the outside and super light, pillowy soft and fluffy on the inside. I think part of this was using the right technique in making them and not over-mixing the dough. The garlic butter was also delicious and gave the biscuits a really nice flavor. You could definitely leave out the cheddar or the butter, but I enjoyed my biscuits with both and felt they each added to the overall taste. I do think that you could also use this mix as a base to make your own customized biscuits, which is something I definitely plan to try.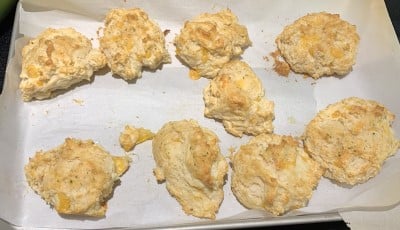 Cost
The box of Red Lobster Cheddar Bay Biscuit Mix cost $8.99 Canadian (regular price). The box includes four packages of biscuit mix and four packages of herb and garlic spice. Each bag of biscuit mix makes about 10 biscuits. In my opinion, four batches of biscuits for $8.99 isn't outrageously expensive, but it's not ridiculously cheap either. The ingredients for making your own biscuits from scratch are super cheap, so you're paying for the convenience and the brand name. Maybe the brand name is worth a lot to the Red Lobster fans out there? Keep in mind that if you want to make the biscuits with cheddar and the garlic herb butter brushed on top, you need to supply your own cheese and butter.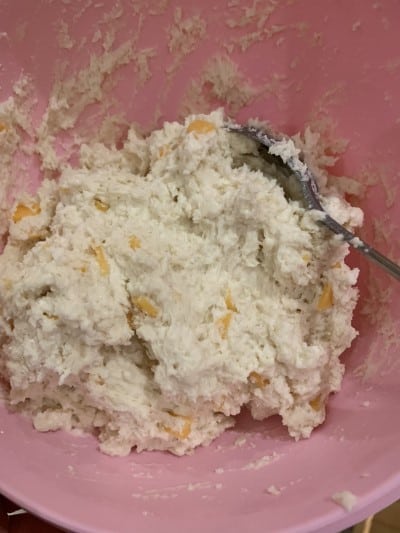 Convenience
Convenience, convenience, convenience. That was constantly going through my mind as I made these biscuits for the first time. Honestly, I mixed them up in less than a minute and a half. I had some cheddar cheese slices in the fridge, so instead of grating cheddar to put in, I just broke those up, threw them in my mixing bowl with the biscuit mix, added the water and stirred until it was just mixed (over-mixing is not good). I plopped blobs of the finished mix down fairly randomly on a parchment paper-lined cookie sheet and put them in the oven. At that point, I decided there was no way that my biscuits were turning out because it was too simple to make them. I was impressed staring into the oven and watching my unsymmetrical blobs of mix turn into golden, delicious-looking biscuits. Just before the biscuits were finished baking, I melted a bit of butter in the microwave and added the seasoning packet. Then when I pulled the biscuits out, I brushed a bit of the butter/herb mixture on top of each biscuit. Seriously, if you want to pretend you're Martha Stewart for the night, buy this mix. It's super easy to make great-tasting biscuits. One more thing. When I made our batch of biscuits, my husband and I couldn't eat all of them, and I discovered that it's better to freeze the biscuits right away rather than leave them out or put them in the fridge, even if you're having them the next night. I did this and took them out of the freezer the next night, reheated them for a few seconds in my microwave and found the light and fluffy texture inside was maintained.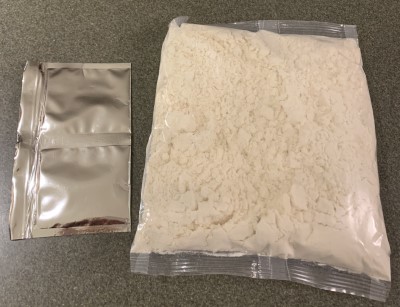 Nutrition
Nutritionally, these biscuits aren't exactly a salad replacement. The calories aren't super high, but the biscuits are mainly full of carbs, sodium and fat. If you add a ton of cheese and butter, that's only going to increase the calorie and fat content. Still, you wouldn't want to try to run a marathon low on carbs, fat or sodium! Our bodies need all of these things to function. So have a biscuit with your meal – good food is meant to be enjoyed, and with a bit moderation and balance in your diet, there's plenty of room for things like these biscuits.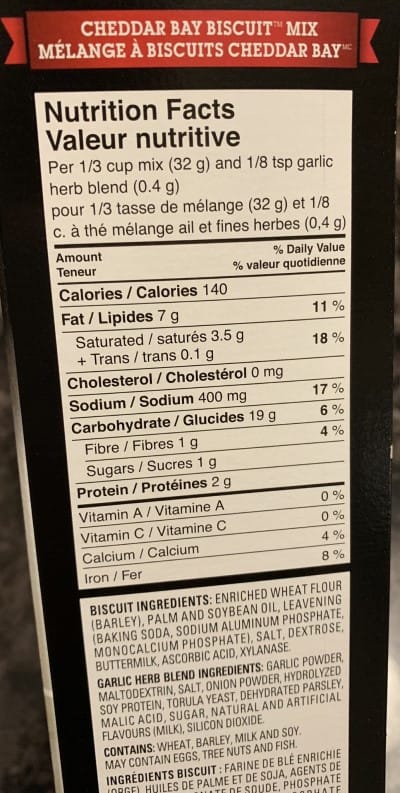 The Red Lobster Cheddar Bay Biscuit Mix is super convenient and makes delicious biscuits that taste almost like something you would make from scratch.
Taste: 8.5/10
Cost: 7/10
Convenience: 9/10
Nutrition: 2/10
Do you prefer sweet or savory biscuits? Are there any other kinds of cheese you would add to these biscuits?