It's definitely pumpkin spice season.
Please note that this review was not paid for or sponsored by any third party. I purchased this product with my own money and the opinions in this review are strictly my own. I am not affiliated with Costco or any of its suppliers. I am just a fan of the company. I write these reviews to help my fellow shoppers.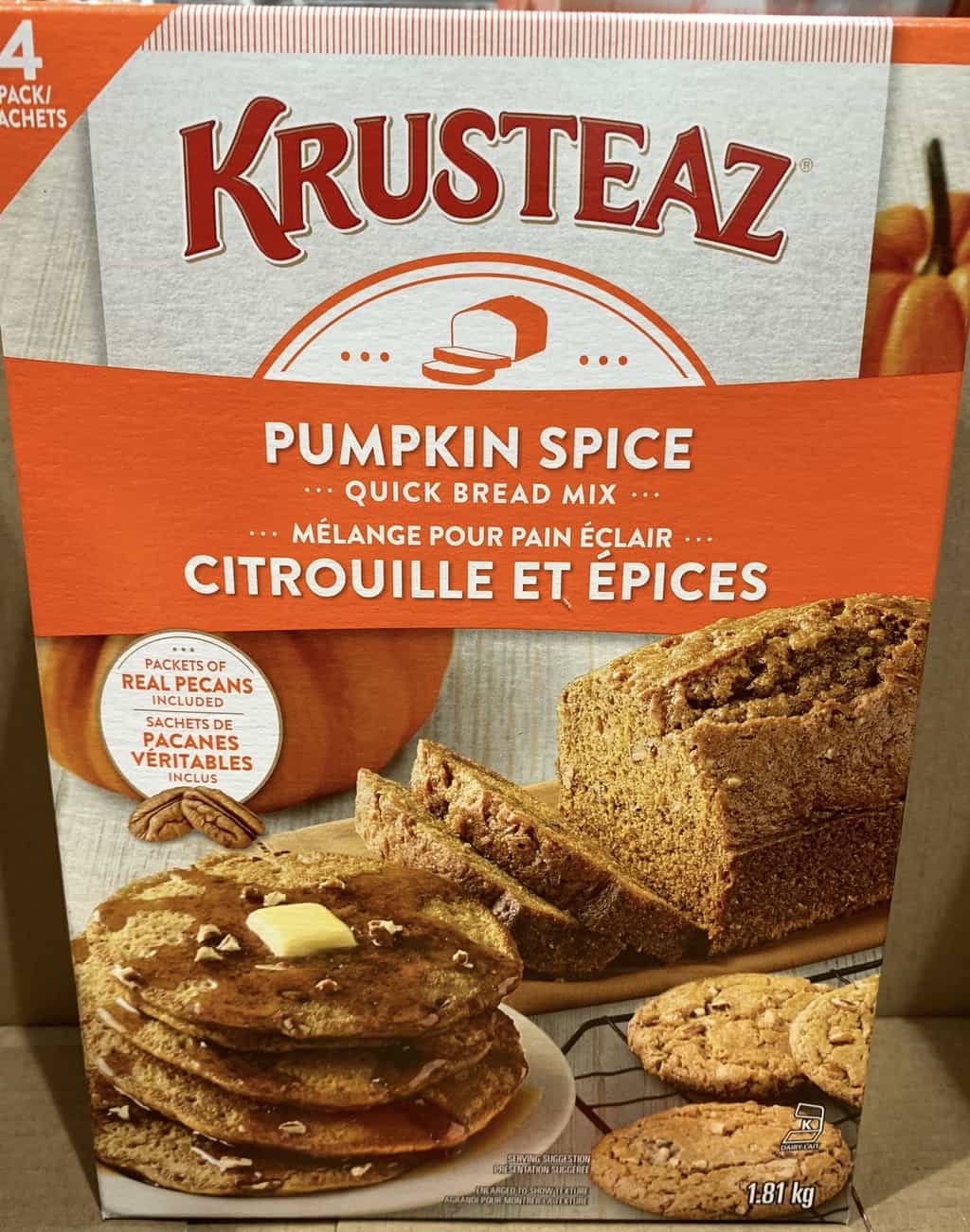 With Costco you have to jump on things while they're still available! That's why I want to share this review of the Krusteaz Pumpkin Spice Quick Bread Mix. I usually make my pumpkin muffins from scratch with real pumpkin puree. This Costco Krusteaz Pumpkin Spice Quick Bread Mix caught my eye and I wanted to see if this mix tastes anywhere close to as good as making muffins from scratch while saving time.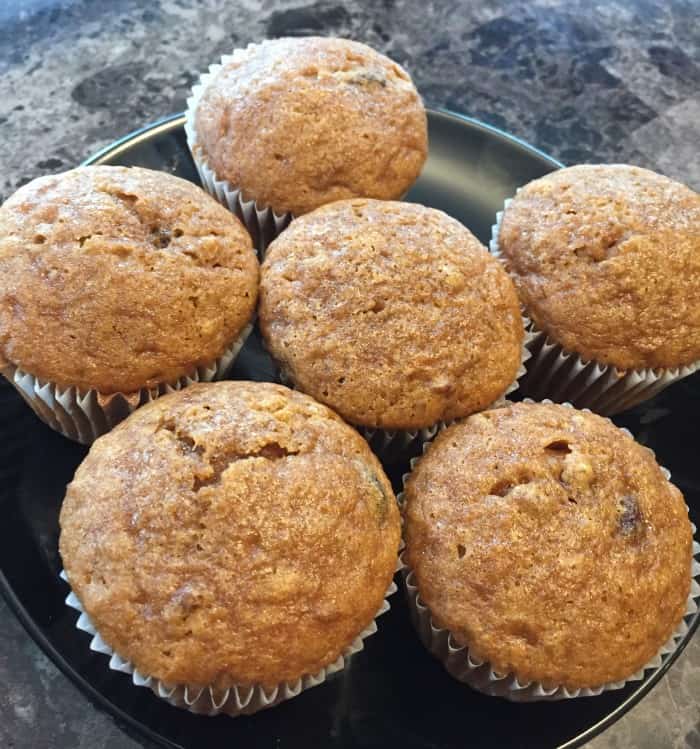 Taste
If you love pumpkin spice flavored anything, seriously go to Costco and pick this up ASAP. I've never had this mix before and I'm currently trying to figure out how many boxes I should stock up on when I'm at Costco next. I made muffins AND cookies using this mix and both were delicious. I assumed there would be an overt artificial taste to this but this tastes similar to the real deal. The muffins had those warm, comforting, fall spices and were very, very moist. For the muffins, I added the small pecan packet that comes with the mix as well as my own raisins (just because I like raisins) but these would have been just as delicious without the raisins. The cookies (snickerdoodles with white chocolate chips that I also purchased separately) were just as delicious and the house smelled amazing each time I used this mix.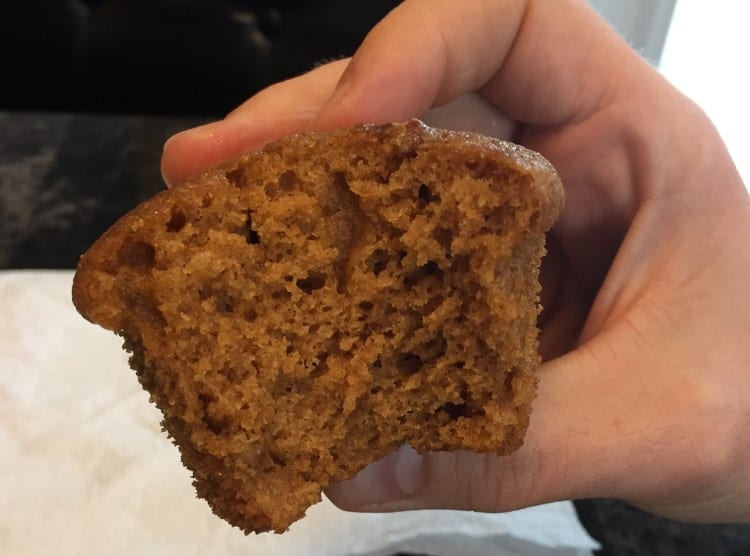 Cost
This Costco Krusteaz Pumpkin Spice Quick Bread mix is very reasonable. You get four bags of mix and four tiny bags of pecans for $10.89 Canadian (ten cents cheaper than last year). One bag of mix made 14 muffins or 20 cookies. I think the cost is super reasonable considering how easy it makes it to bake delicious, homemade-tasting items.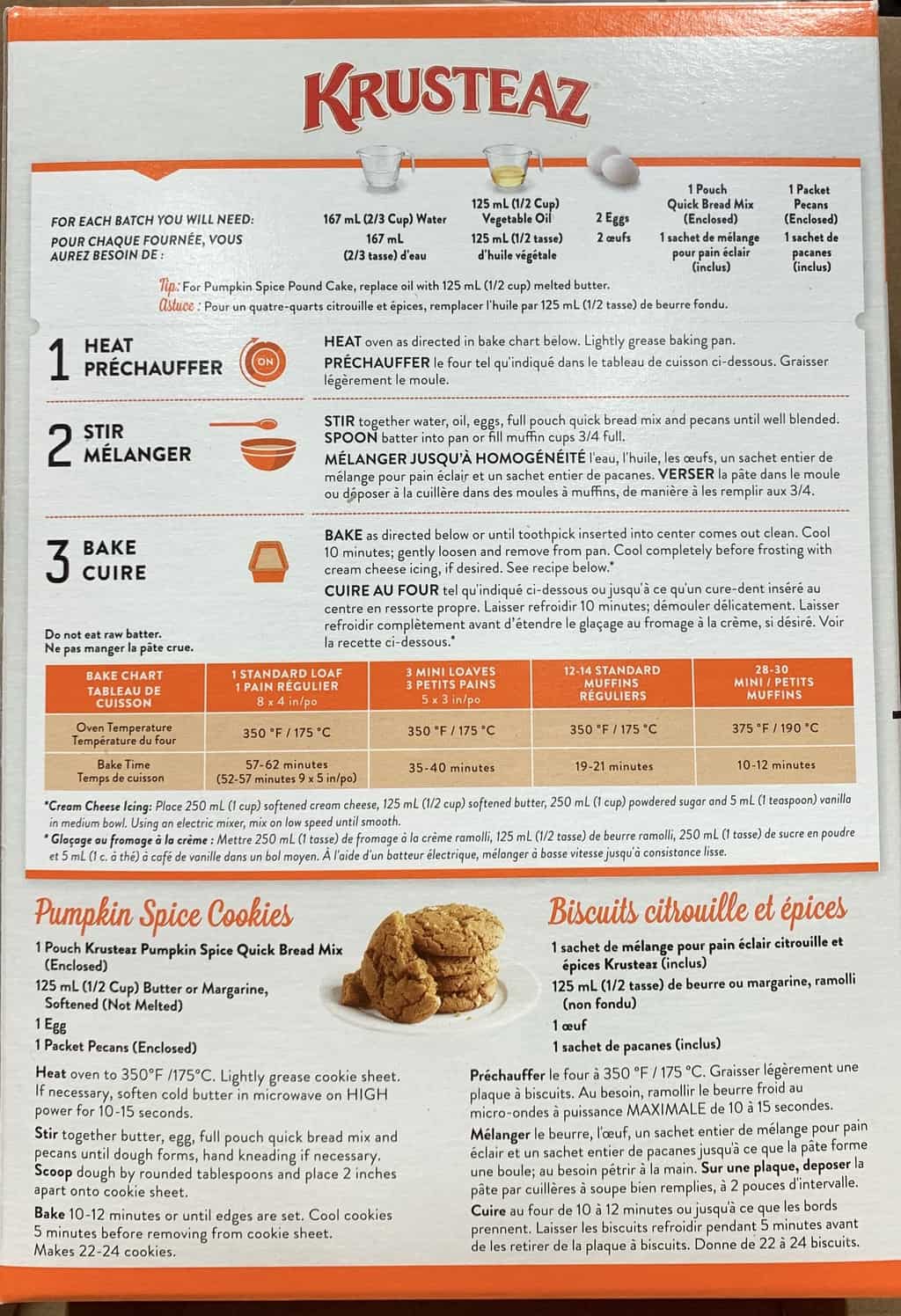 Convenience
The convenience of this mix is what stole my heart; I was able to whip muffins and cookies up in the time it took my oven to preheat. It only requires eggs, water and oil, which are common staple pantry items. This mix makes quick bread, muffins, pancakes and cookies. Basically any pumpkin-based food you can think of, it makes it. The best part is you can add ingredients to make it your own and to your liking. Pecans, almonds, walnuts, candied mandarin slices, dried cranberries, white chocolate chips, hazelnut spread, cream cheese icing… I could go on and on.

Nutrition
The nutrition label gives you the information for the dry mix as well as the prepared version. The mix is high in sugar and using it is probably less healthy than going the homemade route and using pure pumpkin puree. The nutritional information for the mix is similar to that of a standard vanilla cake mix. You could try to be adventurous and tweak it to make it slightly healthier or more to your liking. Some ideas I had were to use Greek yogurt or apple sauce to substitute for the oil or add some extra-healthy nuts or even chia seeds.
I highly recommend you pick this mix up while it's still available! It makes delicious, warm, comforting baked items that taste better than homemade (according to my husband who did actually say this). It is a great pumpkin spice base for many recipes that you can add your own ingredients and tweaks to.
Nutrition: 2/10
Cost: 9.5/10
Taste: 9.5/10
Convenience: 8.5/10
Do you like or dislike pumpkin spice? Do you have your own favorite pumpkin spice recipe?