You never know how long an item will last at Costco. Sometimes things disappear after a few weeks while others stick around for years. This Krusteaz Pumpkin Spice Quick Bread Mix is one of the items that's managed to last for a few years. It's a seasonal item that shows up in the fall, but I first reviewed in 2018 shortly after I started this site and I think I've seen it ever year since then. That must mean it's pretty good, right?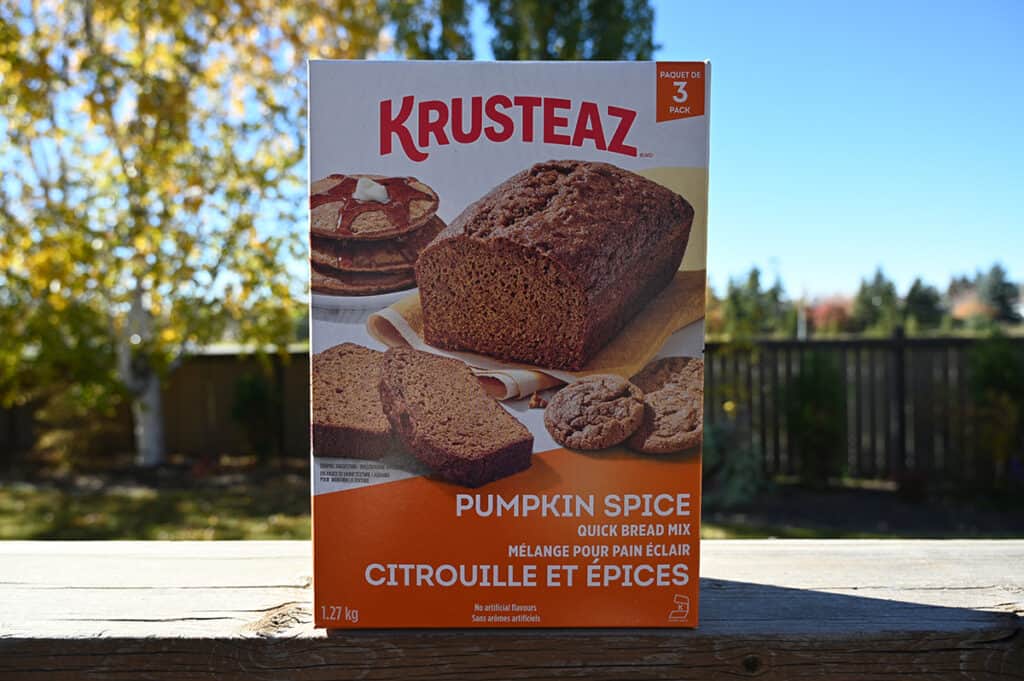 Other baking mixes and ingredients from Costco are the Kirkland Signature Semi-Sweet Chocolate Chips, Kirkland Signature Almond Flour, Krusteaz Meyer Lemon Bar Mix, Krusteaz Triple Chocolate Brownie Mix, Krusteaz Pancake Mix, Ghirardelli Triple Chocolate Brownie Mix, Kodiak Power Cakes Mix and the Red Lobster Cheddar Bay Biscuit Mix.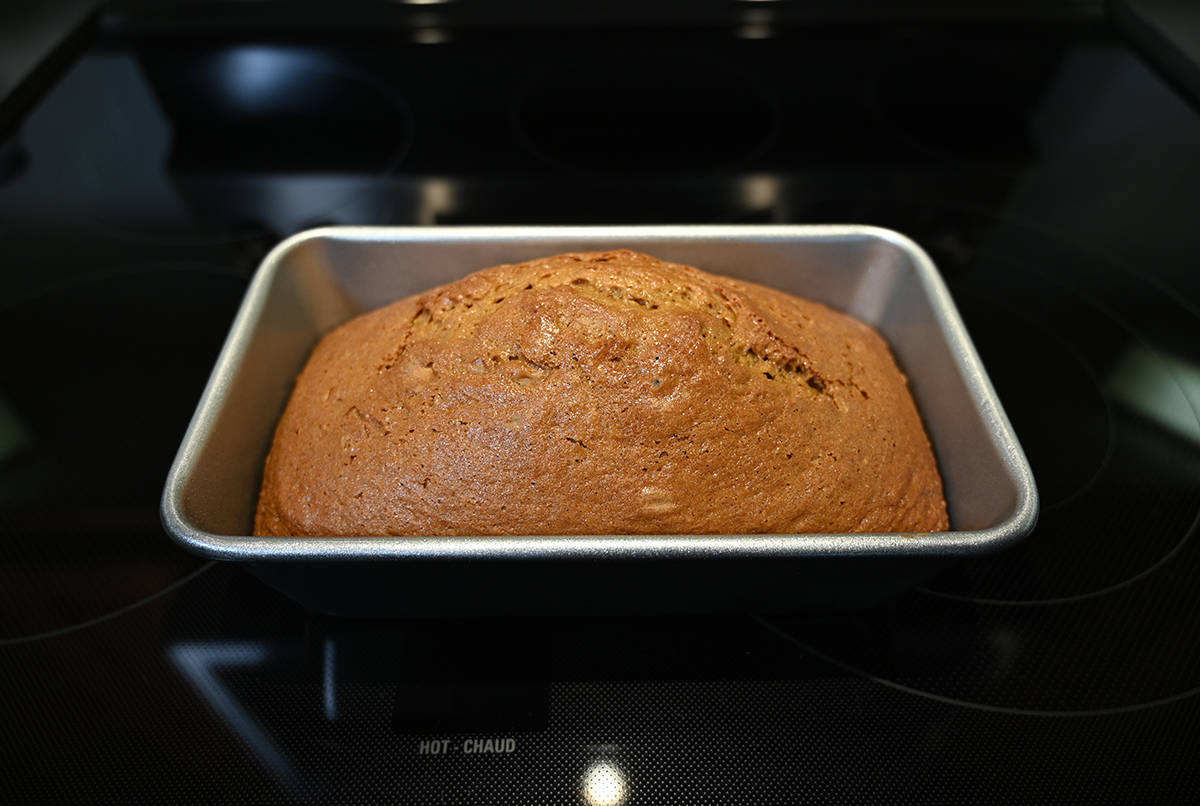 Location in Store
This mix was located in the middle of store, it wasn't in an aisle. This is likely due to it being seasonal. The item number is 1757237.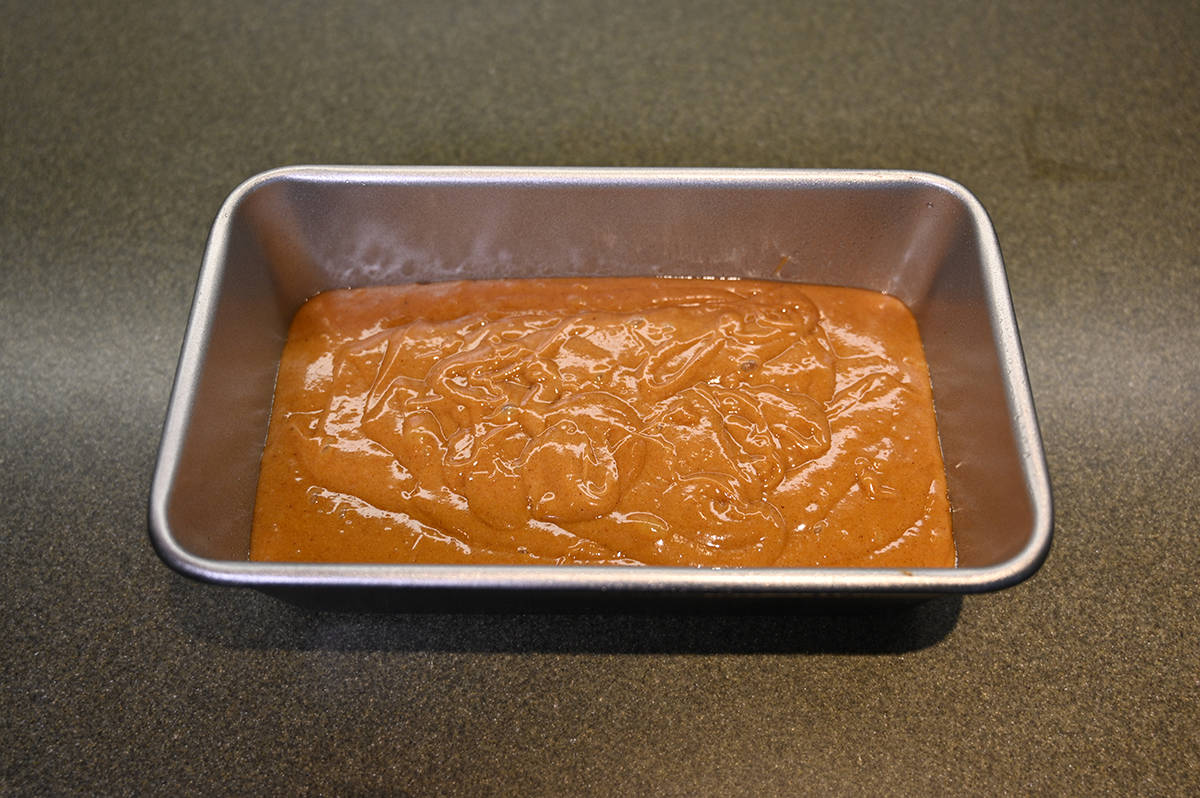 Taste
I used the basic recipe on the box to make a loaf. It turned out pretty good other than having a bit of a raised area in the middle. The loaf very slightly crisp on the outside and soft, light and moist on the inside. I imagine muffins would be similar with a bit of a crisp top and soft bottom.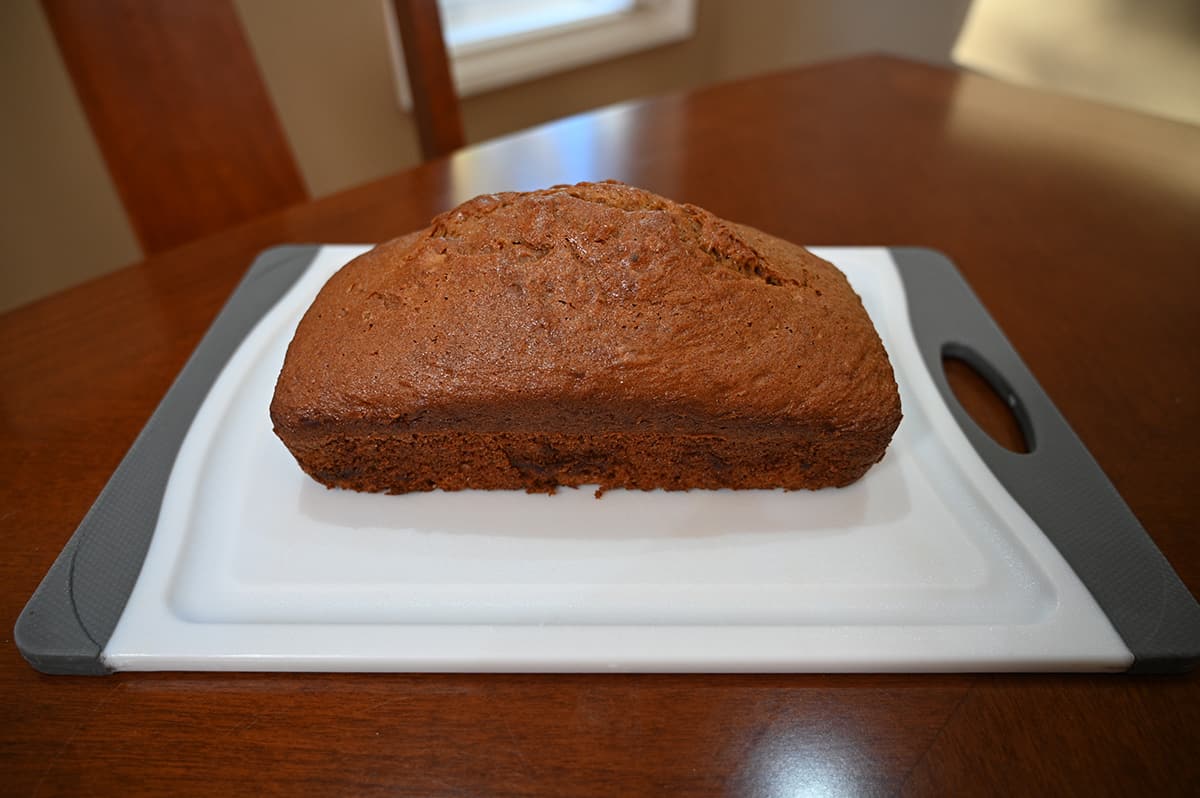 The pumpkin flavor is strong and a bit artificial but I find most pumpkin flavored foods taste a bit artificial. There isn't too much spice but I do notice the taste of cloves and maybe nutmeg.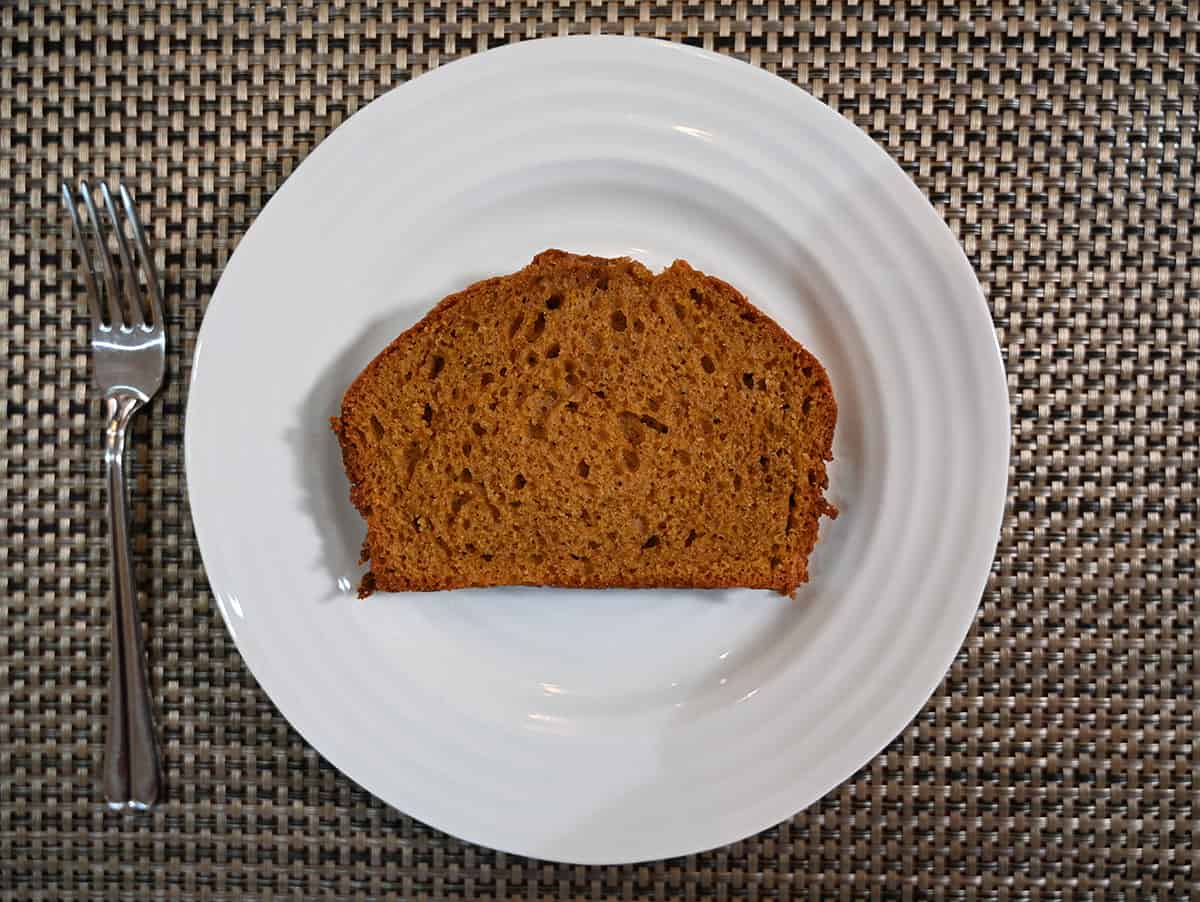 Overall the mix is good as a base but nuts, chocolate chips or other ingredients can be added to make it much better. The mix is extremely easy to turn into a loaf, muffins or mini loaves. My only complaint is that I found the mix a bit sweet and could do with a tad less sugar.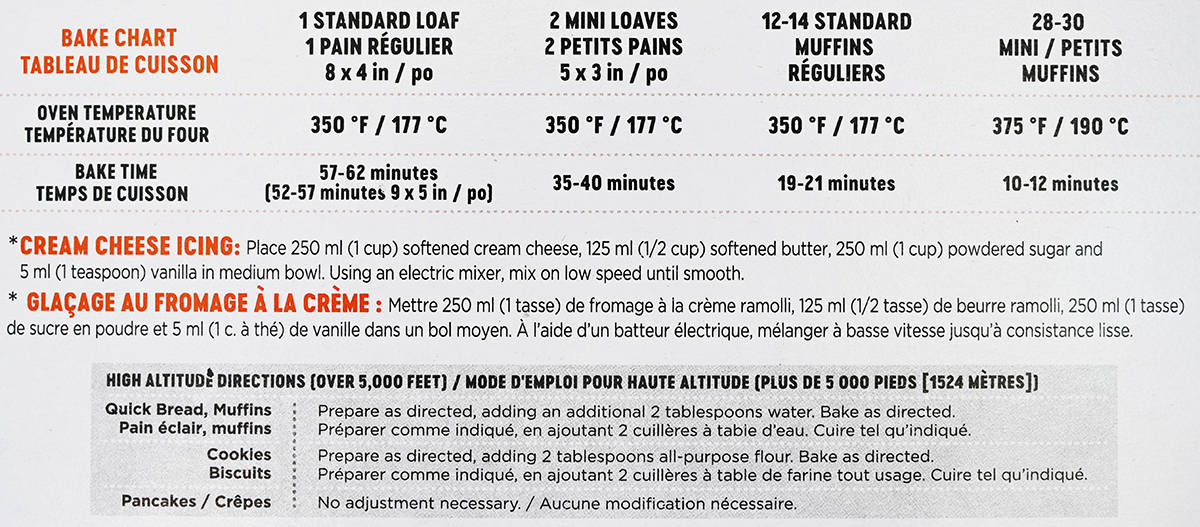 Cost
There are three bags of mix in the box and the box costs $9.99 Canadian. Which is actually cheaper than it was in 2018. However in 2018 you got four bags of mix and four bags of pecans.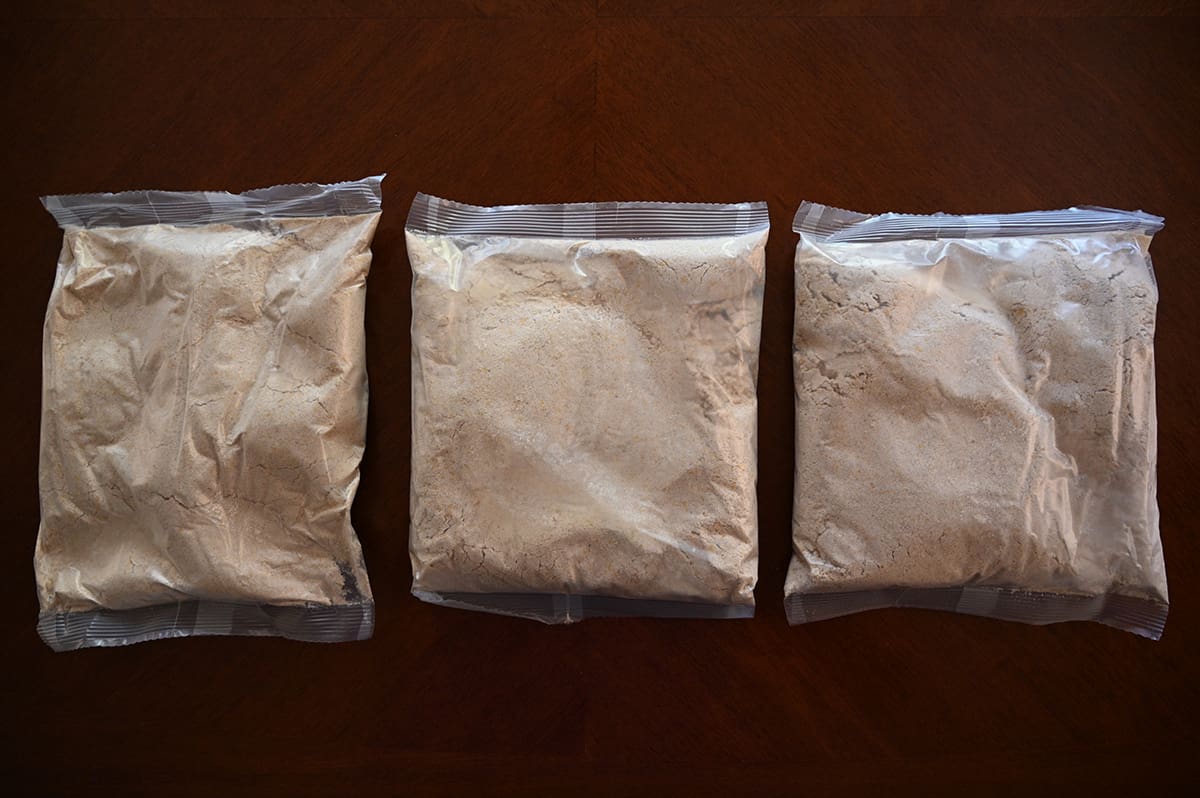 The box no longer contains pecans. It's still a pretty good deal, I think a lot of people will struggle to use up four bags anyways. You do still need to have eggs and oil in the house to bake anything from the mix.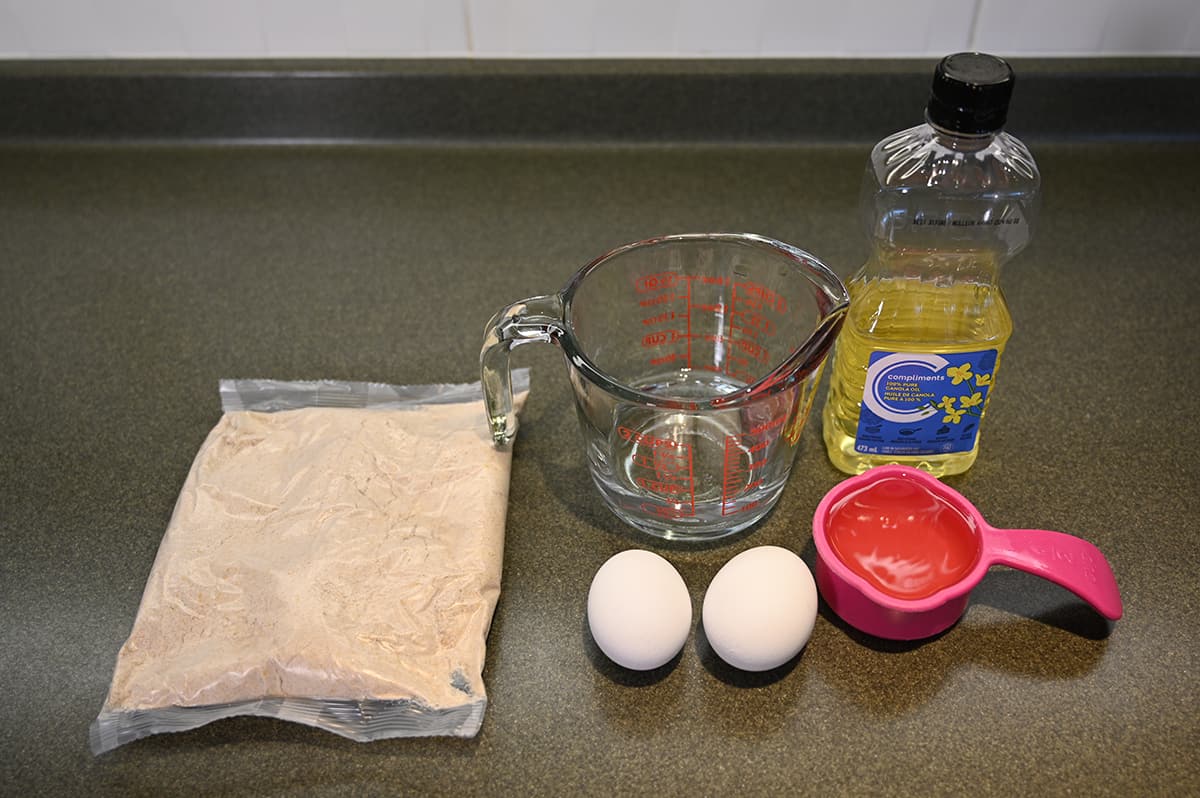 Convenience
The mix only requires eggs, water and oil, which are common staple pantry items. This mix makes loaves, pancakes, muffins and cookies. I made a loaf without adding anything but you could create a cream cheese icing or add nuts or chocolate chips to a loaf or muffins!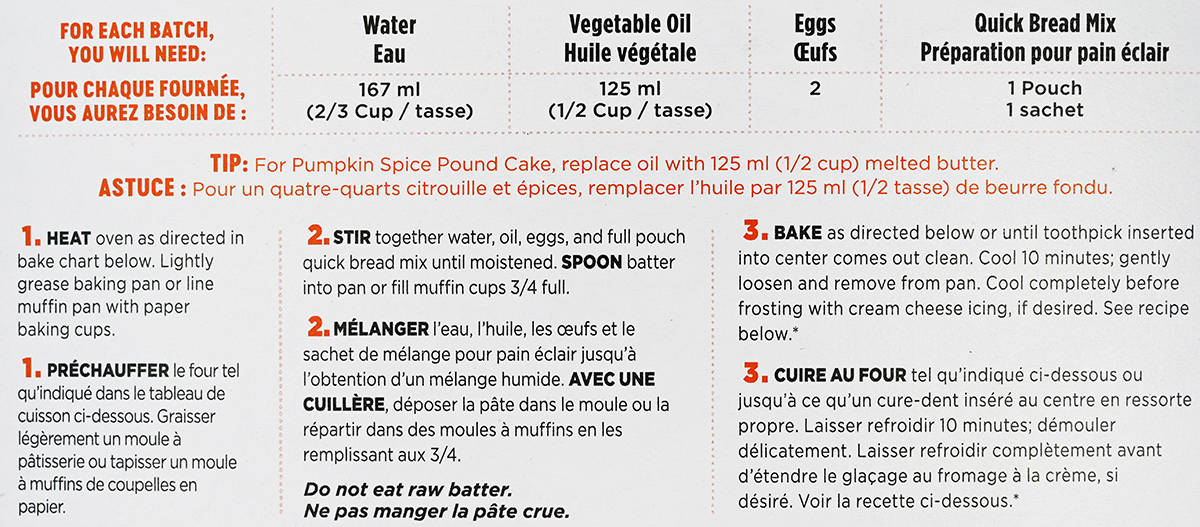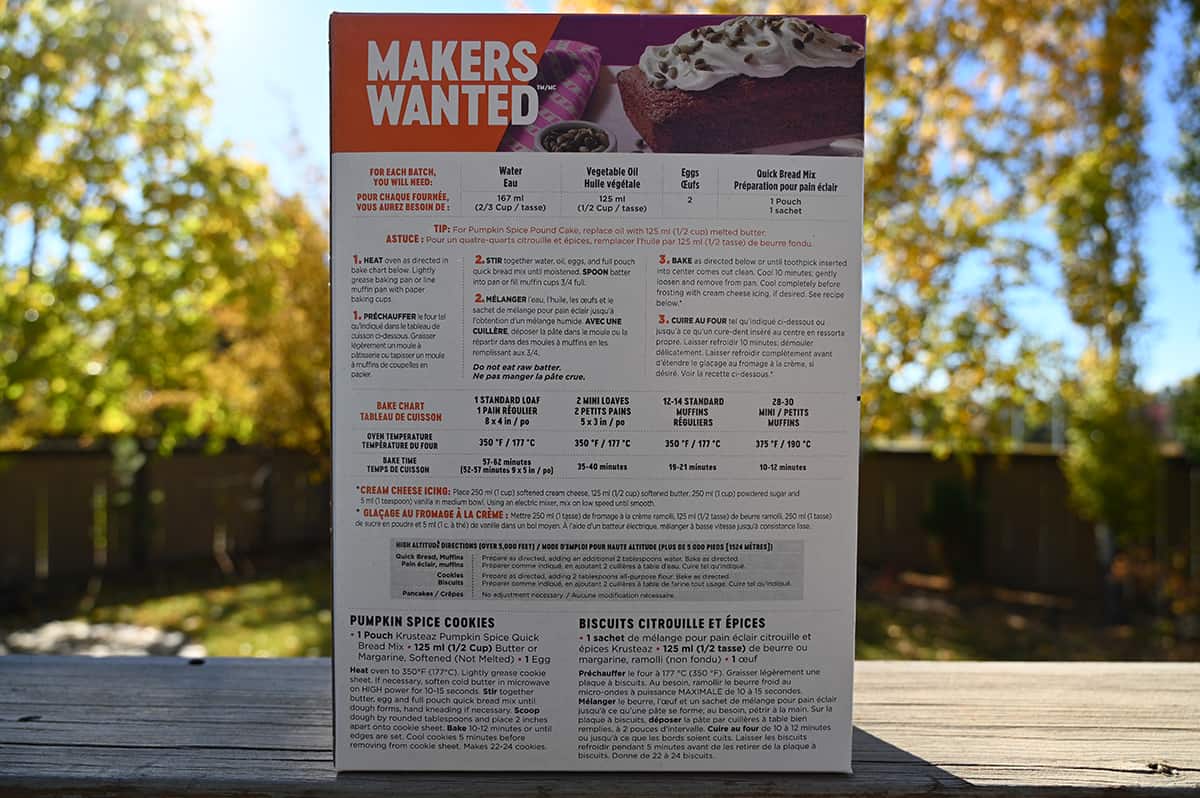 The best before date listed on the box is a year and four months from when I purchased it. All of the baking instructions are on the back of the box. One bag of mix makes one standard loaf, two mini loaves or 12 to 14 muffins.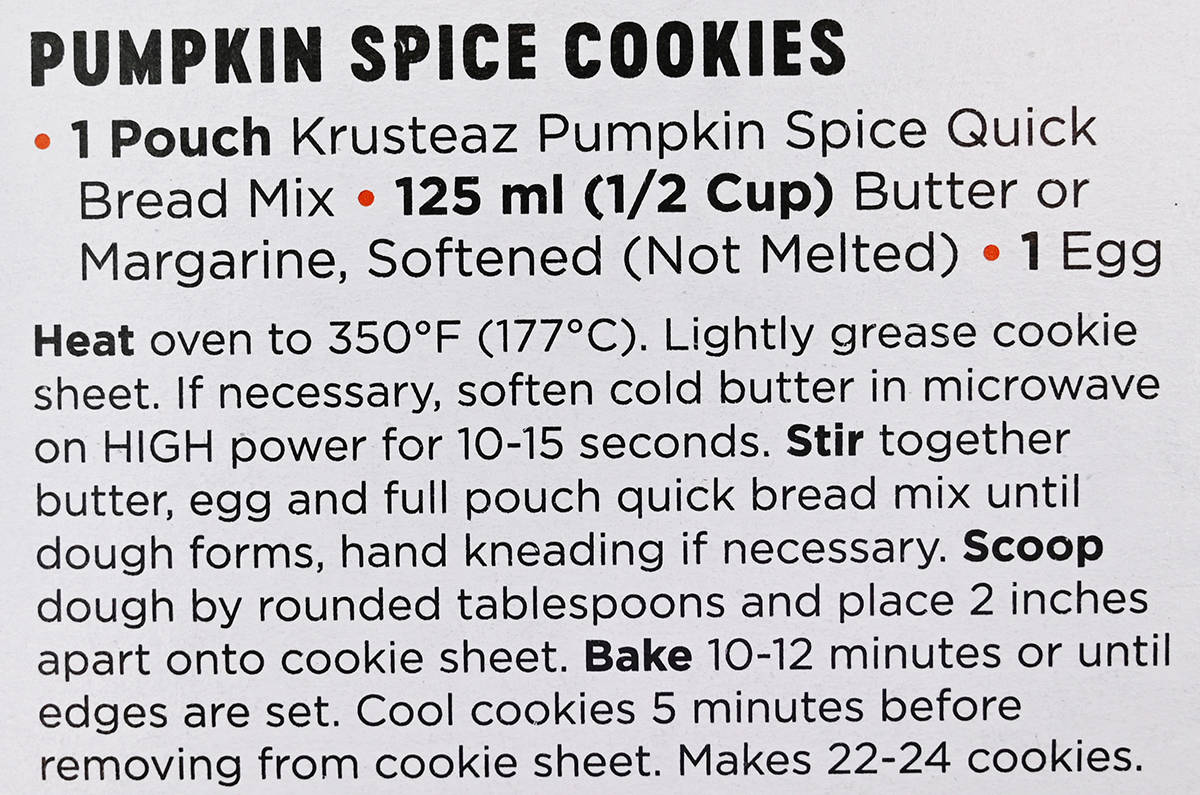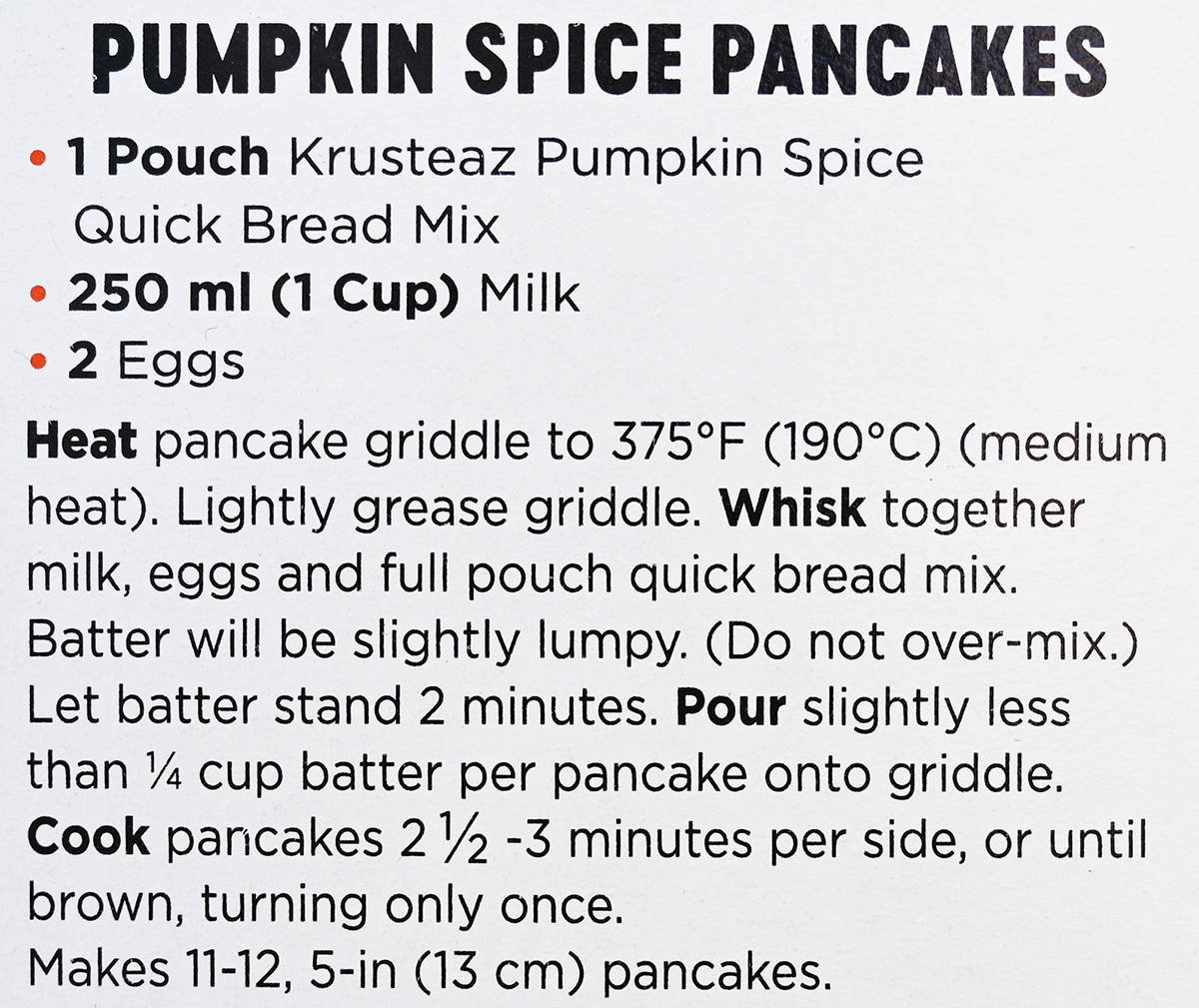 Nutrition
Calories
1/4 cup of mix (not prepared) contains 130 calories, one and a half grams of fat, 28 grams of carbohydrates, one gram of fibre, 18 grams of sugar, one gram of protein and 210 milligrams of sodium.
It's really hard to tell really how many calories etc you're eating when you make something like a loaf and the nutrition facts don't include the eggs or oil.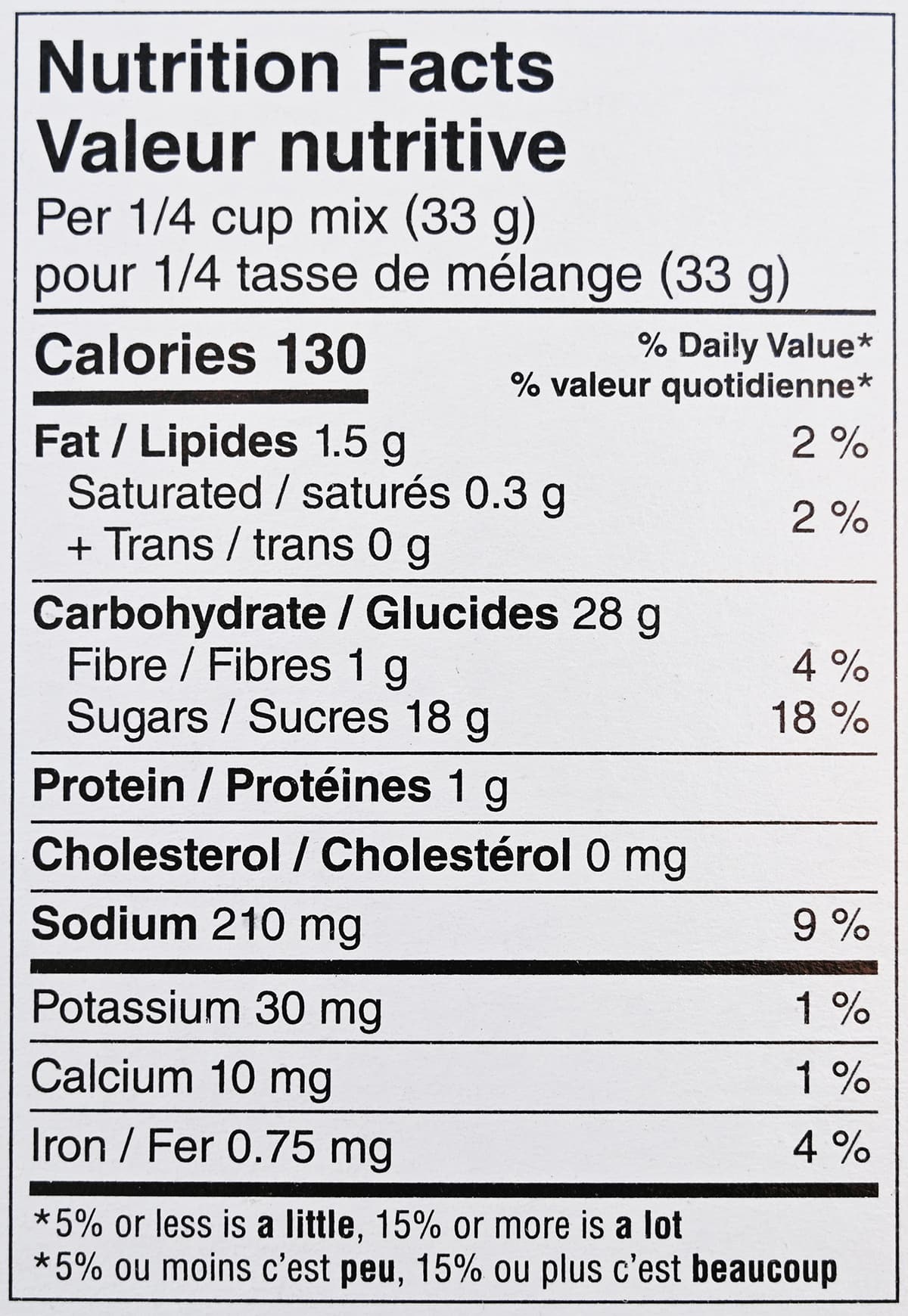 Ingredients
It's not surprisng the first ingredient is sugar because it tastes so sweet! The mix uses dried pumpkin flakes and "spices" for the pumpkin flavor. I don't love seeing the soybean oil in products and generally try to avoid it, I'm disappointed the mix has it listed as an ingredient.
The mix contains wheat and may contain milk, egg, tree nuts and soy.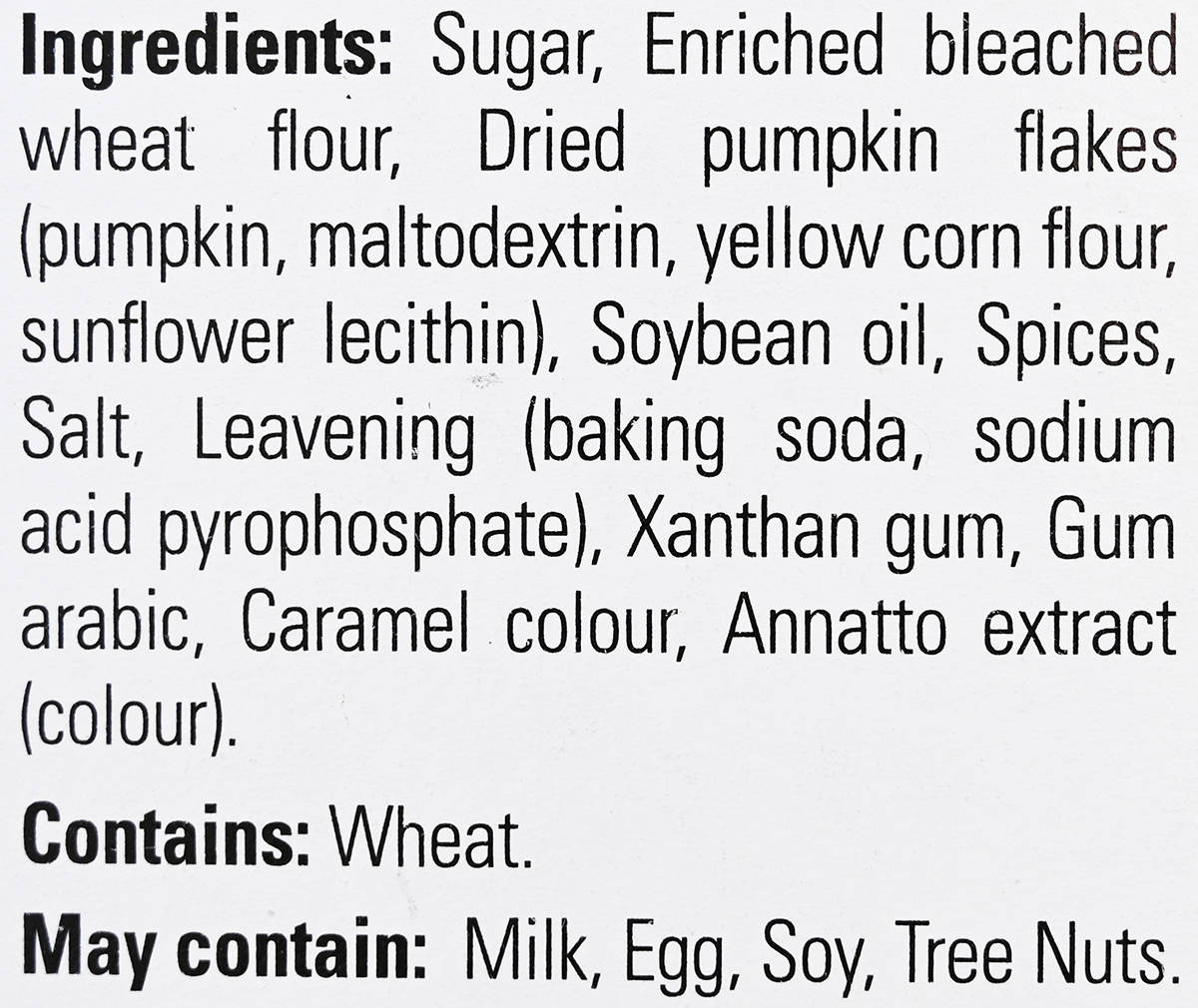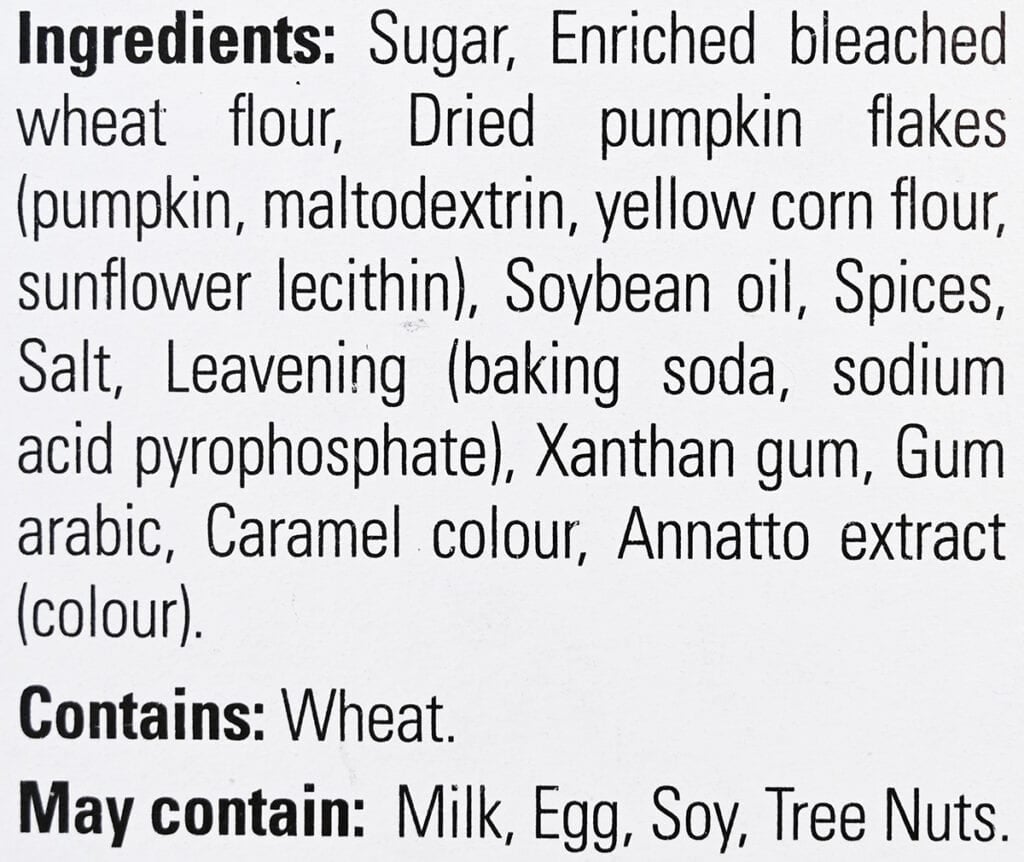 Scoring
Taste: 7/10
Cost: 7/10
Convenience: 8/10
Nutrition: 0/10
Overall
Give it a try!
No store bought mix is going to be as good as homemade with real pumpkin puree but if you need to bake something and don't have much time, this is a convenient option.
Have you tried this Krusteaz Pumpkin Spice baking mix What did you think of them? Leave a comment below!
---
Please note that this review was not paid for or sponsored by any third party. This product was purchased by Costcuisine for the purpose of producing this review. The opinions in this review are strictly those of Costcuisine. Costcuisine is not affiliated with Costco or any of its suppliers. In the event that Costcuisine receives compensation for a post from the manufacturer of a product or some other third party, the arrangement will be clearly disclosed (including where the manufacturer of a product provides Costcuisine with a free sample of the product).