I already have a favorite pasta sauce from Costco – the Rao's Homemade Marinara Sauce. I think Rao's is the best grocery store pasta sauce there is, though it's pretty expensive. A cheaper option would be nice! I wanted to see if this Simply Natural Organic Tomato Basil Pasta Sauce has what it takes to knock off the champ and save me some money on my next pasta night.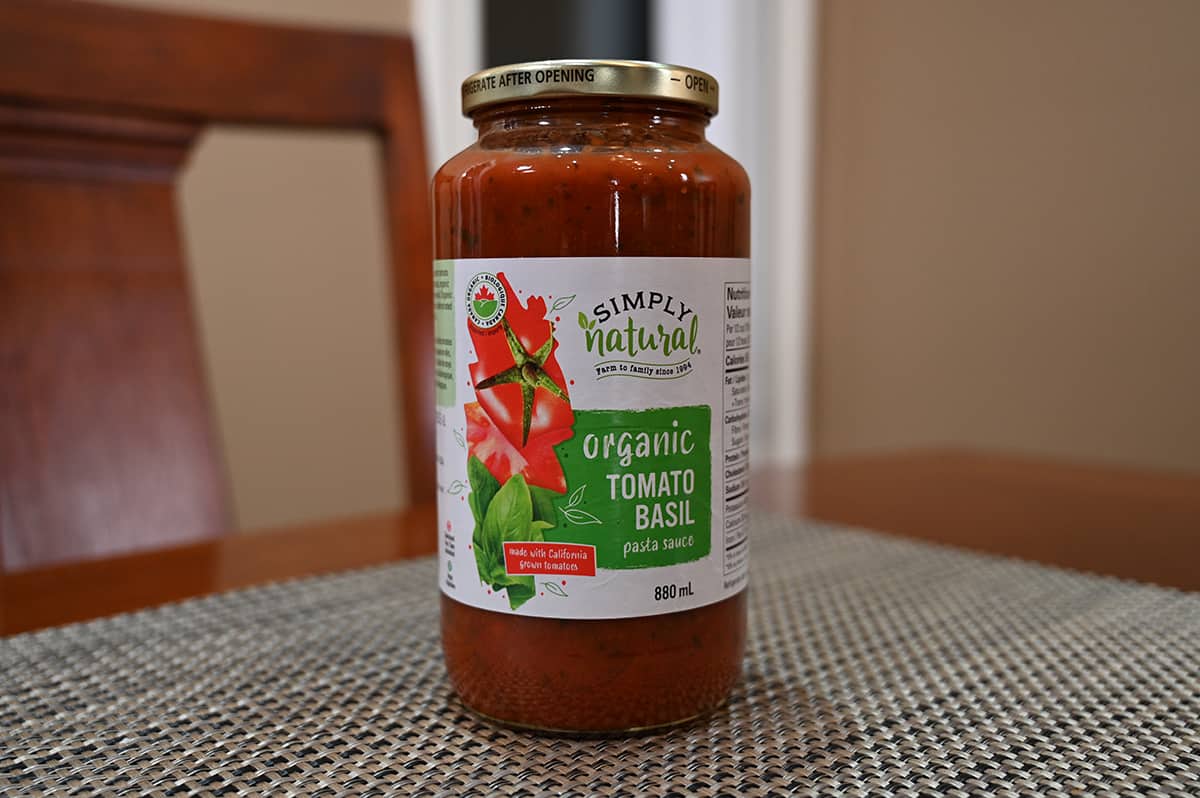 We don't eat a ton of pasta in our house but it's something we both enjoy when we do have it and I always keep a little stockpile of pasta sauce for a quick and easy dinner. This Simply Natural Organic Tomato Basil Pasta Sauce was on sale during a recent Costco trip so I picked it up to try.
Some pasta products from Costco are the Costco is the Banza Rotini Chickpea Pasta, Scoiattolo Grilled Vegetable Organic Ravioli, Duso's Jumbo Chicken & Mozzarella Ravioli, Monterey Gourmet Foods Spinach & Cheese Ravioli, Rana Butternut Squash Ravioli, Duso's Lemon Ricotta Mezzaluna, Kirkland Signature Meat Lasagna, Kirkland Signature Chicken Penne Alfredo and the Rana Tagliatelle Seasoned White Chicken & Mushroom Sauce.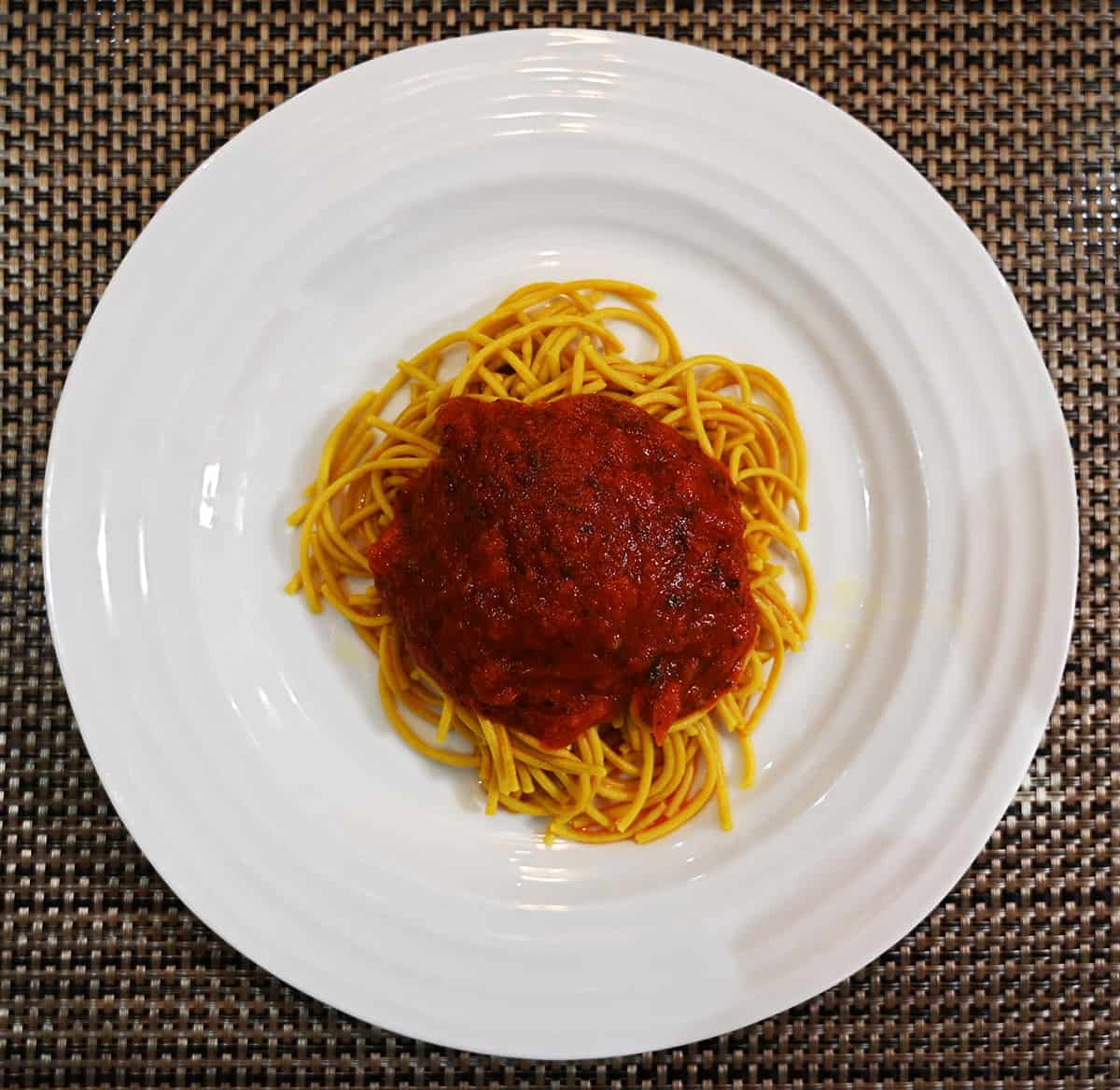 Location in Store
This can be found in the aisle with the other pasta sauce, dry pasta and sauces. The item number is 7350255.
Taste
I'm not a fan of this pasta sauce, I can't quite put my finger on what but I feel like it's missing something and the flavor is pretty bland. Despite being bland, it has a pretty herby flavor and is on the saltier side.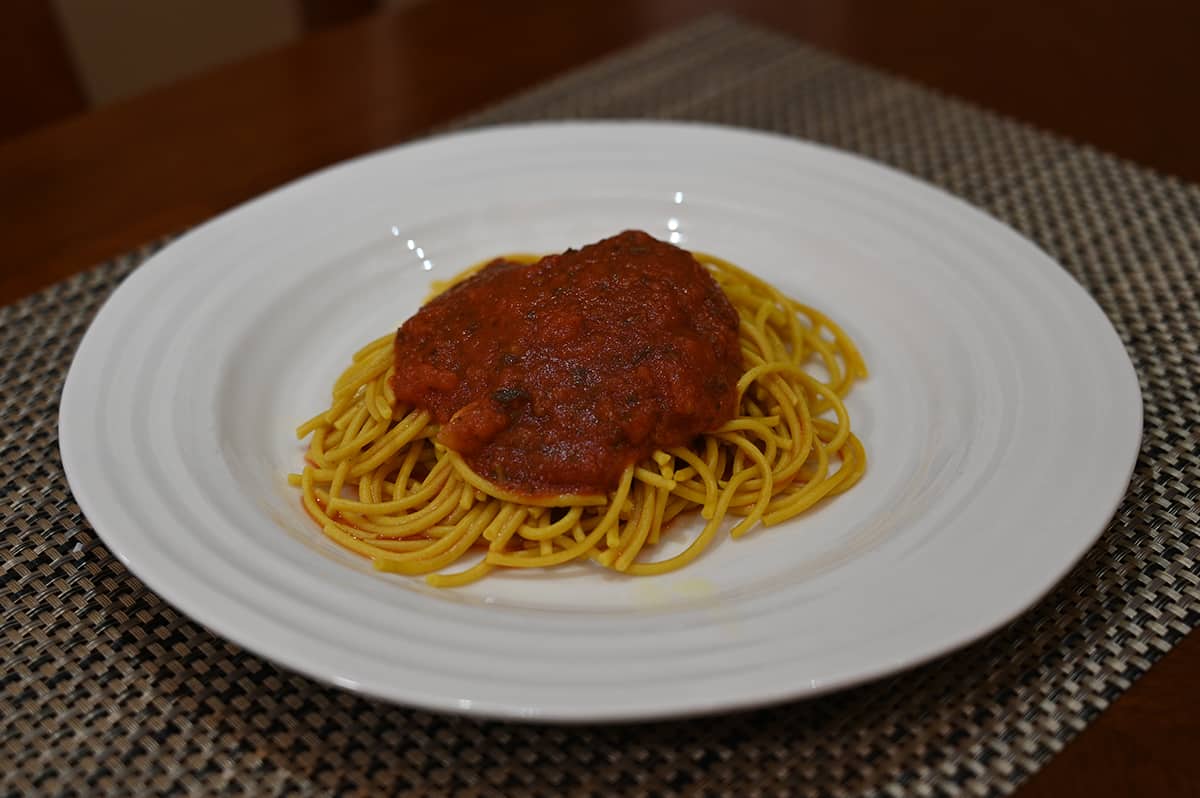 This isn't a sweet pasta sauce and it doesn't have any spice or heat to it. I can't figure out what it's missing that would make it taste better. Maybe some additional seasonings and spices.
I like that the sauce has a bit of texture from the chunks of tomatoes in it. When I added ground beef to make a bolognese-style sauce the flavor of the ground beef completely overpowered the sauce and all I can taste is the ground beef.
Cost
A three-pack of 880-milliliter jars of pasta sauce costs $12.49 Canadian at Costco which is really reasonable for an organic sauce. Rao's Marinara which is my favorite is much more expensive.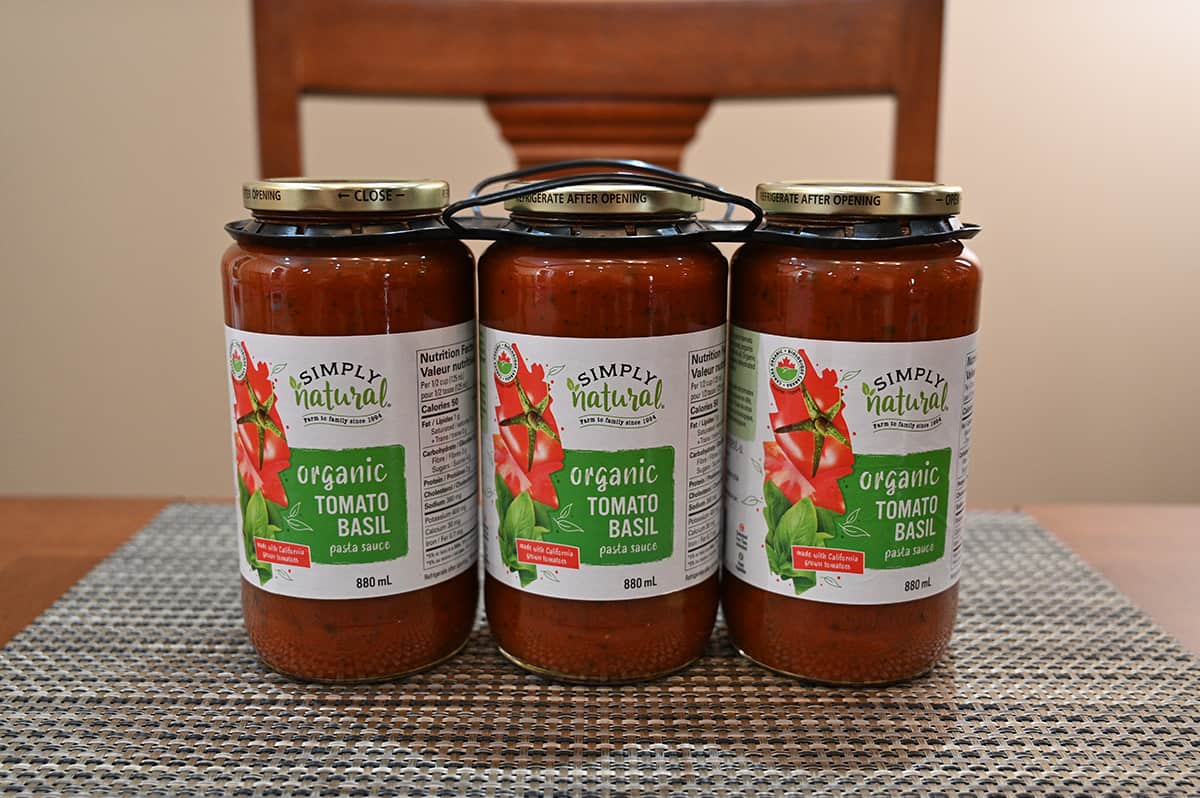 Convenience
This could be used as a pizza sauce although the jar says it's a pasta sauce. The best-before date listed on the jar is about two years from when we bought the pasta sauce and the label says it needs to be refrigerated after opening.
The sauce is produced in the USA and one jar of sauce is plenty for a pot of pasta. We had a bunch of leftover sauce that I put in the freezer.
Nutrition
Calories
A half-cup serving of sauce contains 50 calories, one gram of fat, eight grams of carbohydrates, two grams of fibre, four grams of sugar, two grams of protein and 360 milligrams of sodium. The calories and fat are definitely low but the sodium isn't, especially if you're going to be having more than half a cup of sauce on your pasta.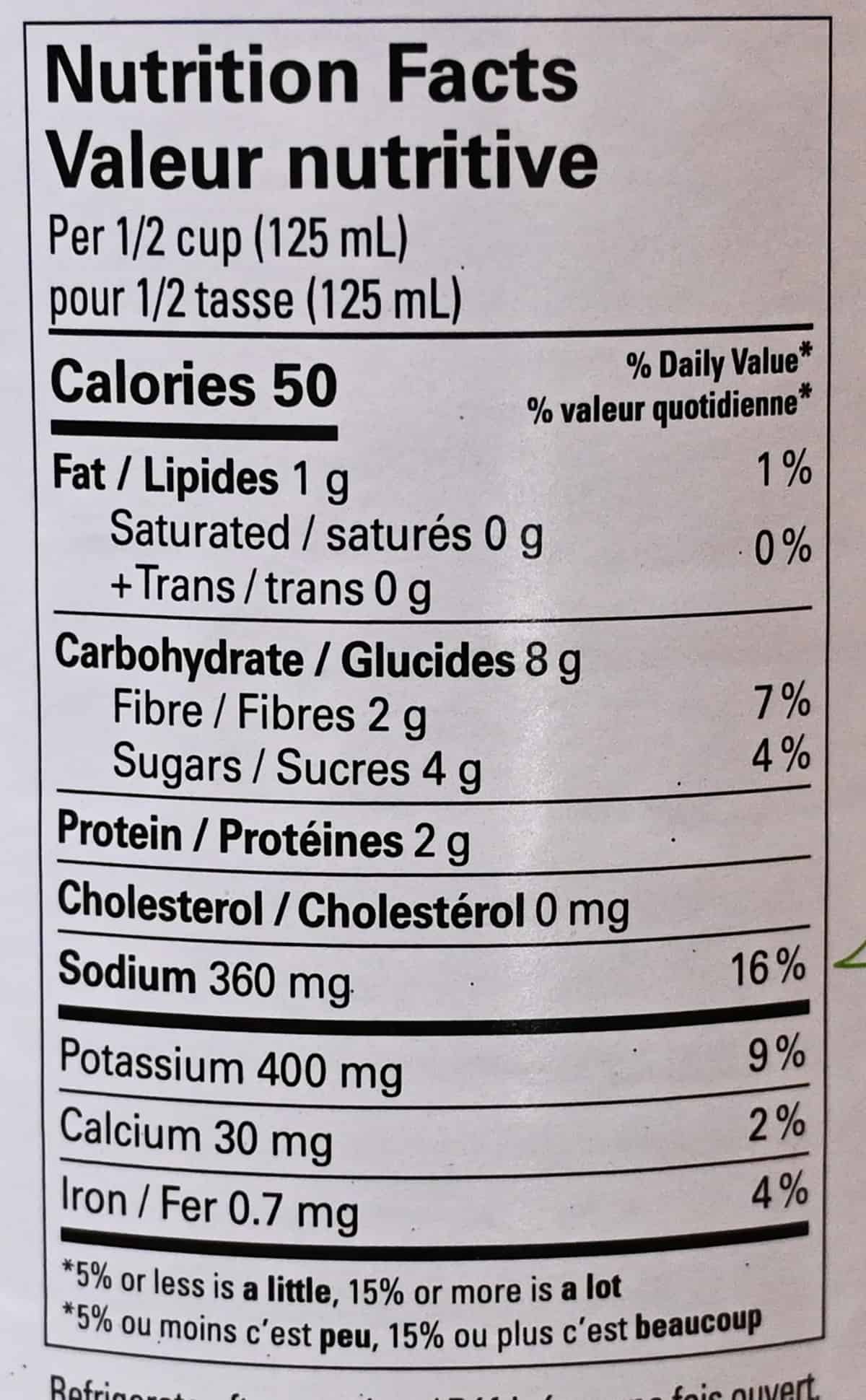 Ingredients
All of the ingredients are organic and the ingredients list is mainly tomato, basil and spices. I do wish they didn't use soybean oil in the sauce. Some individuals don't tolerate soy or are allergic or just try to avoid it in their diet.
This Costco Simply Natural Organic Tomato Basil Pasta Sauce is gluten-free, vegan and dairy free.

Scoring
Taste: 5/10
Cost: 8.5/10
Convenience: 10/10
Nutrition: 8/10
Overall
Walk on by!
In my opinion, this sauce is bland and overall just not very tasty. This is surprising because I usually enjoy pretty much all tomato sauce! I wouldn't buy this product again.
Have you tried this pasta sauce? What are your thoughts on it?
---
Please note that this review was not paid for or sponsored by any third party. This product was purchased by Costcuisine for the purpose of producing this review. The opinions in this review are strictly those of Costcuisine. Costcuisine is not affiliated with Costco or any of its suppliers. In the event that Costcuisine receives compensation for a post from the manufacturer of a product or some other third party, the arrangement will be clearly disclosed (including where the manufacturer of a product provides Costcuisine with a free sample of the product).