Are you looking to replace your candy with less sugary and that has more fiber? The Costco Smart Sweets Sourmelon Bites only have three grams of sugar per pouch, are plant-based, gluten-free and high in fiber. But do they taste at all like the classic less healthy sour watermelon candies people love so much?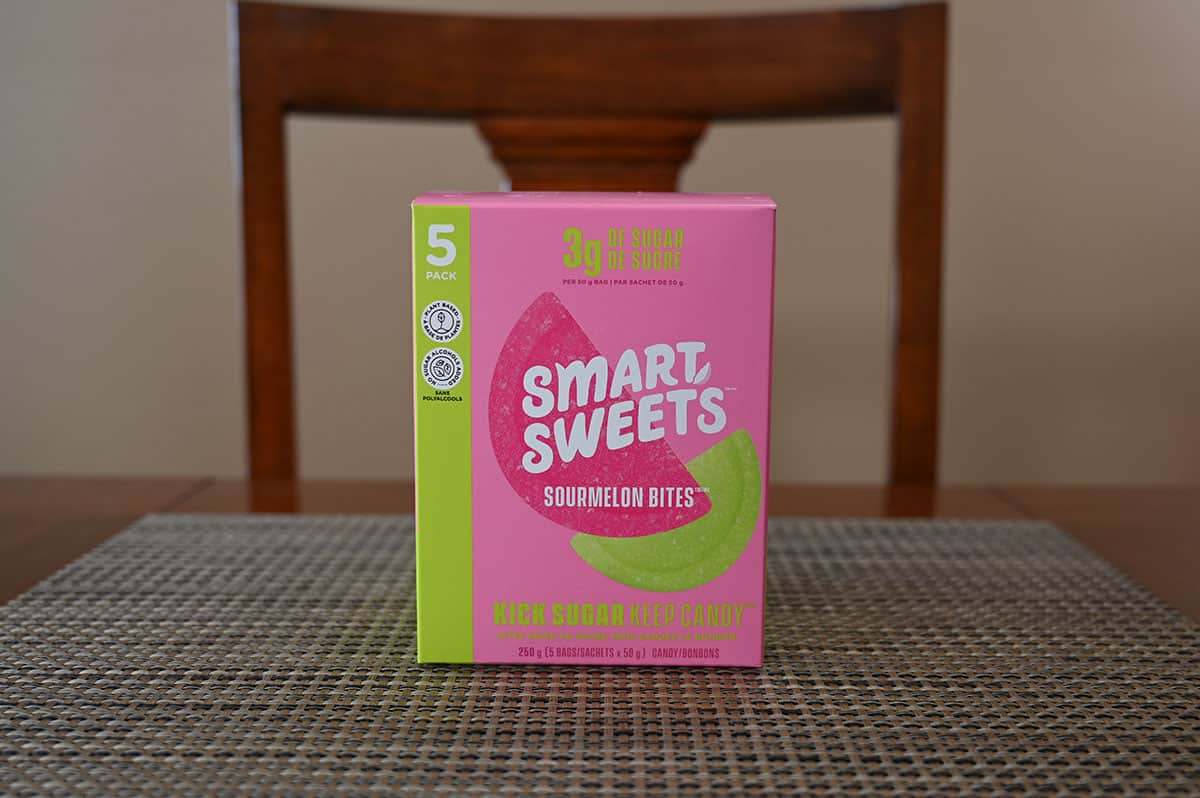 I'm not a huge candy person, I prefer chocolate and cookies but I enjoy it in small quantities, especially if it seems like a healthier version than regular gummy candies! The bright packaging on the Costco Smart Sweets Sourmelon Bites is what caught my eye and made me want to purchase them to review.
If you like sweet treats you may like the Costco Kirkland Signature Chocolate Covered Raisins, Costco Kirkland Signature Praline Pecans, Costco Werther's Original Caramel Popcorn, Costco Kirkland Signature Milk Chocolate Covered Almonds, Costco Smart Sweets Sweet Fish, Costco Waterbridge Allsorts, Costco Kirkland Signature Jelly Belly Gourmet Jelly Beans, Costco Kirkland Signature Honey Roasted Macadamia Nuts and the Costco Smart Sweets Peach Rings.
Location in Store
You can find the Smart Sweets candy in the snack section, near the front of the store. The item number is 1532721.
Taste
They're sour but not as sour as I expected them to be. The initial flavor is sweet and sour combined and the sour flavor lingers for quite some time. The end flavor is sweet. There's a definite watermelon taste, there's no doubt these are sour watermelon candies.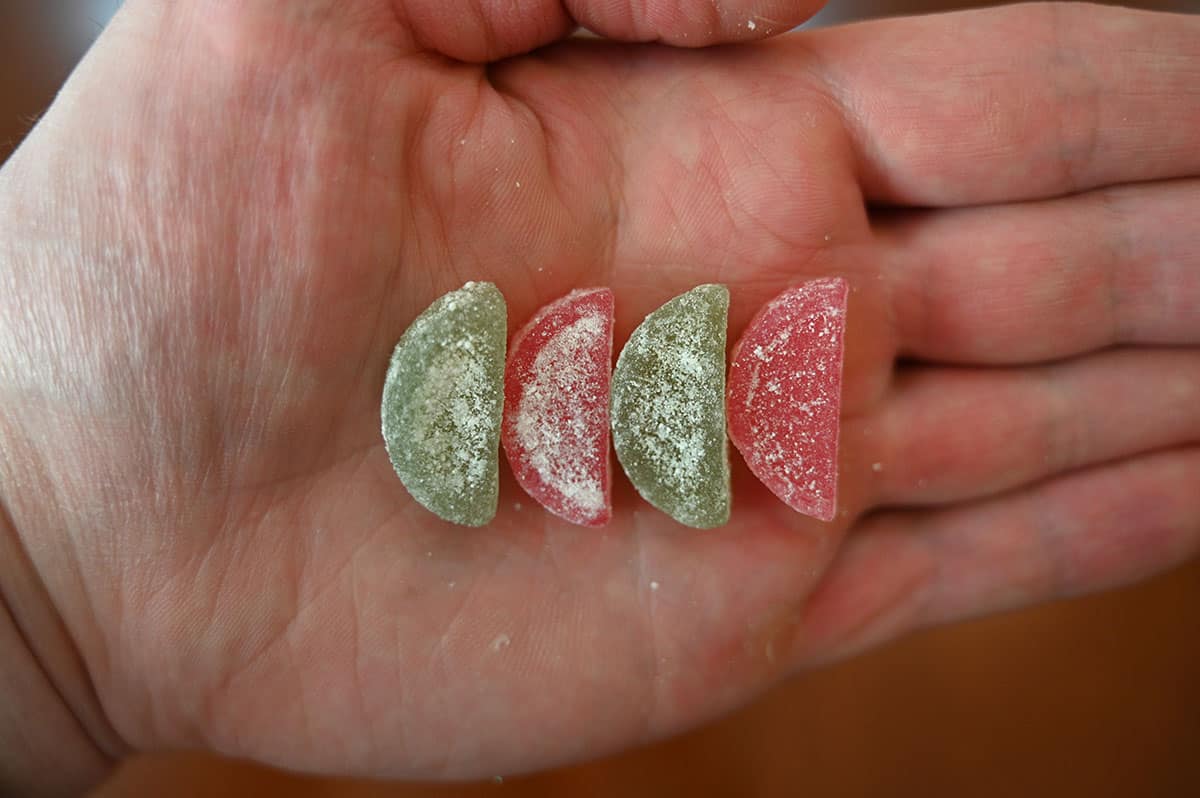 What I don't love is the aftertaste, it isn't great and there is kind of a chemical taste to it. There are two colors of candy in the pouch, pink and green. I tasted both seperately and can say they taste the same. The texture of the candy is soft and extremely chewy, these stick to my teeth so badly!
In summary, the flavor of the sour watermelon is there but they don't taste quite like the classic sour watermelon candies.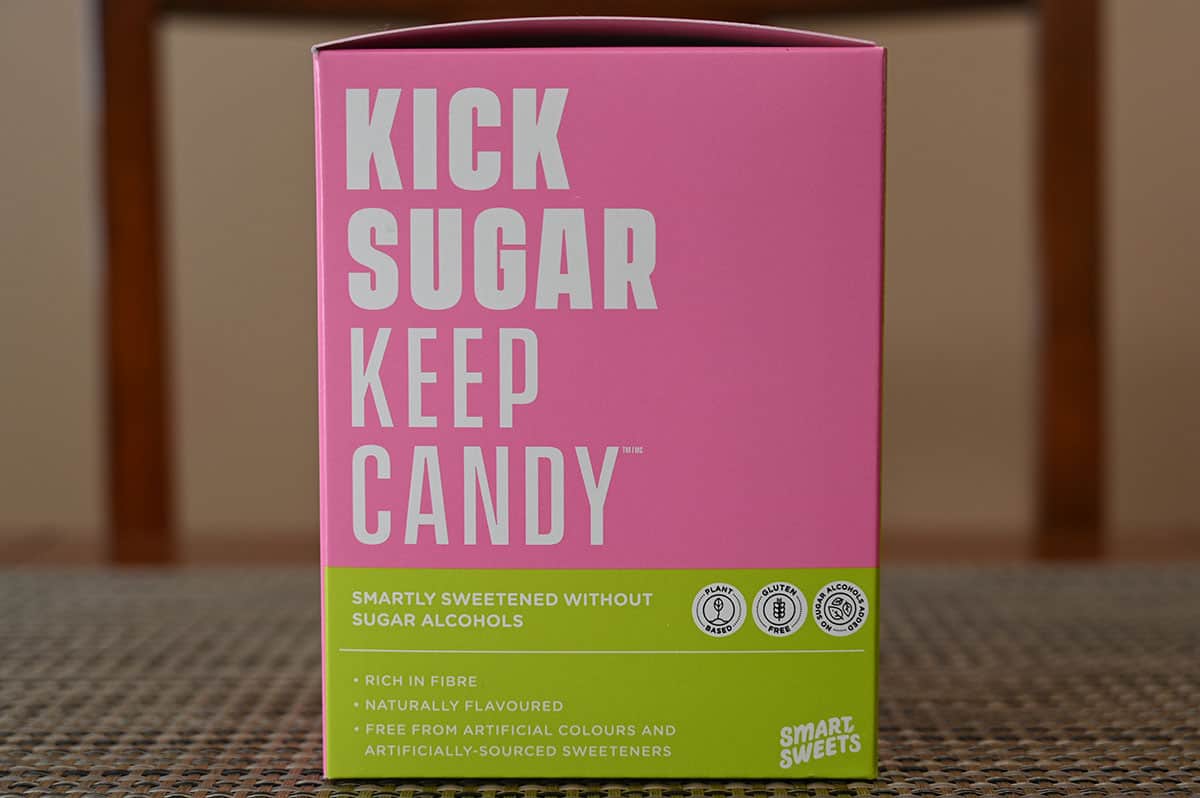 Cost
The box comes with five 50 gram pouches of sourmelon bites and costs $11.89 Canadian. Which is expensive in my opinion!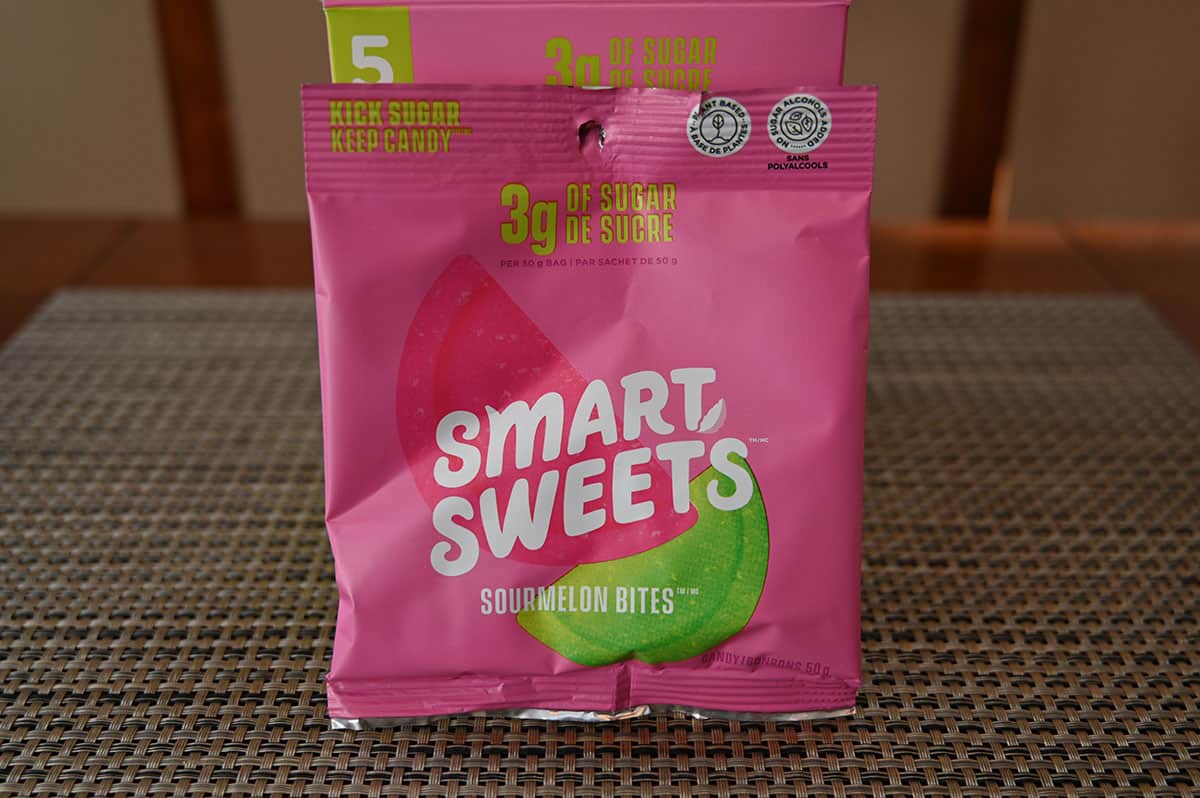 Convenience
Each pouch is 50 grams and I counted sixteen candies in one pouch. The best before date is about six months from the date I purchased the candies.
These are great for someone with a sweet tooth who's watching their sugar intake and wanting some additional fibre in their diet! Because the candies come in small, individual pouches they're very easy to bring along with you as a sweet treat.
Nutrition
Calories
One pouch is 130 calories, zero grams of fat, 40 grams of carbohydrates, 17 grams of fibre, three grams of sugar, zero grams of protein and 95 milligrams of sodium. That's quite a large amount of fibre, which may upset some stomachs! There's a decent amount of carbohydrates per pack too, they're not low carb.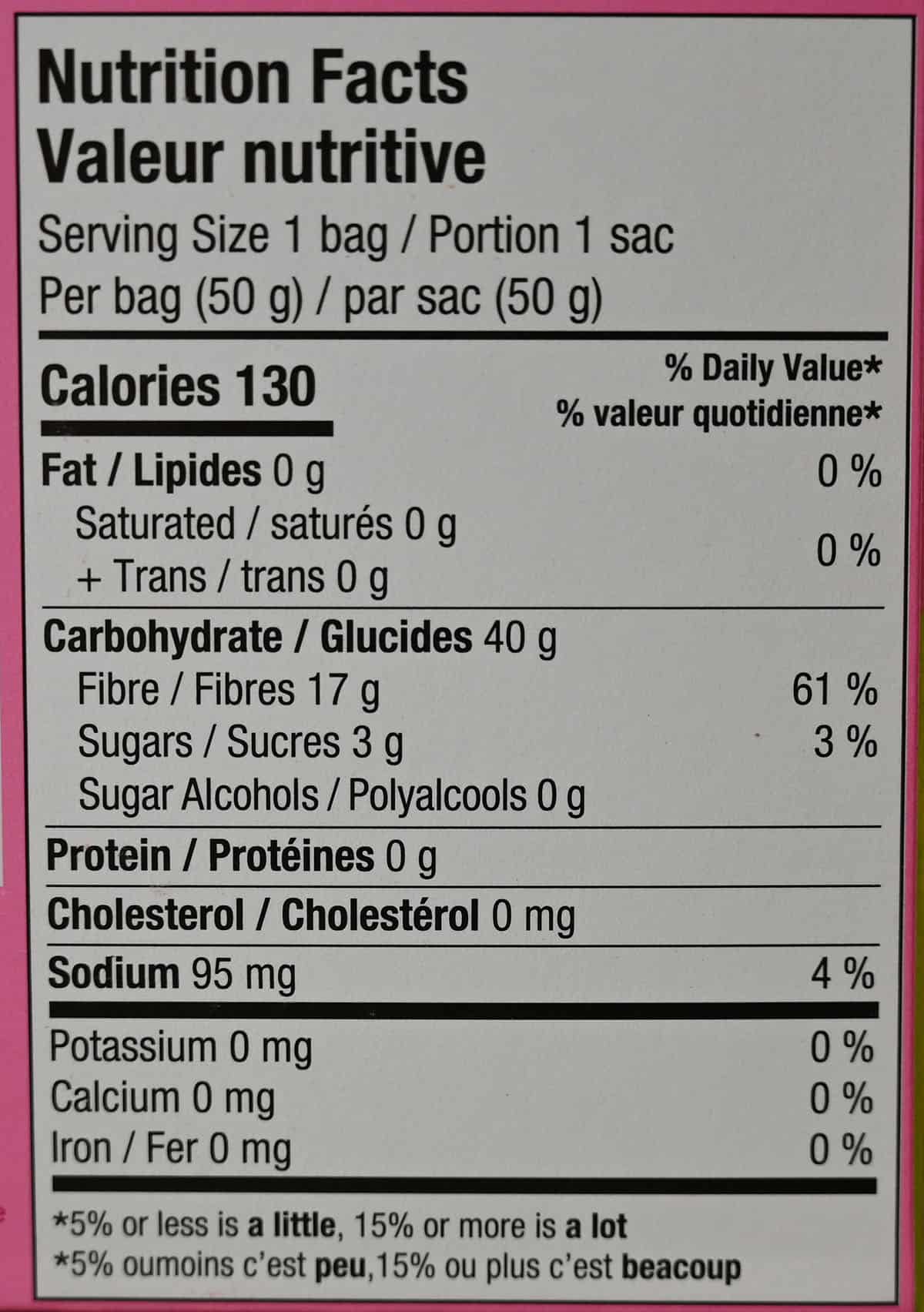 Ingredients
Wow, there are a lot of ingredients! The Smart Sweets candies are gluten-free, plant-based and have no sugar alcohols. Some of the ingredients may upset stomachs though like the first ingredient, isomalto-oligosaccharides.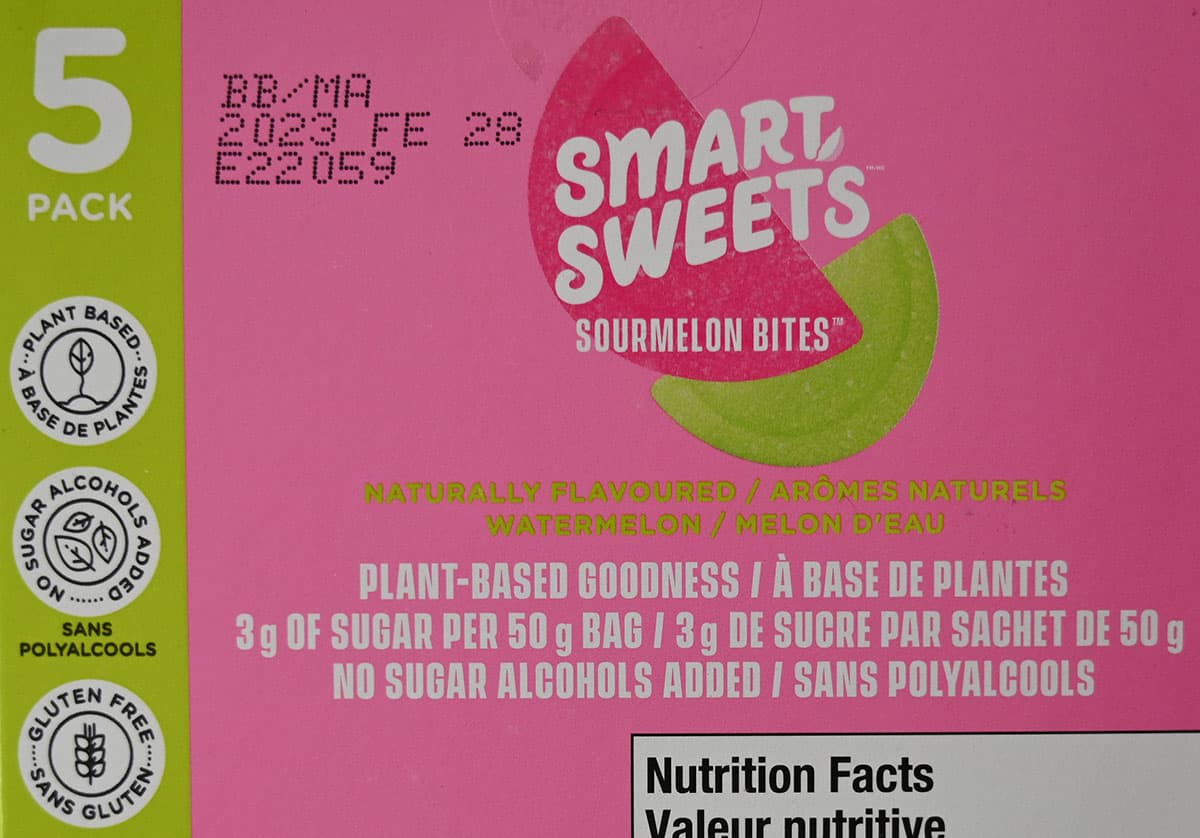 The box states the candies are naturally flavored but I don't see anywhere that says "watermelon juice concentrate" so I'm not sure what these are flavored with as there's only a vague "natural flavors" listed.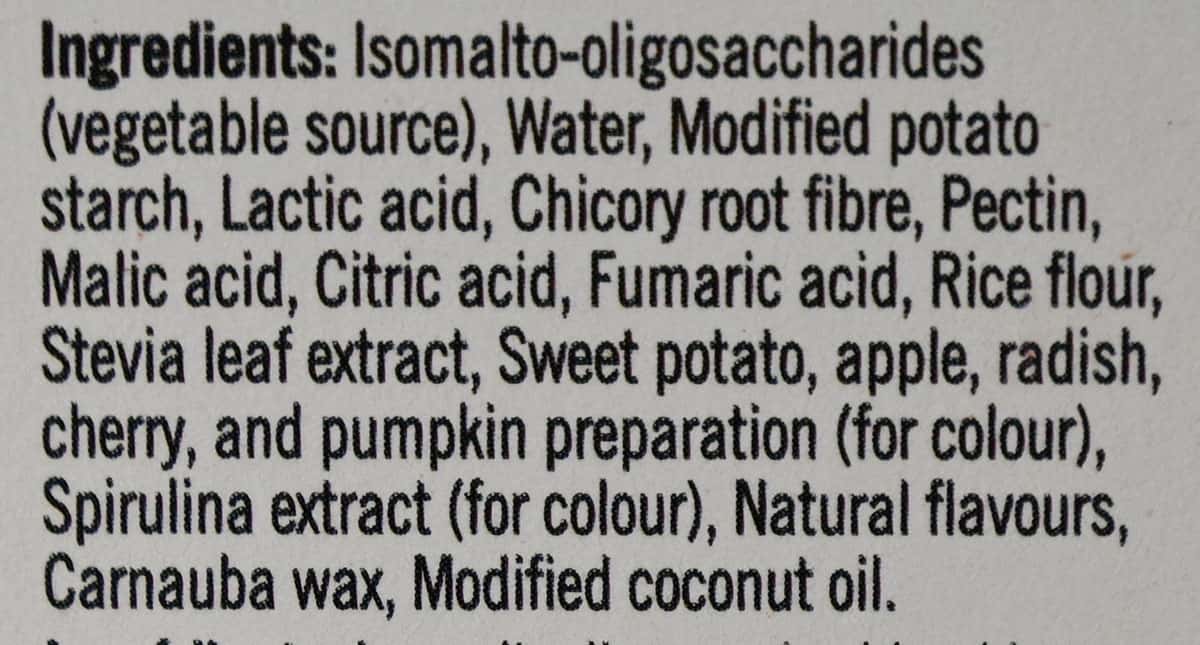 Scoring
Taste: 7/10
Cost: 5/10
Convenience: 10/10
Nutrition: 3/10 (Just because they're low in sugar and high in fibre it doesn't mean they're good for you).
Overall
Give it a try!
I prefer the Costco Smart Sweets Peach Rings or Sweet Fish, these are my least favorite but I could see a lot of people really enjoying them. I think they're pretty tasty, just not my fave!
What do you think of Smart Sweets candies?
---
Please note that this review was not paid for or sponsored by any third party. This product was purchased by Costcuisine for the purpose of producing this review. The opinions in this review are strictly those of Costcuisine. Costcuisine is not affiliated with Costco or any of its suppliers. In the event that Costcuisine receives compensation for a post from the manufacturer of a product or some other third party, the arrangement will be clearly disclosed (including where the manufacturer of a product provides Costcuisine with a free sample of the product).