Snickers is a popular chocolate bar made of nougat, caramel and peanuts enrobed in chocolate. Popcorn and Snickers are brought together to make this Costco Snickers Candy Pop Popcorn. Is this popcorn as good as it looks or is the combination a little much for the average popcorn lover's taste buds?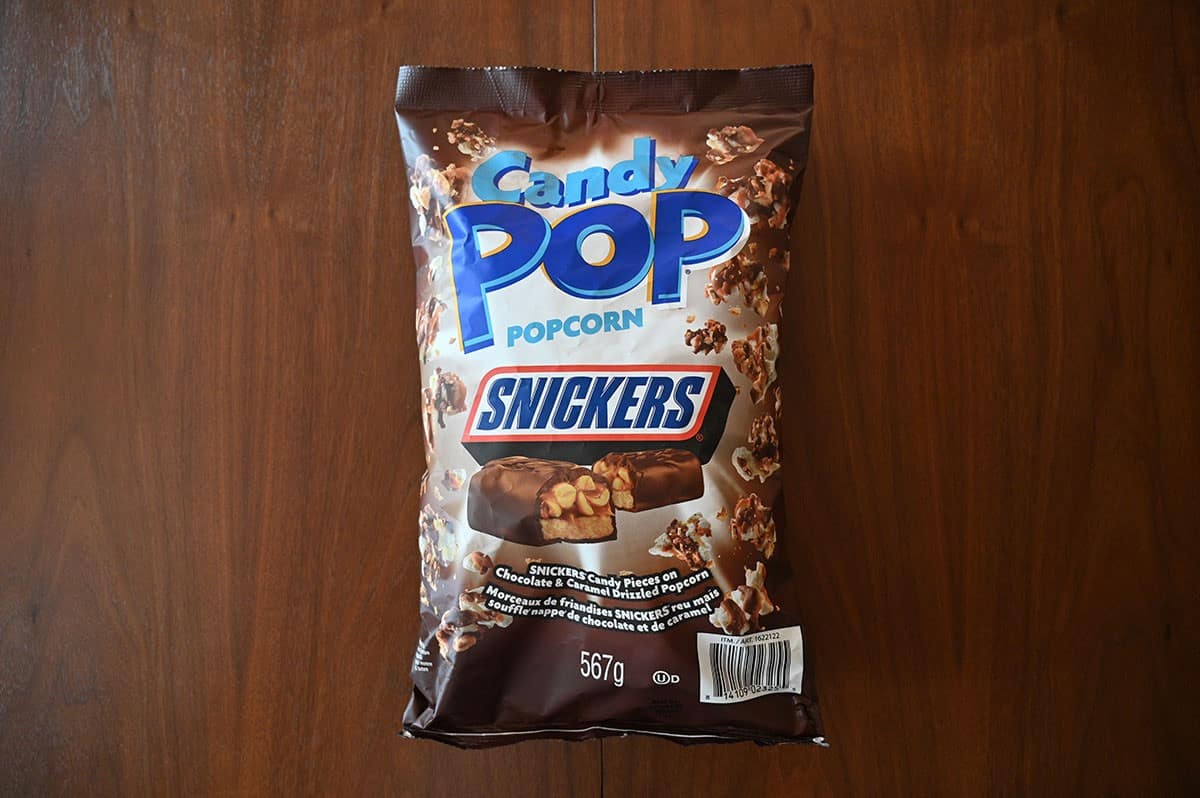 I enjoy plain, salted popcorn from time to time but can't say I'm the biggest popcorn fan. Movie theater popcorn is delicious but it's been about two years since we've gone to a movie! I thought this Snickers Candy Pop Popcorn from Costco looked pretty intriguing so I decided to buy a bag to try it out.
Other popcorns I've reviewed from Costco are the Costco M&M's Minis Candy Pop Popcorn, Costco Kirkland Signature Microwave Popcorn, Costco French Cancan Popcorn, Costco Cretors Chicago Mix Popcorn, Costco Werther's Original Caramel Popcorn, Costco Angie's Boom Chicka Pop Sea Salt Popcorn and the Costco Angie's Boom Chicka Pop Sweet & Salty Kettle Corn.
Location in Store
You can find this Snickers popcorn in the chip section at Costco, on the side of the store. The item number is 1622122.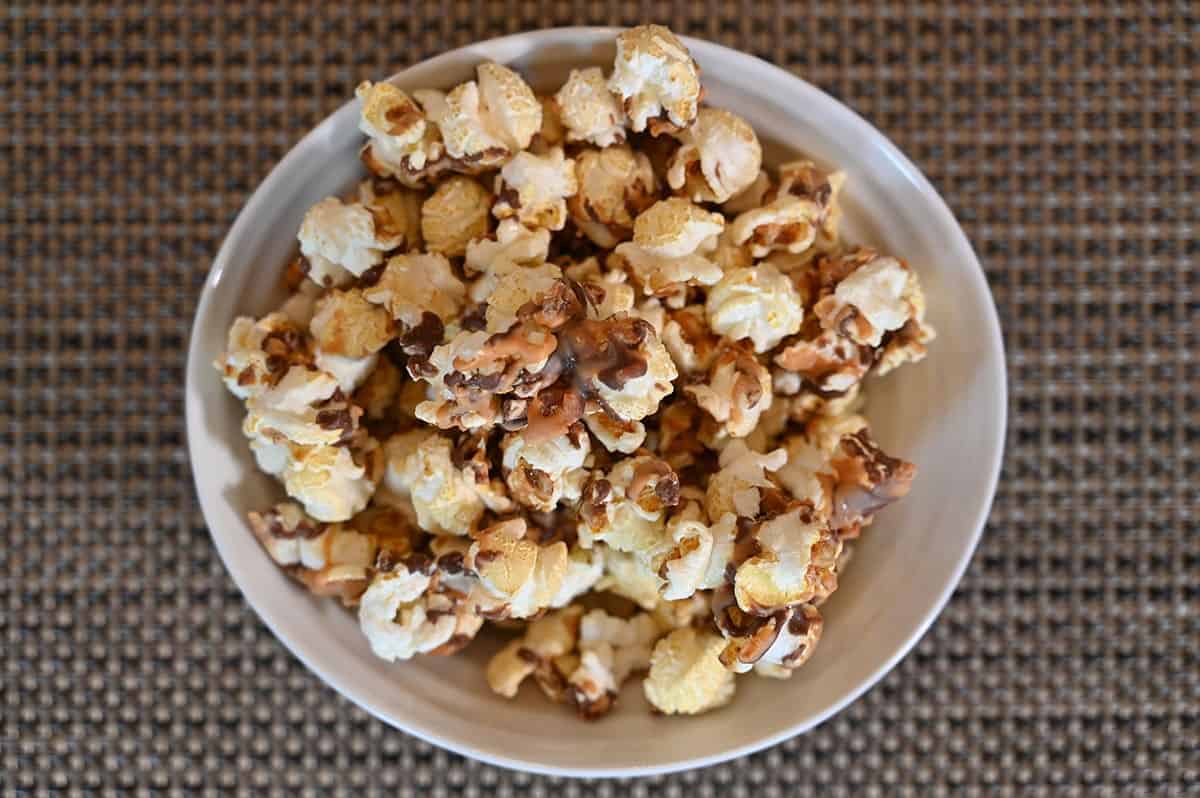 Taste
The popcorn has a nice combination of salty and sweet. You can taste the chocolate peanut butter flavor of Snickers and it pairs well with the popcorn. The texture of the popcorn is nice and light and crispy. Most of the flavor I taste comes from the chocolate and peanut butter, you don't taste the butteryness of the popcorn that much.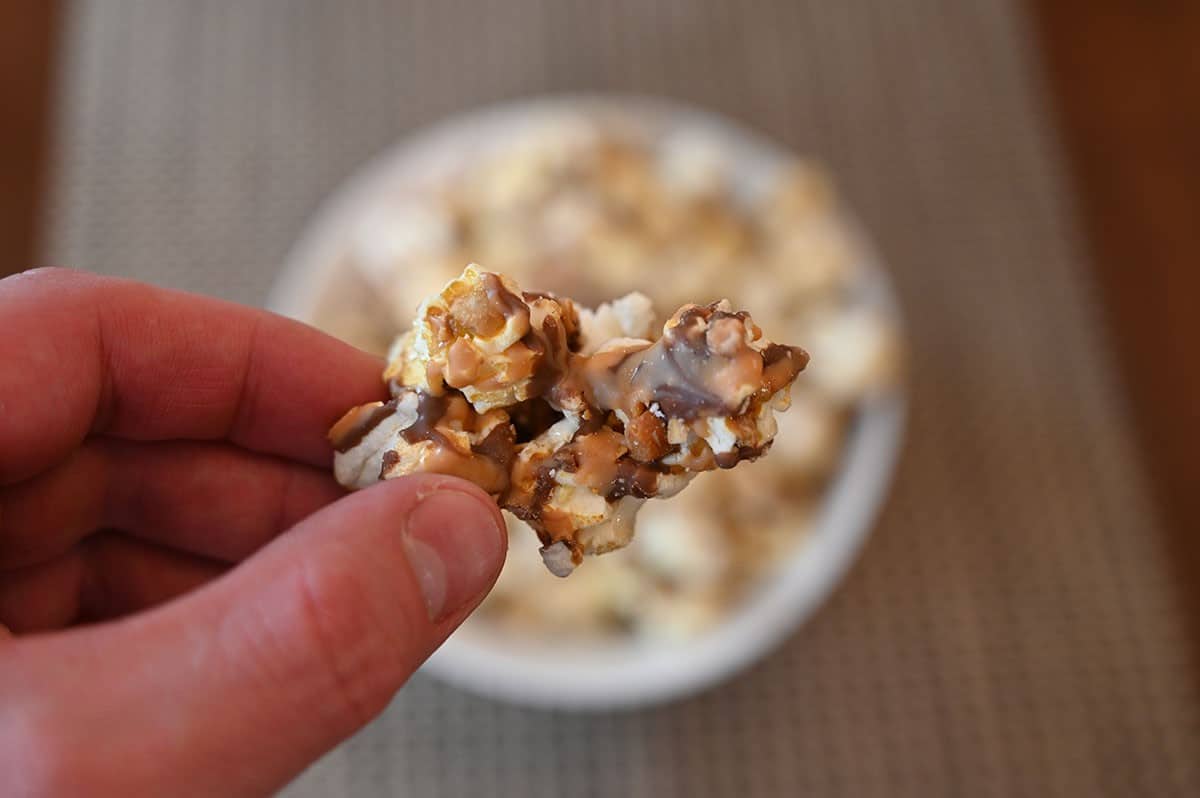 It has a nice mild butter flavor and a good amount of chocolate and peanut butter, some of the pieces have tons of coating. It's quite sweet, which my sweet tooth doesn't mind. There seems to be the odd chunk of actual peanut but they're fairly small and there's not that many.
The popcorn isn't too crunchy, it has a light crunch but the pieces that have a lot of coating aren't that crunchy at all, they kind of melt in your mouth. The more you eat, the more addictive it becomes!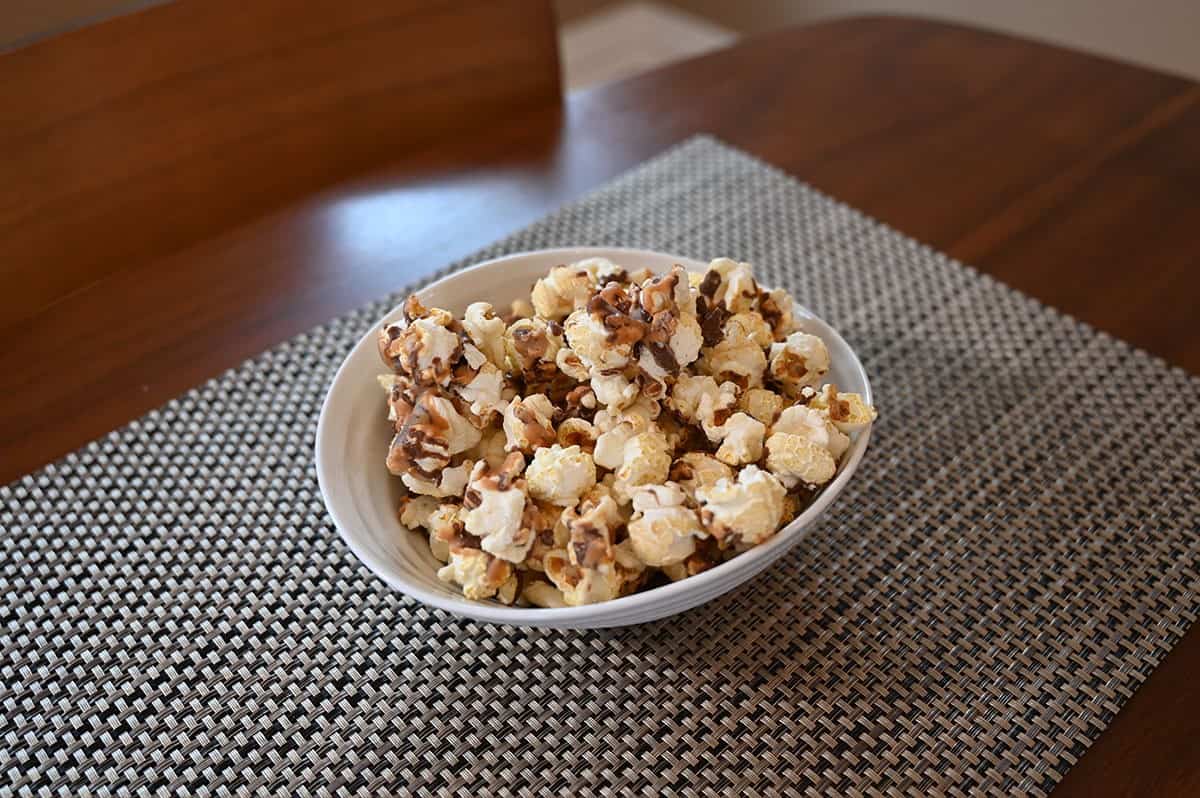 Cost
The 567 gram bag at Costco is $8.89 Canadian. This isn't cheap at all and in my opinion, slightly on the expensive side.
Convenience
I wish the bag would reseal! After opening the bag I decided to store the rest in a large Ziploc freezer bag to keep it fresh. The best before date is 11 months from the date I purchased the popcorn.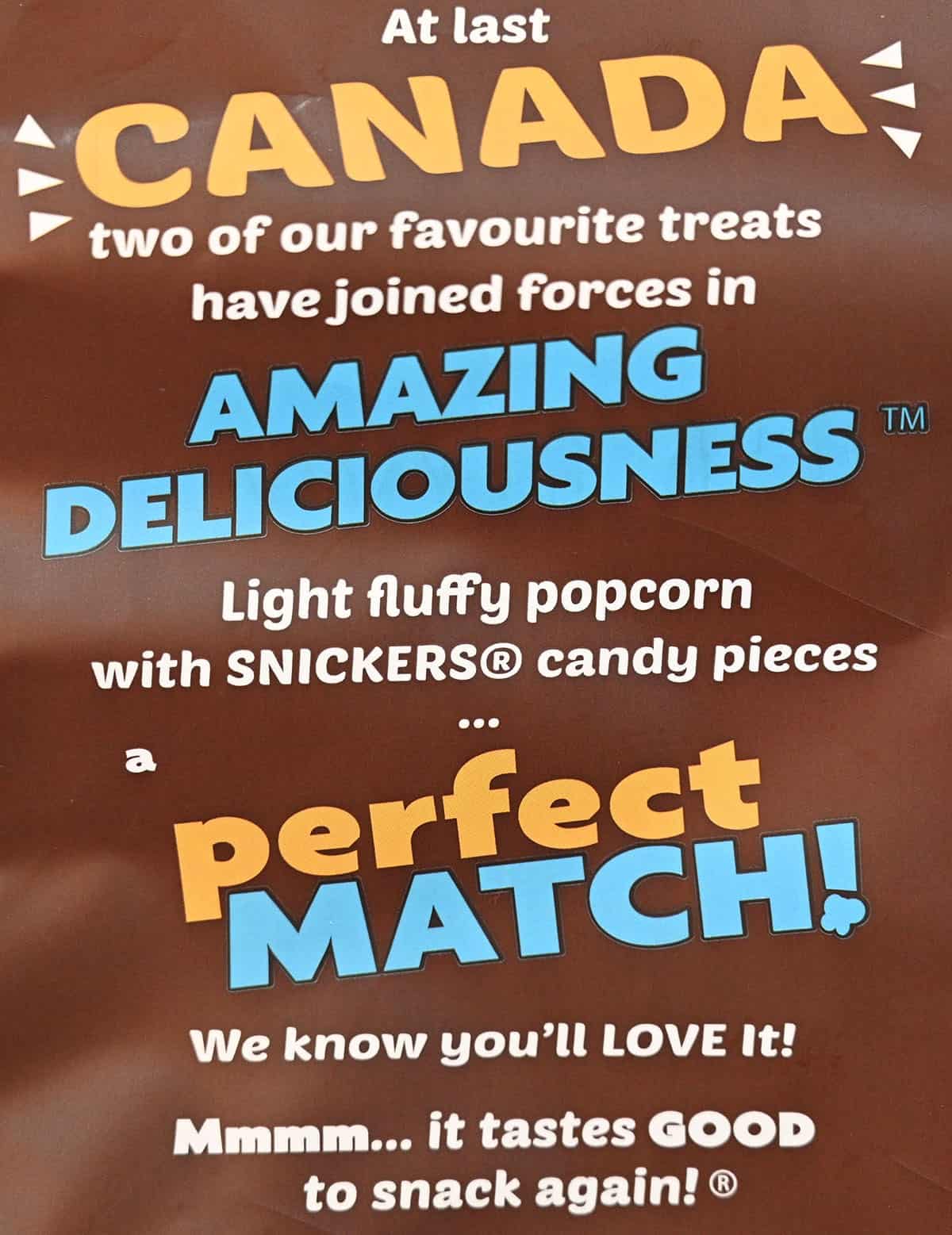 I think kids would really like this popcorn and adults too! It's great for family movie nights at home, camping, a big barbecue or even to bring to a potluck.
Nutrition
Calories
A one and a quarter cup serving is 150 calories, nine grams of fat, 18 grams of carbohydrates, two grams of fibre, 12 grams of sugar, two grams of protein and 15 mg of sodium. That's actually not as bad as I expected! As long as you can stick to one serving the calories, fat and sugar aren't that high for something that tastes the way this popcorn does!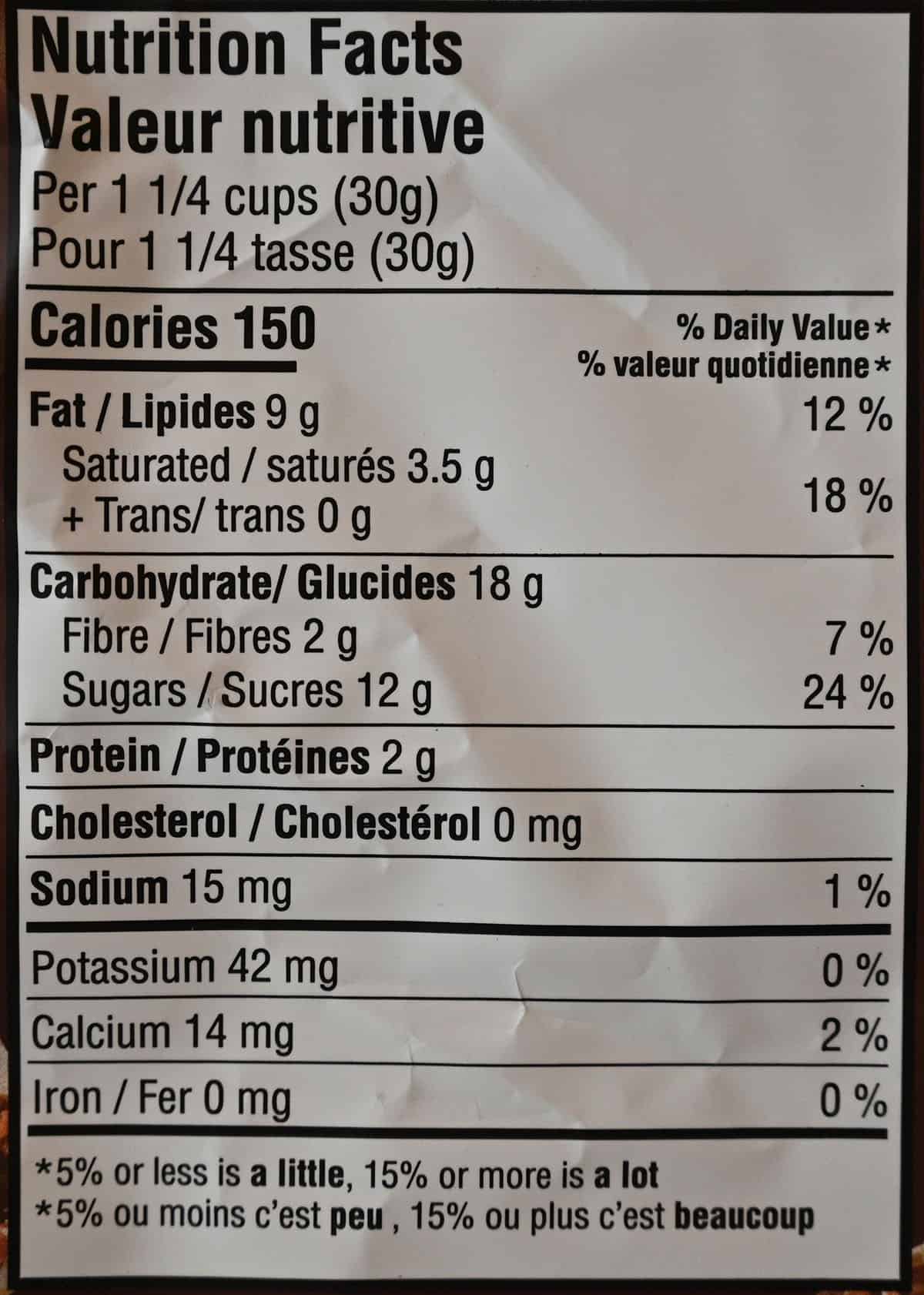 Ingredients
The ingredients aren't healthy at all, the first ingredient is "confectionary coating" followed by popcorn and then a whole bunch of other unhealthy ingredients. There's no wheat listed in the ingredients but the popcorn may contain wheat and tree nuts. It does contain egg, milk, soy and peanuts.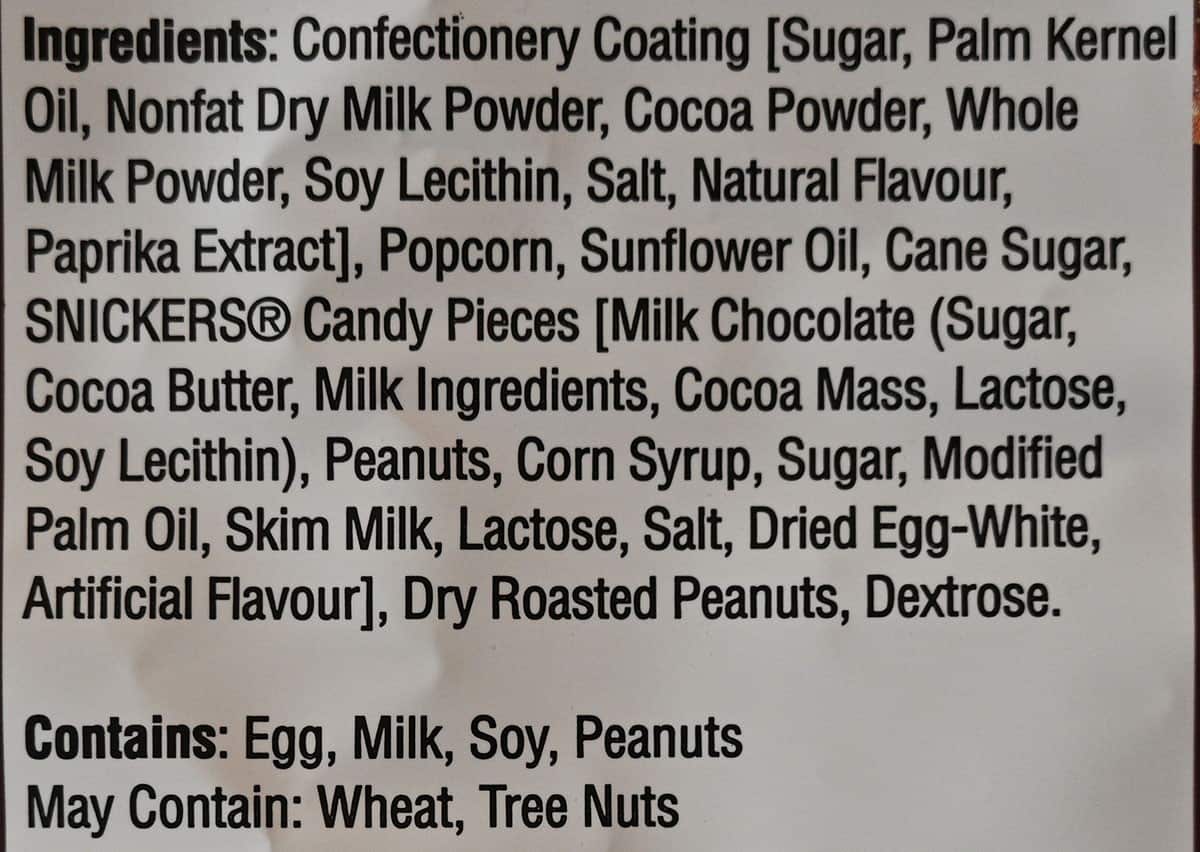 Scoring
Taste: 8.5/10
Cost: 6/10
Convenience: 10/10
Nutrition: 0/10
Overall
Give it a try!
I think this is pretty tasty and addictive but it is very sweet!
What are your thoughts on flavored popcorn?
---
Please note that this review was not paid for or sponsored by any third party. This product was purchased by Costcuisine for the purpose of producing this review. The opinions in this review are strictly those of Costcuisine. Costcuisine is not affiliated with Costco or any of its suppliers. In the event that Costcuisine receives compensation for a post from the manufacturer of a product or some other third party, the arrangement will be clearly disclosed (including where the manufacturer of a product provides Costcuisine with a free sample of the product).