There are a lot of sweet and salty snacks but not very many spicy ones. These Costco Sriracha Hot Chili Almonds promise to deliver a spicy snack by combining the popular flavor of Sriracha hot sauce with almonds!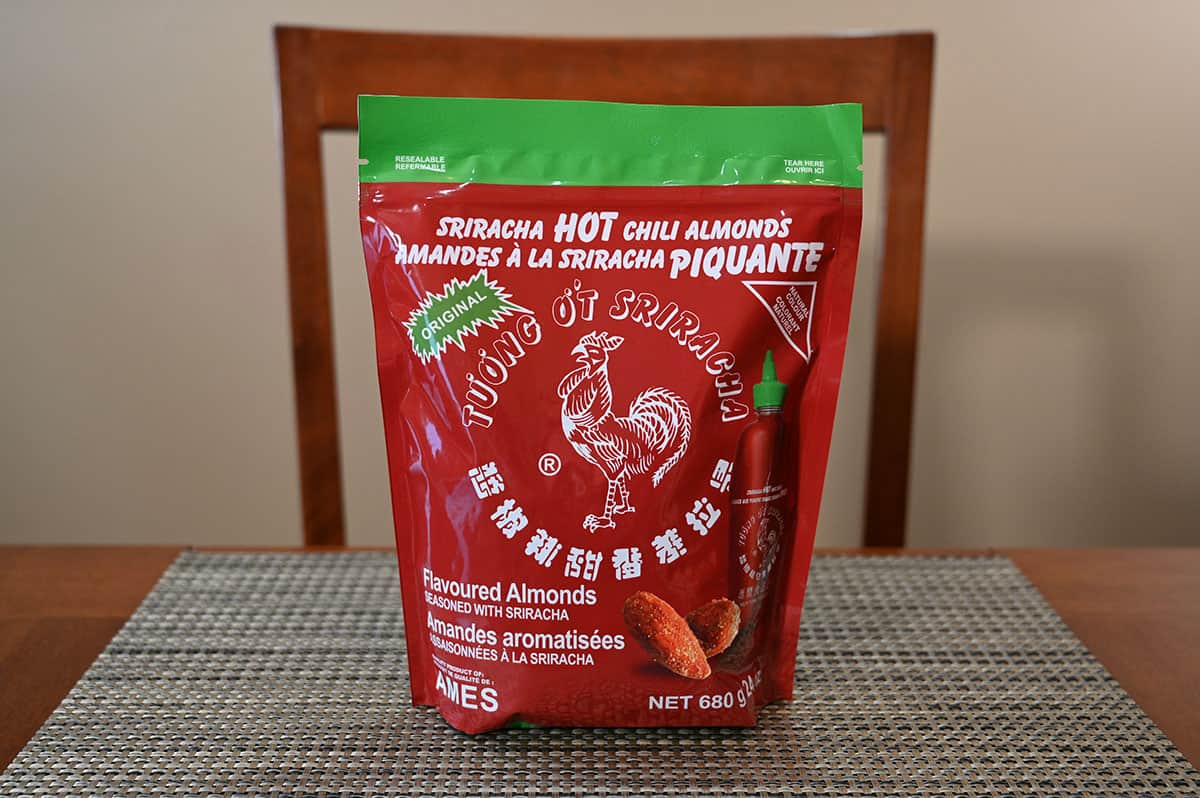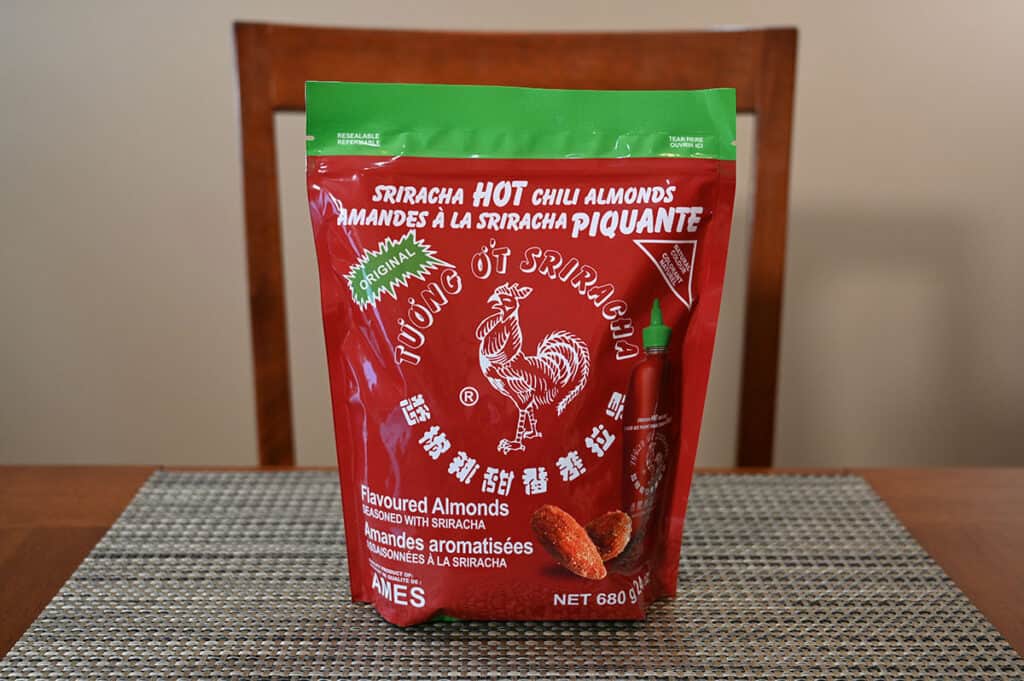 I'll admit, I don't really like sriracha, I find it too spicy so I wasn't very excited to try these almonds. However, my husband loves sriracha so I got him to try these Costco Sriracha Hot Chili Almonds.
Other nuts I've reviewed from Costco are the Kirkland Signature Honey Roasted Macadamia Nuts, Savanna Orchards Honey Roasted Nuts, Kirkland Signature Premium Quality Whole Mixed Nuts, Kirkland Signature Butter Toffee Cashews, Kirkland Signature Mixed Nut Butter with Seeds, Lamontagne Milk Chocolate Pistachios, Blue Diamond Spicy Dill Pickle Almonds and the Kirkland Signature Chocolate Covered Almonds.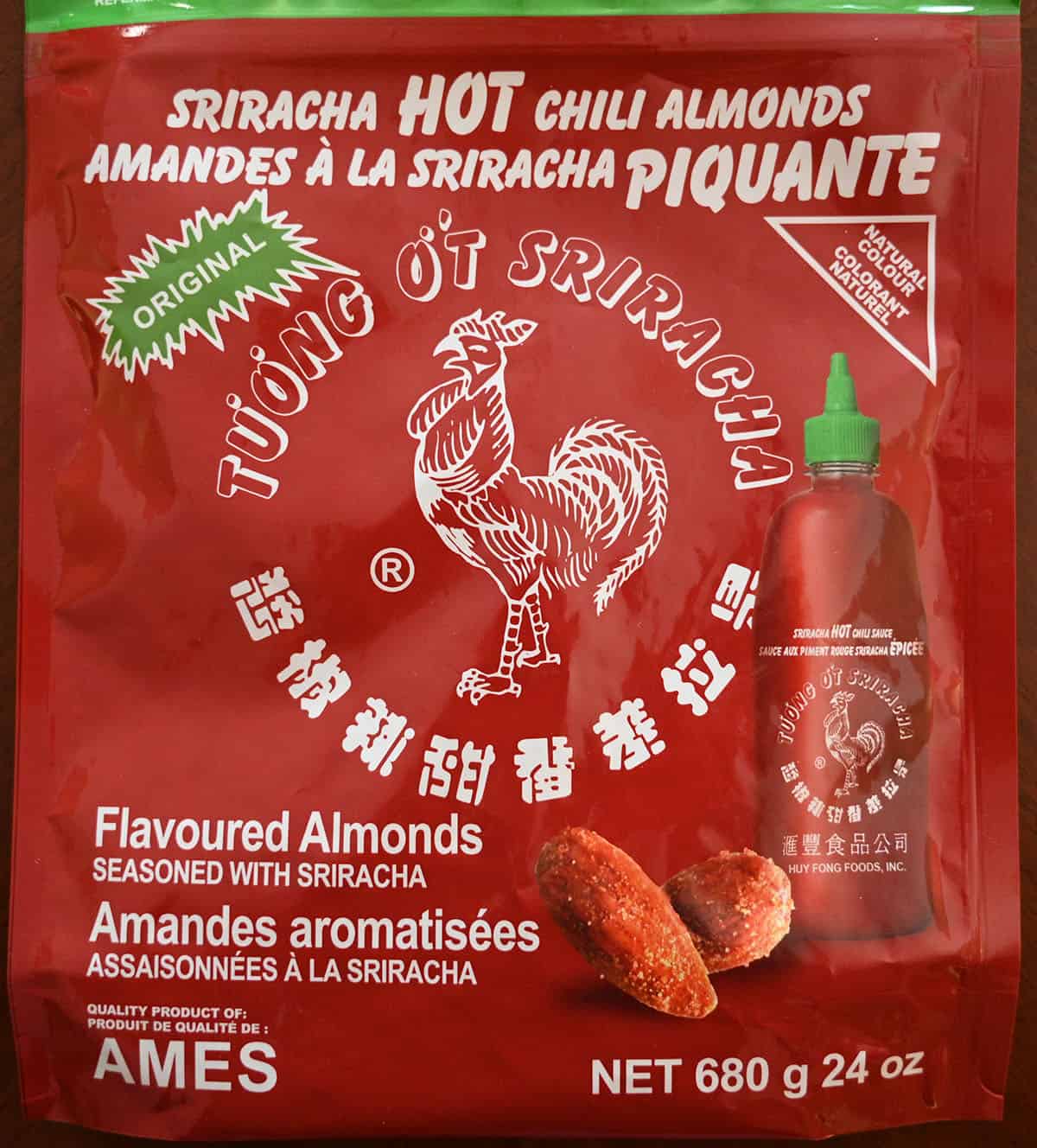 Location in Store
These are located in the snack section at Costco in the front of the store. The item number is 1282555.
Taste
The almonds are generously seasoned. You can see it as soon as you open the bag. This makes them a little bit messy to eat as you get seasoning all over your hands.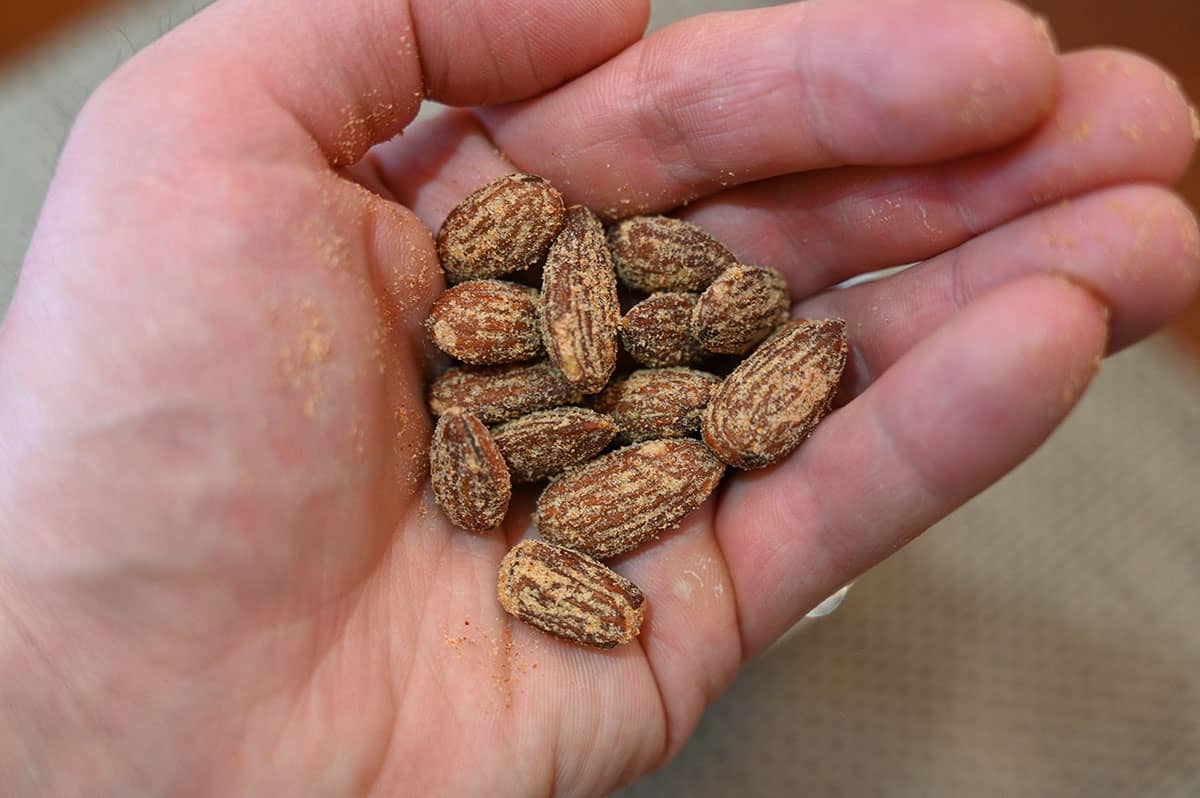 The heat snuck up on me! I took a few almonds and started eating them and was a bit surprised at how mild they were at first. A few seconds later I realized it just took them a little while to kick in! These almonds definitely deliver the heat of sriracha. I like the heat, but it's enough that it will turn off people who are sensitive to spicy foods.
As far as the flavors go, I would describe the almonds as spicy, generously-salted almonds. You get a short note of sriracha flavor when the seasoning first touches your tongue, but after that, you mainly taste salted almonds with plenty of heat.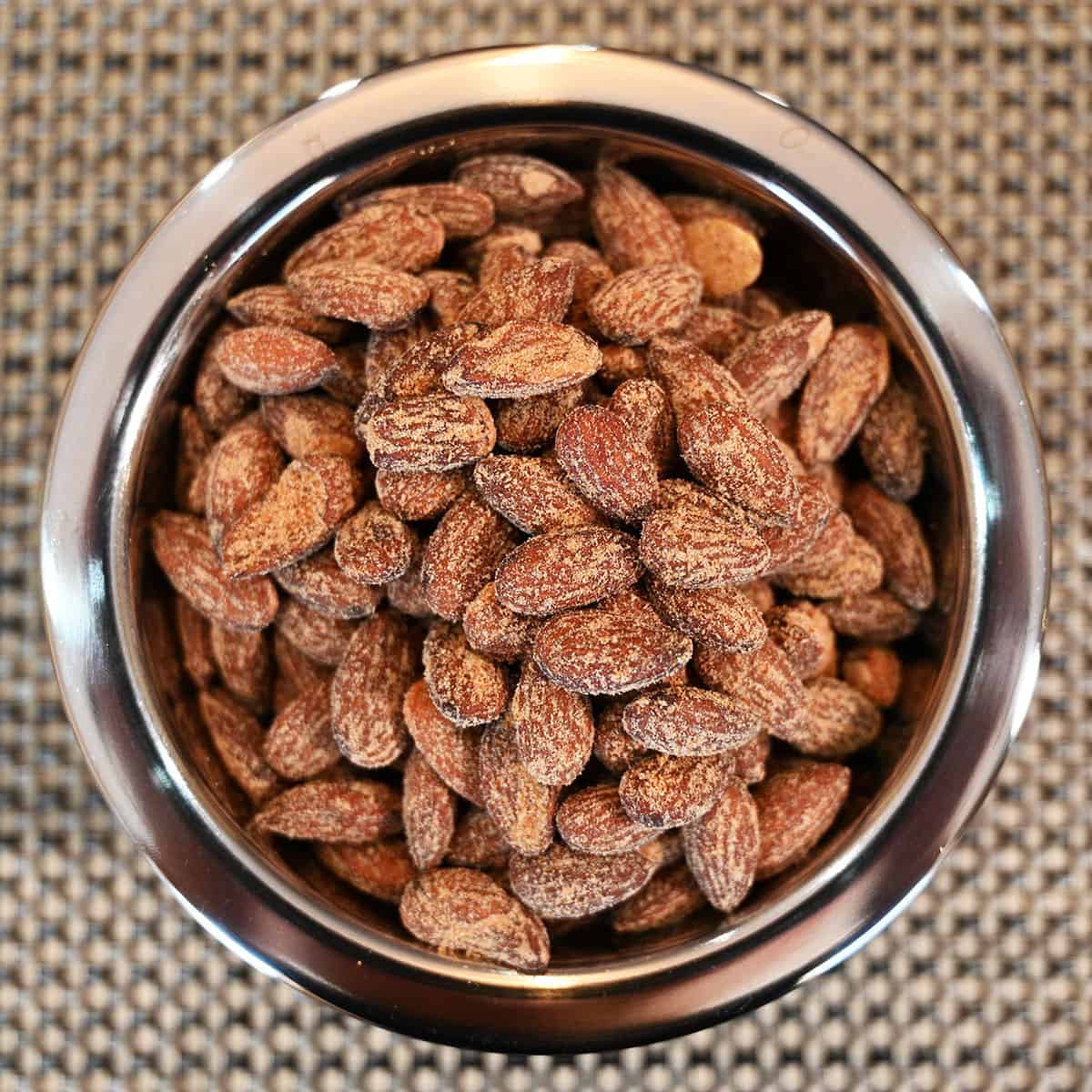 Cost
The 680 gram bag costs $13.99 Canadian which isn't bad for a pretty good sized bag of almonds!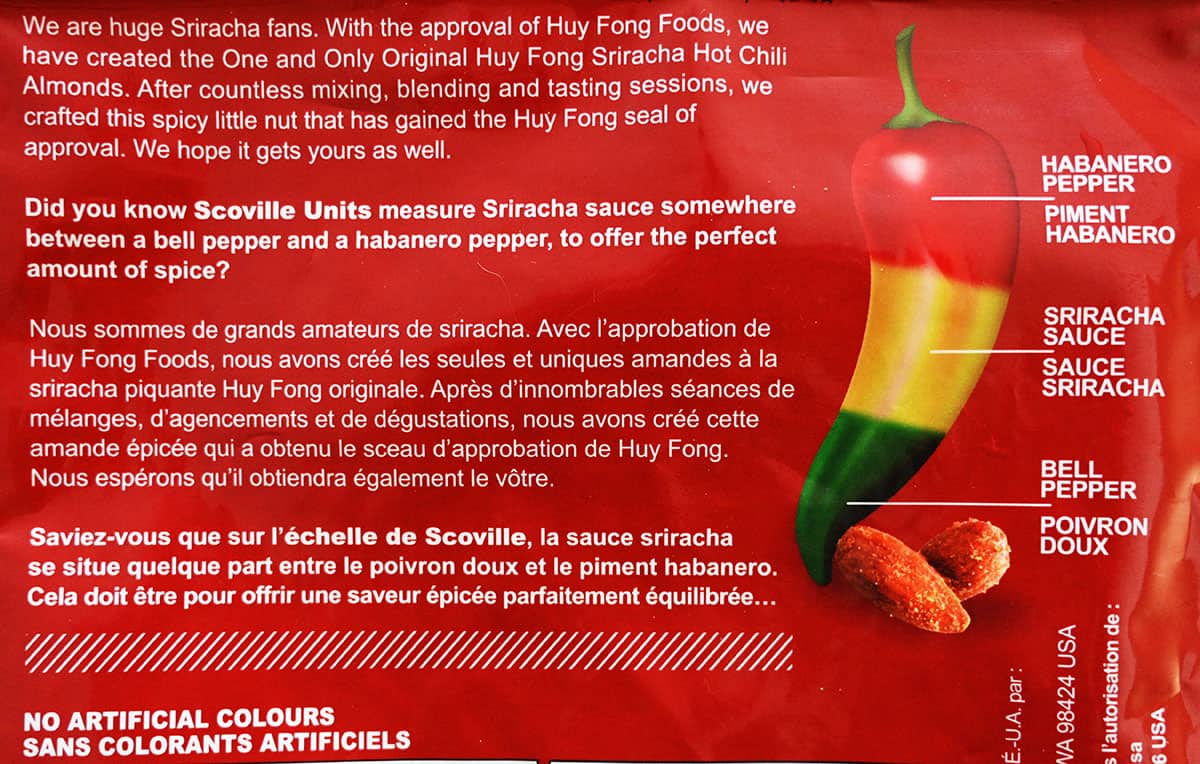 Convenience
The bag is resealable which helps keeps the almond fresh, to keep them extra fresh you can store them in the refrigerator. The best before date is about 11 months from the date I purchased them.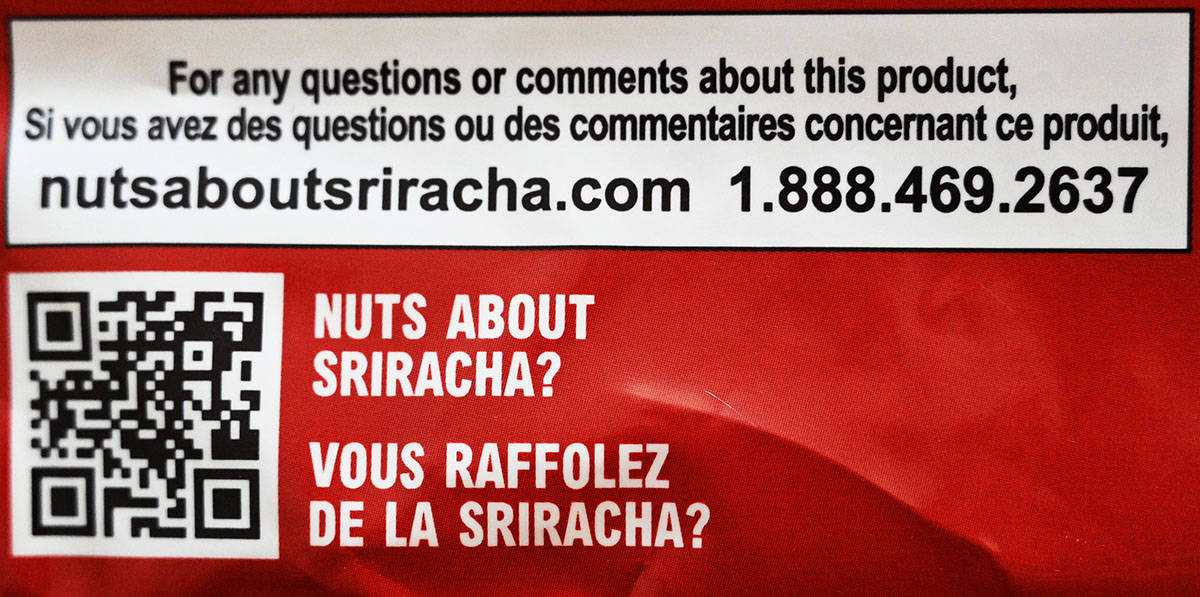 These make a great snack for someone who likes hot sauce and also enjoys snacking on nuts!
Nutrition
Calories
A 1/4 cup serving (50 grams) contains 300 calories, 27 grams of fat, 10 grams of carbohydrates, five grams of fibre, three grams of sugar, ten grams of protein and 100 milligrams of sodium.
These are not low in calories or fat! It's so easy to eat more than 1/4 cup so if you're watching your fat or calorie intake you may want to watch your portion size. Nuts are naturally high in calories and fat so they can be a bit of a dangerous snack!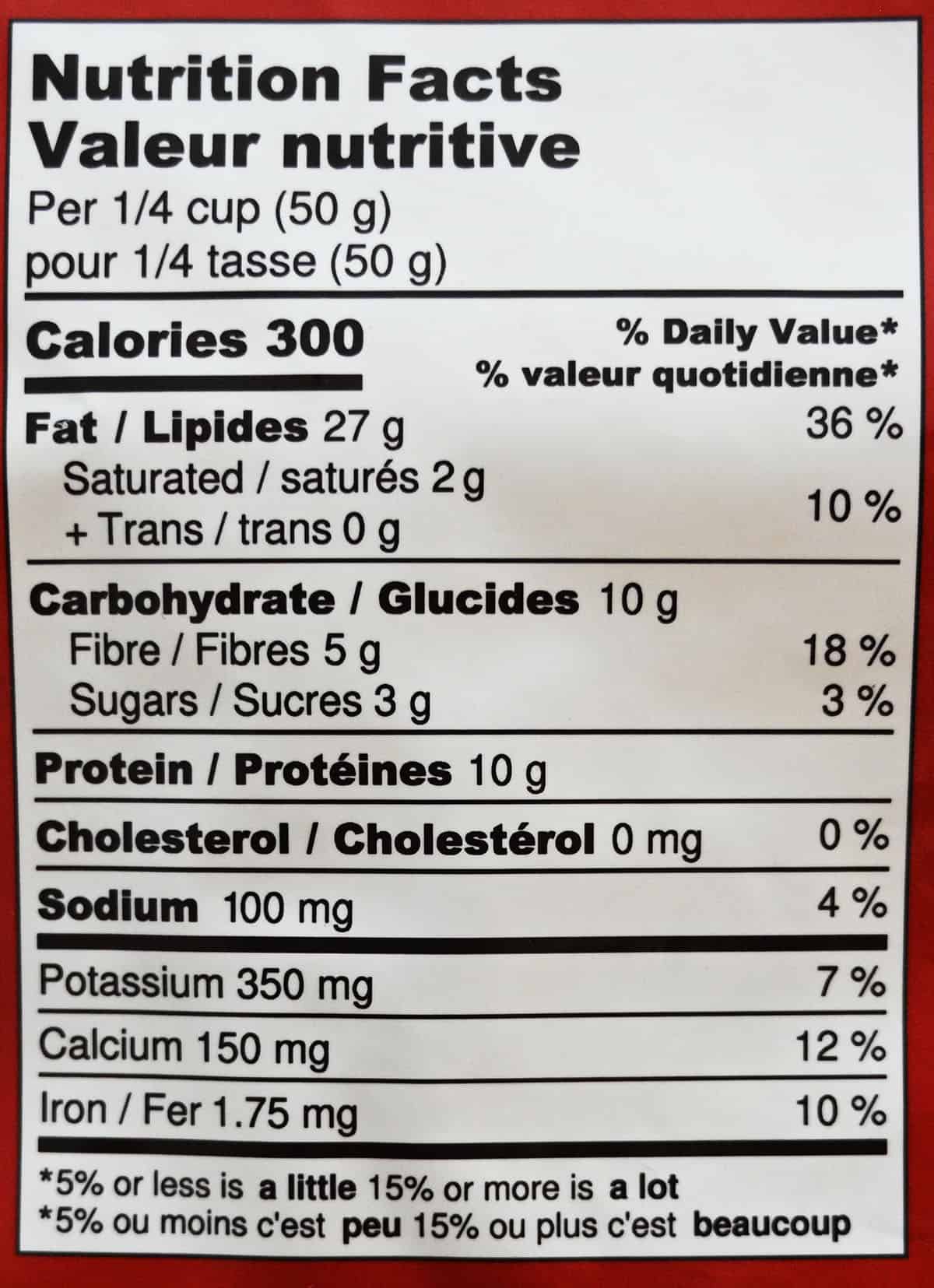 Ingredients
The ingredients list has pretty much what I expected! Almonds, sriracha seasoning and sriracha sauce powder. These spicy almonds contain sulphites and peanuts (from peanut oil). They may contain other tree nuts, milk, soy, eggs and wheat.

Scoring
Taste: 8/10 if you don't mind the heat.
Cost: 8.5/10
Convenience: 10/10
Nutrition: 6.5/10
Overall
Give it a try.
Overall the Sriracha Almonds are a tasty and unique snack. I suspect fans of spicy foods and nuts will go crazy for them. People who don't like spicy foods will probably hate them. I enjoyed them quite a bit.
If you love sriracha sauce, would you try these?
---
Please note that this review was not paid for or sponsored by any third party. This product was purchased by Costcuisine for the purpose of producing this review. The opinions in this review are strictly those of Costcuisine. Costcuisine is not affiliated with Costco or any of its suppliers. In the event that Costcuisine receives compensation for a post from the manufacturer of a product or some other third party, the arrangement will be clearly disclosed (including where the manufacturer of a product provides Costcuisine with a free sample of the product).