Do you have an allergy to peanuts but love nut butter? The Costco Kirkland Signature Mixed Nut Butter With Seeds is peanut-free and has almonds, cashews, pumpkin seeds, flax seeds and chia seeds. Does this Costco nut butter have the perfect combination of nuts and seeds?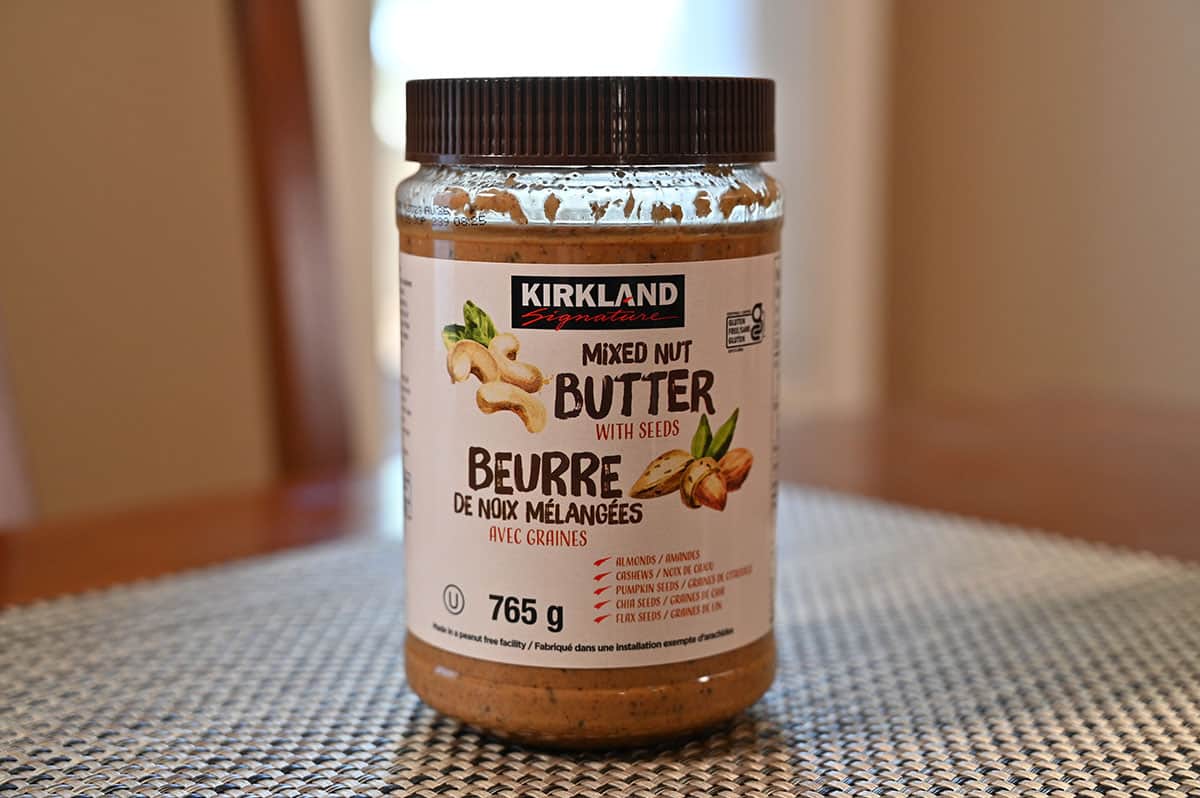 Nut butter is a staple in my diet, I ate so much peanut butter and almond butter during my pregnancy that I was buying a jar weekly. This Costco Kirkland Signature Mixed Nut Butter With Seeds is new to my store and as soon as I saw it I wanted to try it!
Other nut products from Costco are the Kirkland Signature Honey Roasted Macadamia Nuts, Kirkland Signature Natural Peanut Butter, Kirkland Signature Nut and Seed Brittle, Kirkland Signature Hazelnut Spread, Nature's Path Organic Coconut & Cashew Butter Granola, Kirkland Signature Peanut Butter Pretzels, Kirkland Signature Premium Whole Mixed Nuts and the Kirkland Signature Almond Butter.
Location in Store
You can find the nut butter in the aisle with the baking supplies, jam, nuts and pancake mix. The item number is 1290439.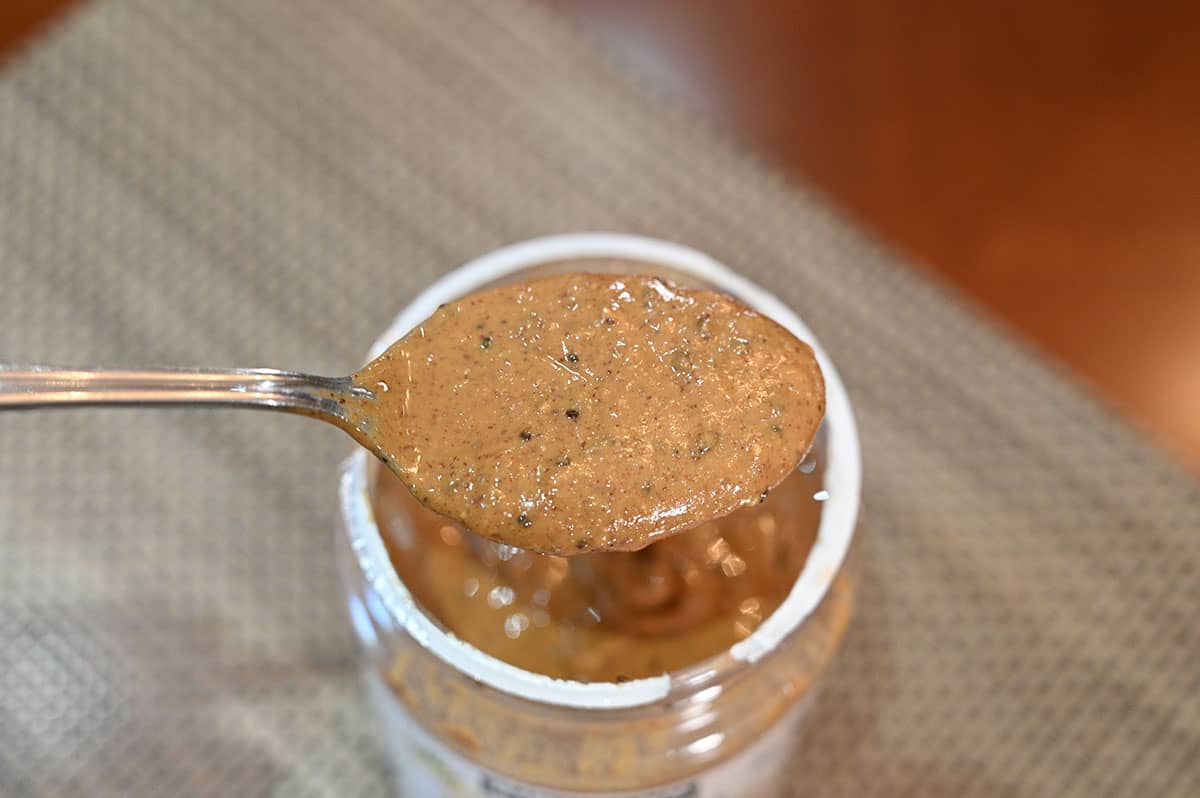 Taste
The flavor of this Costco mixed nut butter with seeds is very mild and tastes less sweet than other nut butter I've tried like natural peanut butter. The main flavor I notice is almonds but I can also taste a hint of cashew nuts and pumpkin seeds. The chia seeds and flax don't really add much flavor.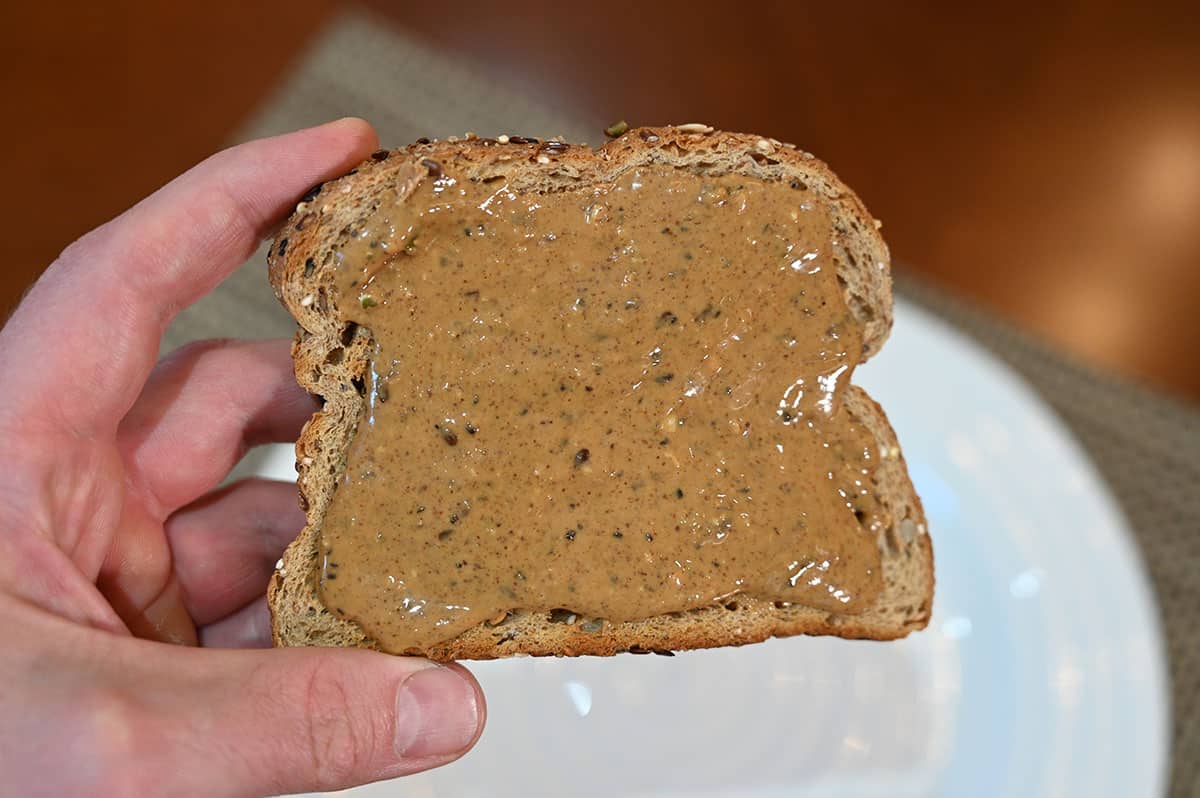 Surprisingly I expected this nut butter to be a bit crunchy from the visible chia seeds but that's not the case, the texture is very smooth and spreads very easily. I like the taste of this nut butter, I prefer peanut butter but I still like this. My current addiction is slathering it on a few Costco Simple Mills Almond Flour Crackers.
Cost
The 765-gram jar costs $9.49 Canadian at Costco, which isn't that expensive for such a large container of nut butter. I'd happily pay more if it were in a glass container and was organic.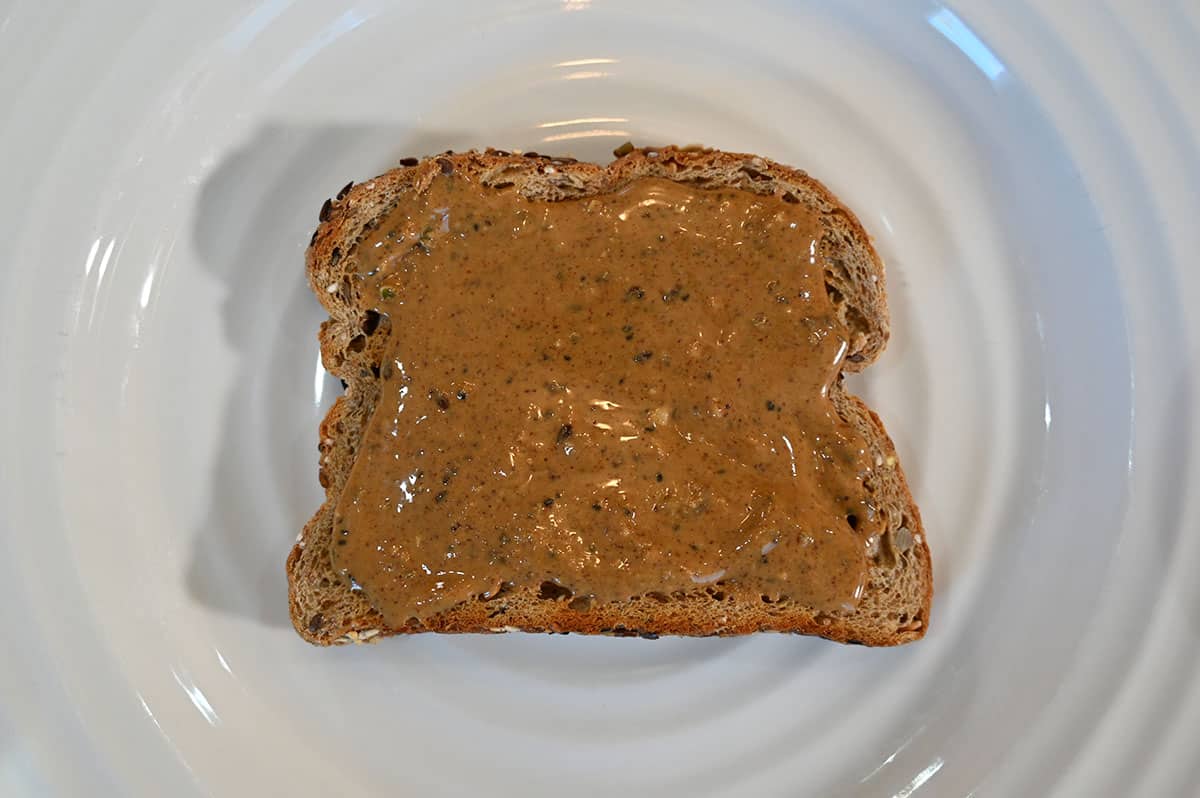 Convenience
The best-before date listed on the nut butter is about 11 months from the date we purchased it. I searched the container for instructions to refrigerate the nut butter after opening it but did not find any, I popped mine in the refrigerator after opening it anyways.
Nut butter is super versatile! My favorite ways to use it are drizzled on oatmeal, as a dip for apples, spread on crackers, on bananas or of course on toast. I've added nut butter to smoothies before but I find it doesn't always blend well and the flavor is overpowered by the fruit and protein powder I put in my smoothies.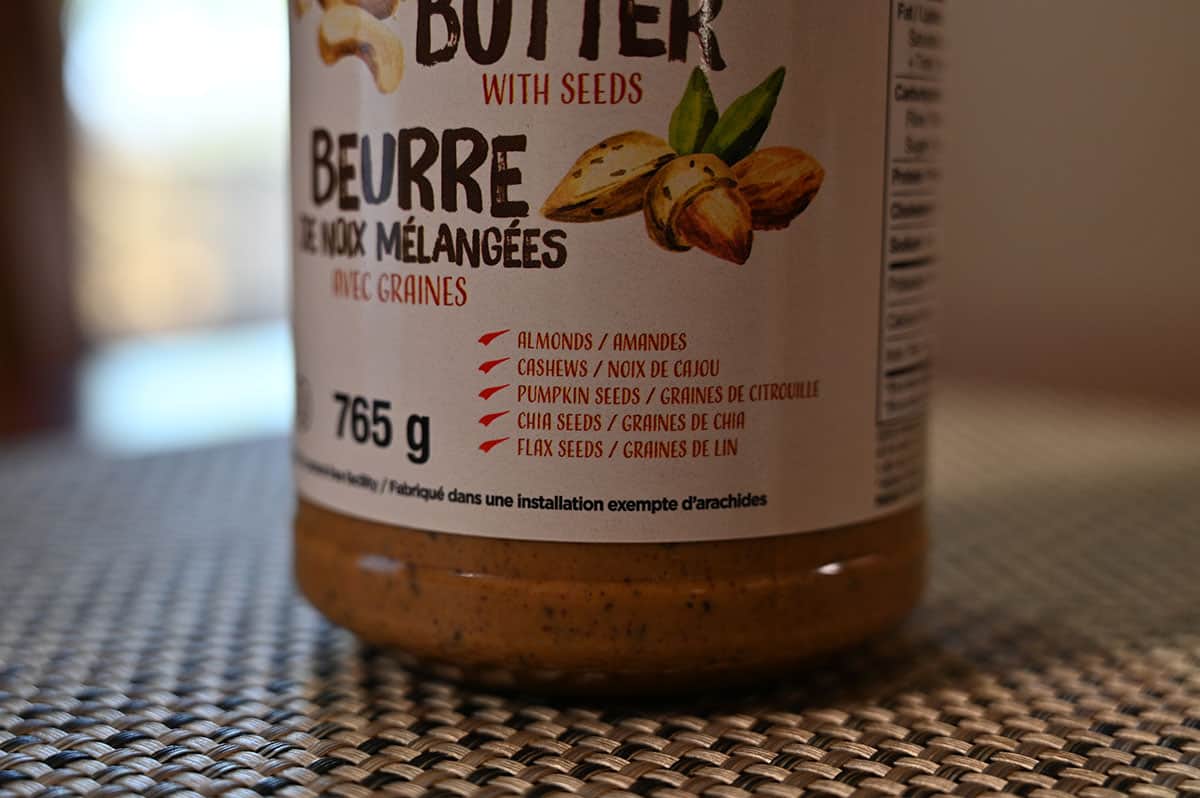 Nutrition
Calories
One tablespoon of Costco Kirkland Signature Mixed Nut Butter With Seeds contains 90 calories, seven grams of fat, four grams of carbohydrates, two grams of fibre, zero grams of sugar, three grams of protein and one milligram of sodium. All nut butter is pretty high in calories and fat.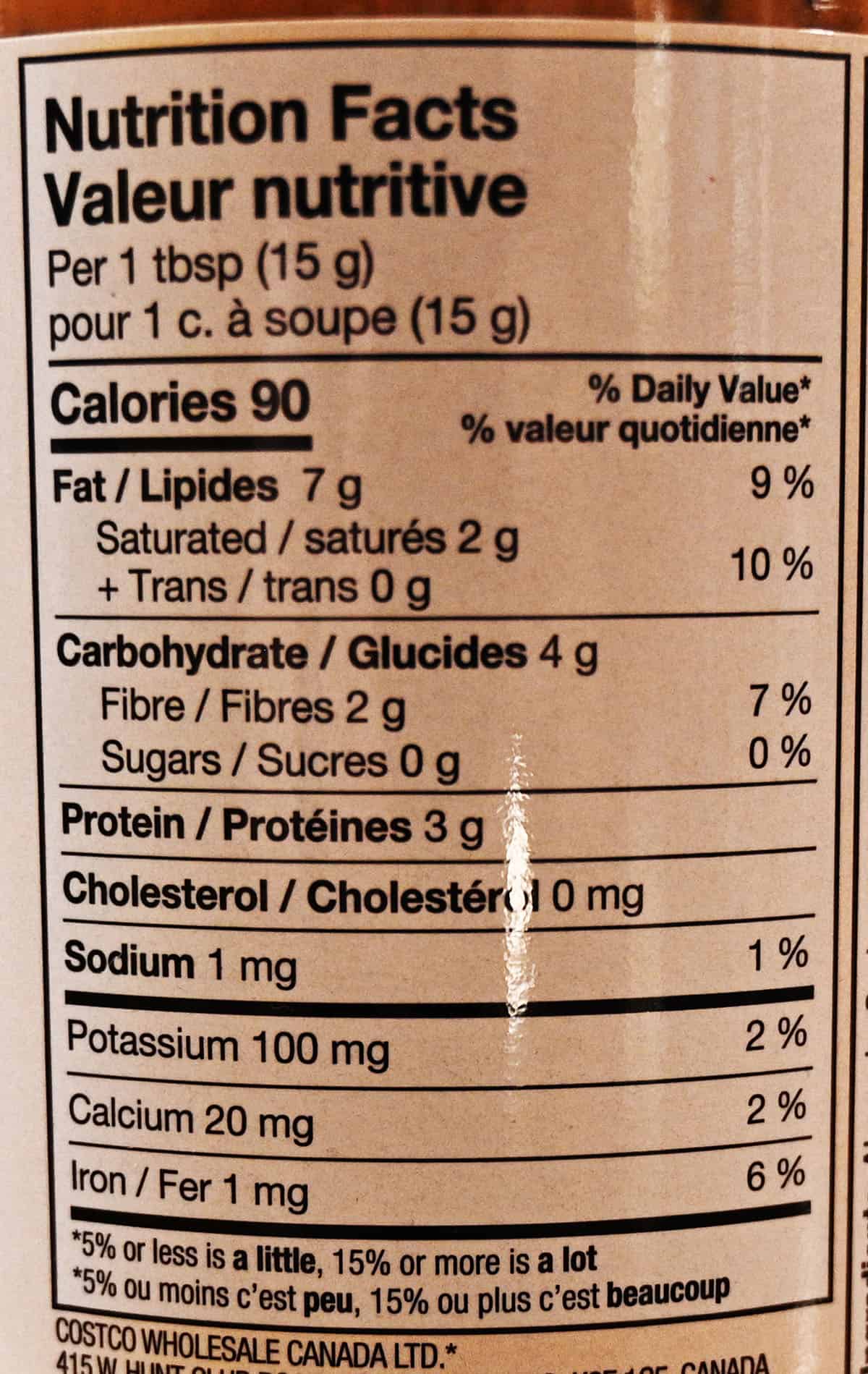 Ingredients
This nut butter is naturally gluten-free and produced in a peanut-free facility. The ingredients list is short and sweet with only five healthy ingredients. I do wish this were made from organic nuts but you can't have everything! The container states it may contain other tree nuts other than the ones listed.

Scoring
Taste: 8/10
Cost: 8/10
Convenience: 10/10
Nutrition: 10/10 (High calories and fat due to the healthy ingredients).
Overall
Give it a try!
This Costco Kirkland Signature Mixed Nut Butter tastes like smooth almond butter with an additional mild cashew flavor.
Have you tried this? What did you think of it?
Please note that this review was not paid for or sponsored by any third party. This product was purchased by Costcuisine for the purpose of producing this review. The opinions in this review are strictly those of Costcuisine. Costcuisine is not affiliated with Costco or any of its suppliers. In the event that Costcuisine receives compensation for a post from the manufacturer of a product or some other third party, the arrangement will be clearly disclosed (including where the manufacturer of a product provides Costcuisine with a free sample of the product).