When I think of chocolate-covered strawberries, I think of fresh, juicy strawberries and rich milk chocolate. Tru Fru puts a very different spin on the classic combination by using hyper-dried strawberries and white chocolate. Are Tru Fru's Nature's Strawberries Hyper-Dried Fresh in White Chocolate & Creme an improvement on the classic recipe or a letdown?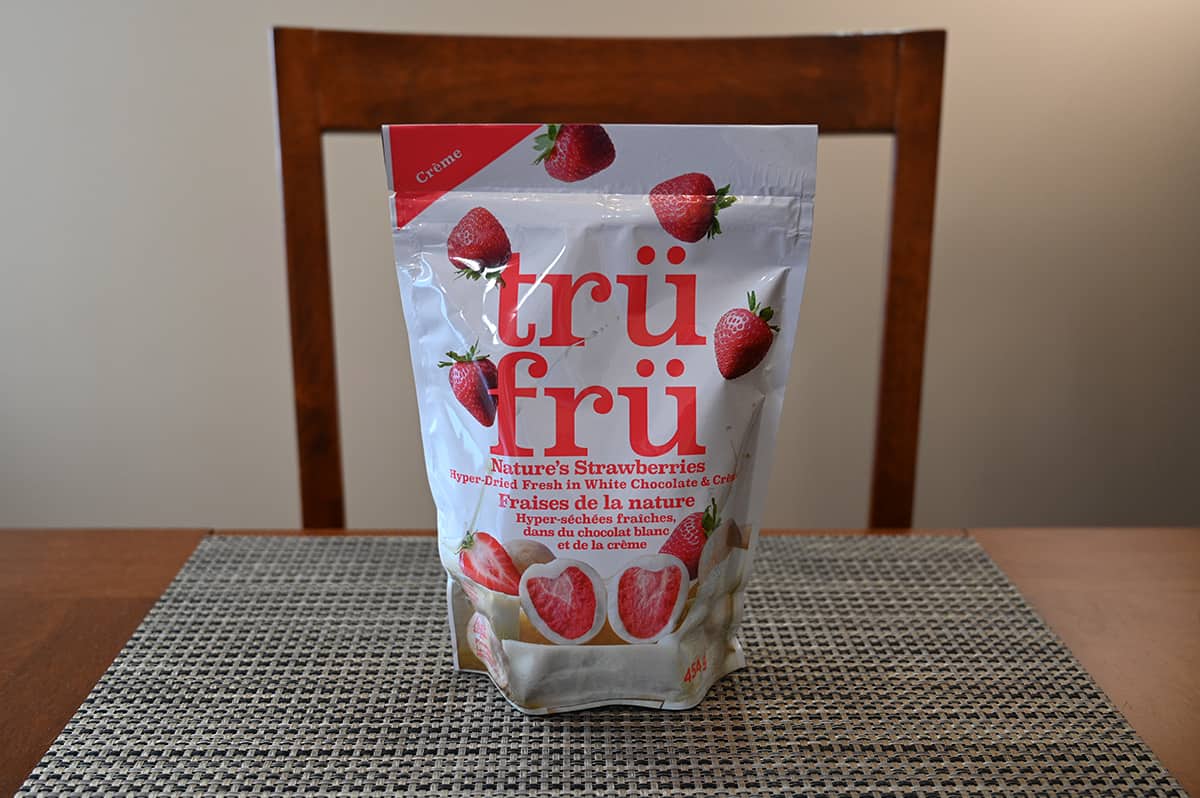 White chocolate isn't my absolute favorite because I find it's more just sugar rather than chocolate but I wanted to try these new hyper-dried fresh strawberries in white chocolate & creme by Tru Fru anyways.
I've reviewed the Tru Fru Frozen Chocolate Covered Strawberries and Tru Fru Dark Chocolate Covered Raspberries from Costco before and I enjoyed both.
Similar chocolate treats from Costco are the Kirkland Signature Dark Chocolate Covered Mango, Kirkland Signature Chocolate Covered Raisins, Kirkland Signature Chocolate Covered Almonds, Lamontagne Milk Chocolate Pistachios, Hawaiian Sun Chocolate Covered Macadamia Nuts and the Jojo's Guilt Free Chocolate.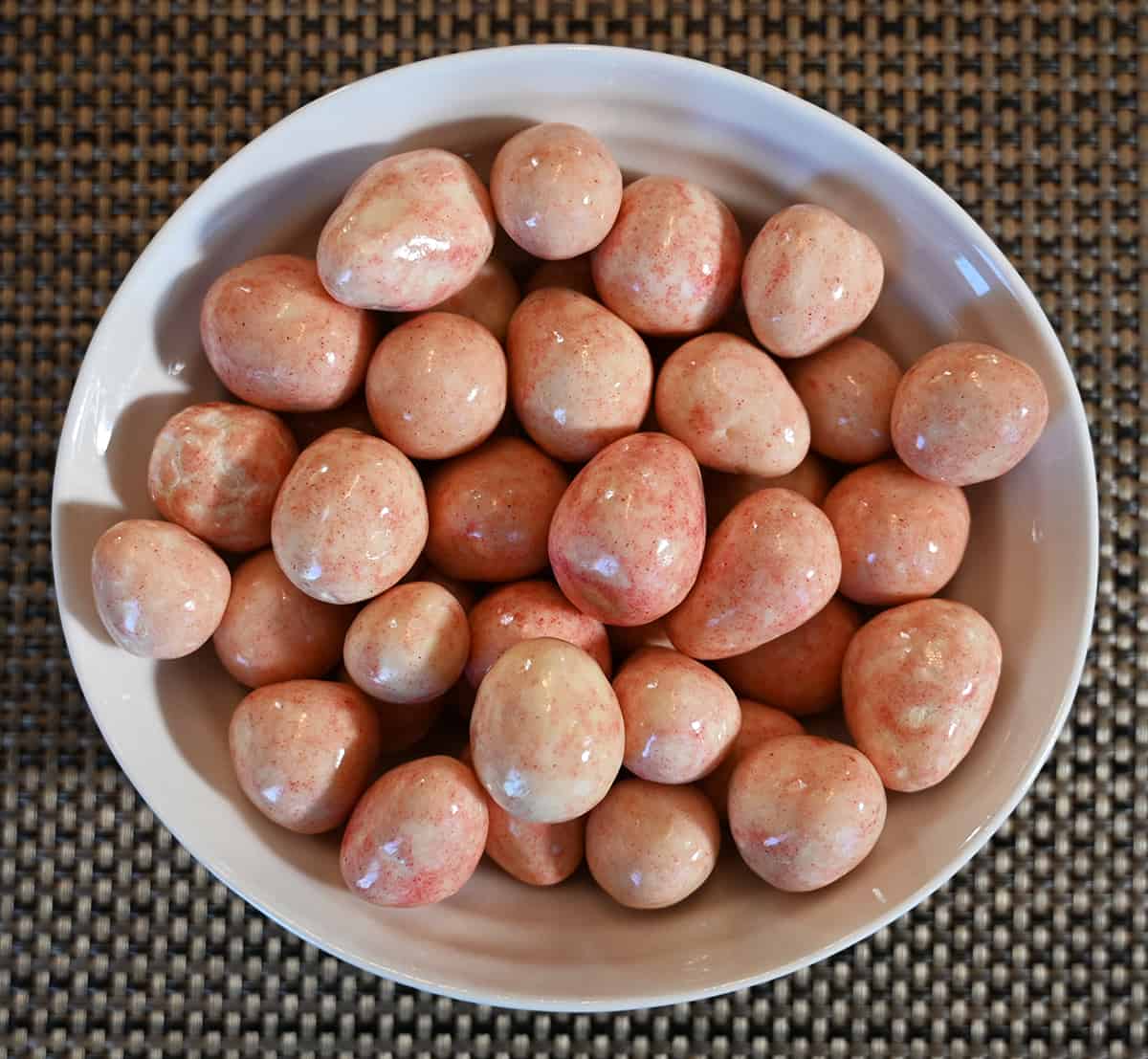 Location in Store
You can find these white chocolate-covered freeze-dried strawberries in the snack section at Costco, near the front of the store. The item number is 1707384.
Taste
These are super yummy, I definitely am glad I purchased them. The white chocolate & creme pairs wonderfully with the freeze-dried strawberry in the center. The strawberry is sweet, crispy and light inside.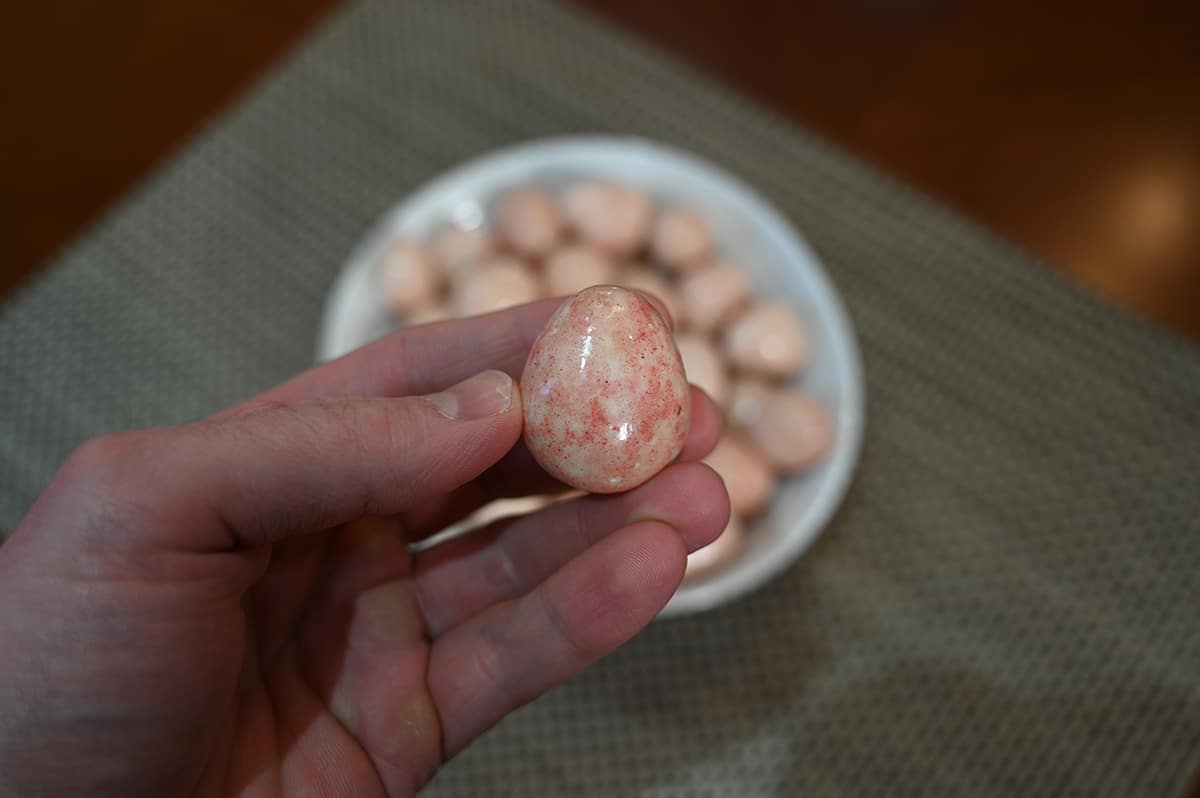 Have you ever had a Malteser? The texture of these reminds me of those. They're also really big! I was surprised by how big each chocolate ball is. The white chocolate & creme is sweet, creamy and smooth. Overall I still prefer milk or dark chocolate to white chocolate but these are a pretty darn tasty treat.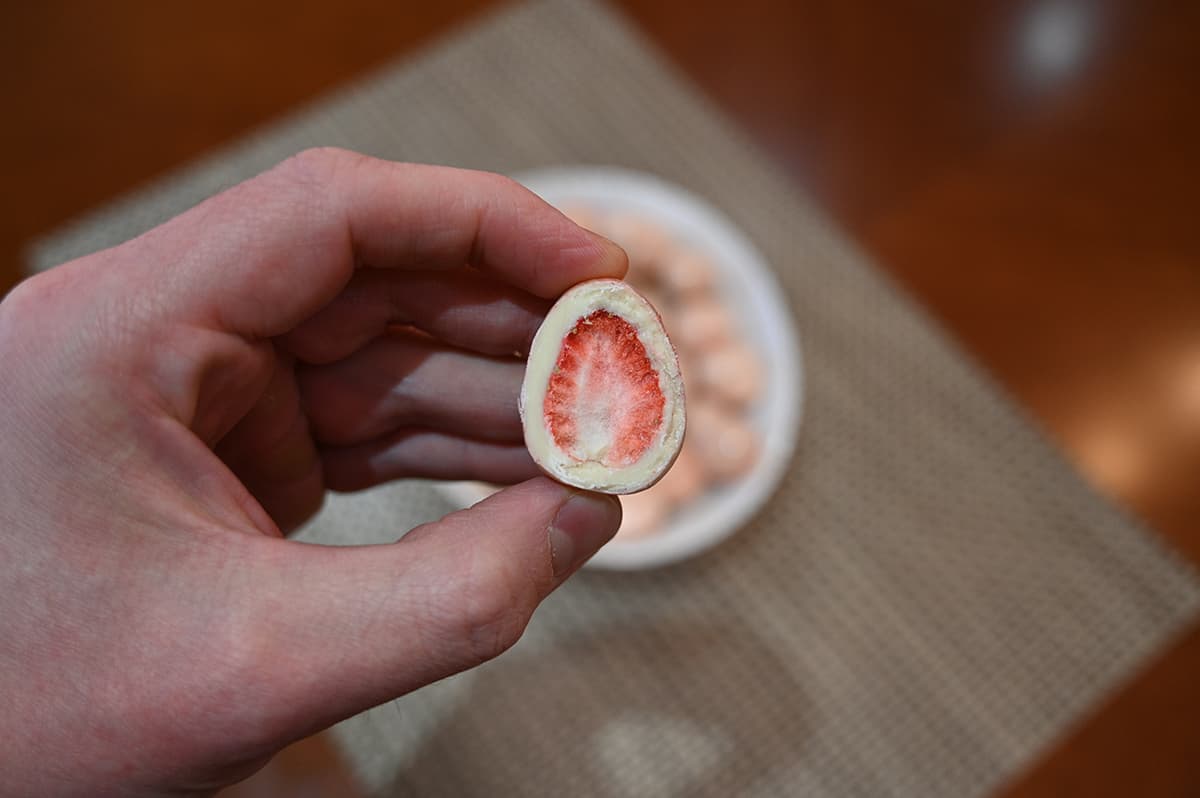 Cost
The 454-gram bag costs $15.99 Canadian which makes sense to me considering there are fresh freeze-dried strawberries in each chocolate. The price is also comparable to all the other chocolate products at Costco.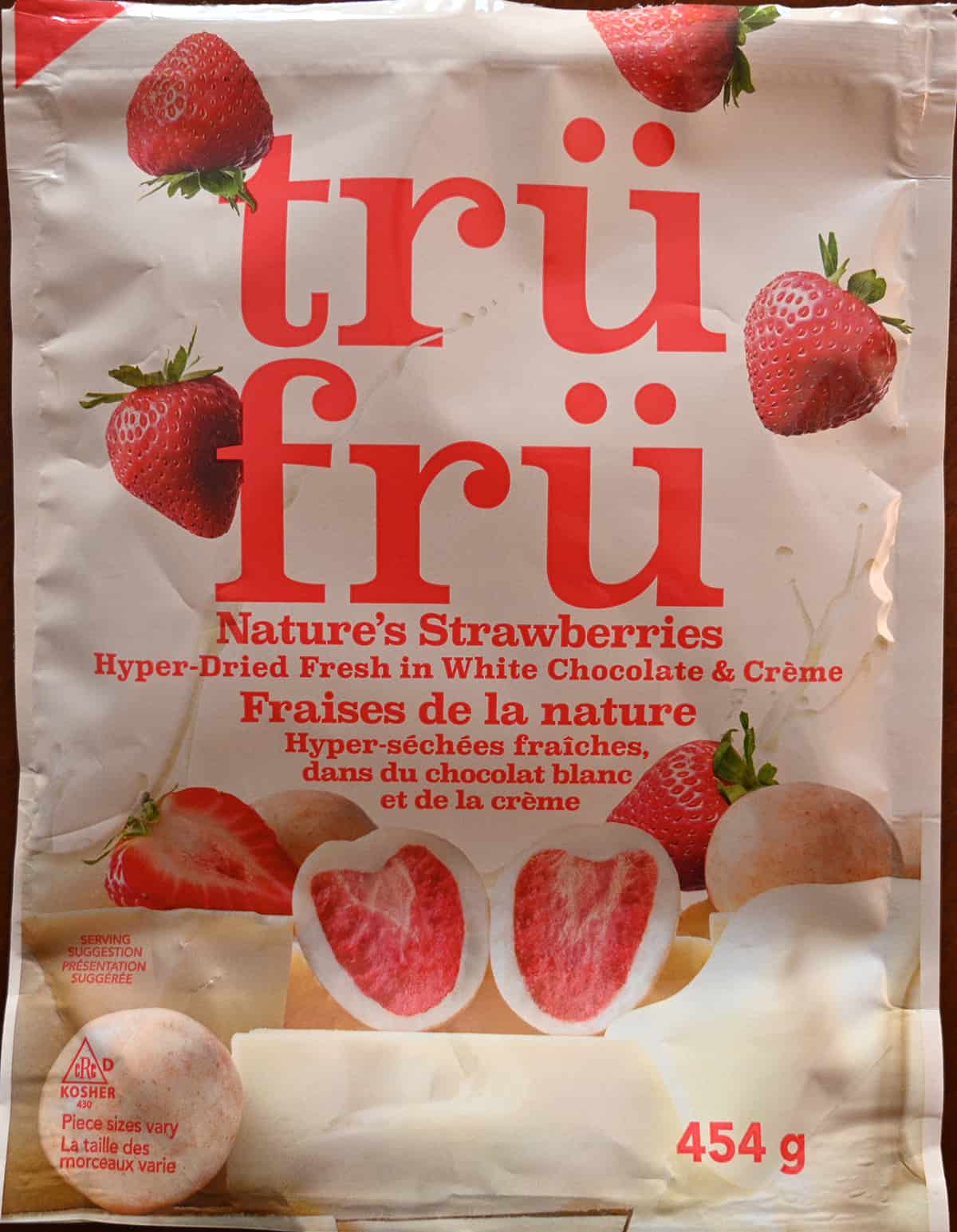 Convenience
The bag reseals which I appreciate because I find one chocolate satisfies me so this bag will be lasting me a while! The best-before date listed on the bag is actually over two years from when I purchased them which I found surprising.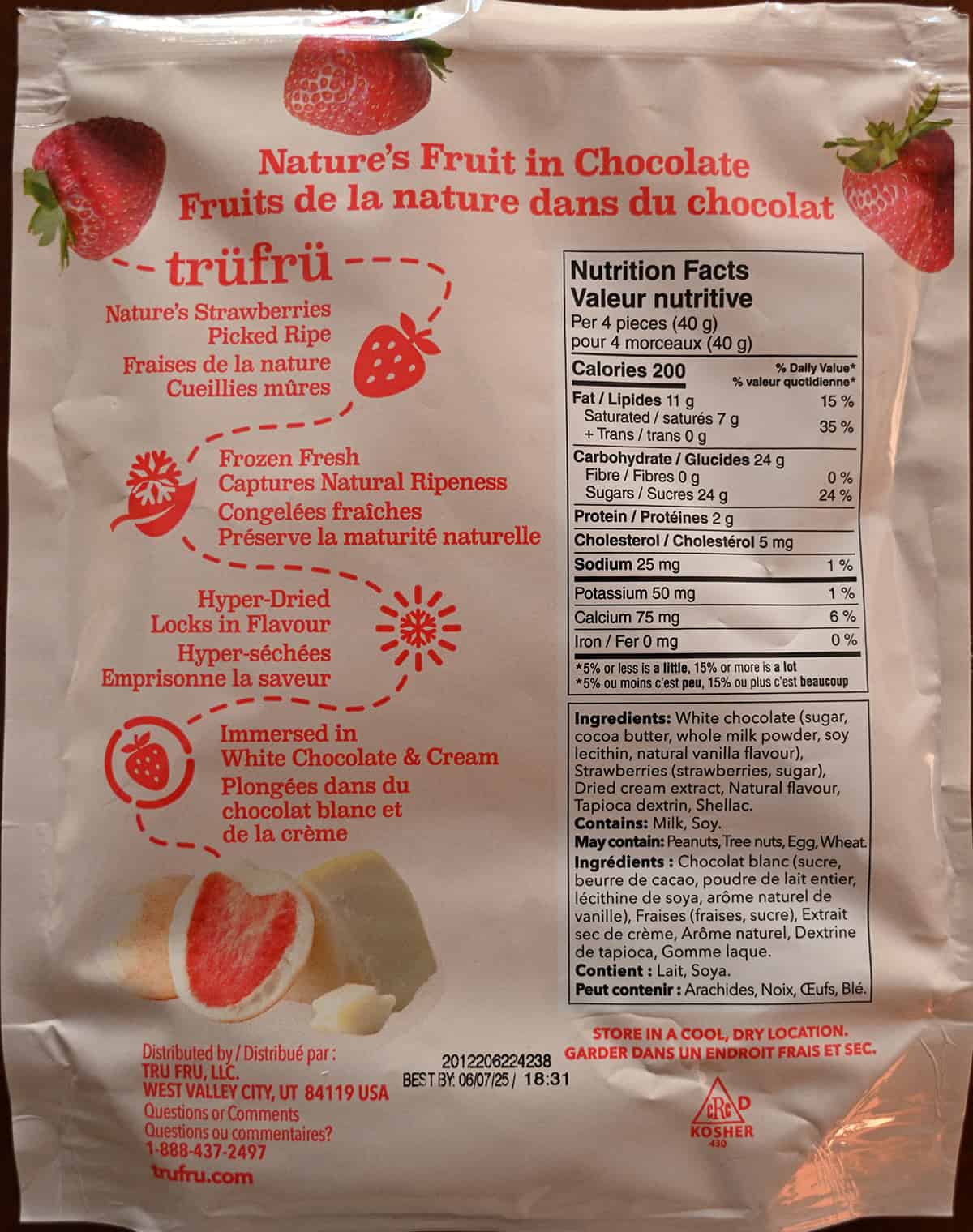 The bag recommends storing the chocolate-covered strawberries in a cool, dry location These are a product of the US and a perfect snack or dessert if you have a sweet tooth. They also seem very fitting for a Valentine's Day gift.
Nutrition
Calories
Four pieces contain 200 calories, 11 grams of fat, 24 grams of carbohydrates, zero grams of fibre, 24 grams of sugar, two grams of protein and 25 milligrams of sodium. That means one chocolate is 50 calories which is about what I'd expect.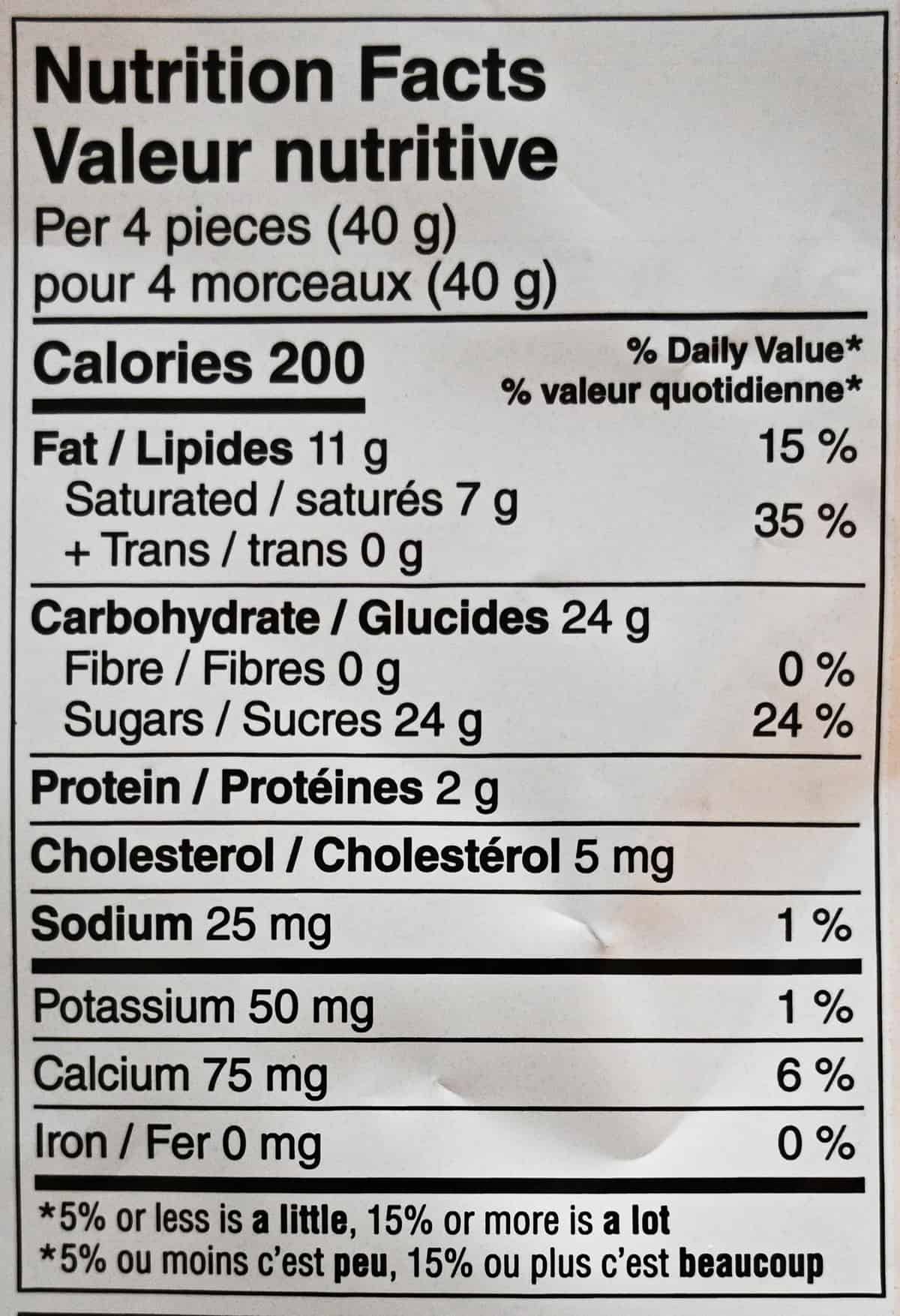 Ingredients
Although these have strawberries in them, they're not healthy! The strawberries have sugar and the rest of the ingredients are unhealthy. If you're scratching your head about the shellac, I did too.
Shellac is used in food to give it that shiny, protective, beautiful glazed appearance and it's made from a substance secreted by female lac beetles. I'm not going to lie, this kind of grosses me out. The chocolates contain milk and soy and may contain peanuts, tree nuts, egg and wheat.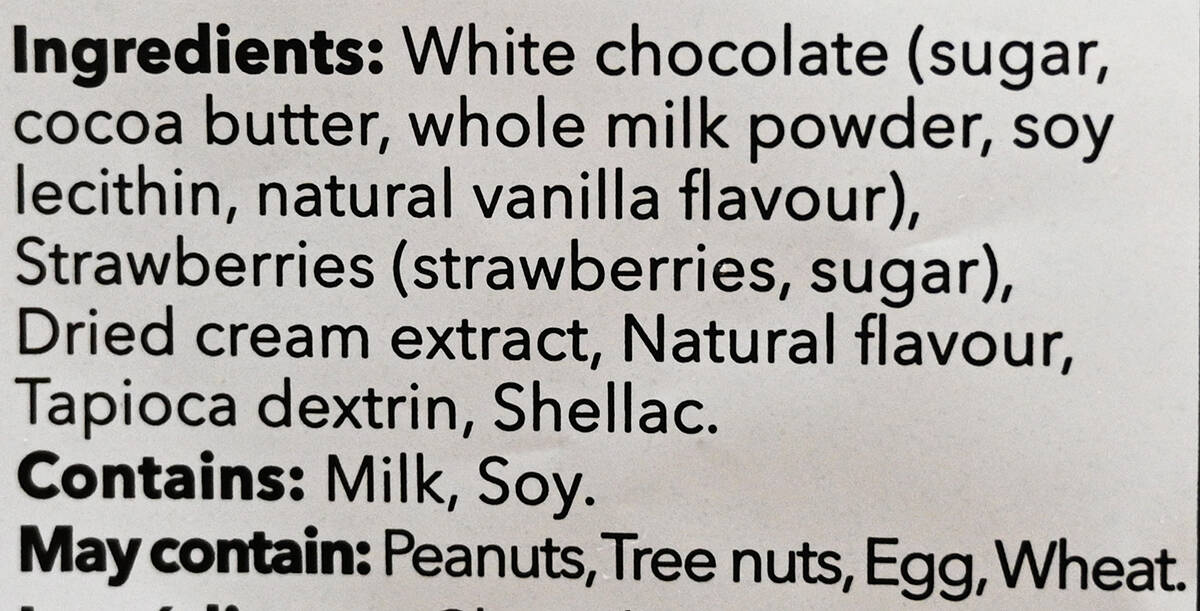 Scoring
Taste: 9/10
Cost: 7/10
Convenience: 10/10
Nutrition: 0/10
Overall
Give it a try!
Although these are tasty by the time I finish my bag I'll likely be tired of them. They're sweet, crunchy, and creamy with an interesting texture.
If you've tried these before, what did you think of them?
---
Please note that this review was not paid for or sponsored by any third party. This product was purchased by Costcuisine for the purpose of producing this review. The opinions in this review are strictly those of Costcuisine. Costcuisine is not affiliated with Costco or any of its suppliers. In the event that Costcuisine receives compensation for a post from the manufacturer of a product or some other third party, the arrangement will be clearly disclosed (including where the manufacturer of a product provides Costcuisine with a free sample of the product).