If you're looking for a convenient snack in bar form but want something different than a protein bar, these Vel Cereal Bars might be for you! They're kind of like a granola bar, but they seem like they might be a bit healthier. They're also gluten- and dairy-free. Do they offer enough nutritionally and taste-wise to be worth a purchase?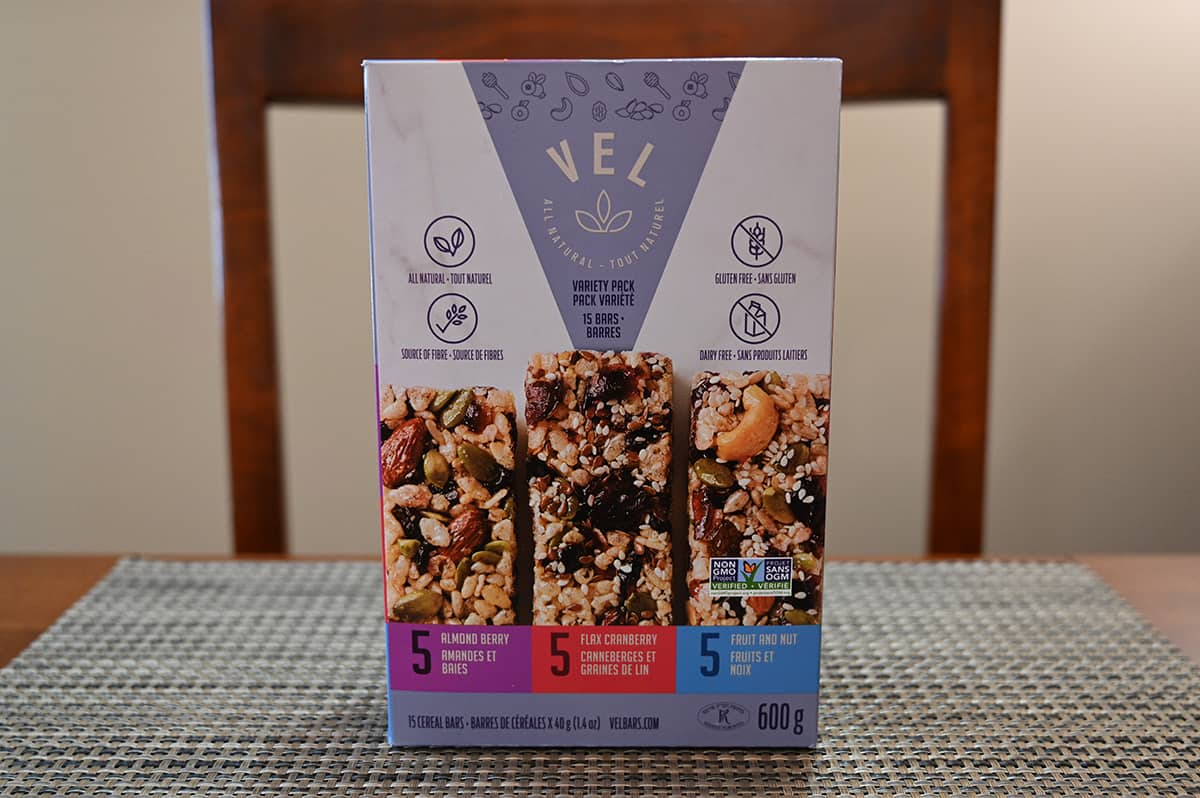 Other cereal and protein bars from Costco are the That's It Mini Fruit Bars, Kirkland Signature Soft & Chewy Granola Bars, Kirkland Signature Chewy Protein Bars, Simply Protein Bars, Smart For Life Protein Bars, Nature's Bakery Fig Bars, Quest Protein Bars and the Kirkland Signature Protein Bars.
Location in Store
These are located in the snack section at Costco, near the front of the store by all the other bars. The item number is 306245.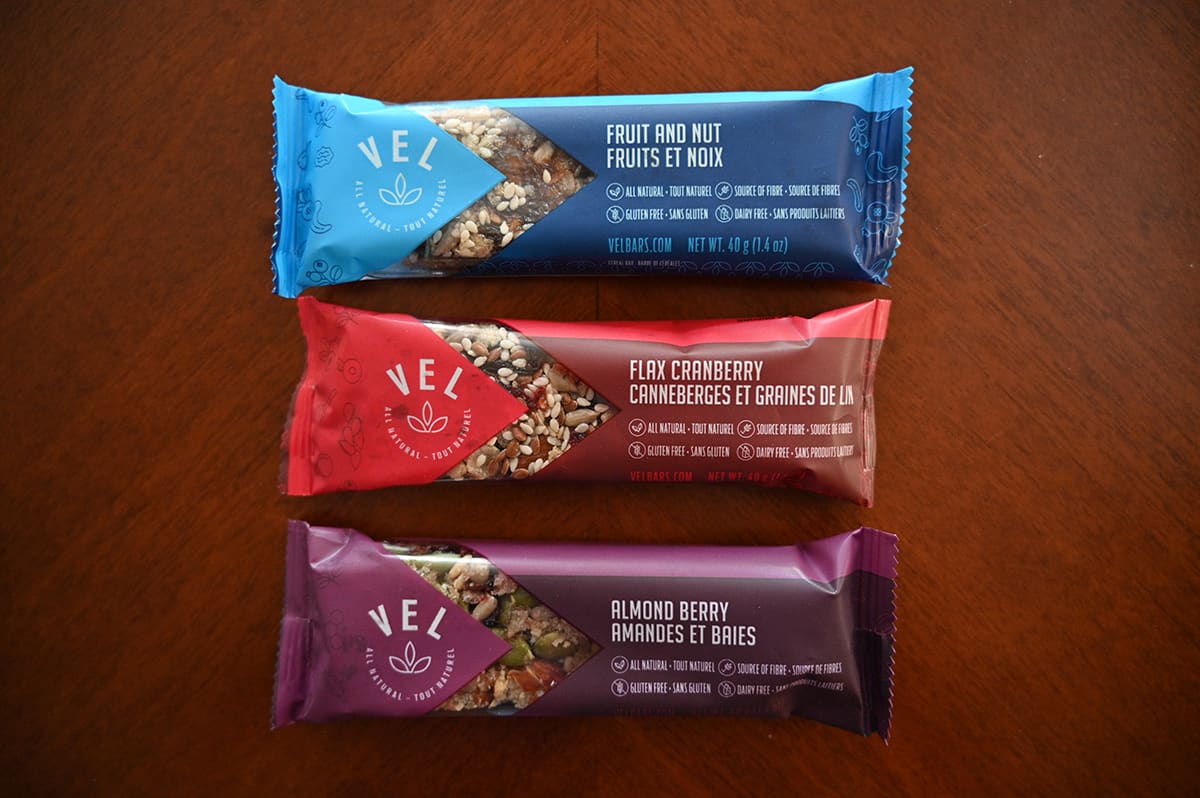 Taste
I don't like these at all. They're very sweet with a weird aftertaste. I thought they'd be somewhat healthy but it's like the bars are sealed in a sticky sugar coating.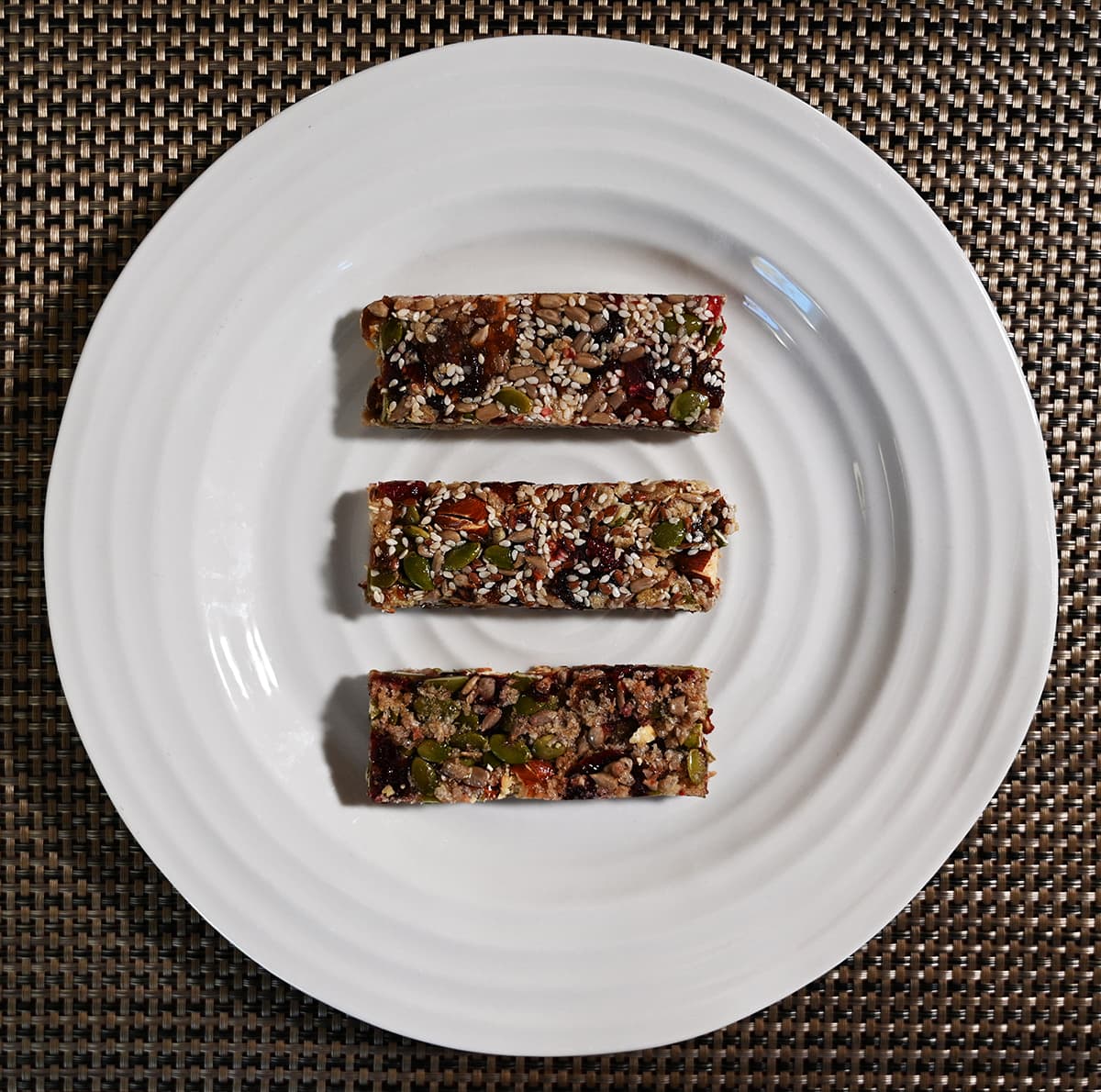 The texture of the bars is chewy and somewhat crunchy. There are three flavors in the box, flax cranberry, fruit and nut and almond berry. All three flavors taste the same to me but the fruit and nut one seems to have a bit of a more pronounced unappealing aftertaste.
Cost
The box comes with 15 bars and costs $9.99 Canadian, which isn't bad. It's less than a dollar per bar but the bars also aren't very big.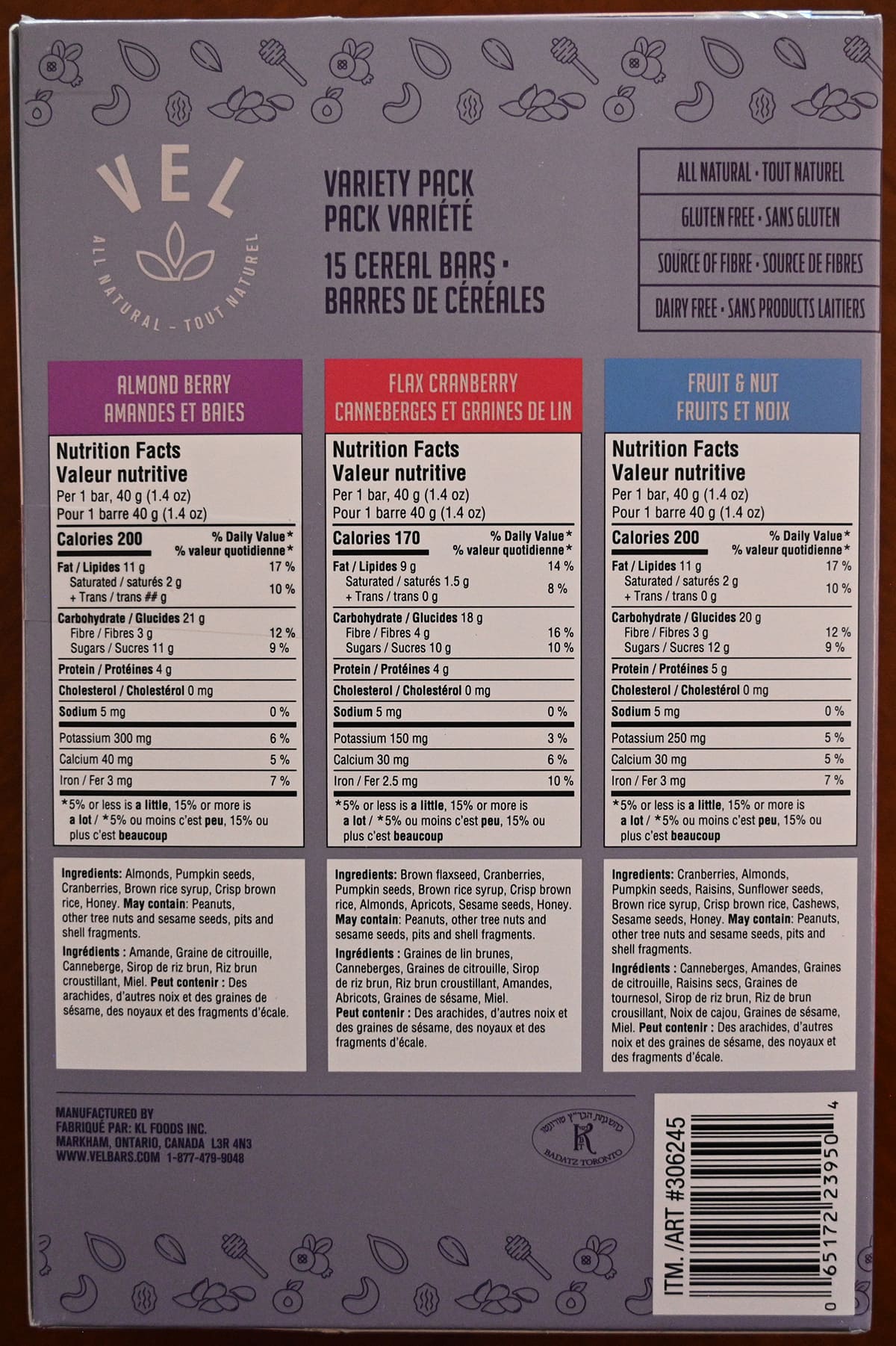 Convenience
Each bar is individually wrapped so it's easy to pop one in your lunch bag, gym bag, glove compartment or purse. I wouldn't recommend them as a meal replacement because I don't think one bar will keep you full for very long.
I also don't recommend buying these for kids, I can't see children loving these and they're not nut-free so that makes them not safe for school. The best-before date listed on the box is 11 months from when I purchased them.
Nutrition
Calories
Almond berry contains 200 calories, 11 grams of fat, 21 grams of carbohydrates, three grams of fibre, 11 grams of sugar, four grams of protein and five milligrams of sodium.
Flax cranberry contains 170 calories, nine grams of fat, 18 grams of carbohydrates, four grams of fibre, 10 grams of sugar and five milligrams of sodium,
Fruit & nut contains 200 calories, 11 grams of fat, 20 grams of carbohydrates, three grams of fiber, 12 grams of sugar, five grams of protein and five milligrams of sodium.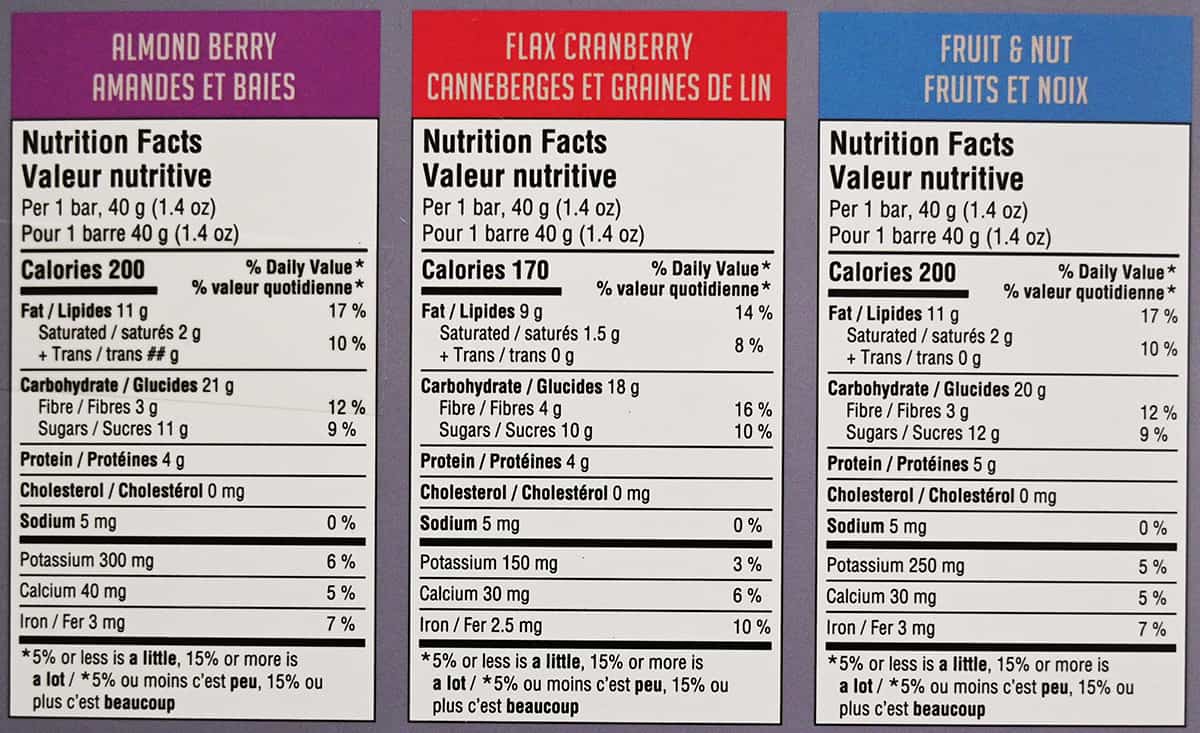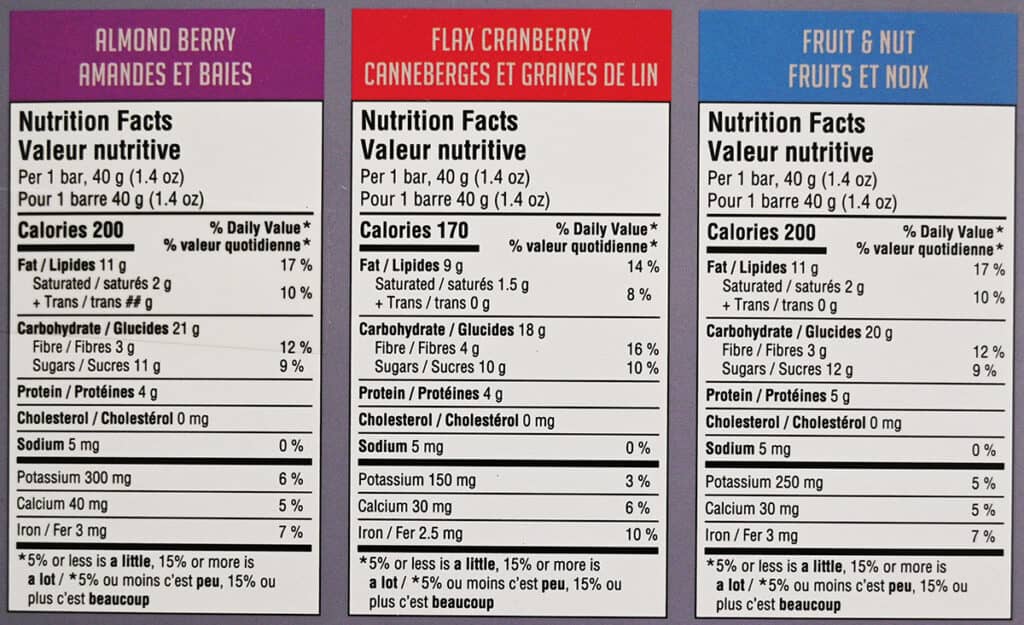 Ingredients
The ingredients for all three flavors of bars are pretty similar with just a few slight differences. All three kinds contain seeds and almonds. One thing I like is that honey is used instead of sugar but that doesn't make these exactly healthy despite the mainly nutritious ingredients. Brown rice syrup has a very high glycemic index so those with diabetes may want to stay away from these.
The bars are gluten-free and dairy-free, they may contain peanuts, other tree nuts, sesame seeds, pits and shell fragments.


Scoring
Taste: 5/10
Cost: 8/10
Convenience: 10/10
Nutrition: 6/10
Overall
Walk on by!
I would not buy these again. They're like a rice krispie treat made out of seeds and dried fruit with a few nuts but just don't taste that great.
Have you tried the Costco Vel Cereal Bars? What did you think of them? Leave a comment below!
---
Please note that this review was not paid for or sponsored by any third party. This product was purchased by Costcuisine for the purpose of producing this review. The opinions in this review are strictly those of Costcuisine. Costcuisine is not affiliated with Costco or any of its suppliers. In the event that Costcuisine receives compensation for a post from the manufacturer of a product or some other third party, the arrangement will be clearly disclosed (including where the manufacturer of a product provides Costcuisine with a free sample of the product).