When you stop and think about it, Costco sells some pretty amazing desserts! They have a variety of options that not only taste great but also look amazing. Quite a few of them come from the company Delici, and they're back with another elegant-looking offering: this Delici Belgian Chocolate Mousse (which is actually made in Belgium!). Is it good enough to stand out from the crowd of strong dessert options available at Costco?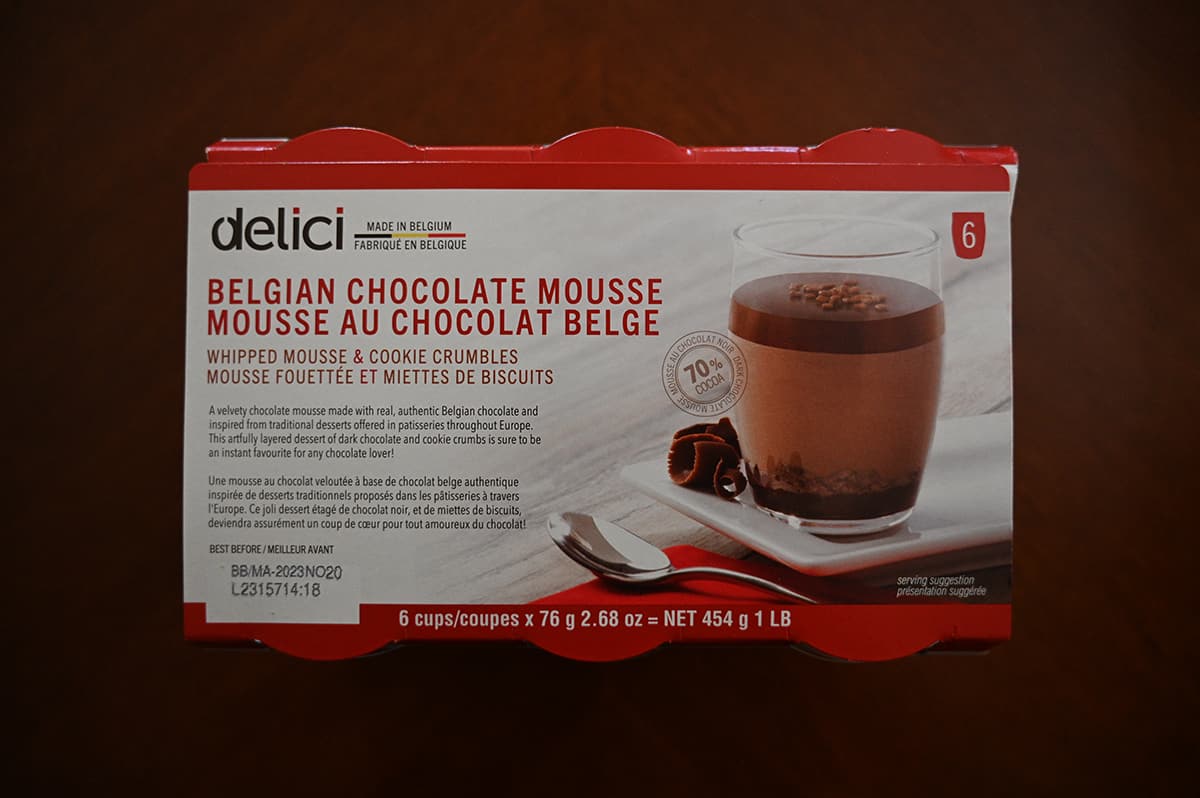 Other Delici products from Costco are the Delici Belgian Chocolate Souffle, Delici Sea Salt Caramel Mousse, Delici Chocolate S'mores Souffle, Delici Artisan Bonbons and the Delici Mini Patisserie Desserts. Similar desserts from Costco from other brands are the JM Desserts Chocolate Mousse, Dessert Italiano Caramel Macchiato, Dessert Italian Tiramisu and the Marie Morin Creme Brulee.
Location in Store
This is located in the refrigerated deli section at Costco, near the cheese, cold-cut meats and dips. The item number is 1739150.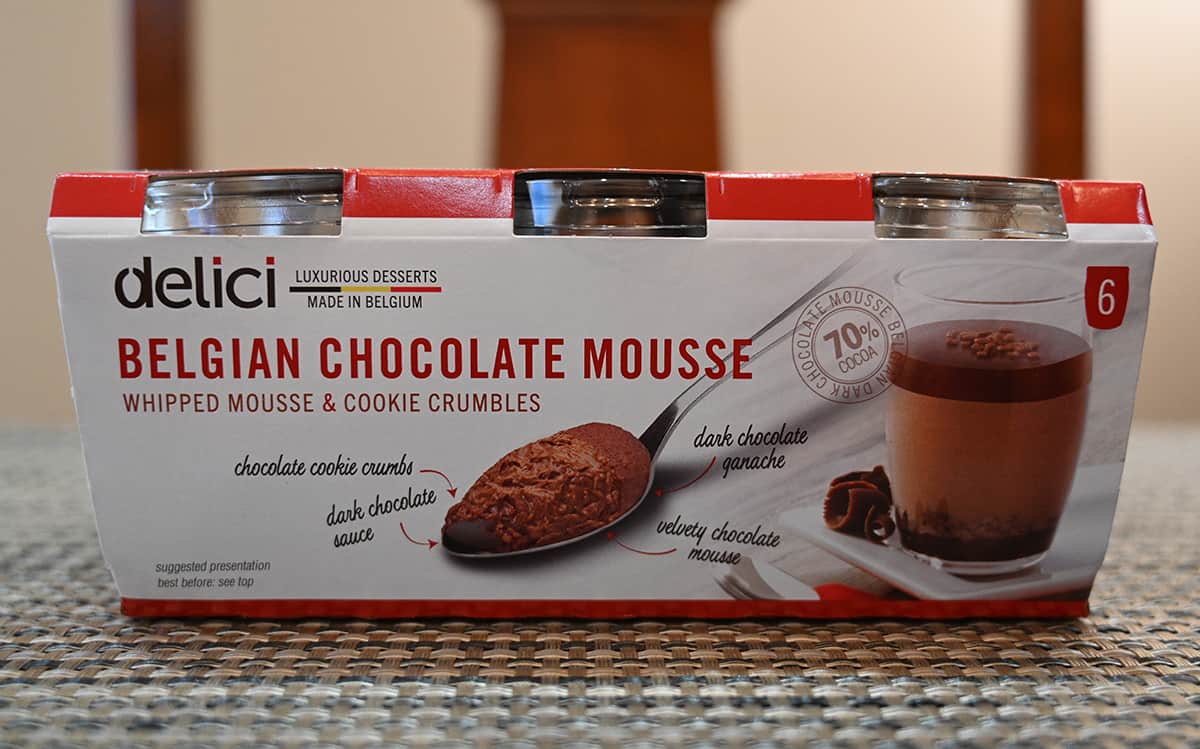 Taste
Five of us tried these and we all thought they were absolutely delicious. They're quite decadent and rich so one small cup is the perfect size. I think you have to like chocolate to enjoy these. They're sweet but not super sweet, which I appreciate.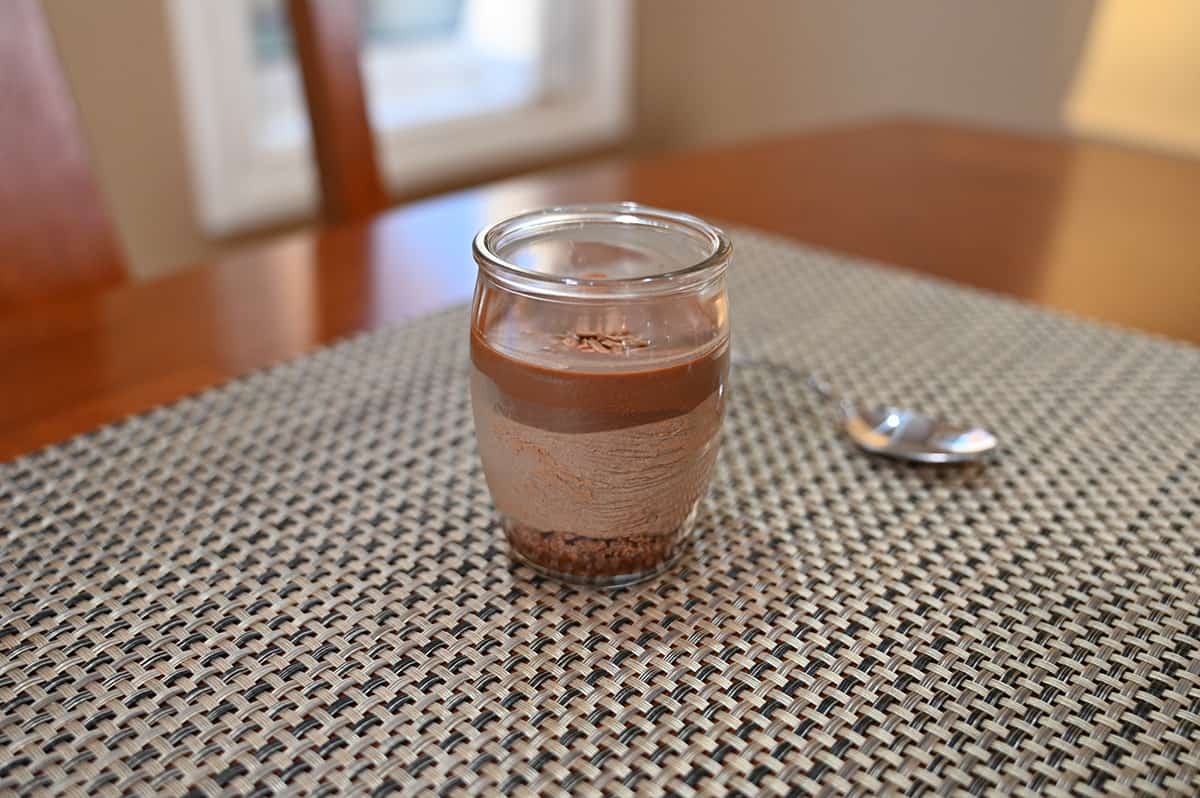 These have a velvety chocolate mousse, dark chocolate sauce, dark chocolate ganache and chocolate cookie crumbs all in one cup. The texture is smooth and creamy.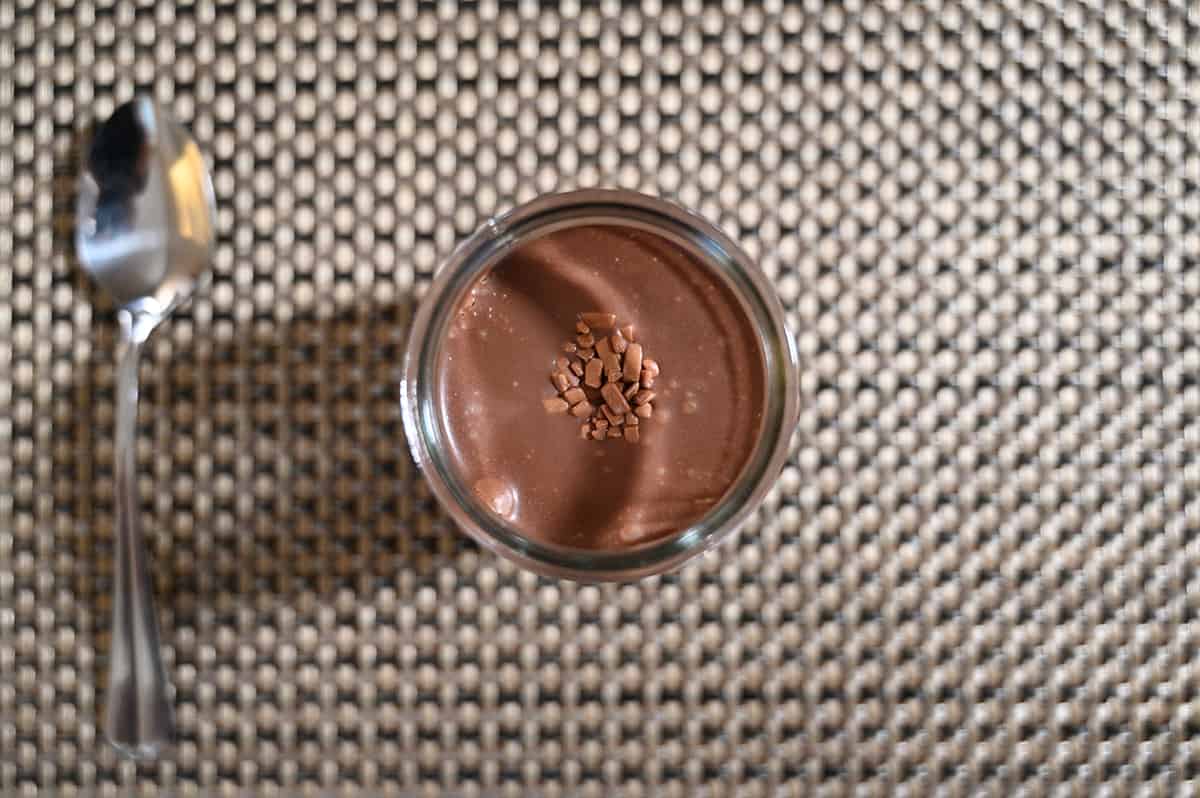 Although there are "chocolate cookie crumbs" in the mousse, to me it tastes more like chocolate cake crumbs because there isn't any crunchiness coming from the crumbs. Overall, I thought these were very chocolaty, rich and delicious.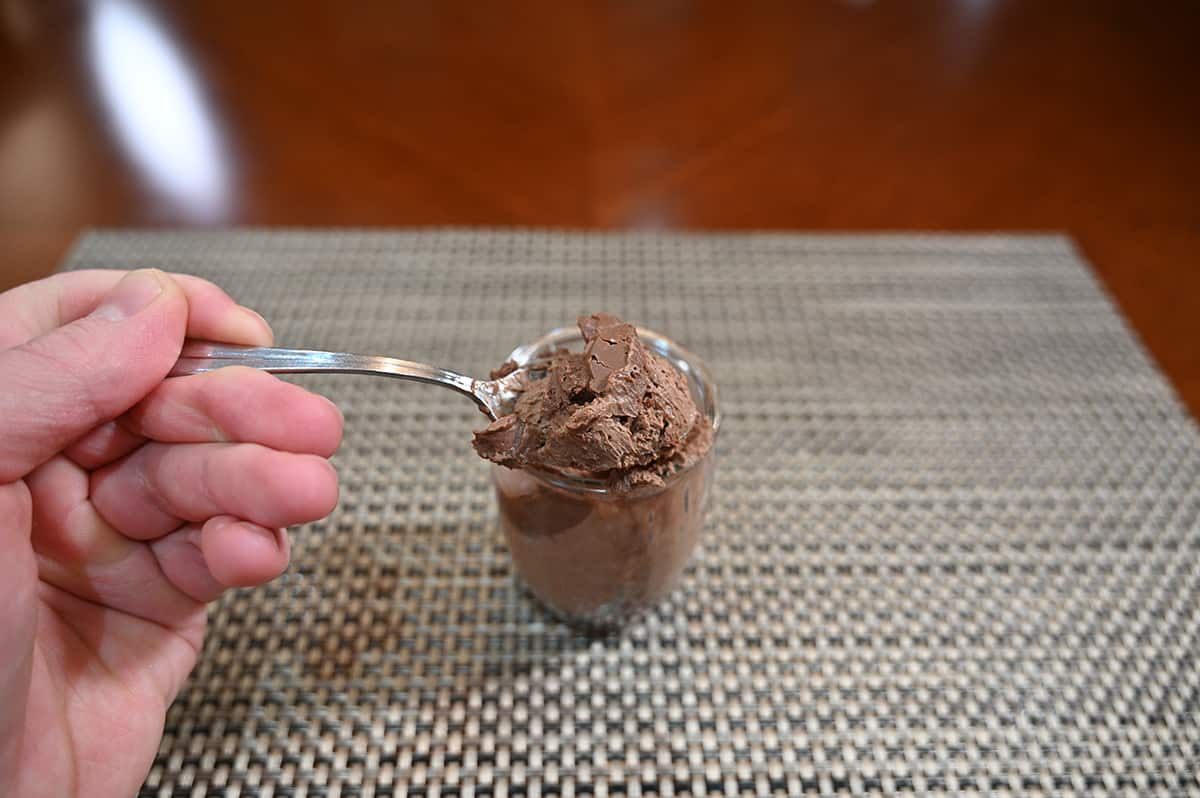 Cost
The pack of six 76-gram cups costs $13.99 Canadian. Each cup isn't very big but because they're so rich I wouldn't want anymore in a single serving. I think the price is definitely a bit high due to the glass cup packaging and the novelty of the item.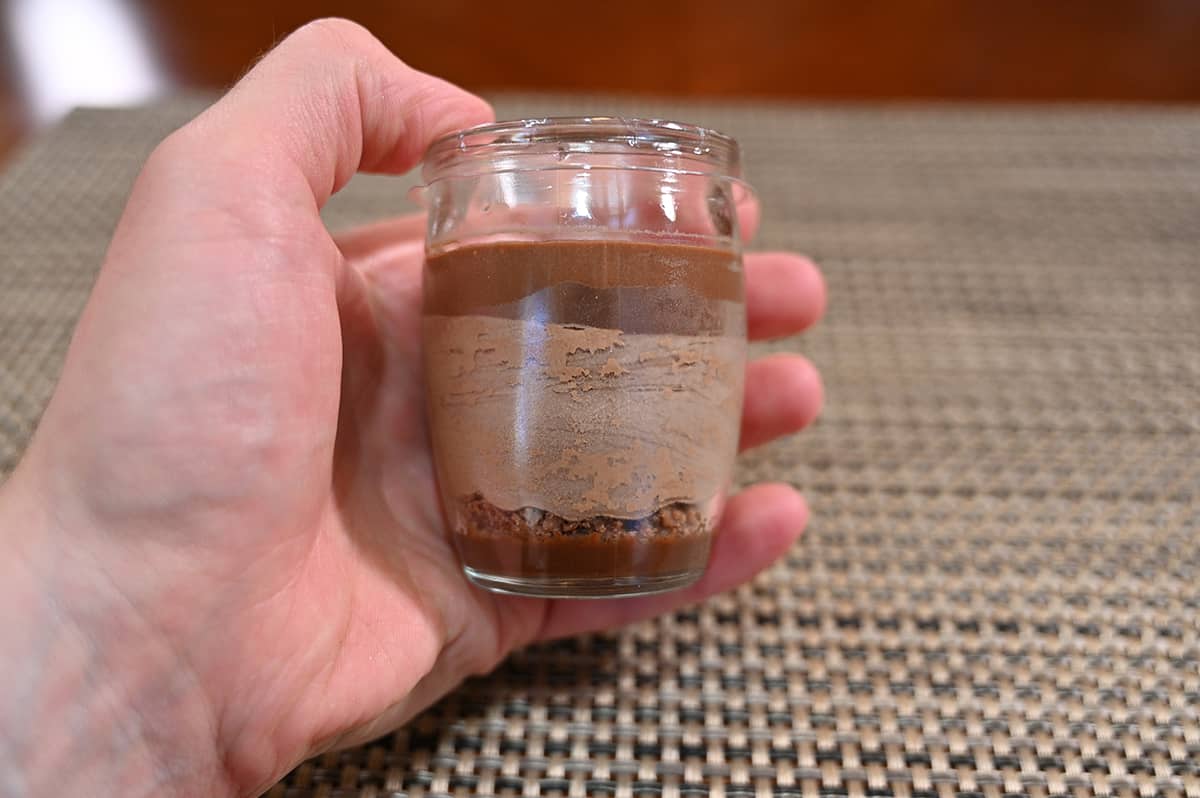 Convenience
The best-before date is around six weeks from when I purchased them and the mousse needs to be kept refrigerated. The glass cups can be washed in the dishwasher and reused for things like yogurt parfait!
I wouldn't hesitate to serve these to guests or have them as a bit of a treat after a nice dinner at home.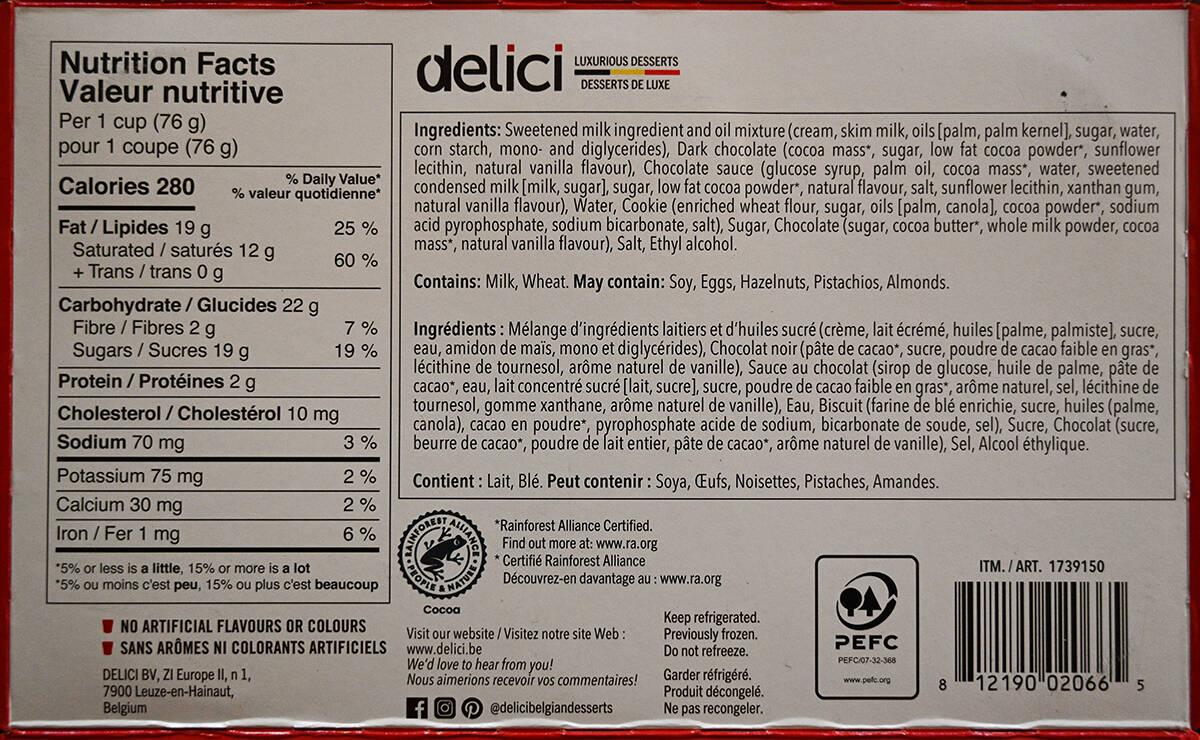 Nutrition
Calories
One cup contains 280 calories, 19 grams of fat, 22 grams of carbohydrates, two grams of fibre, 19 grams of sugar, two grams of protein and 70 milligrams of sodium. I'm not surprised at all by the calories, fat or sugar.
I actually suspected there would be more sugar than there is, 19 grams isn't that high for such a tasty treat.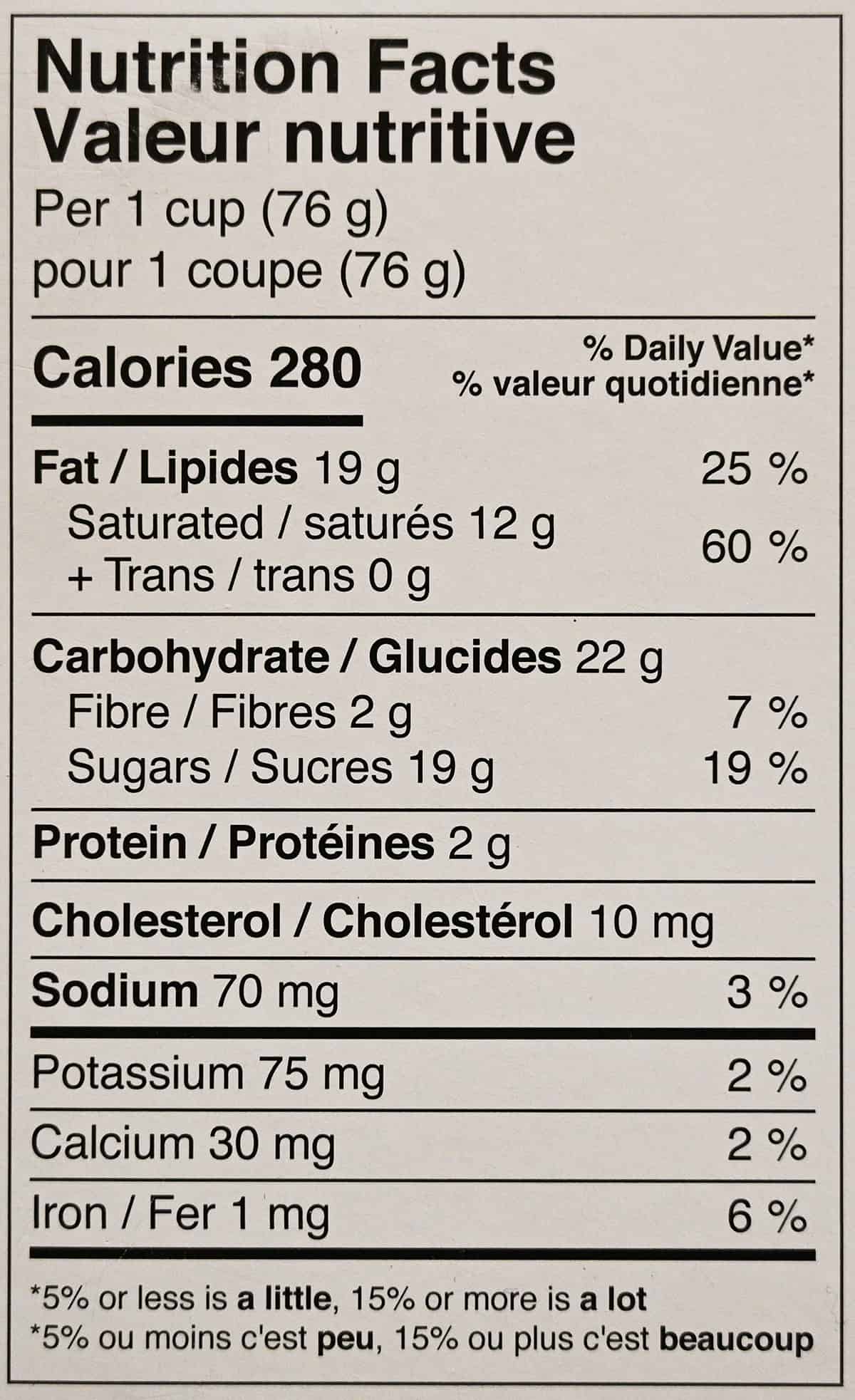 Ingredients
The mousse contains milk and wheat and may contain soy, eggs, hazelnuts, pistachios and almonds.
There are a few ingredients I don't love seeing like glucose syrup, palm oil and canola oil. Also if you avoid any small or trace amounts of alcohol, this has alcohol listed as an ingredient.

Scoring
Taste: 9/10
Cost: 6/10
Convenience: 10/10
Nutrition: 0/10
Overall
Must buy!
I would buy these again and everyone I served them to really loved them. They're perfect for a chocolate lover.
Have you tried these Costco Delici Belgian Chocolate Mousse desserts? What did you think of them?
---
Please note that this review was not paid for or sponsored by any third party. This product was purchased by Costcuisine for the purpose of producing this review. The opinions in this review are strictly those of Costcuisine. Costcuisine is not affiliated with Costco or any of its suppliers. In the event that Costcuisine receives compensation for a post from the manufacturer of a product or some other third party, the arrangement will be clearly disclosed (including where the manufacturer of a product provides Costcuisine with a free sample of the product).