You have to give Costco credit for how adventurous and geographically diverse it is with its pre-made meal creations in the deli section. While the dishes might not always be the most authentic, they clearly try to draw inspiration from different parts of the world in creating them. This Kirkland Signature Bulgogi Beef is a Korean-themed entrée. It's one of the pricier offerings in the pre-made deli section and it doesn't include any side dishes; you'll need to figure those out for yourself. That might make it a bit of a tough sell for some people. Read on to find out if it's worth the splurge and the extra effort.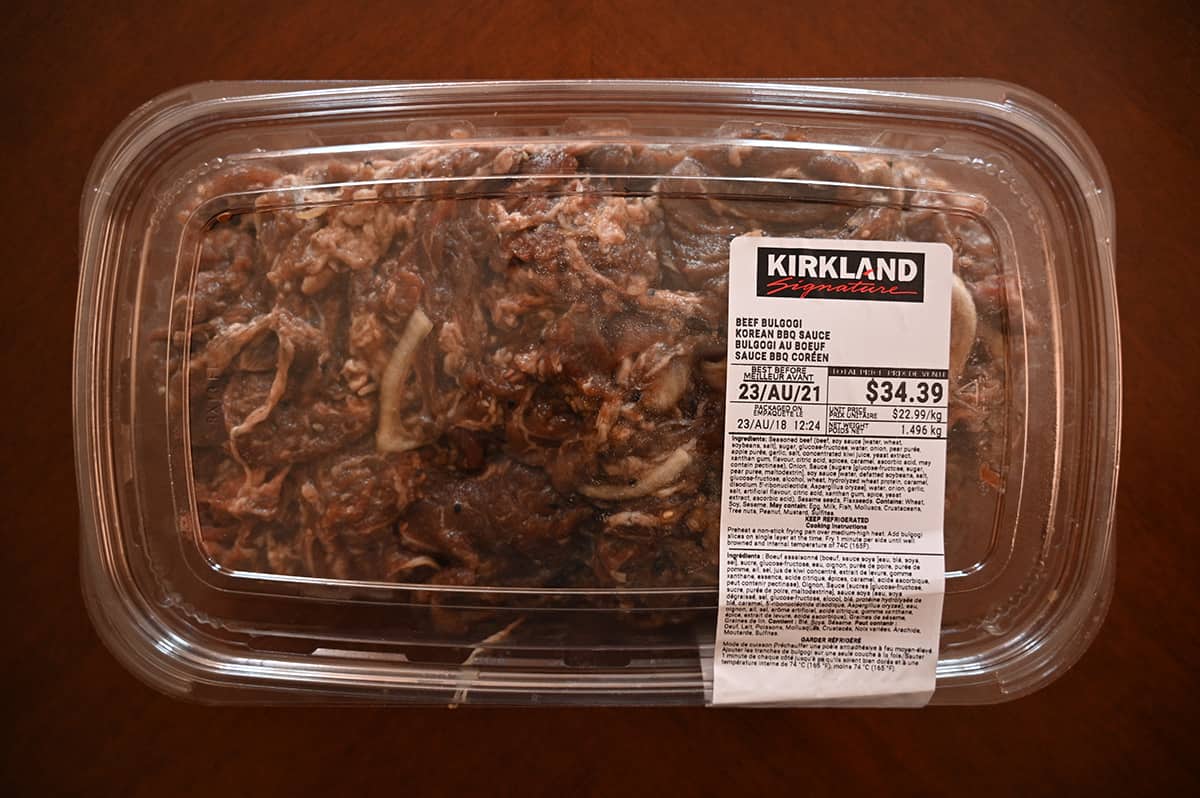 My favorite pre-made meals from Costco are the Kirkland Signature Enchilada Bake, Kirkland Signature Quinoa Salad, Kirkland Signature Seasoned Chicken Wings, Kirkland Signature Four Cheese and Spinach Manicotti, Kirkland Signature Lasagna, Kirkland Signature Chicken Tacos, Kirkland Signature Chicken Pot Pie and the Kirkland Signature Greek Style Gyro Pitas.
Location in Store
This is located in the deli / pre-made meal section at Costco. The item number is 43528.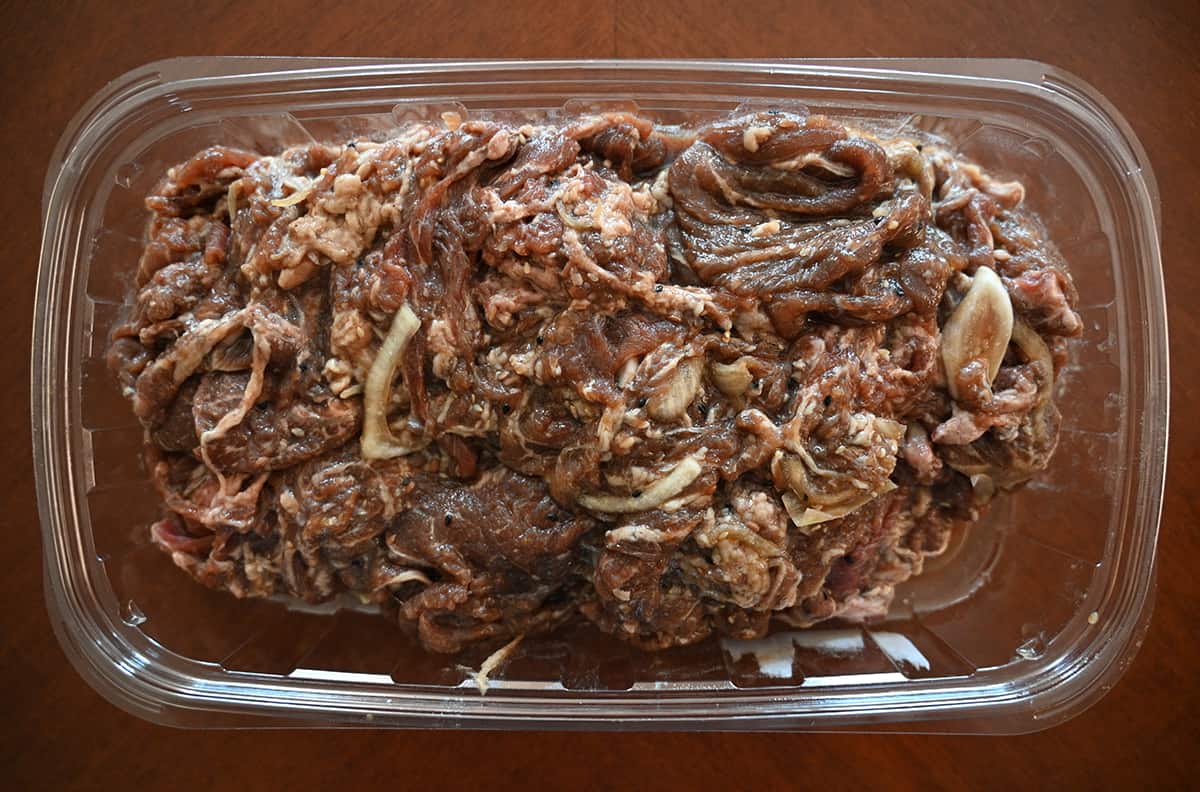 Taste
My biggest fear from looking at the tray of Beef Bulgogi was the quality of the meat, and unfortunately that turned out to be the biggest issue with this dish. It's very hit-and-miss.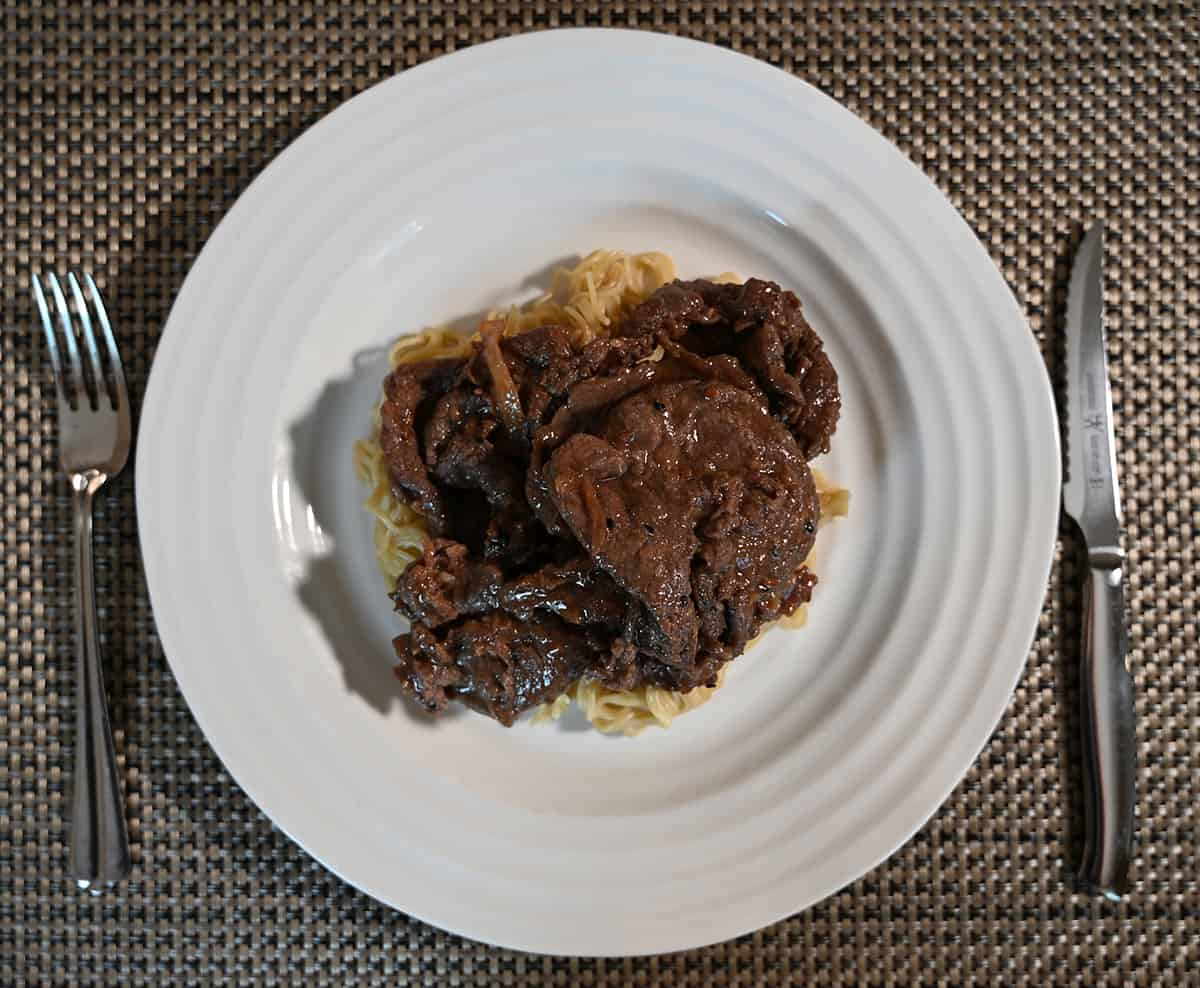 The good pieces are tender and flavorful, but you'll encounter a lot of fatty and gristly pieces. I don't think I had a bad batch; all of the ones in the cooler looked pretty much the same.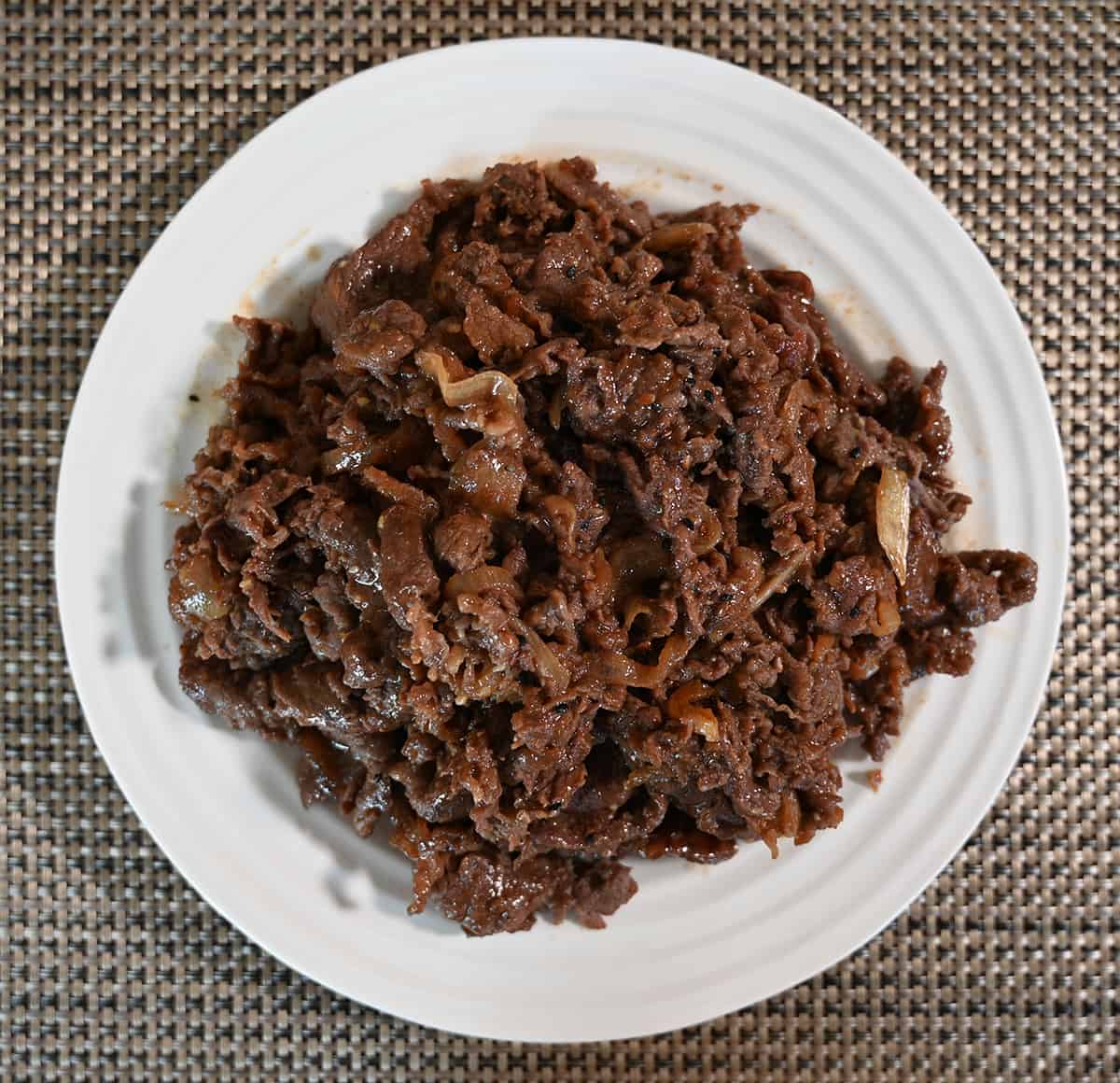 When you get a good piece of meat, this is a pretty enjoyable entree. The best pieces are tender and juicy, and there's plenty of sauce in the tray, so it's loaded with flavor. The first thing I noticed taste-wise is the sweetness.
This is definitely a sweet barbecue sauce, but not in a bad way. The taste of soy sauce stands out too, and it adds a saltiness that complements the sweet flavor well.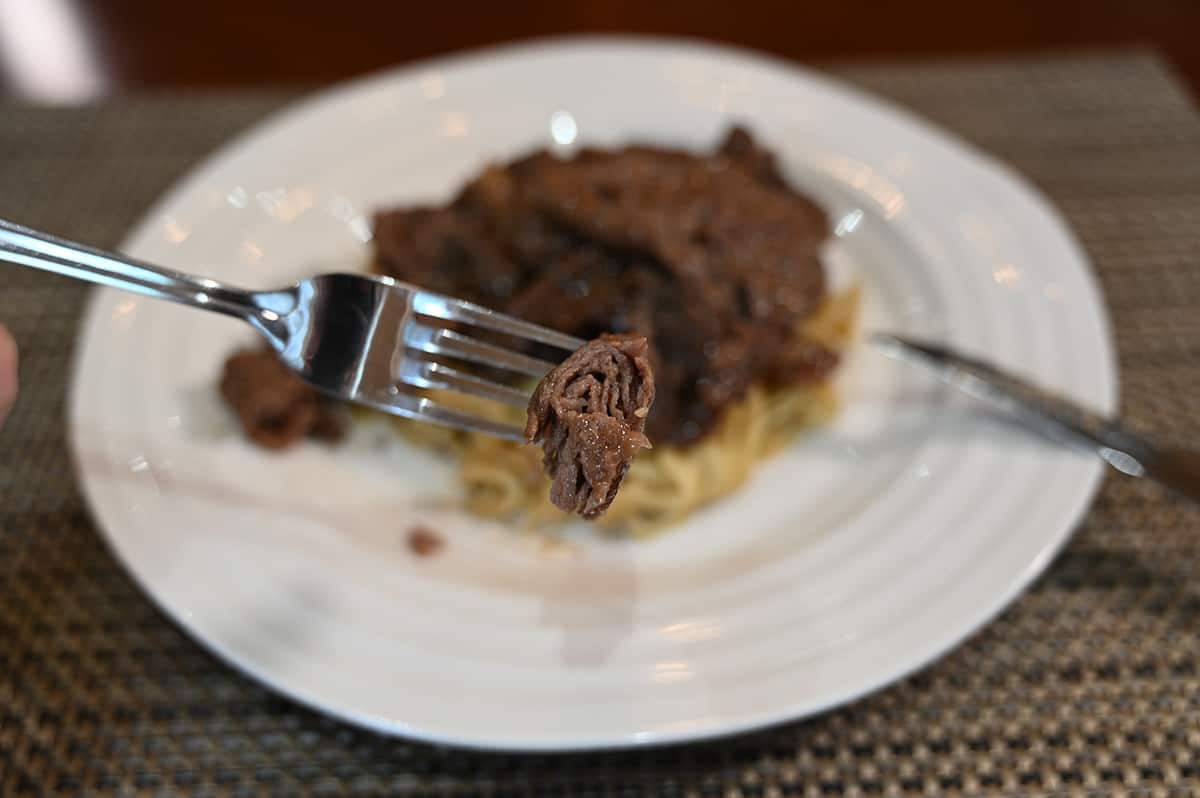 While I enjoyed the good pieces, I couldn't help but wonder if there might be a better way to prepare the beef. I pretty much followed the instructions (aside from cooking my beef for much longer than the recommended one minute per side), but I wondered if it might have turned out a lot better if it were cooked in a very hot cast iron skillet or on grill.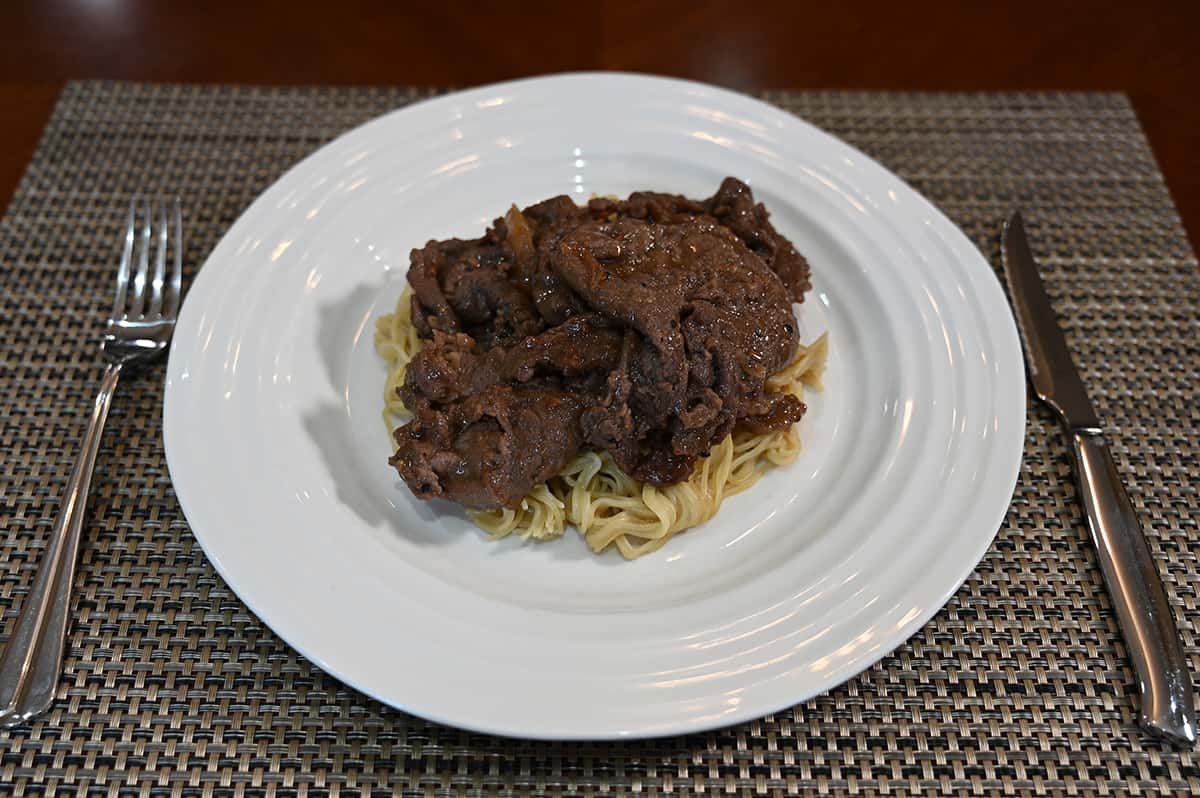 I imagine either method (but especially the grill) would be tricky as the beef would probably stick, but cooking a barbecue dish at medium-high heat in a non-stick pan just doesn't seem right to me!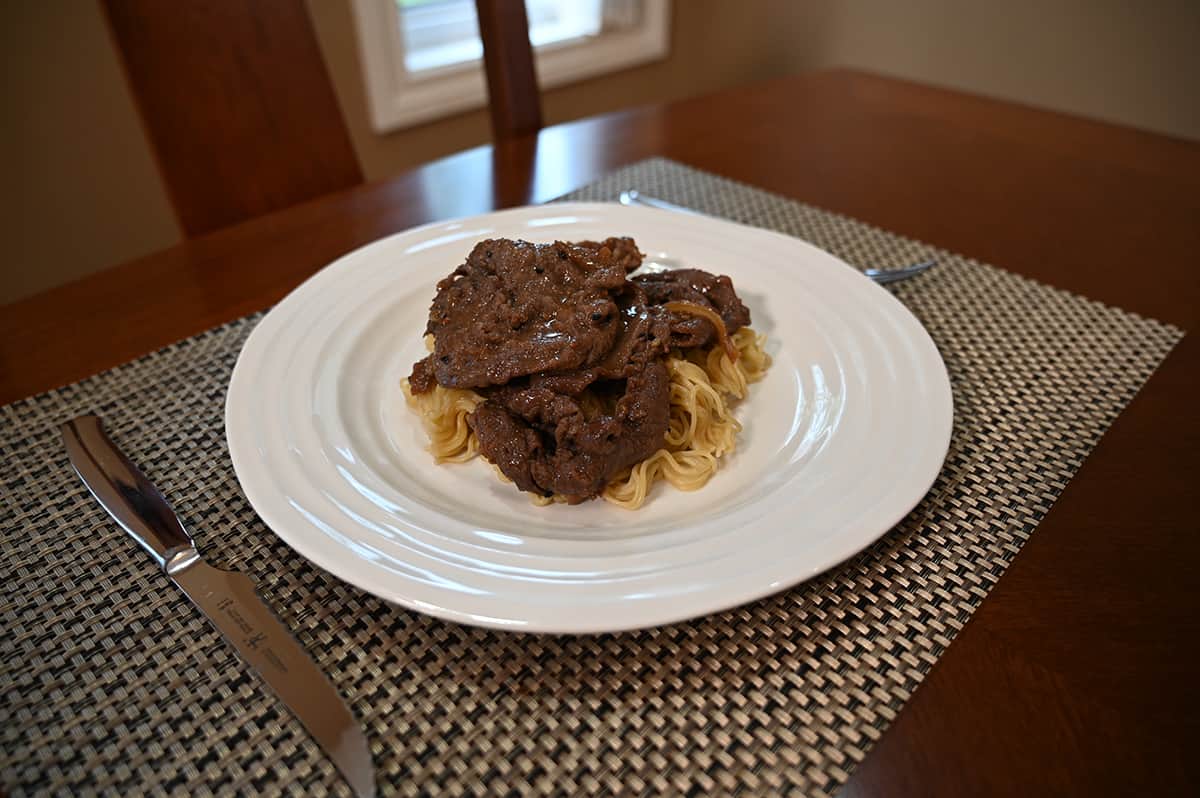 I struggled a bit to decide how to serve my Costco Bulgogi Beef. I ended up keeping things fairly simple and putting it on top of a bed of Lotus Foods Rice Ramen, which seemed to work okay. Some type of vegetable would have been a nice addition though.
Cost
This isn't cheap at all and unfortunately, I have to say the bulgogi is not worth the price. The unit price for the beef is $22.99 Canadian per kilogram and my tray costs $34.39 Canadian.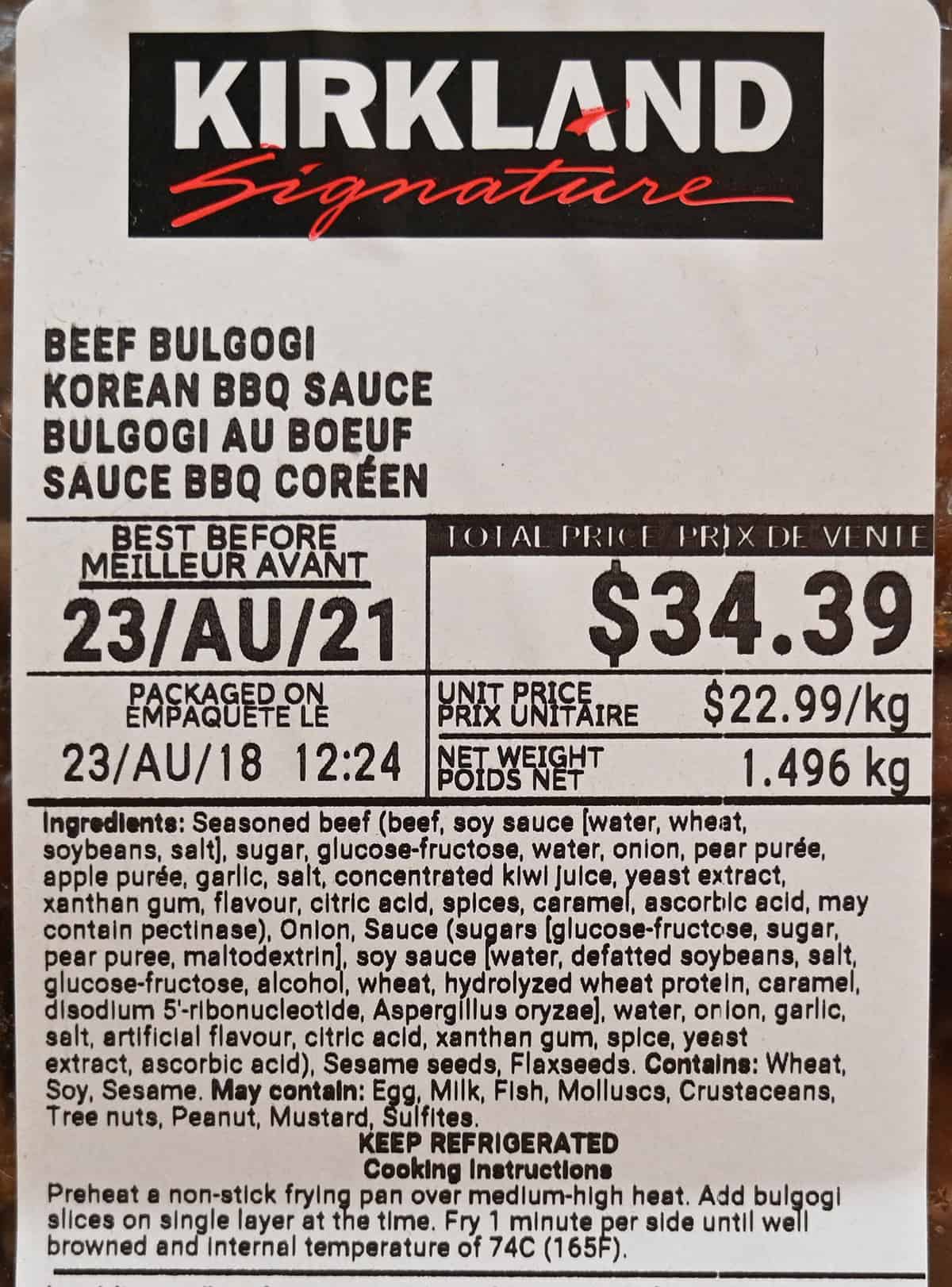 Convenience
This isn't a convenient meal. Even if you have a big non-stick pan, you're probably going to need to split your beef into at least two batches. You're also going to need to figure out sides.

I cooked my beef in a non-stick pan on medium-high heat like the instructions said to, but I cooked it for much longer than the instructions said to (probably about ten minutes per batch, flipping period). Some pieces got a little bit of caramelization, but more would have been better. I could have cooked it in smaller batches, but it would've taken a long time.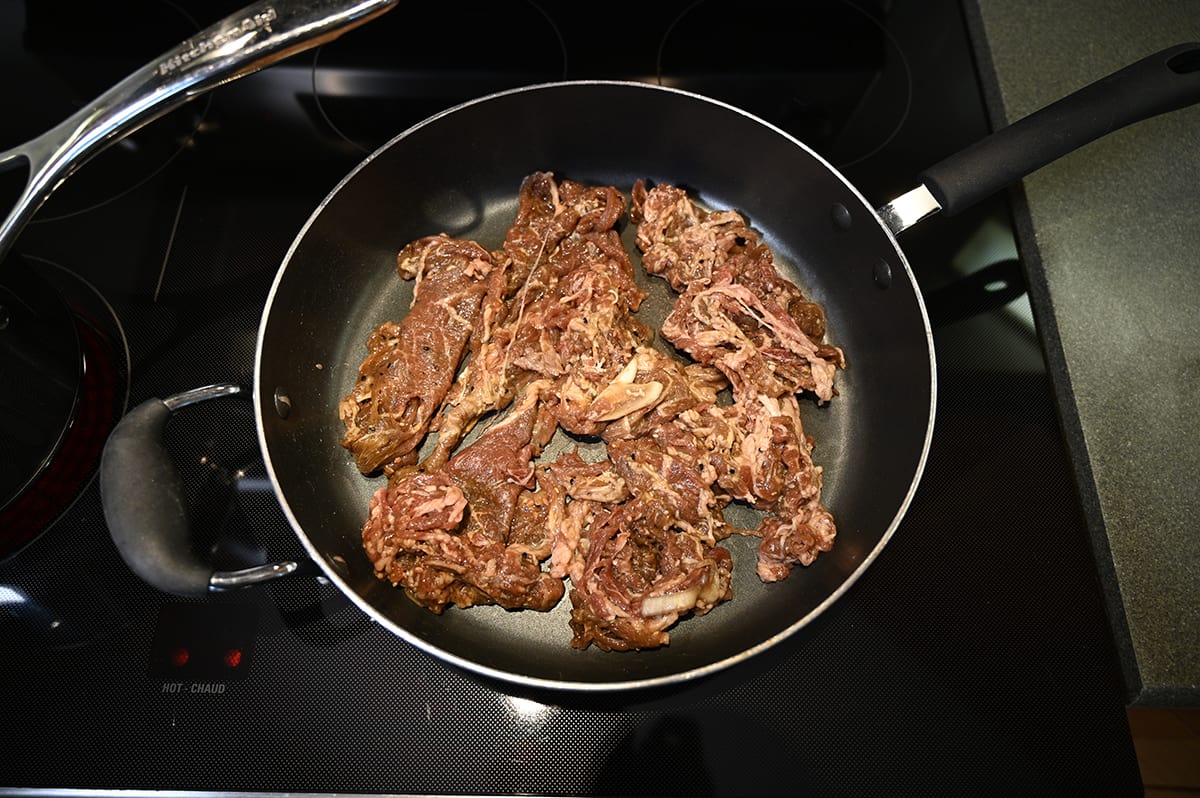 Like I said, I struggled a bit with what to serve my Beef Bulgogi with. I read Japchae noodles are a popular side for it. I didn't have those, but I did have the ramen noodles and they seemed close enough. Please don't judge me!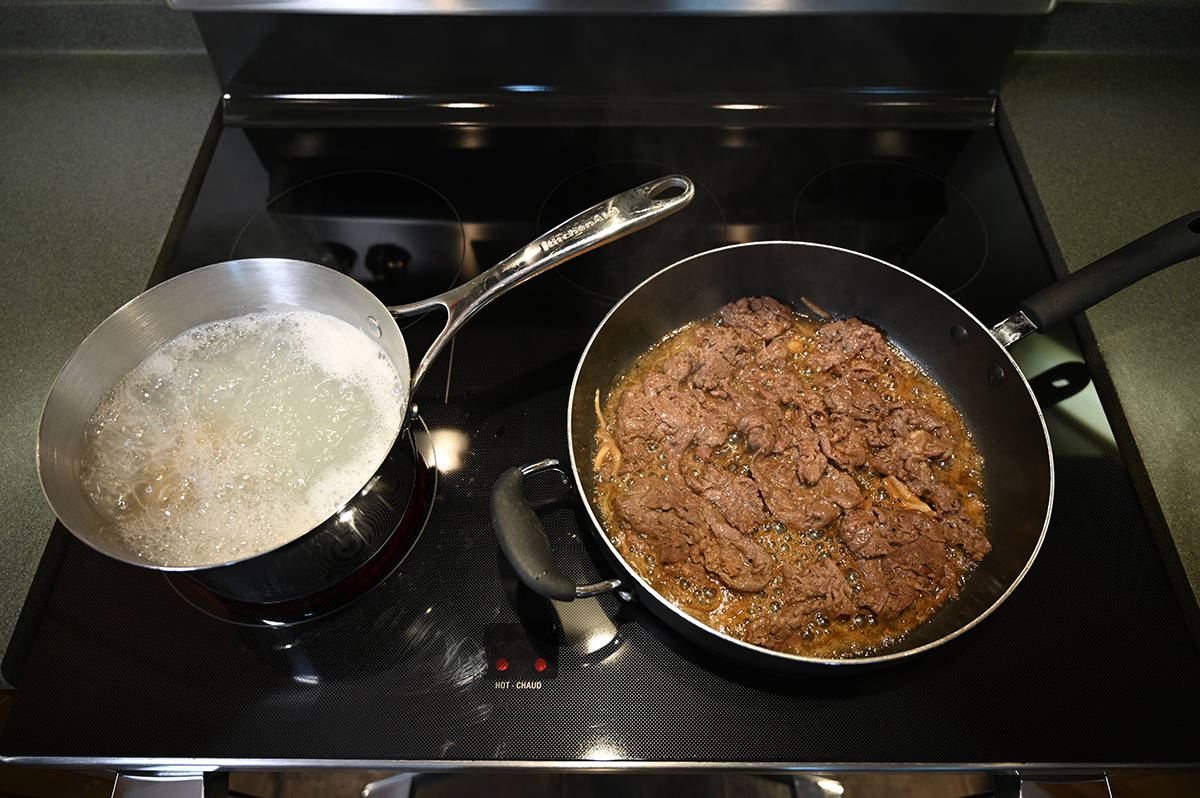 The Beef Bulgogi needs to be kept refrigerated and the best-before date is five days from when it was packaged.
Nutrition
Calories
One-fifth of the tray contains 420 calories, 16 grams of fat, 33 grams of carbohydrates, three grams of fibre, 25 grams of sugar, 38 grams of protein and 1610 milligrams of sodium. That's a ton of sodium and sugar!
Ingredients
The ingredients list has some things listed I've never seen before such as aspergillus oryzae, which I found out is a fungus used in Japanese fermentation to make things like soy sauce. I don't love that the second ingredient is sugar but based on how sweet this tastes, it's not surprising.
If this had some vegetables in it, it'd be a lot healthier. The bulgogi contains wheat, soy and sesame. It may contain eggs, milk, fish, molluscs, crustaceans, tree nuts, peanuts, mustard and sulfites.

Scoring
Taste: 5/10
Cost: 4/10
Convenience: 4/10
Nutrition: 2/10 (Points for being high in protein).
Overall
Walk on by!
My dad was the only one who enjoyed this out of four of us. I don't like the fat and gristle or how sweet this beef is. I can't excuse the low-quality beef at this price point.
Have you tried this Costco Beef Bulgogi? What did you think of it?
---
Please note that this review was not paid for or sponsored by any third party. This product was purchased by Costcuisine for the purpose of producing this review. The opinions in this review are strictly those of Costcuisine. Costcuisine is not affiliated with Costco or any of its suppliers. In the event that Costcuisine receives compensation for a post from the manufacturer of a product or some other third party, the arrangement will be clearly disclosed (including where the manufacturer of a product provides Costcuisine with a free sample of the product).