Are you in the mood for a quick, convenient meal but want something a bit more elevated than lasagna or tacos? The Costco Kirkland Signature Stuffed Pork Tenderloin looks delicious with lean pork tenderloin stuffed with risotto and parmesan cheese sprinkled on top. Is this my new favorite pre-made meal from Costco?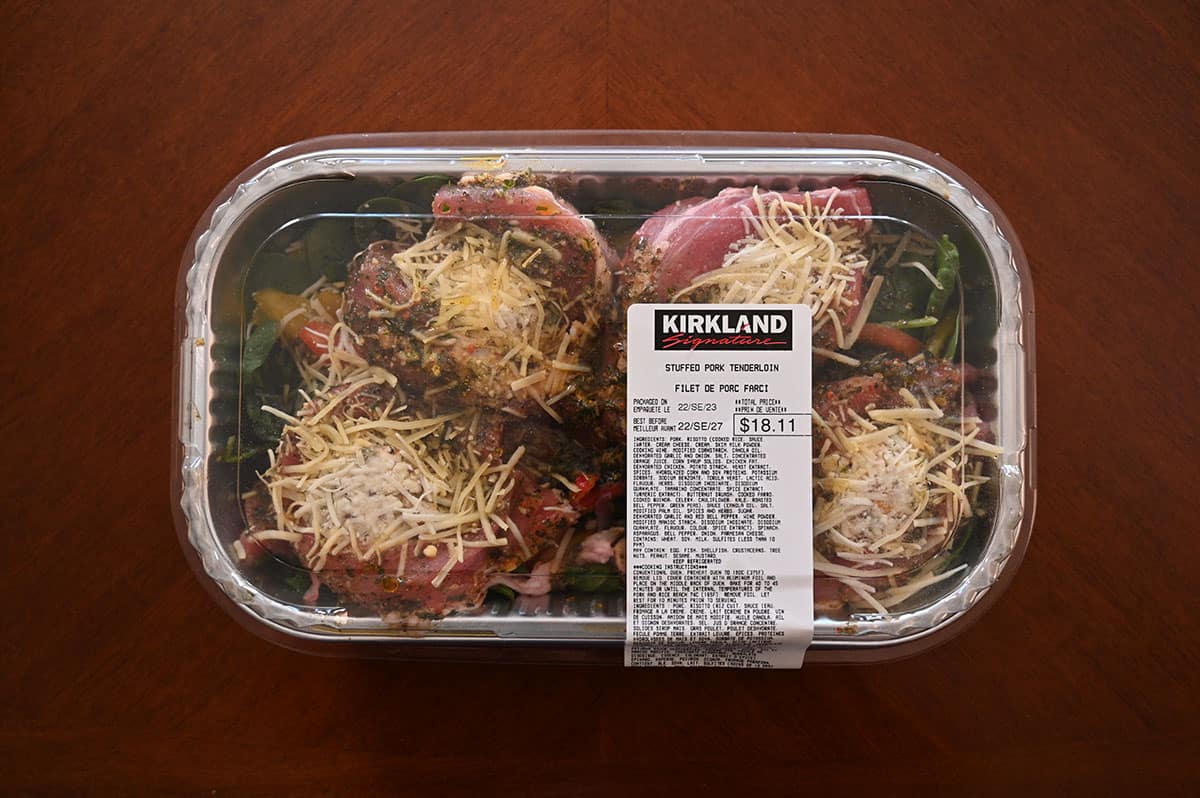 I always love trying pre-made Costco meals from the deli section, they make convenient, easy meals and most of the time are pretty tasty. I saw this Kirkland Signature Stuffed Pork Tenderloin and wanted to give it a try and review it.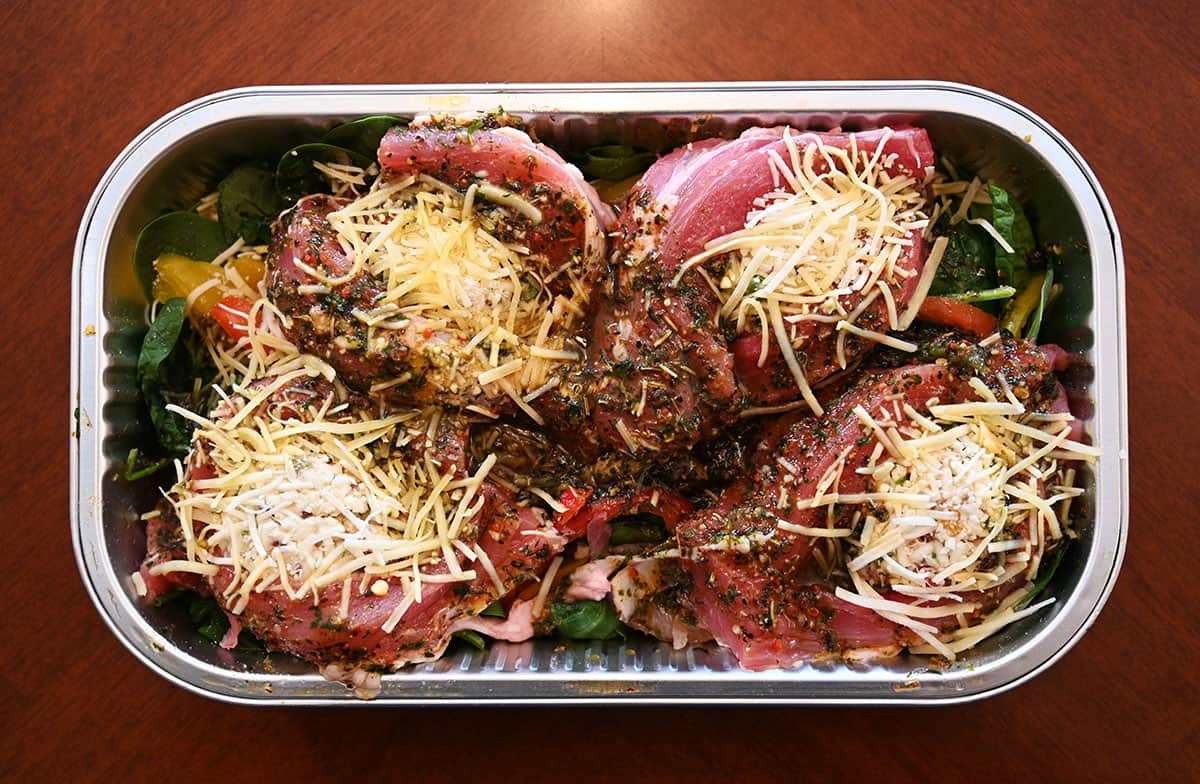 Other pre-made meals I love from Costco are the Kirkland Signature Quinoa Salad, Kirkland Signature Four Cheese and Spinach Manicotti, Kirkland Signature Chicken Burger Meal Kit, Kirkland Signature Stuffed Salmon, Kirkland Signature Gyro Pita Greek Style Meal, Kirkland Signature Chicken Pot Pie, Kirkland Signature Chicken Tacos and the Kirkland Signature Meat Lasagna.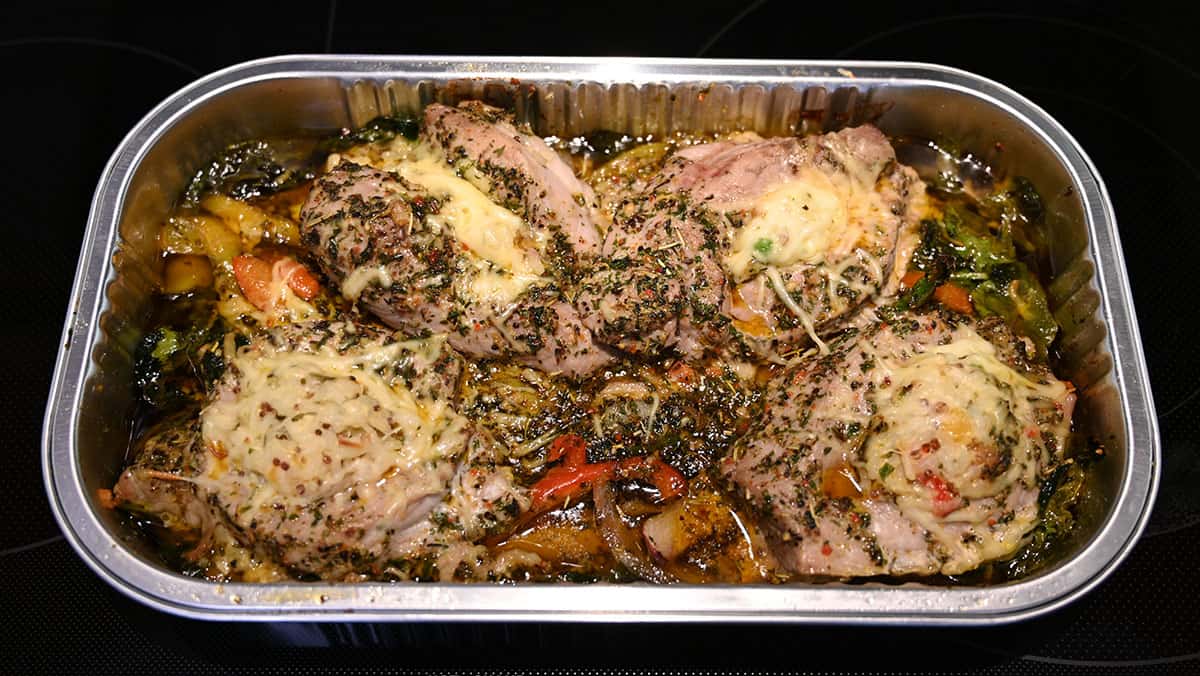 Location in Store
You can find this in the pre-made deli section at Costco. The item number is 18291.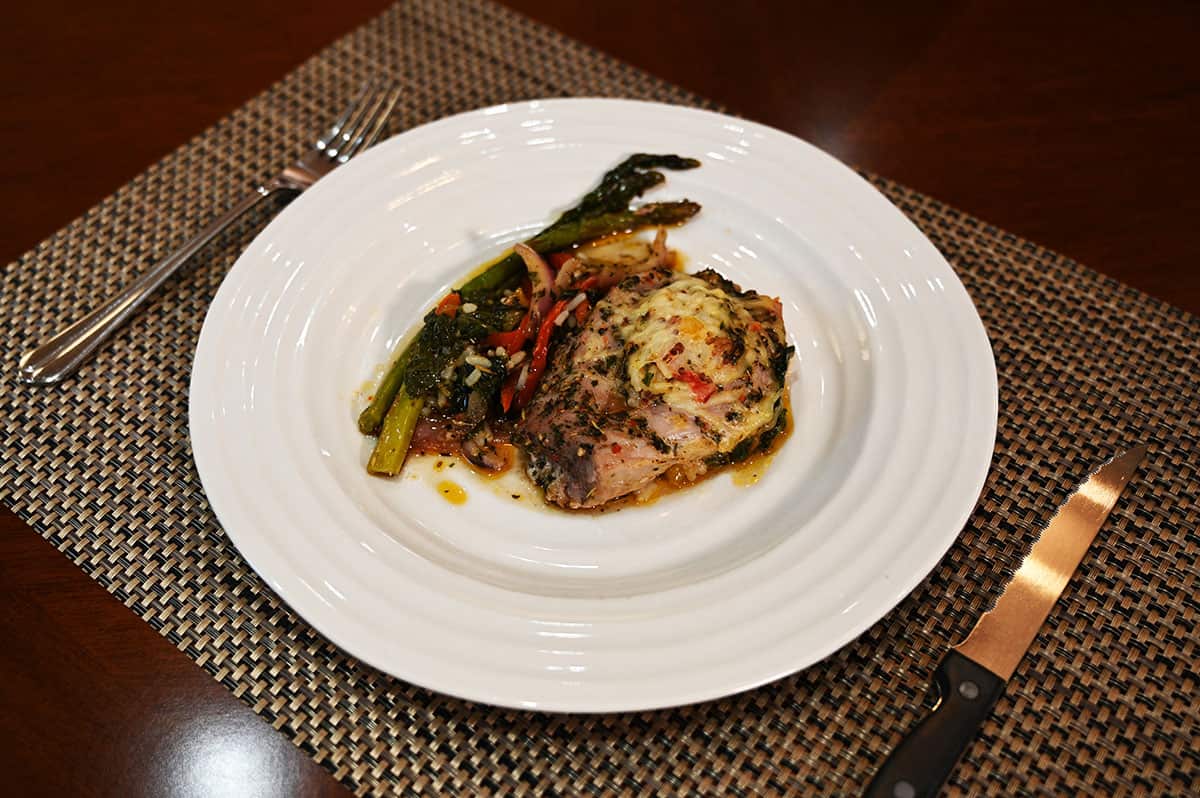 Taste
I don't think this is my absolute favorite Costco pre-made meal but it's not horrible. The pork tenderloin itself is moist, tender and flavorful. I don't notice any gross gristle or fatty pieces which I appreciate.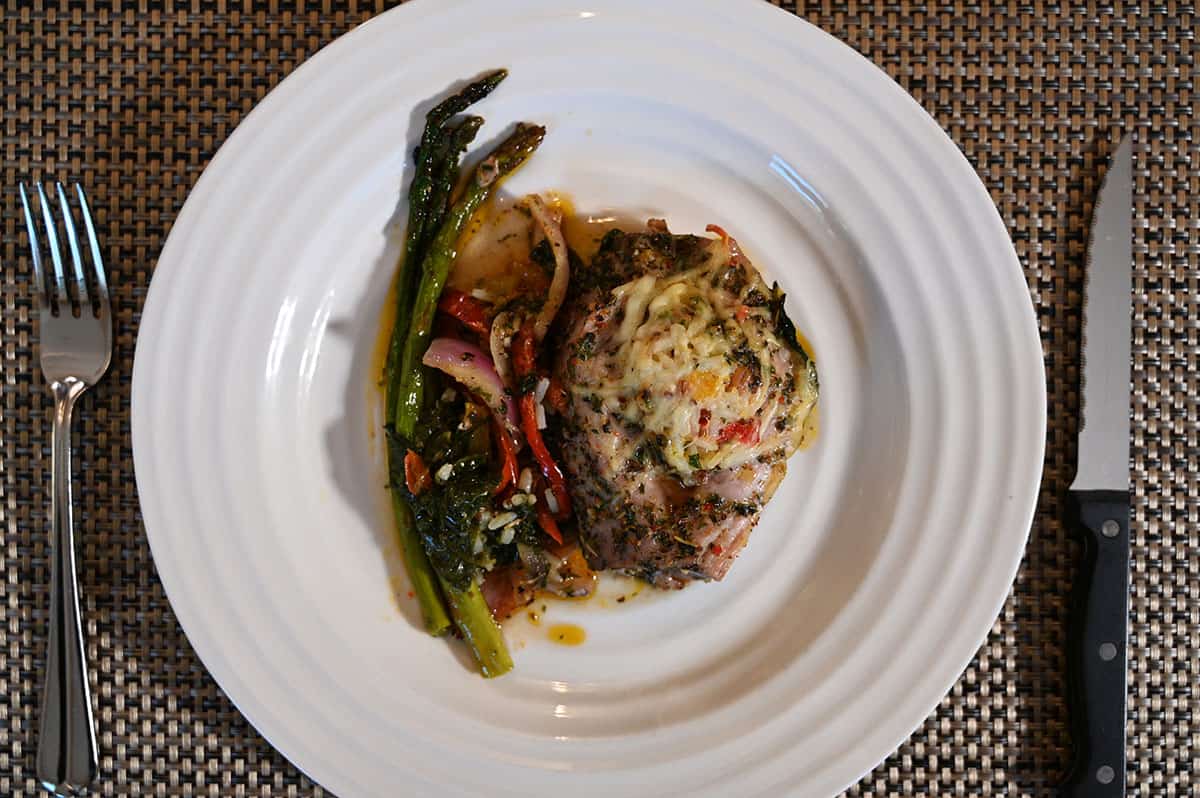 There's a strong herb flavor that I can't say I love, it's very herby and overpowering. The stuffing is like cheese and risotto that's decently tasty but it also has a really strong herb flavor. I don't love the vegetables (bell pepper, spinach and asparagus) and broth that come with the meal, both are very salty and overpowering and the vegetables are scant and a bit soggy.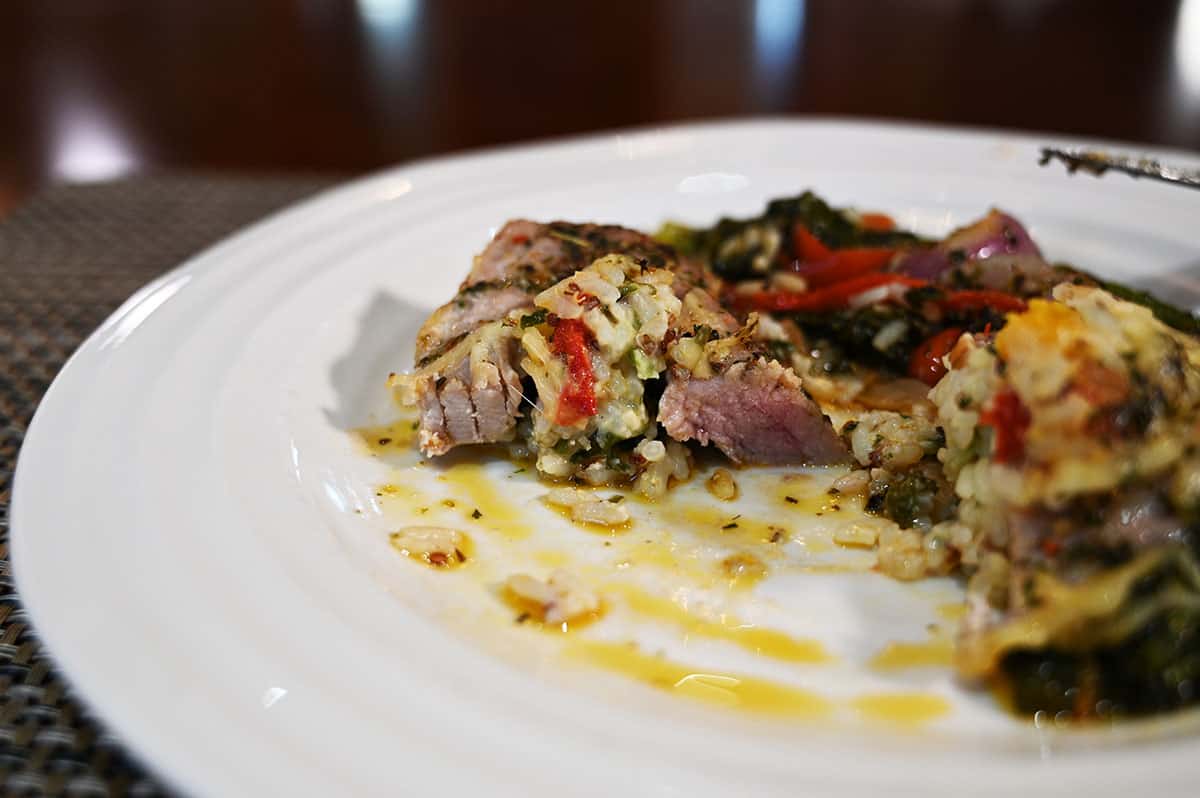 Cost
The cost for four stuffed pork tenderloin pieces is $18.11 Canadian. Pork tenderloin is usually pretty cheap but I don't find the price of this pre-made meal outrageous. You're definitely paying for the convenience.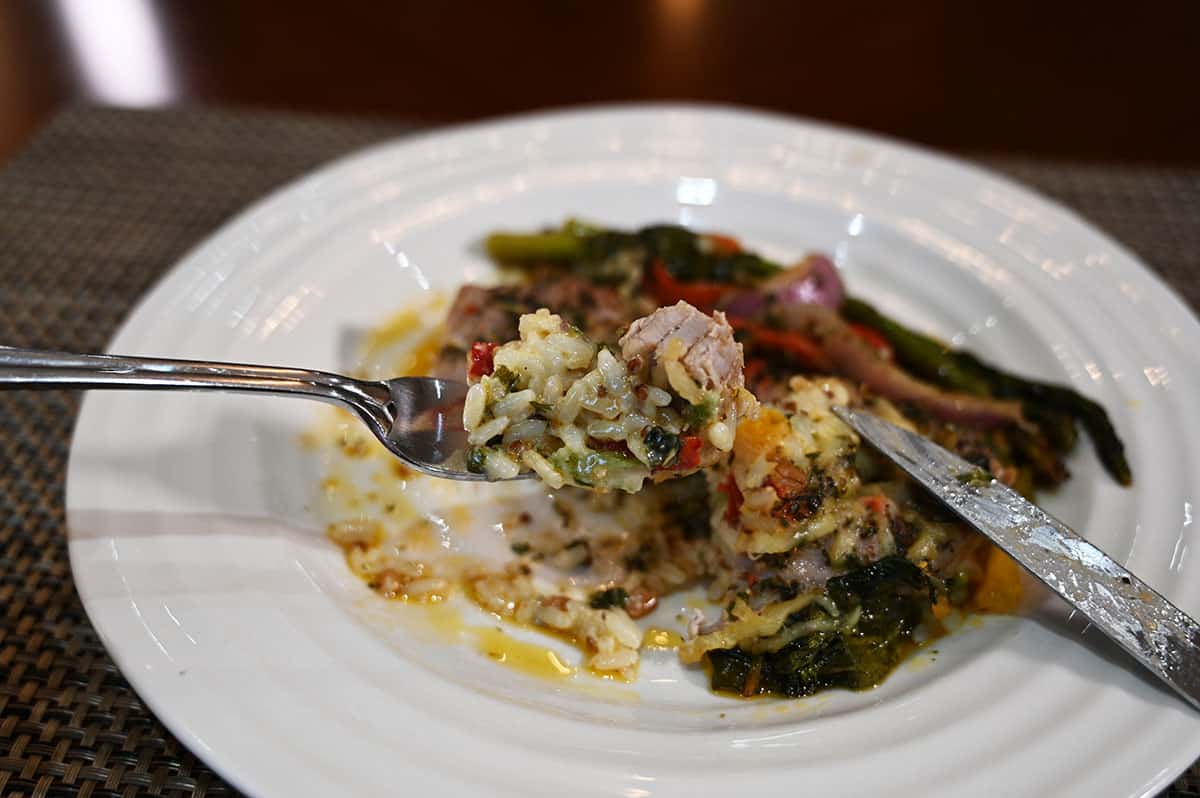 Convenience
The instructions say to cook the pork tenderloin at 375 degrees Fahrenheit for 40 to 45 minutes but even after 45 minutes it was still pink and not fully cooked. For this reason I recommend using a thermometer to check that the internal temperature of the pork is at least 165 degrees Fahrenheit.

Because the pork tenderloin is stuffed with risotto and comes with a few vegetables it's pretty much a full meal in a tray. I suggest serving it with a side salad for a few more vegetables but it's really convenient. The best-before date listed on our meal is four days from the day it was packaged and obviously needs to be kept refrigerated.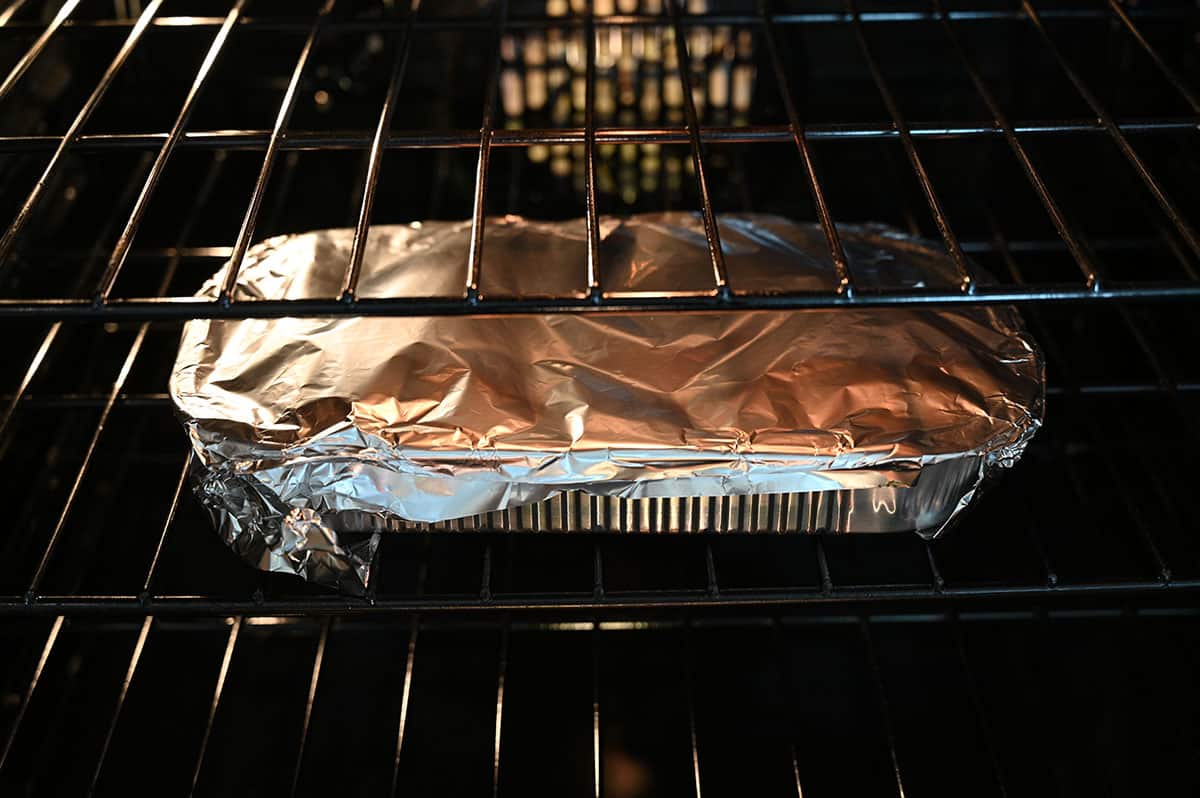 Nutrition
Calories
A quarter of the tray or one stuffed pork tenderloin is 470 calories, 19 grams of fat, 980 milligrams of sodium, 27 grams of carbohydrates, three grams of fiber, three grams of sugar and 45 grams of protein.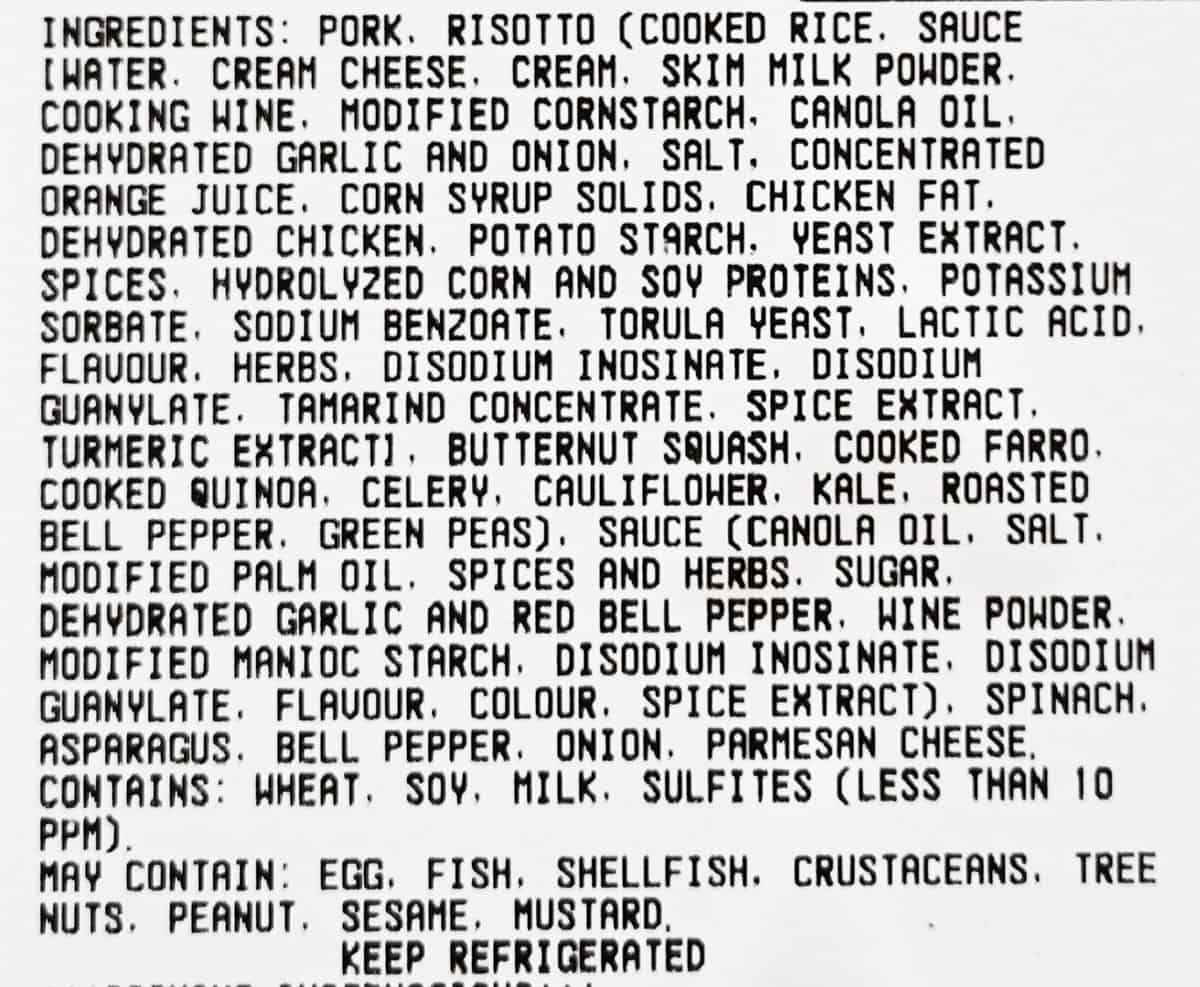 Ingredients
There are quite a few ingredients and there's a bunch I'm not fond of. I don't know why there have to be things like soy and corn protein or palm oil, If you were to make this from scratch at home there wouldn't be ingredients like these. The meal contains wheat, soy, milk and sulfites and may contain egg, fish, shellfish, crustaceans, tree nuts, peanuts, sesame and mustard.
Scoring
Taste: 6.5/10
Cost: 6/10
Convenience: 10/10
Nutrition: 3/10 (Points for so much protein).
Overall
Walk on by!
I think there are better options in the pre-made meal section, the stuffed salmon is really excellent if you're looking for something a bit fancier!
Have you tried this? What did you think?
Please note that this review was not paid for or sponsored by any third party. This product was purchased by Costcuisine for the purpose of producing this review. The opinions in this review are strictly those of Costcuisine. Costcuisine is not affiliated with Costco or any of its suppliers. In the event that Costcuisine receives compensation for a post from the manufacturer of a product or some other third party, the arrangement will be clearly disclosed (including where the manufacturer of a product provides Costcuisine with a free sample of the product).