We love ribs in our house, but they're not the easiest thing to make. They can easily turn out fatty, dry or tough if you don't prep and cook them just right! Getting the seasoning right can be tricky too. Luckily Costco offers some decent options for rib lovers looking for a quick and convenient way to make delicious ribs at home. I like the Kirkland Signature Seasoned Pork Back Ribs. These Montana's Texas Style BBQ Pork Back Ribs are similar, but they're fully cooked, so they promise fall-off-the-bone tenderness after only 10 to 12 minutes on the grill! Is this even possible?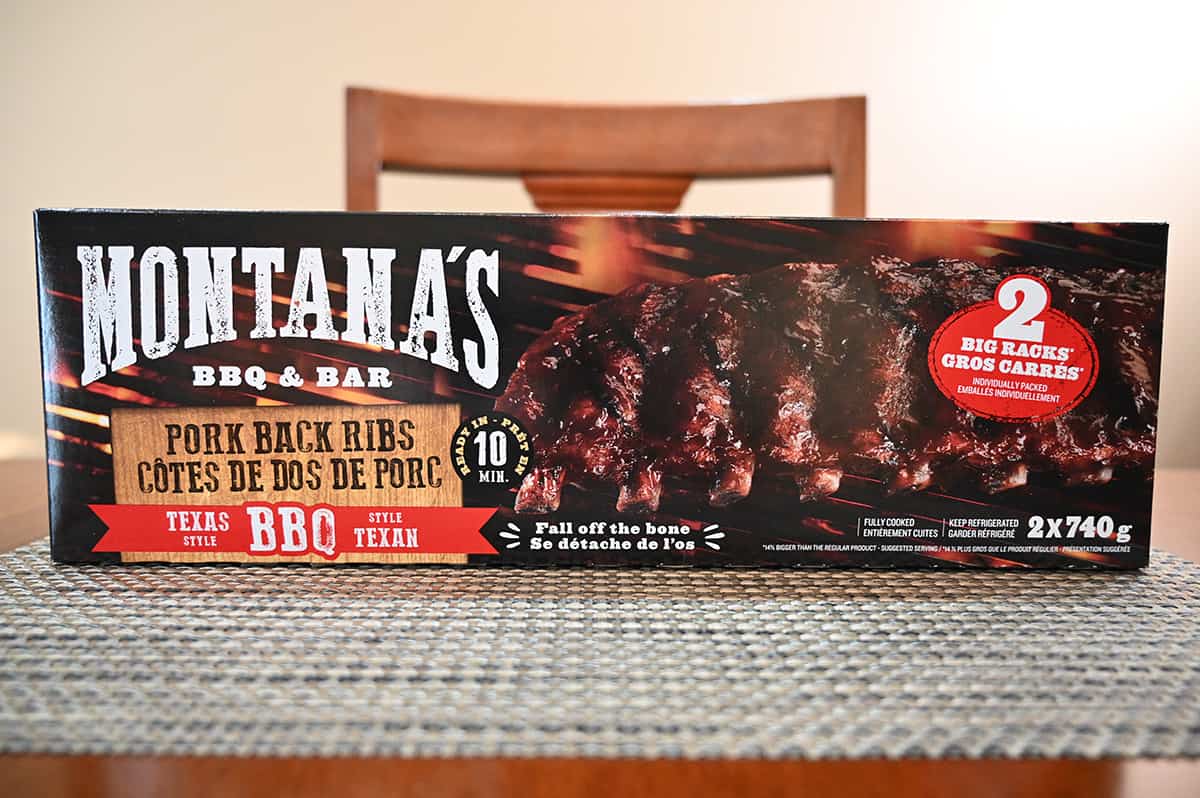 Some other convenient meat options from Costco are the Cuisine Solutions Sliced Grass-Fed Beef Sirloin, 44th Street Beef Pot Roast, Kirkland Signature Smoked Pulled Pork, Benjamin's Traditional Pork Schnitzel, Smokin' Joes BBQ Brisket Burnt Ends, Schwartz's Smoked Meat, Pinty's Buffalo Chicken Flings, Kirkland Signature Rotisserie Chicken and the Connie's Kitchen Fully-Cooked Chicken Burgers.
Location in Store
These are located in the refrigerated deli section, near the pesto and fresh pasta. The item number is 1368257.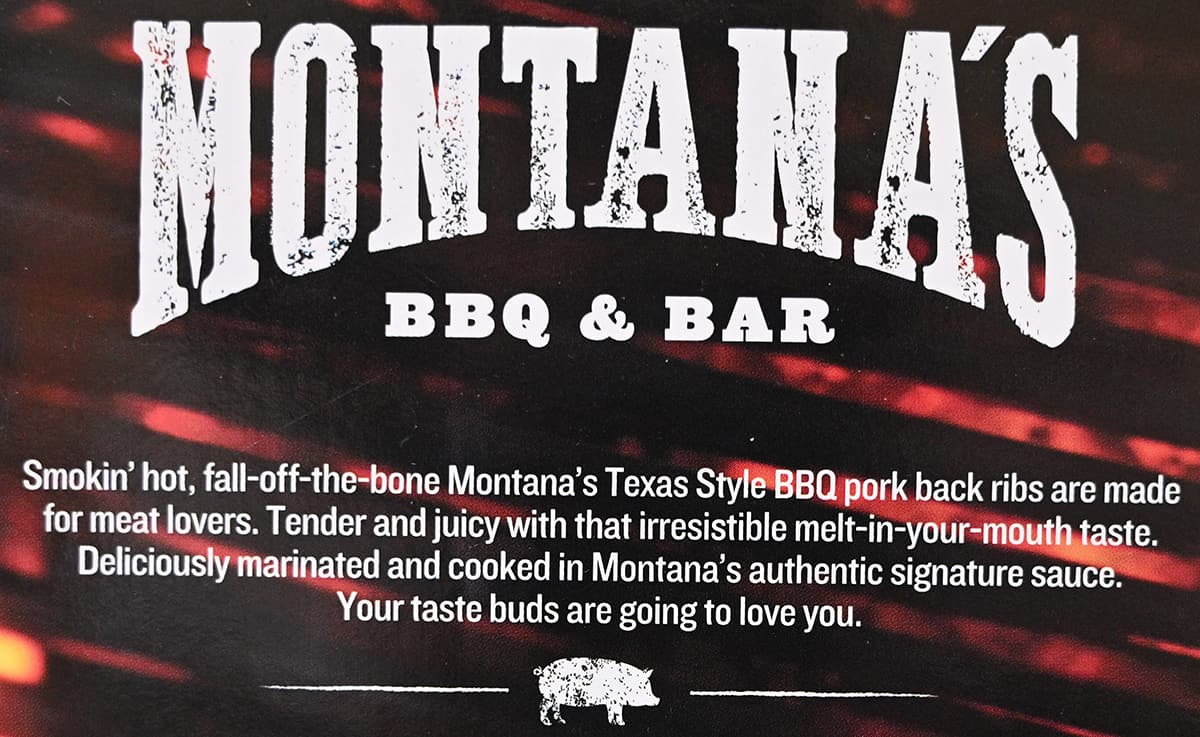 Taste
There's lots of extra sauce for basting if you want it. I saved a bunch of sauce, but found the ribs so saucy that I didn't need it!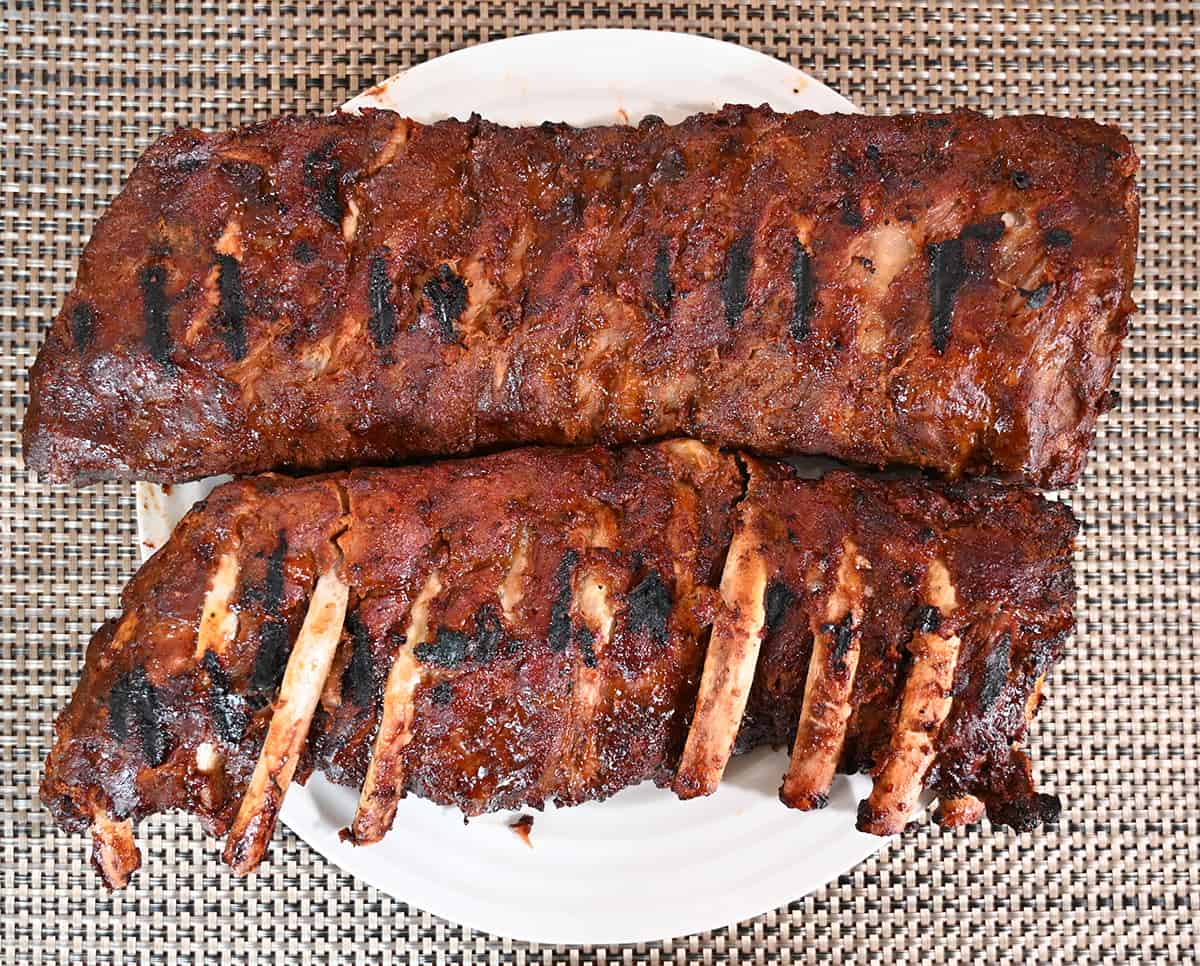 I cooked my ribs on the barbecue at medium heat for 12 minutes, flipping after six. I was thinking about doing them a bit longer, but they were falling off the bone at 12 minutes!
The best thing about these ribs is how tender they are. They fall off the bone. The flavor is nice – it's a strong but somewhat bland barbecue sauce flavor. It seemed like maybe they didn't remove the membrane off of the back of the ribs as it seemed to be on there still. I also found the ribs a little bit greasy.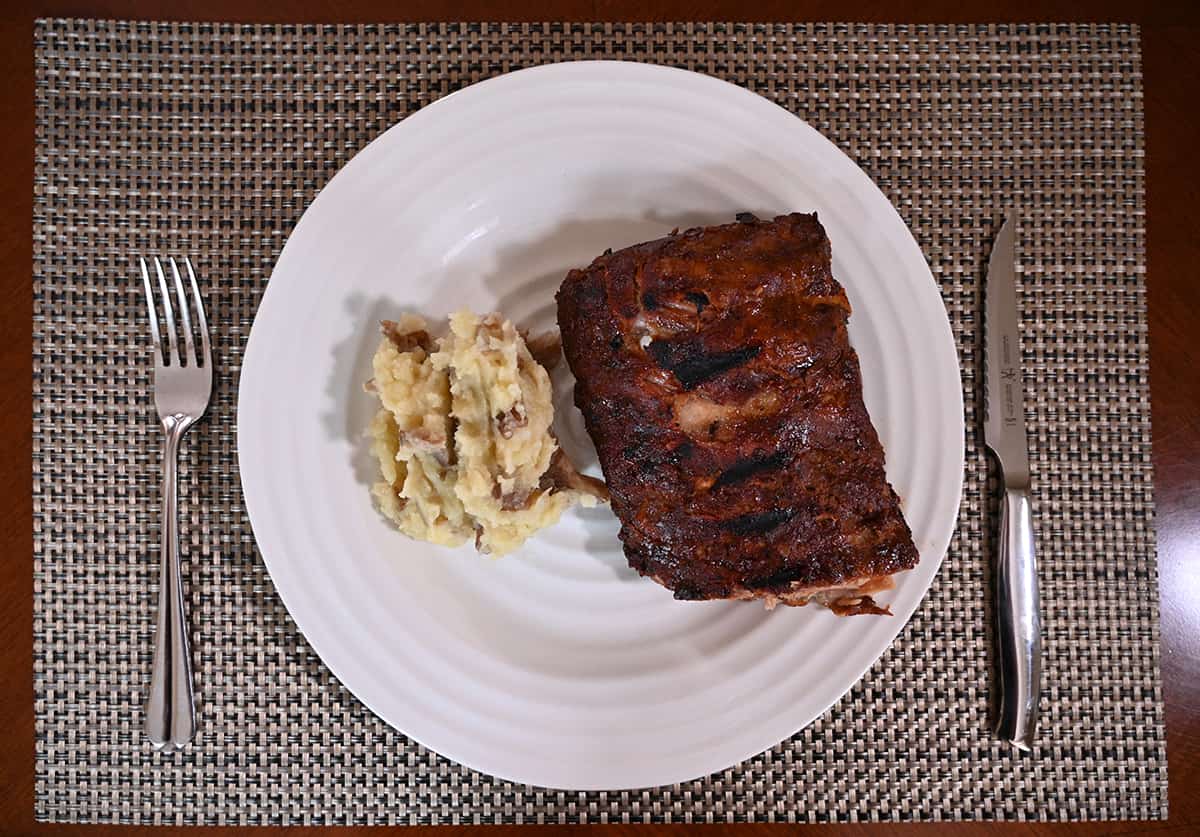 Cost
The box of two 740-gram slabs of ribs costs $19.99 Canadian, which isn't bad for a decent amount of ribs that are easy to prepare. One slab of ribs at a restaurant costs more than $19.99.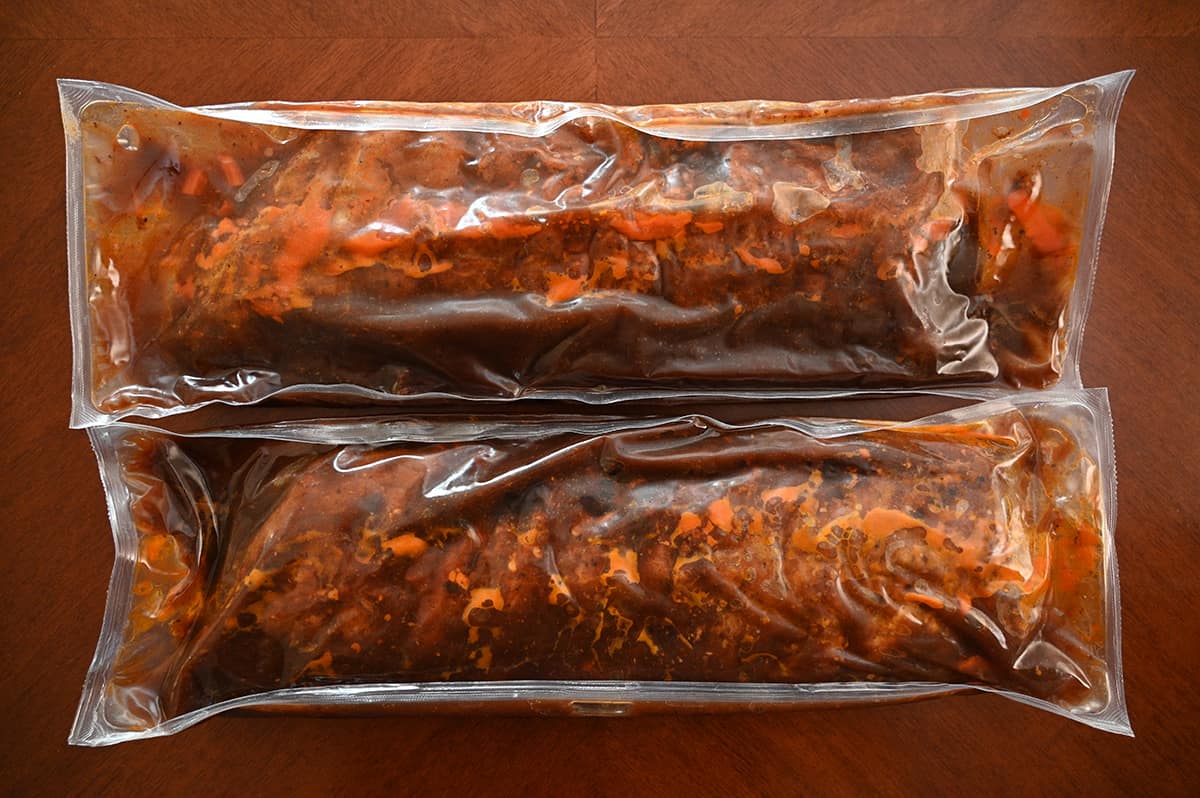 Convenience
The ribs can be prepared on the barbecue or in the oven, they're already fully-cooked so they just need heating. If you're not a winter barbecuer you can still enjoy these by heating them in the oven! We barbecued them this time and followed the package instructions.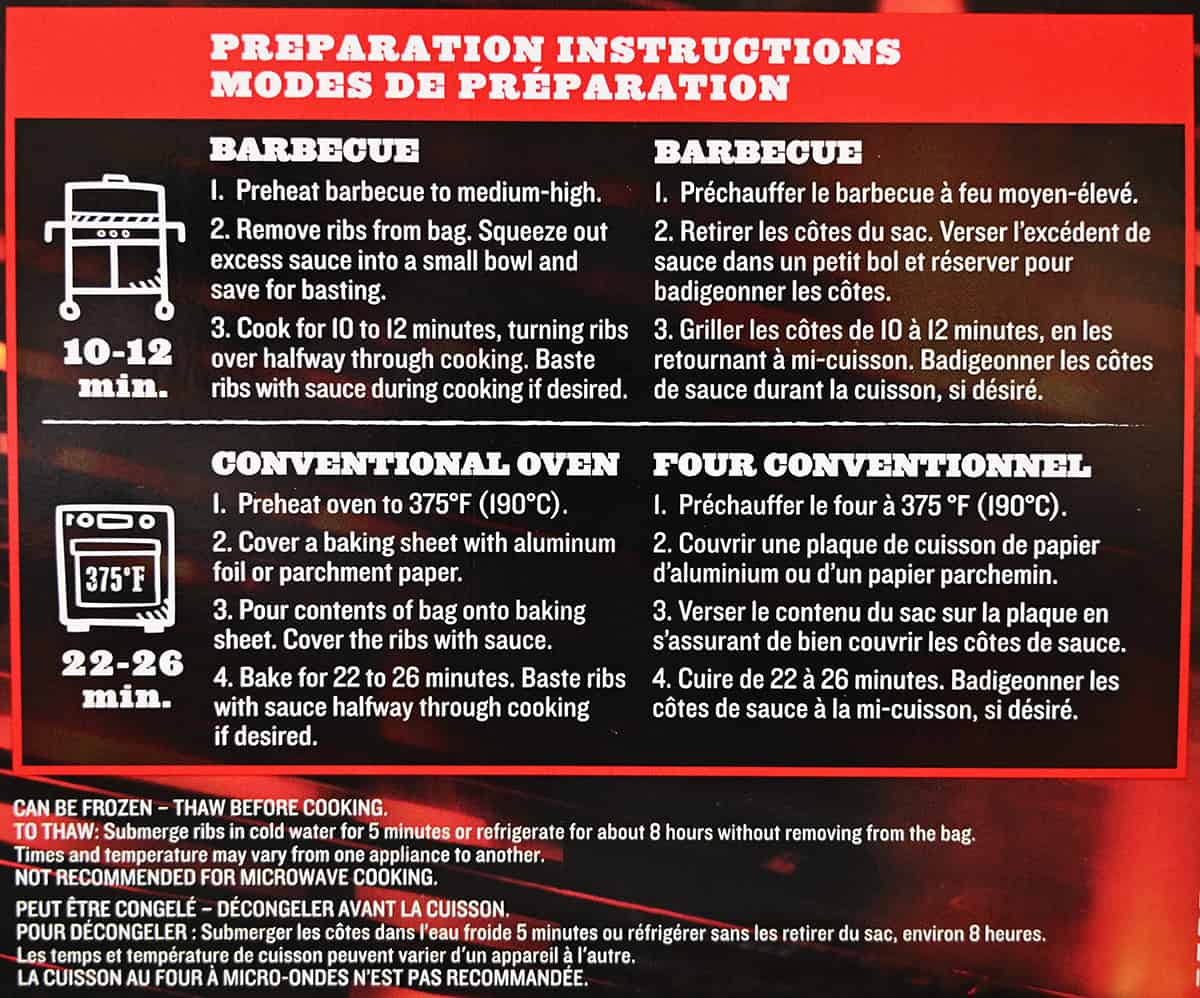 The ribs come refrigerated but if you're not going to eat them by the best-before date you can freeze them. The best-before date listed on my box is five months from when I purchased them, that's a long time!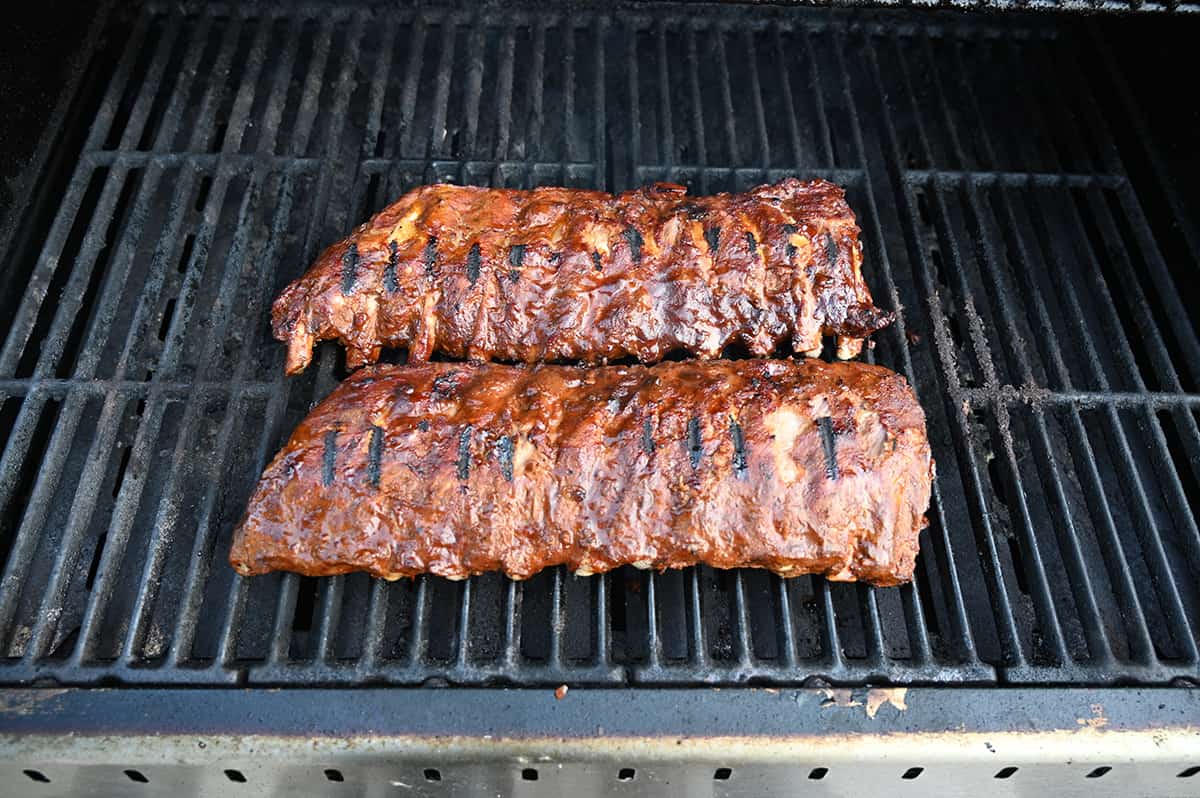 I think these ribs go well with potato salad, fries, mashed potatoes, garden salad, rice or even pasta salad. Ribs are pretty versatile and can be served with many different sides.
Nutrition
Calories
A 140-gram serving (not including bones) contains 300 calories, 17 grams of fat, 17 grams of carbohydrates, one gram of fibre, 13 grams of sugar, 21 grams of protein and 590 milligrams of sodium. Ribs are just not something that you eat expecting them to be low in calories, fat or sodium.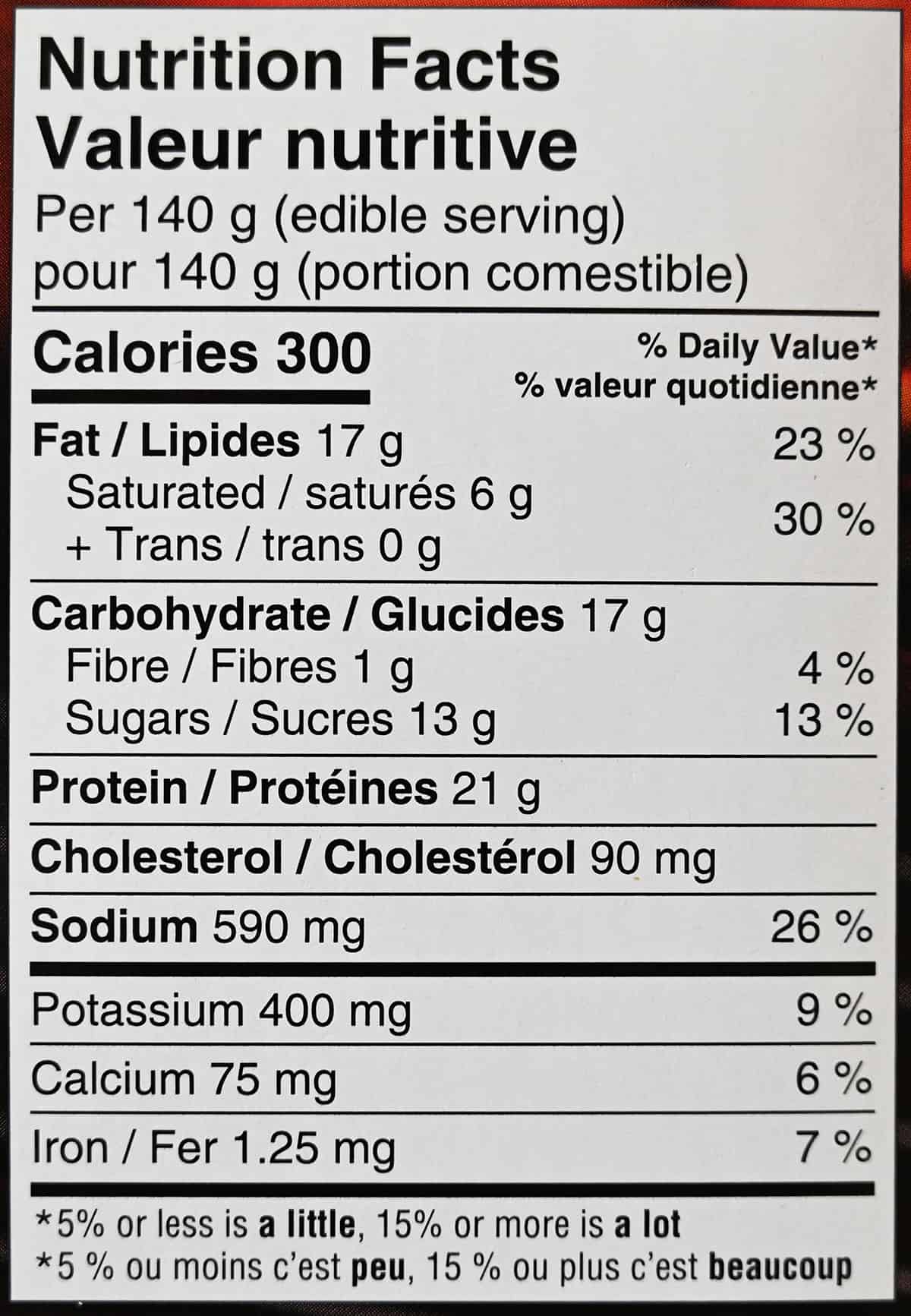 Ingredients
The ingredients are pretty typical for a store-bought convenient, fully-cooked rib product. If you're making ribs from scratch at home you can control what goes into your seasoning and sauce. I wouldn't use modified palm oil in my cooking at home or chemical additives like potassium sorbate.

Scoring
Taste: 7.5/10
Cost: 7.5/10
Convenience: 9/10
Nutrition: 2/10
Overall
Give it a try!
These aren't the best ribs I've had nor the best store-bought ones but overall these are really good, easy-to-prepare ribs.
Have you tried these Montana's Ribs from Costco? What did you think of them?
---
Please note that this review was not paid for or sponsored by any third party. This product was purchased by Costcuisine for the purpose of producing this review. The opinions in this review are strictly those of Costcuisine. Costcuisine is not affiliated with Costco or any of its suppliers. In the event that Costcuisine receives compensation for a post from the manufacturer of a product or some other third party, the arrangement will be clearly disclosed (including where the manufacturer of a product provides Costcuisine with a free sample of the product).