A lot of the time when I review a product, I'm trying it for the first time. That's definitely not the case with this Optimum Nutrition Gold Standard Whey protein. Even though I only recently found it at Costco, we've been buying it regularly for over 10 years! That alone might tell you all you need to know about this protein powder. We obviously like it.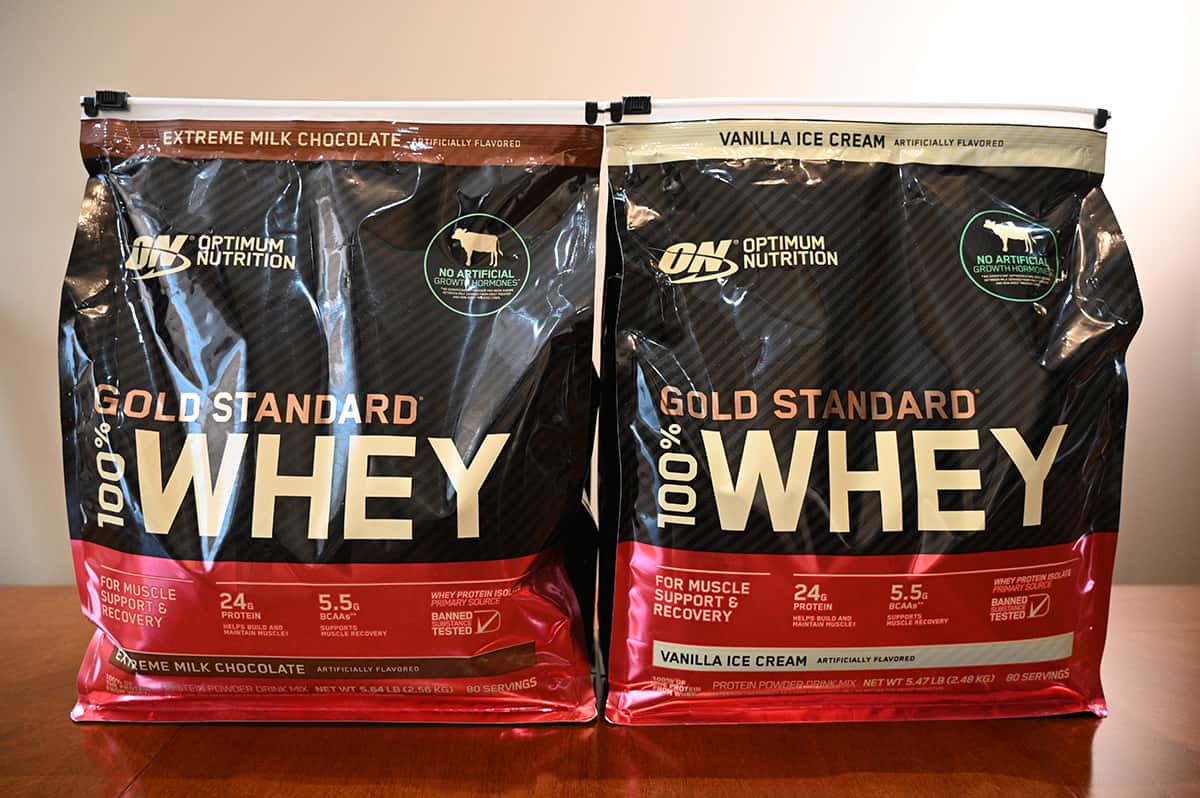 There are some other high protein items at Costco like the Simply Protein Bars, Leanfit Organic Protein Powder,  Ozery Bakery Protein Rounds, Robert Irvine's Protein Bars, Kirkland Signature Chewy Protein Bars, Quest Protein Bars, Kirkland Signature Protein Bars, RX Protein Bars, Smart for Life Protein Bars and the Bakestone Brothers Protein Wraps.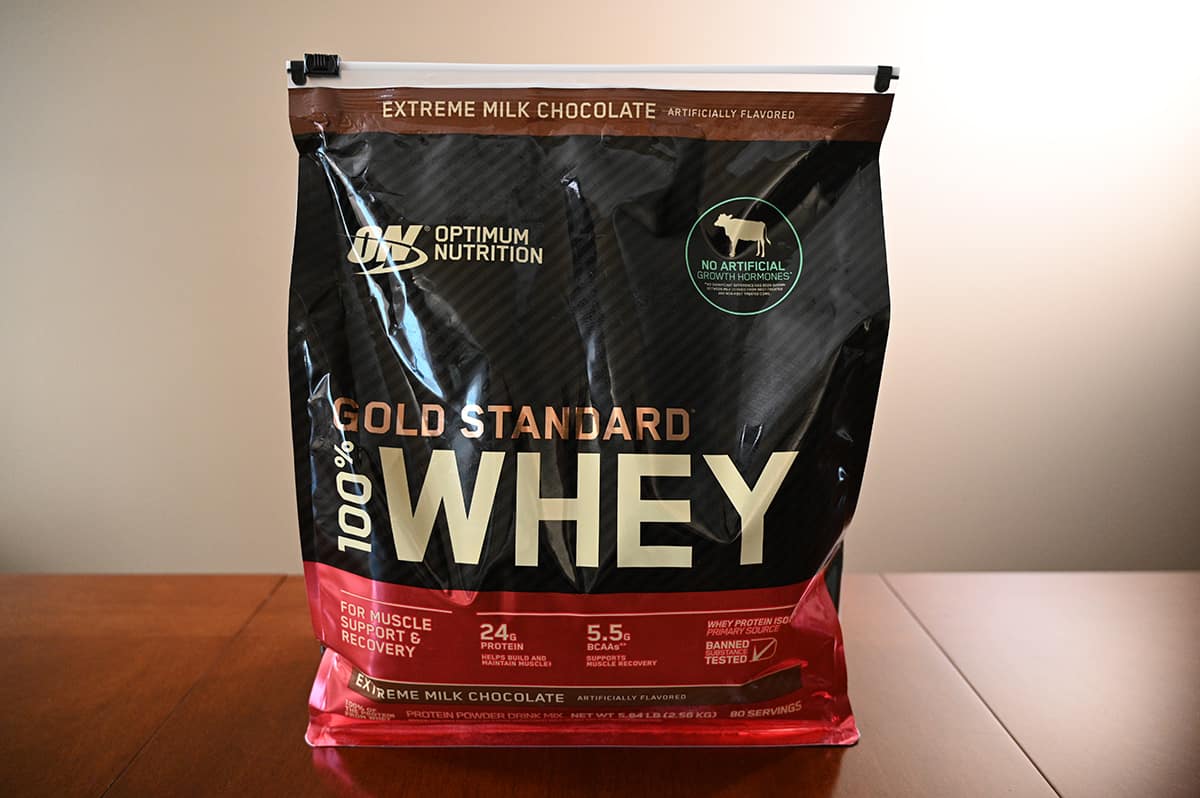 Location in Store
The chocolate is available in both Canada and the US but currently, my Costco doesn't have the vanilla but has had it before.
The protein powder is located at the front of the store near all the other protein powders. The item number is 1704110 in Canada. In the US the numbers are 1243864 and 1243880.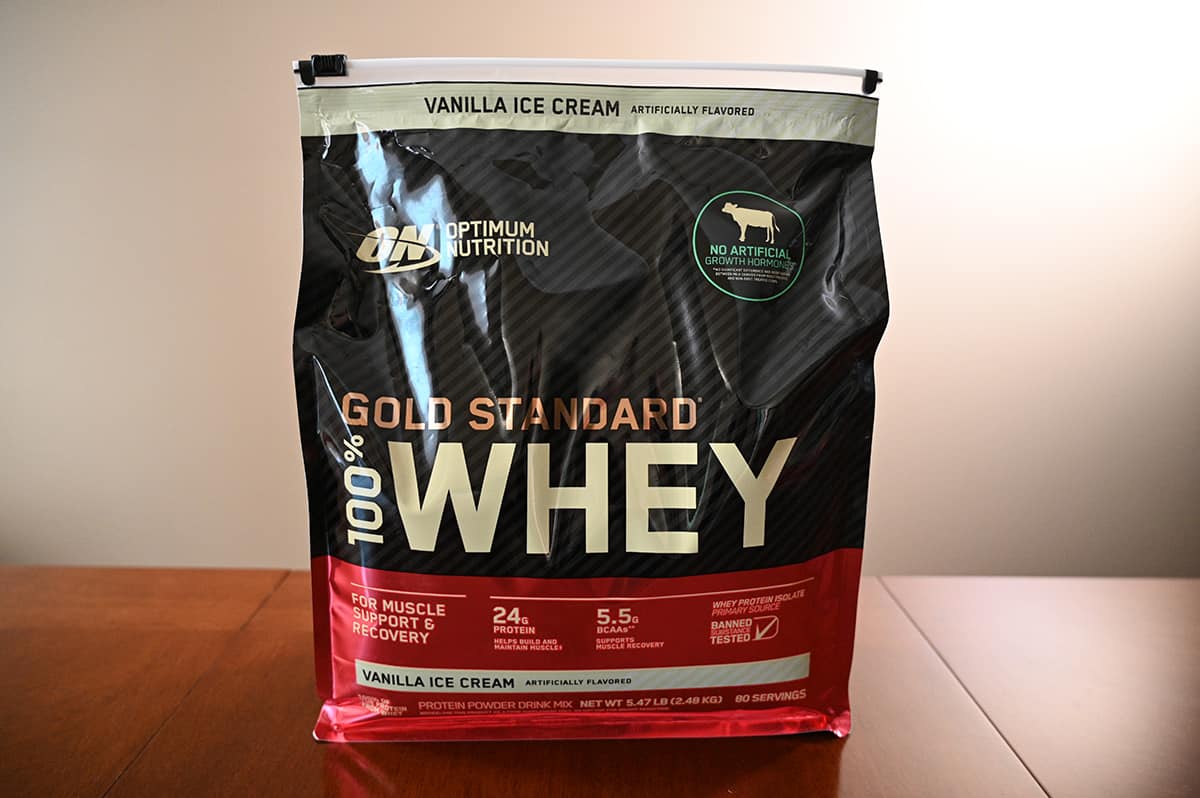 Taste
I've tried a lot of different brands of protein powder and I like these ones as much as any of them. We've been buying Optimum Nutrition protein powder for over 10 years, so that says something! Like all protein powders, the taste depends a lot on what you mix them with. A protein shake tastes a lot better with 2% milk than with water!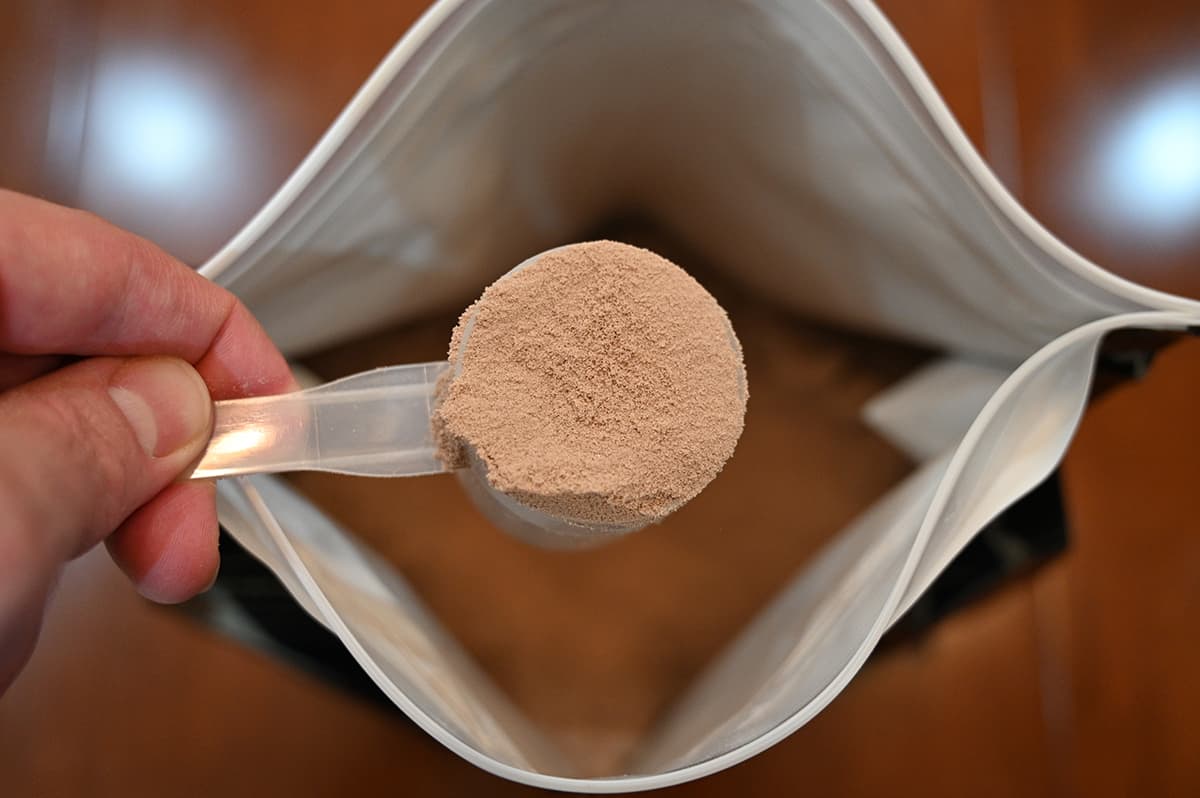 My biggest complaint with the protein powder (and again, it kind of applies to all protein powders) is that they can be hard to mix to a point where you don't have any lumps. If you're just mixing your shakes in a shaker cup and not getting out your blender, you're probably going to have some unmixed lumps in your shake. That's not a big deal to me though.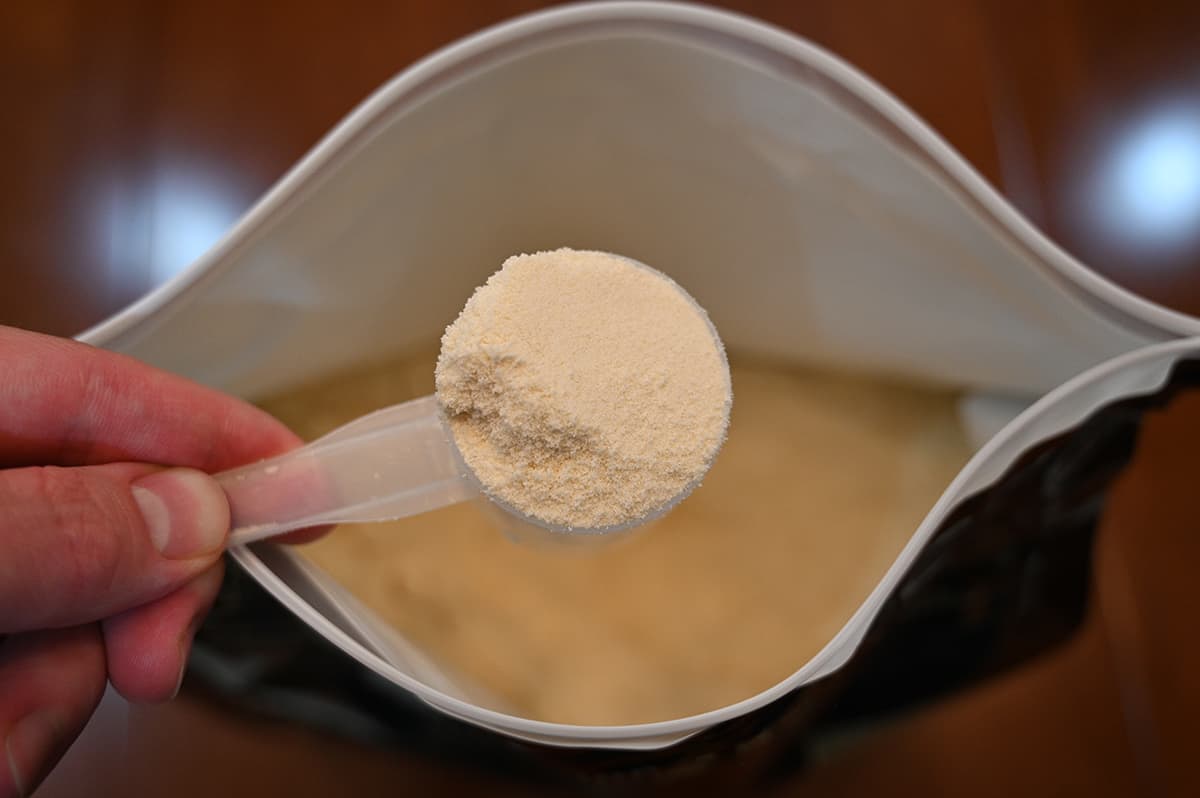 Overall, the Optimum Nutrition Whey protein definitely isn't something you're going to buy purely based on taste, but I think it tastes really good for a protein powder that offers very good nutritional characteristics. I always enjoy my shakes.
Extreme Milk Chocolate
This is the flavor that we usually buy. It's pleasant but not overly chocolatey. It doesn't have a strong artificial sweetener flavor that some other brands have. It's not going to fool you into thinking you're drinking chocolate milk, but depending on what you mix it with, it can be pretty tasty.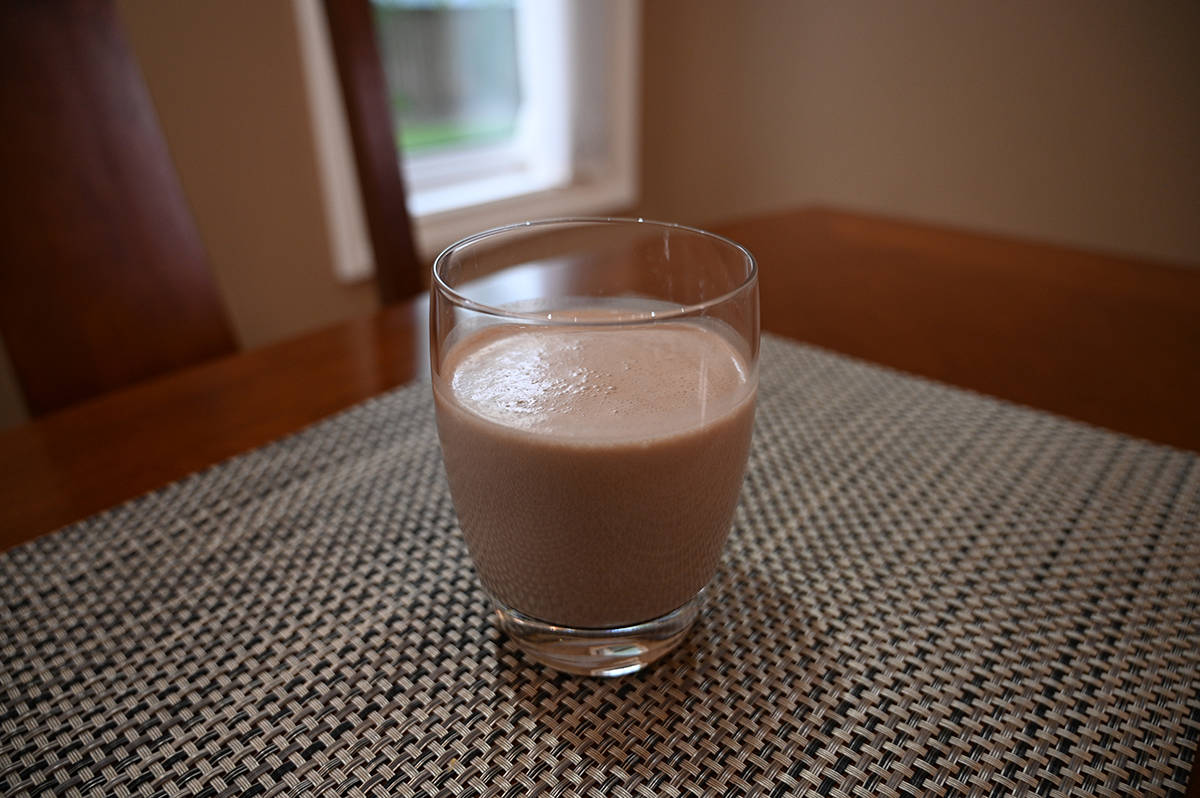 Vanilla Ice Cream
When I first grabbed this bag, I thought it just said vanilla rather than vanilla ice cream, but there's definitely a little something extra to it. It's not just a plain vanilla. It has a noticeable extra sweetness/creaminess that reminds me of vanilla ice cream. Personally, I've never loved vanilla protein powders though. I often find them a bit too sweet yet also a bit too plain and that's the case here. I prefer to mix it with berries or even some of the Extreme Milk Chocolate protein powder for a combination that reminds me a bit of a swirl soft ice cream cone.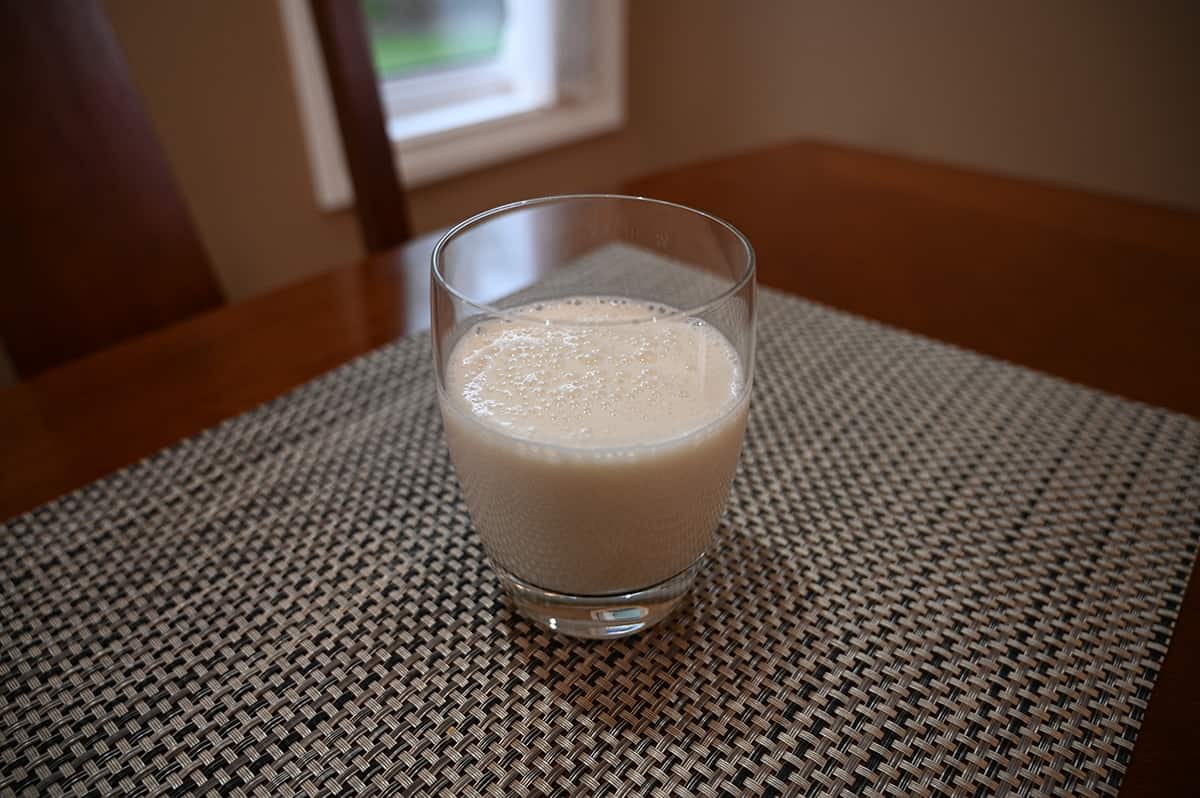 Cost
Extreme Milk Chocolate
In Canada, the 2.56-kilogram bag costs $89.99. In the US it's $63.99 USD. One bag is enough for 80 protein shakes.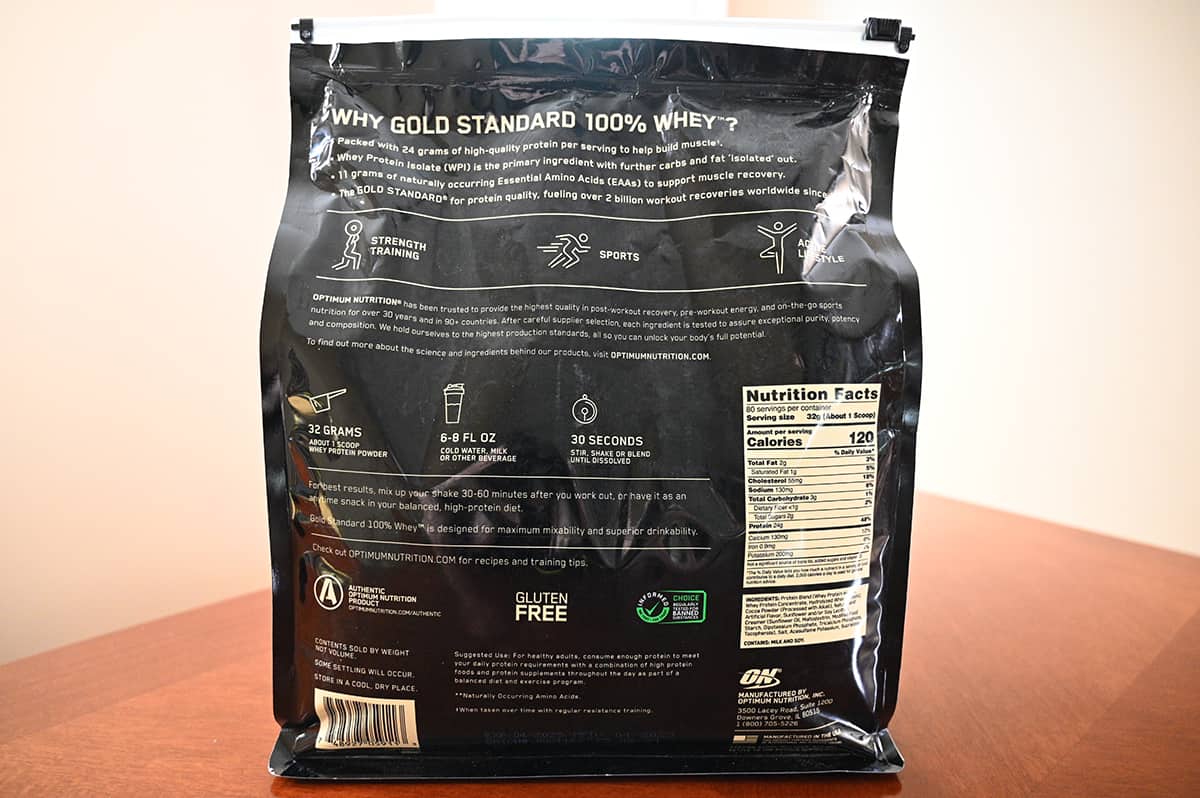 Vanilla Ice Cream
The 2.48 kilogram bag costs $63.99 USD. Again, one bag is enough for 80 protein shakes. If we had the vanilla currently in Canada, I believe it would be $89.99 Canadian like the chocolate is.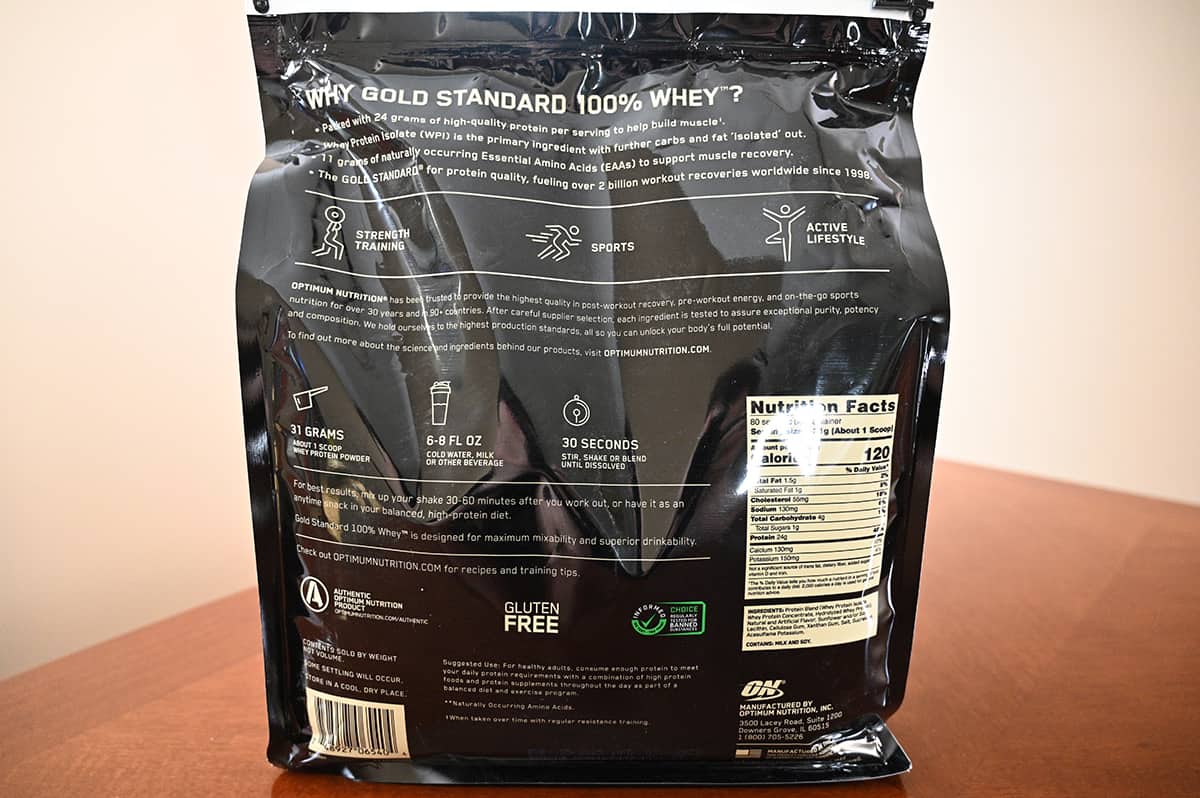 Convenience
Protein powder isn't as convenient as pre-mixed protein shakes but it's usually much cheaper and only takes seconds to make. All you need to do is mix one scoop of powder with six to eight ounces of milk, cold water or other beverage and stir for 30 seconds. I used to drink protein shakes with just water but they're way tastier with milk.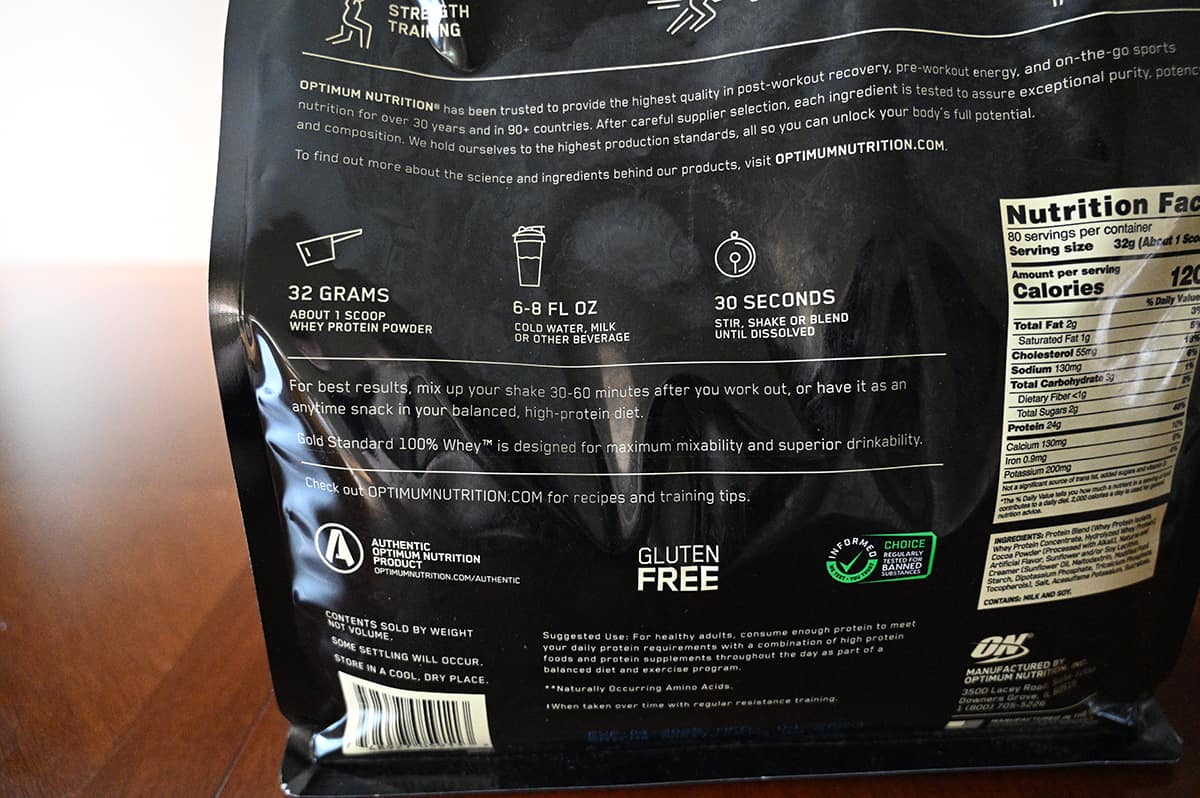 The bag is resealable and with a plastic zipper on the top. The best-before date listed on the bag is almost two years from when I bought it. Protein powder is a really convenient meal replacement or snack. My husband drinks a shake every morning and I like adding it to my oatmeal. You can also use it to make smoothies or add it to baking!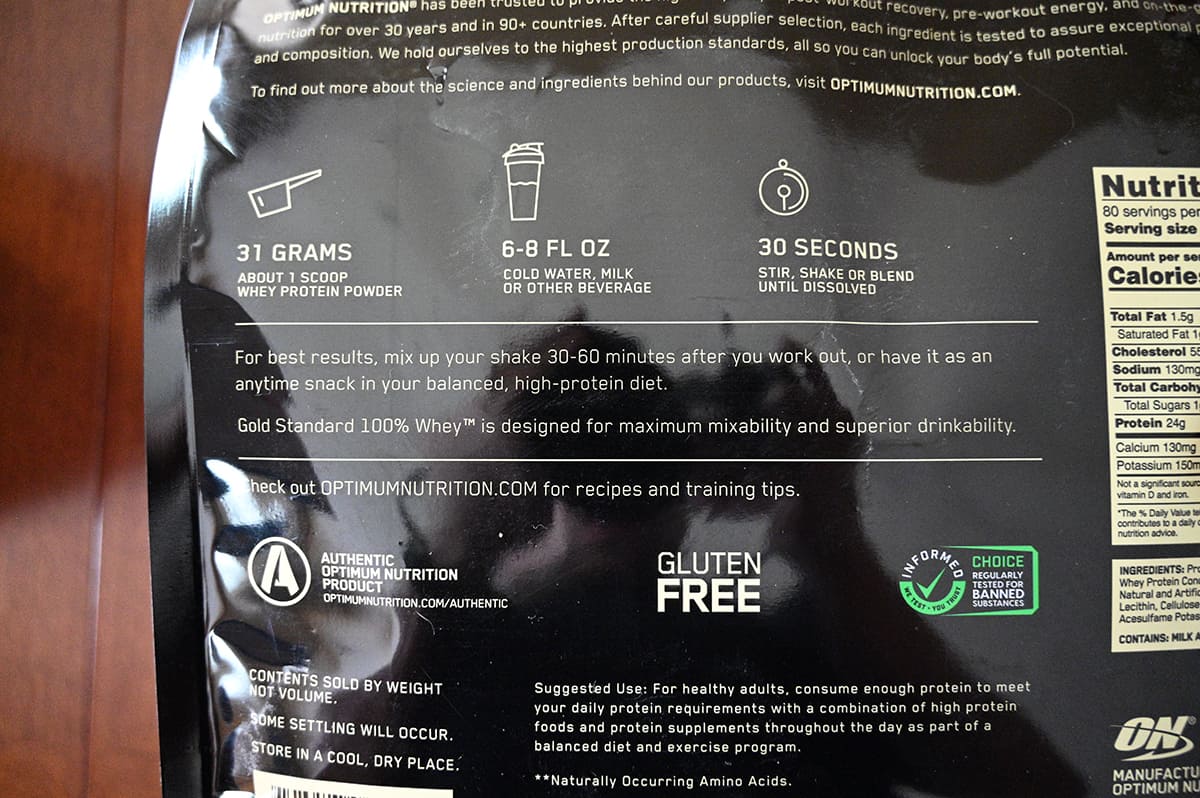 Nutrition
Calories
Extreme Milk Chocolate
One 32-gram scoop contains 120 calories, two grams of fat, 130 milligrams of sodium, three grams of carbohydrates, less than a gram of fibre, two grams of sugar and 24 grams of protein.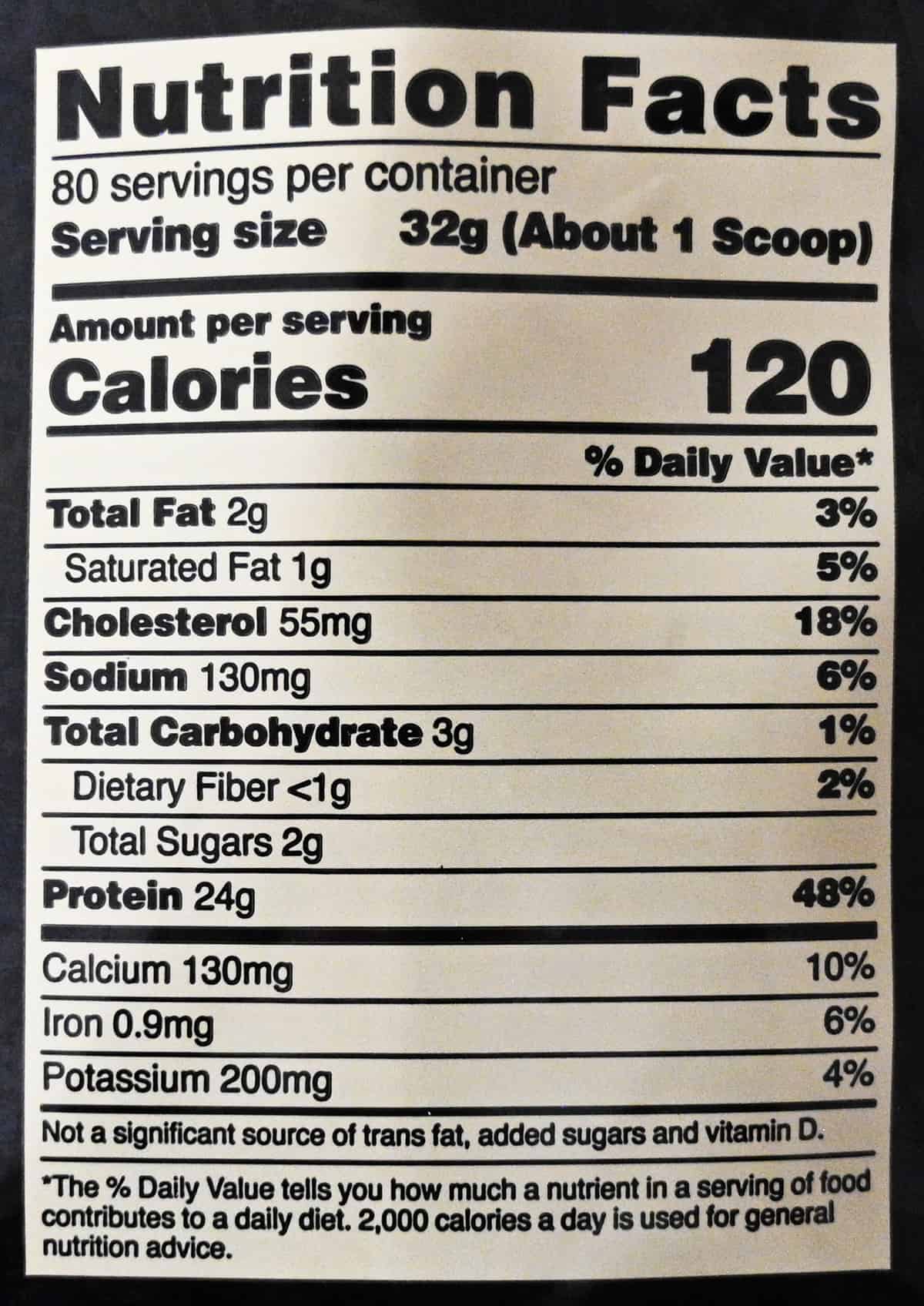 Vanilla Ice Cream
One 31 gram scoop of the vanilla flavor contains 120 calories, one and a half grams of fat, 130 milligrams of sodium, four grams of carbohydrates, one gram of sugar and 24 grams of protein.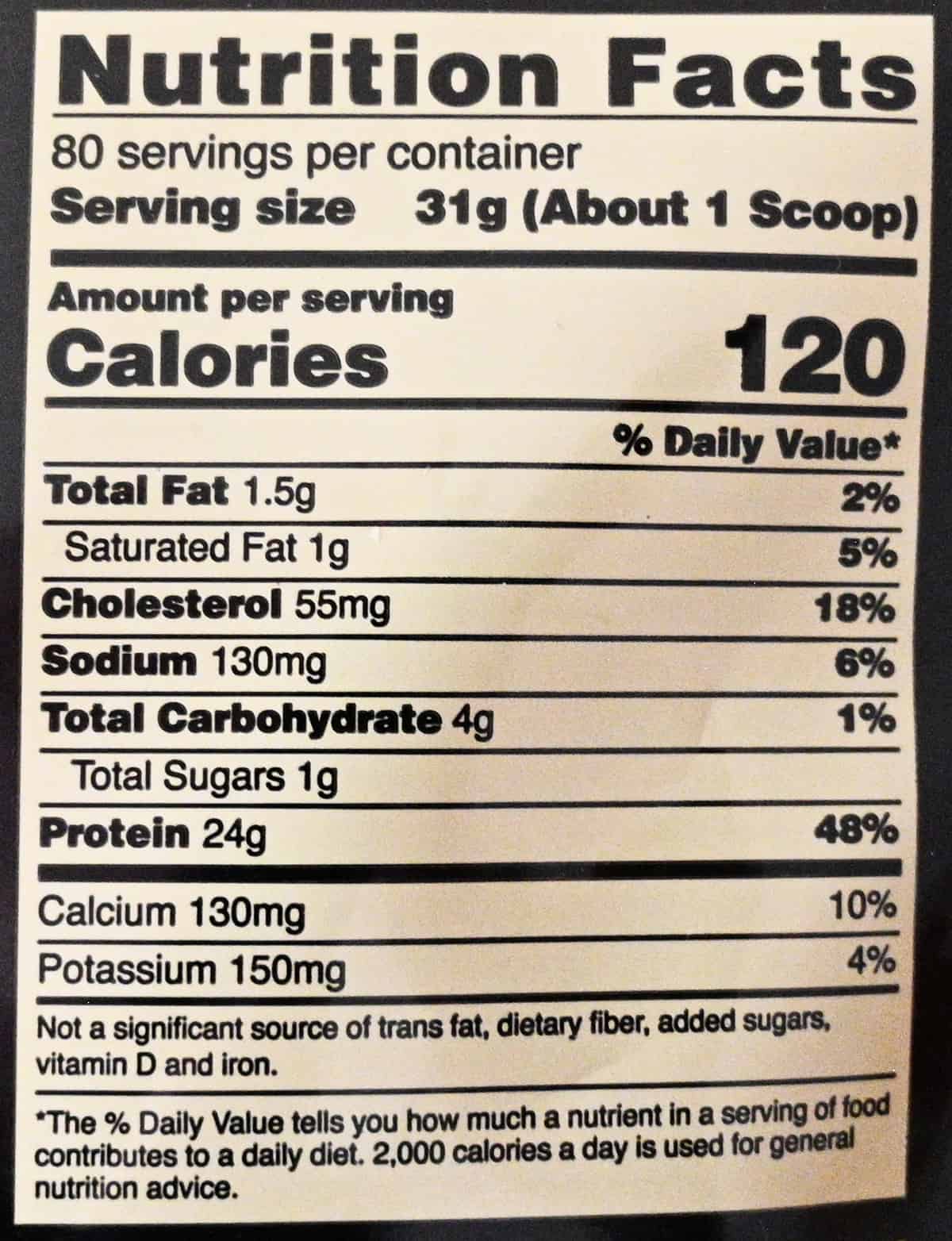 Ingredients
Extreme Milk Chocolate
The chocolate flavor has more ingredients than the vanilla flavor like cocoa. Both of the flavors have good additives and are sweetened with sucralose.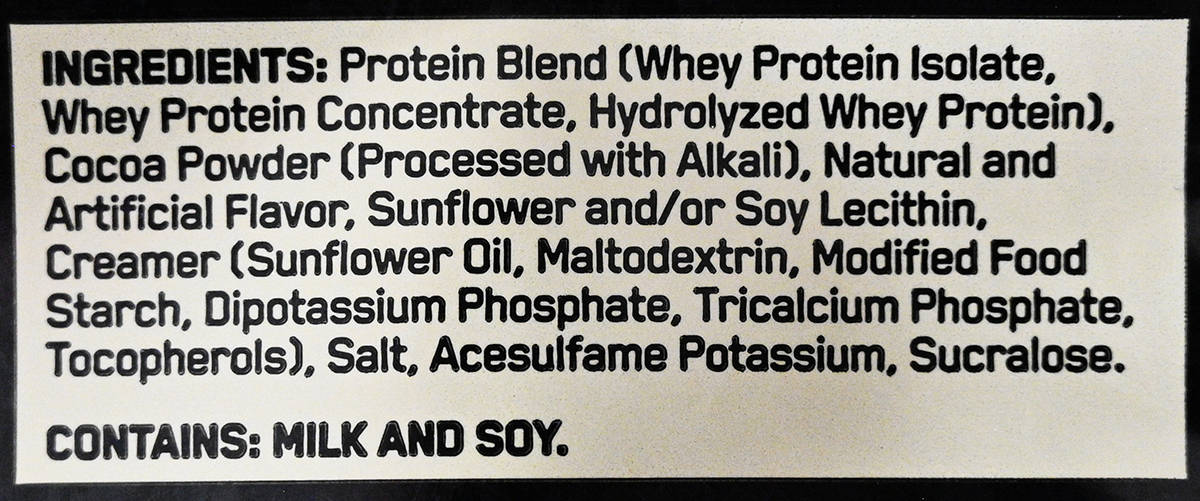 Vanilla Ice Cream
There are fewer ingredients in the vanilla flavor however both protein powders are artificially flavored. Both also contain milk and soy but are gluten and nut-free. Neither of the protein powders is full of nutrition and micronutrients, it's just basically protein.

Scoring
Taste: 8/10
Cost: 7/10
Convenience: 9/10
Nutrition: 4/10
Overall
Give it a try!
This is much cheaper than the Fairlife Protein Shake from Costco and tastes comparable.
Have you tried this Optimum Nutrition Protein Powder from Costco? What did you think of them? Leave a comment below!
---
Please note that this review was not paid for or sponsored by any third party. This product was purchased by Costcuisine for the purpose of producing this review. The opinions in this review are strictly those of Costcuisine. Costcuisine is not affiliated with Costco or any of its suppliers. In the event that Costcuisine receives compensation for a post from the manufacturer of a product or some other third party, the arrangement will be clearly disclosed (including where the manufacturer of a product provides Costcuisine with a free sample of the product).