I'm a huge burger fan; they're a staple in our house during grilling season. While we mostly stick to beef burgers like the Kirkland Signature Lean Sirloin Beef Patties, I do enjoy chicken burgers occasionally, so I was curious to give the Amylu Chicken Burgers a try.
Amylu specializes in taking not-so-healthy protein options and making them better for you by using chicken instead of red meat and limiting artificial food additives. I've tried the Amylu Chicken Meatballs and the Amylu Paleo Chicken Sausages and liked them more than I expected to. Are these chicken burgers as well-executed as Amylu's other products?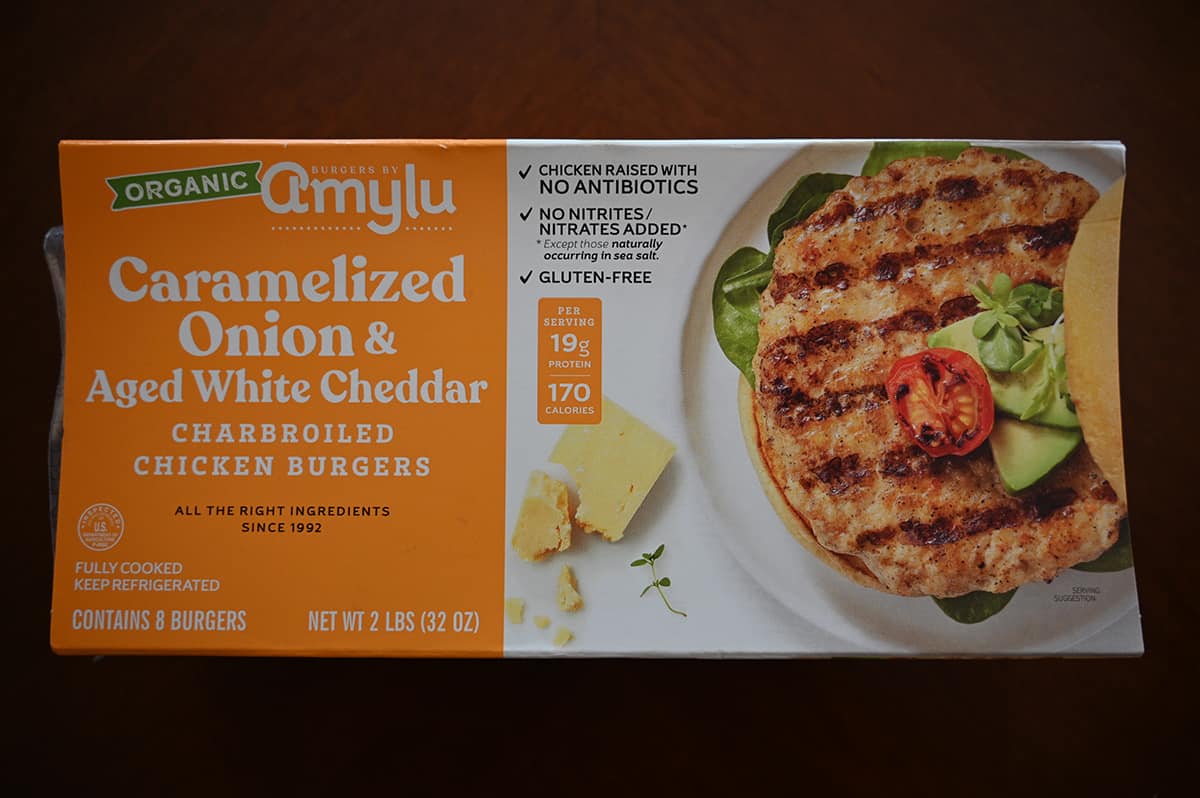 If you're looking for other burgers from Costco you may want to check out the Roadhouse Bacon & Cheddar Stuffed Burgers, Dr.Praegers Organic California Veggie Burgers, Trident Wild Pacific Pink Salmon Burgers, The Keg Prime Rib Beef Burgers, Connie's Kitchen Chicken Burgers, Sunrise Farms Chicken Breast Burgers, Beyond Meat Beyond Burgers and the Yves Ultimate Veggie Burger.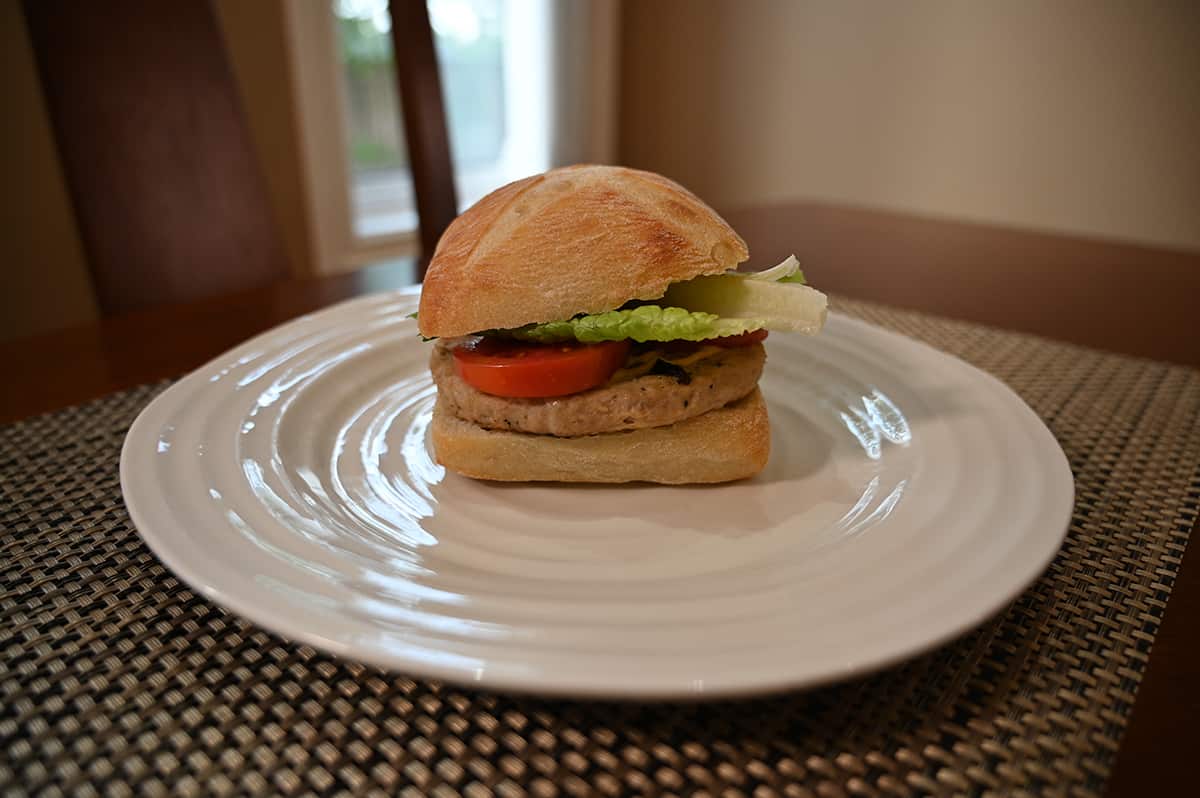 Location in Store
This is located in the refrigerated deli section at Costco and I bought them at the Kalispell, Montana Costco. The item number is 1327763.
Taste
The burgers are delicious. They're salty, juicy and a bit smoky. I wouldn't say caramelized onion or aged cheddar flavors really stand out. I think the cheese probably adds to the saltiness and keeps the burgers moist, but I don't know if I would have guessed the burgers had cheese in them if I hadn't read the package.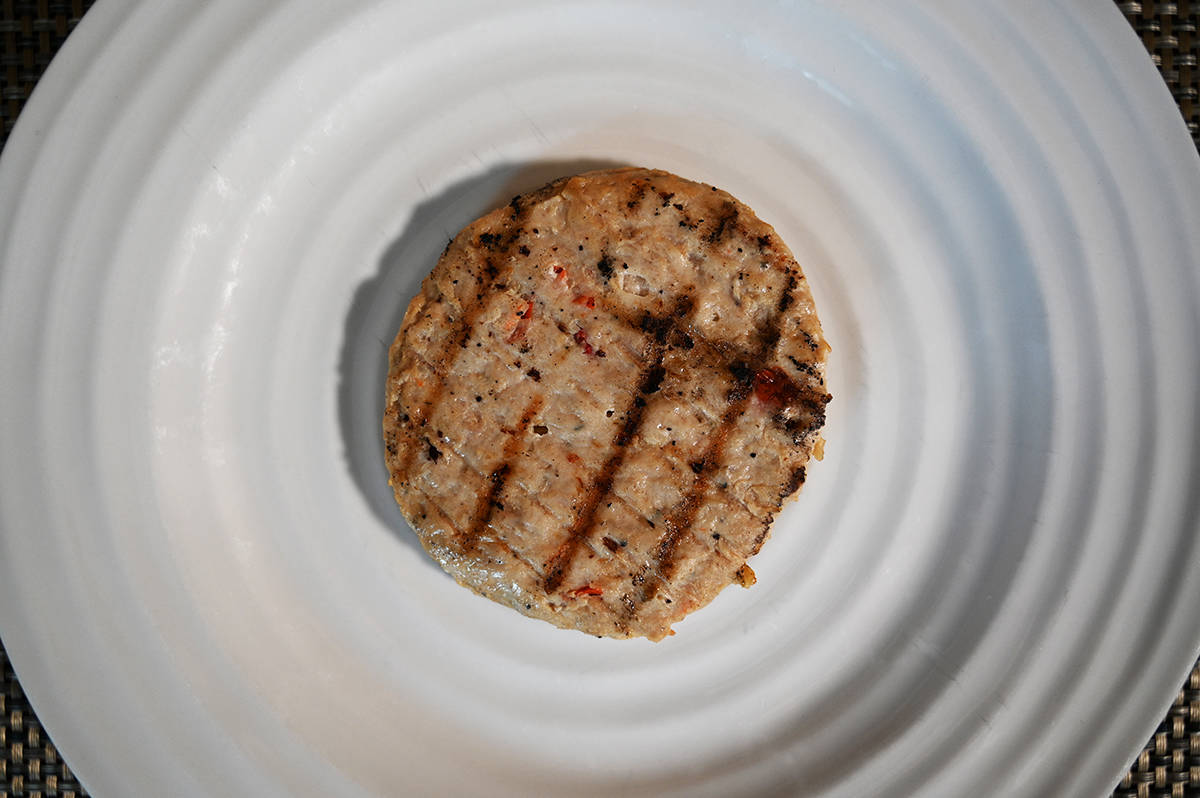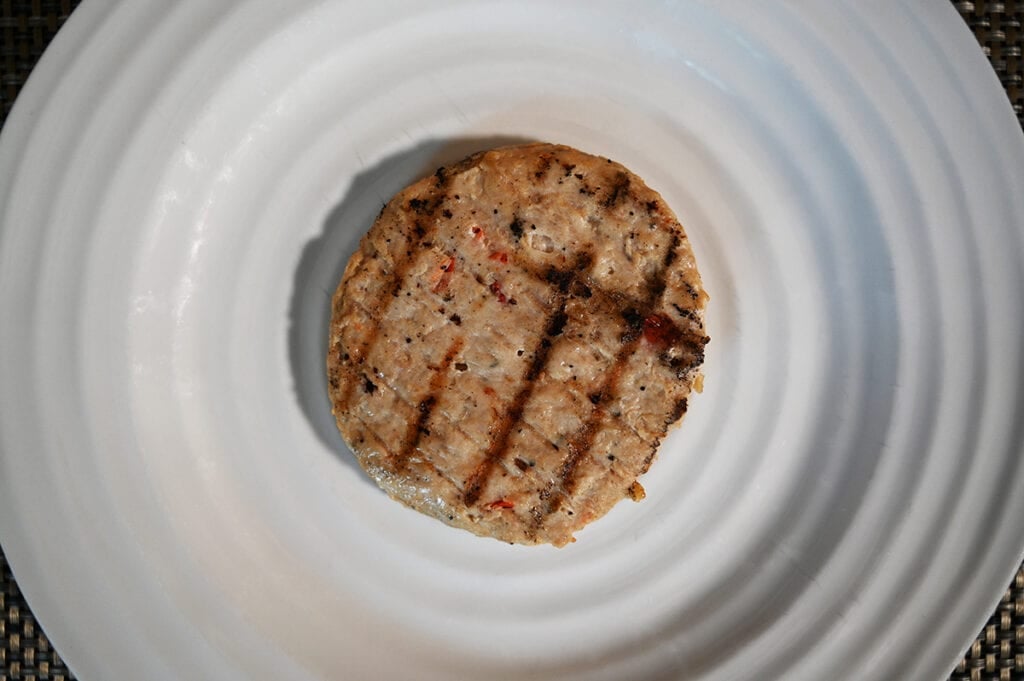 There are noticeable chunks of onion and red pepper (though not a lot of them), but those flavors didn't really stand out either. They just taste like nicely seasoned chicken burgers.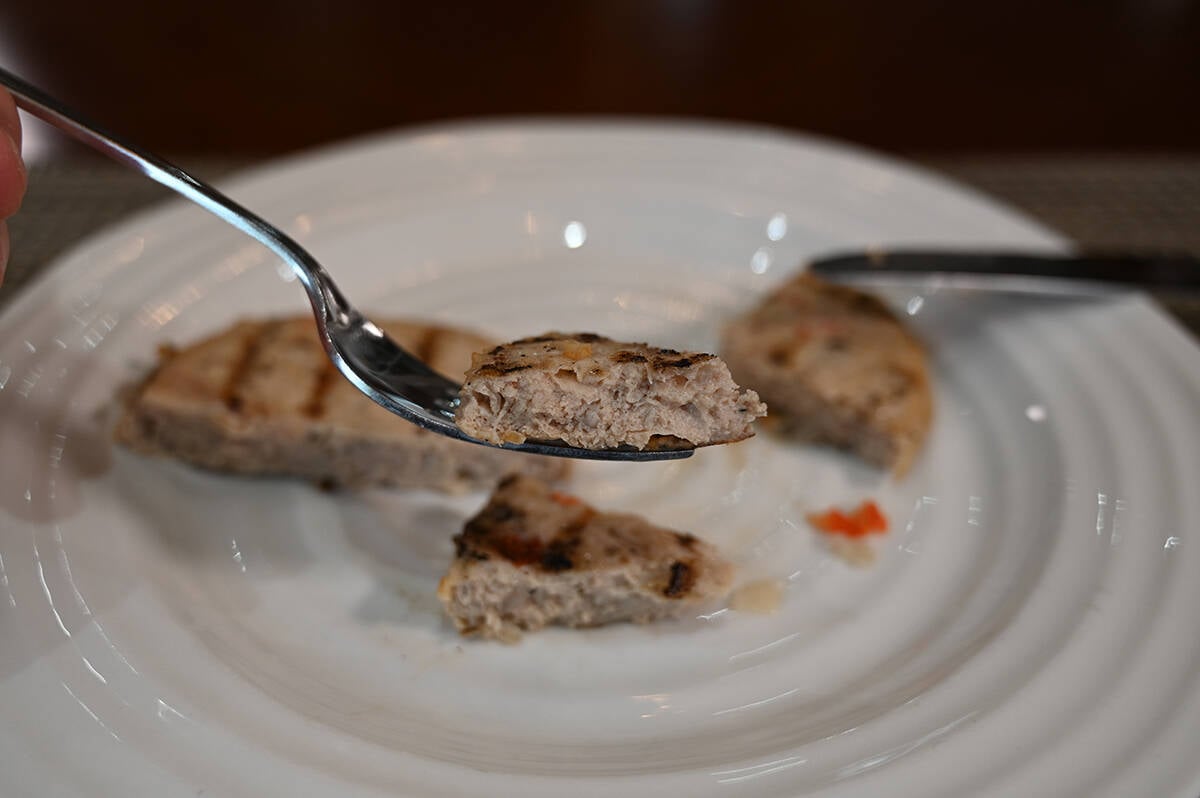 I tried my chicken burger on a ciabatta bun with mustard, tomato and lettuce and I really enjoyed it. The patties are tasty and moist enough that you don't need a bunch of toppings with them. I was thinking as I ate my burger that you could definitely use the patties in other ways too. The package mentions a simple salad idea that sounds good, and I'm sure it would be a great protein addition to a lot of different salads.
Cost
The two-pound box contains eight chicken burgers and costs $14.99 USD. This isn't cheap for only eight chicken burgers but they're organic so that will make them more expensive. They also seem more expensive to me because I'm Canadian so my dollar isn't worth as much.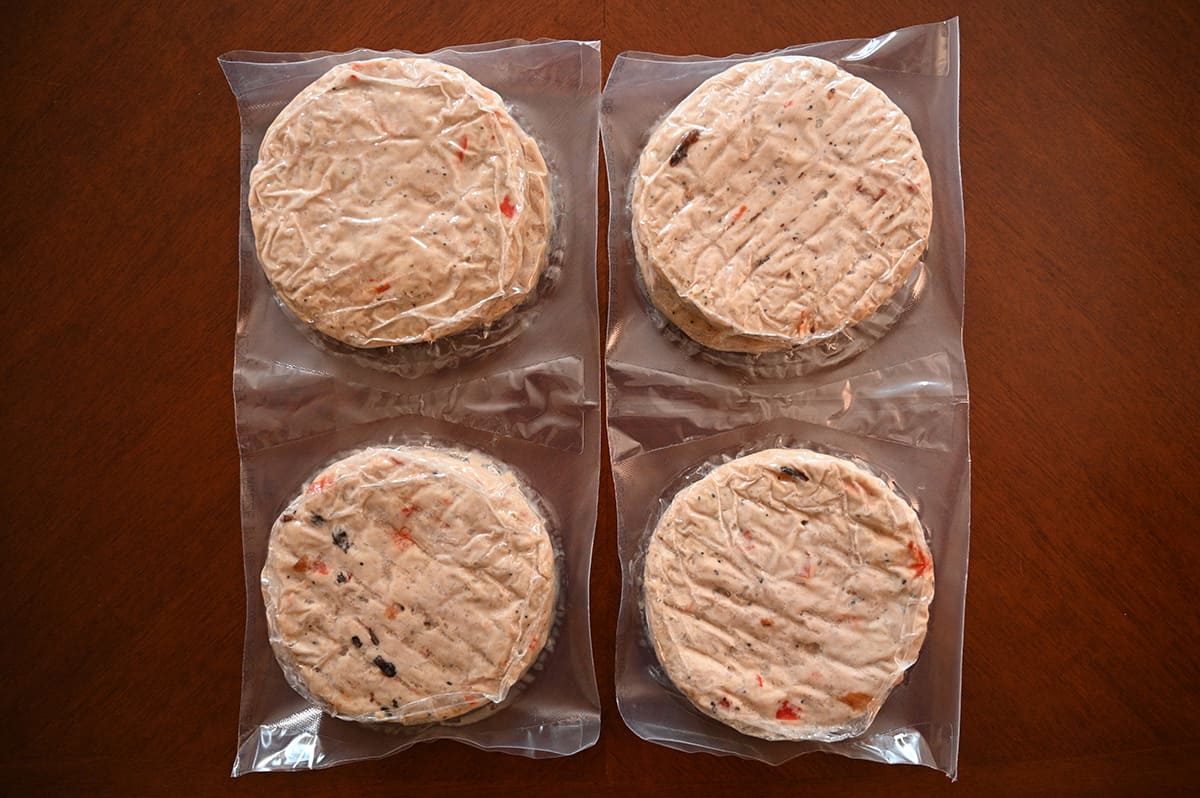 Convenience
I almost always try to follow the cooking instructions on the package when I do reviews, but I couldn't resist cooking these chicken burgers on the barbecue. Luckily they turned out great! They're pre-cooked, so you're basically just heating them up.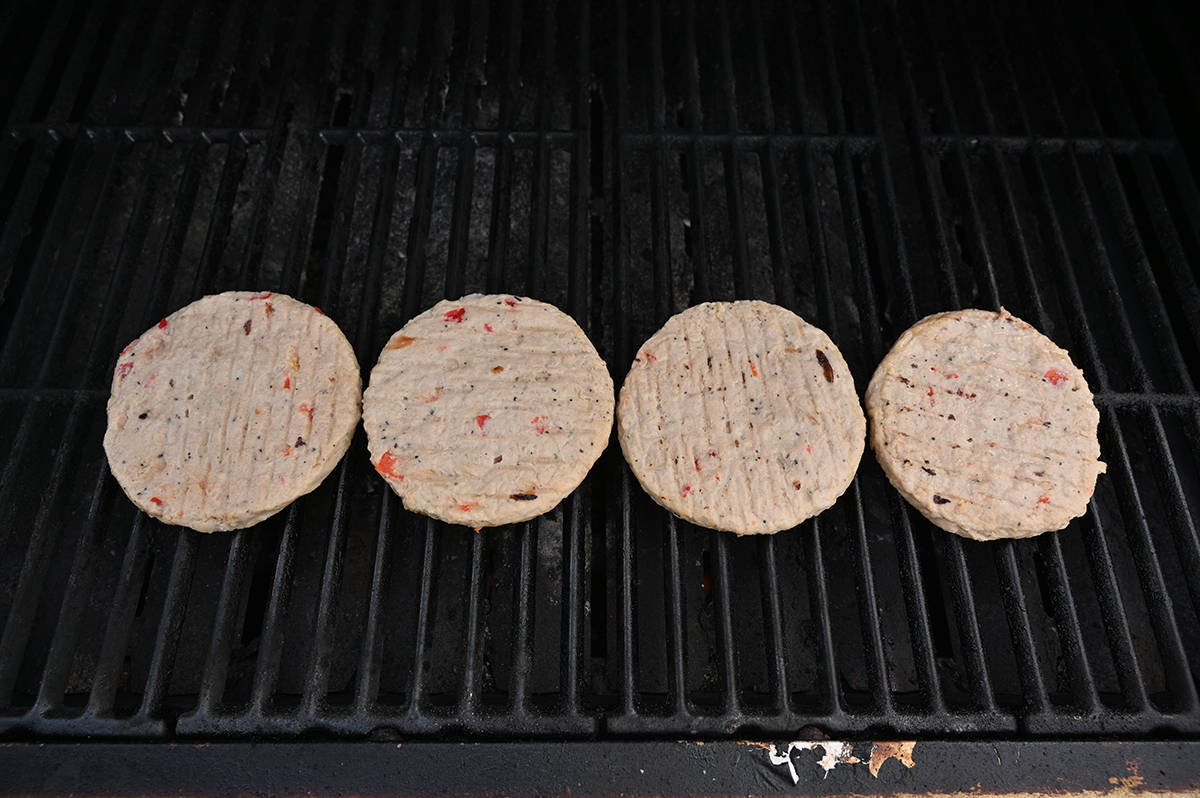 I cooked mine for about two and a half minutes per side on medium-low heat, and that was enough to sear them and warm them up without drying them out. Next time I might do them for three to four minutes per side to char them just a little bit more.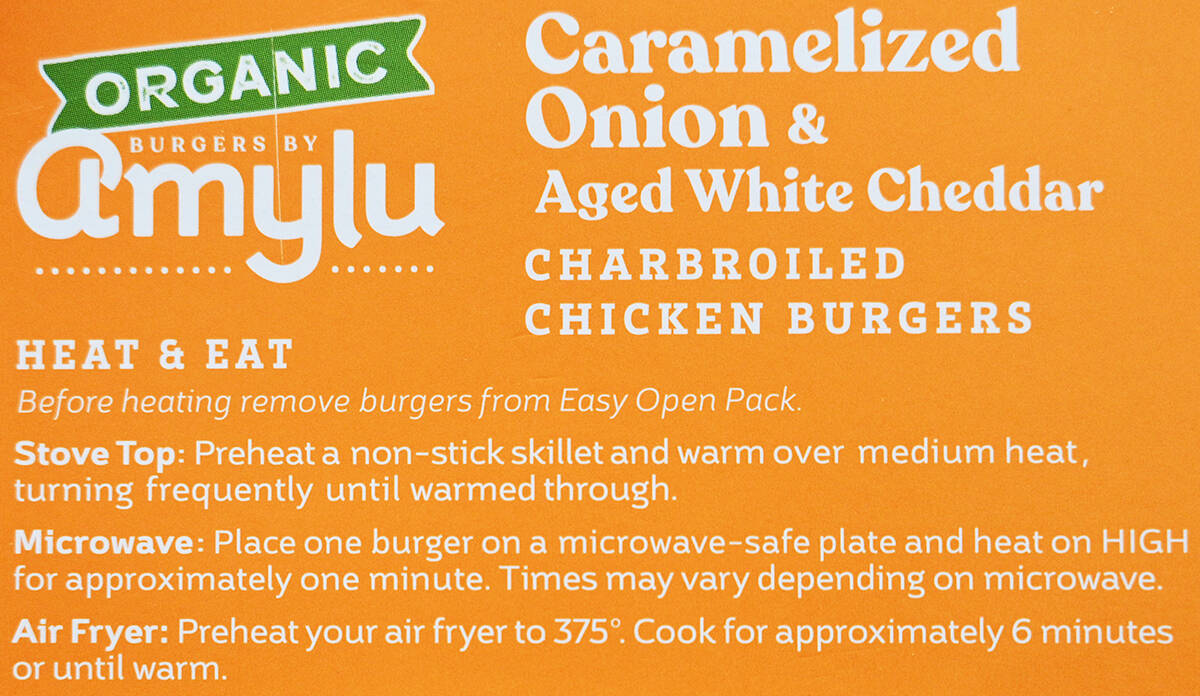 The package has instructions for heating them on the stove top, microwave or air fryer. I think next time I'd like to try them in my air fryer. The burgers need to be kept refrigerated and can also be frozen, the best-before date is almost two months from when I purchased them.

Nutrition
Calories
One burger contains 170 calories, nine grams of fat, 620 milligrams of sodium, three grams of carbohydrates, zero grams of fiber, one gram of sugar and 19 grams of protein. That's a decent amount of protein for not that many calories.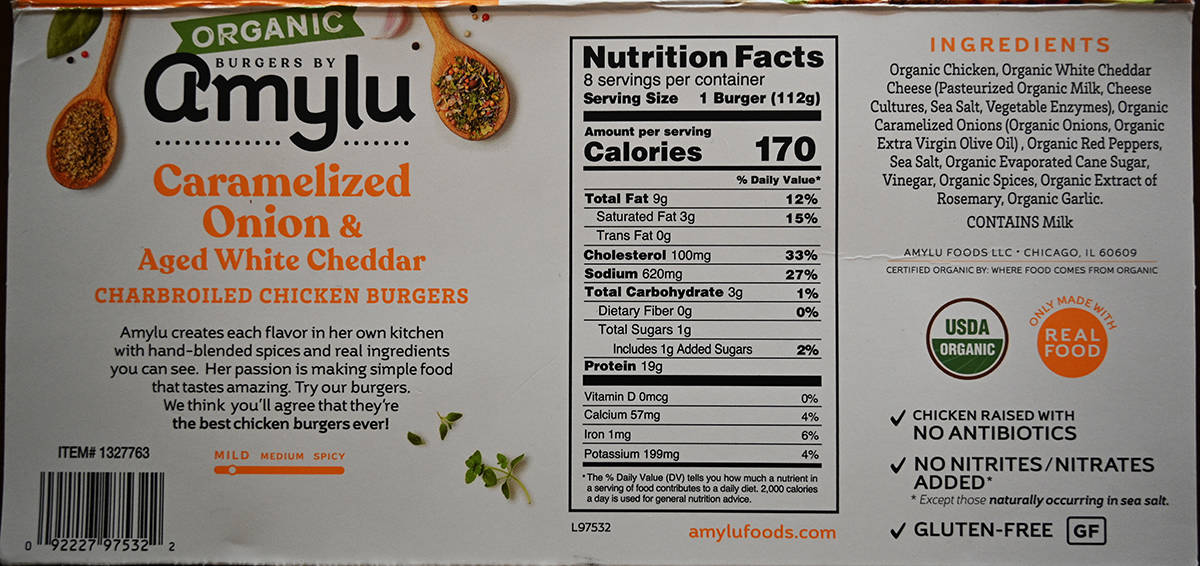 The fat is probably higher because of the cheese and sodium is typically high in any pre-seasoned burgers.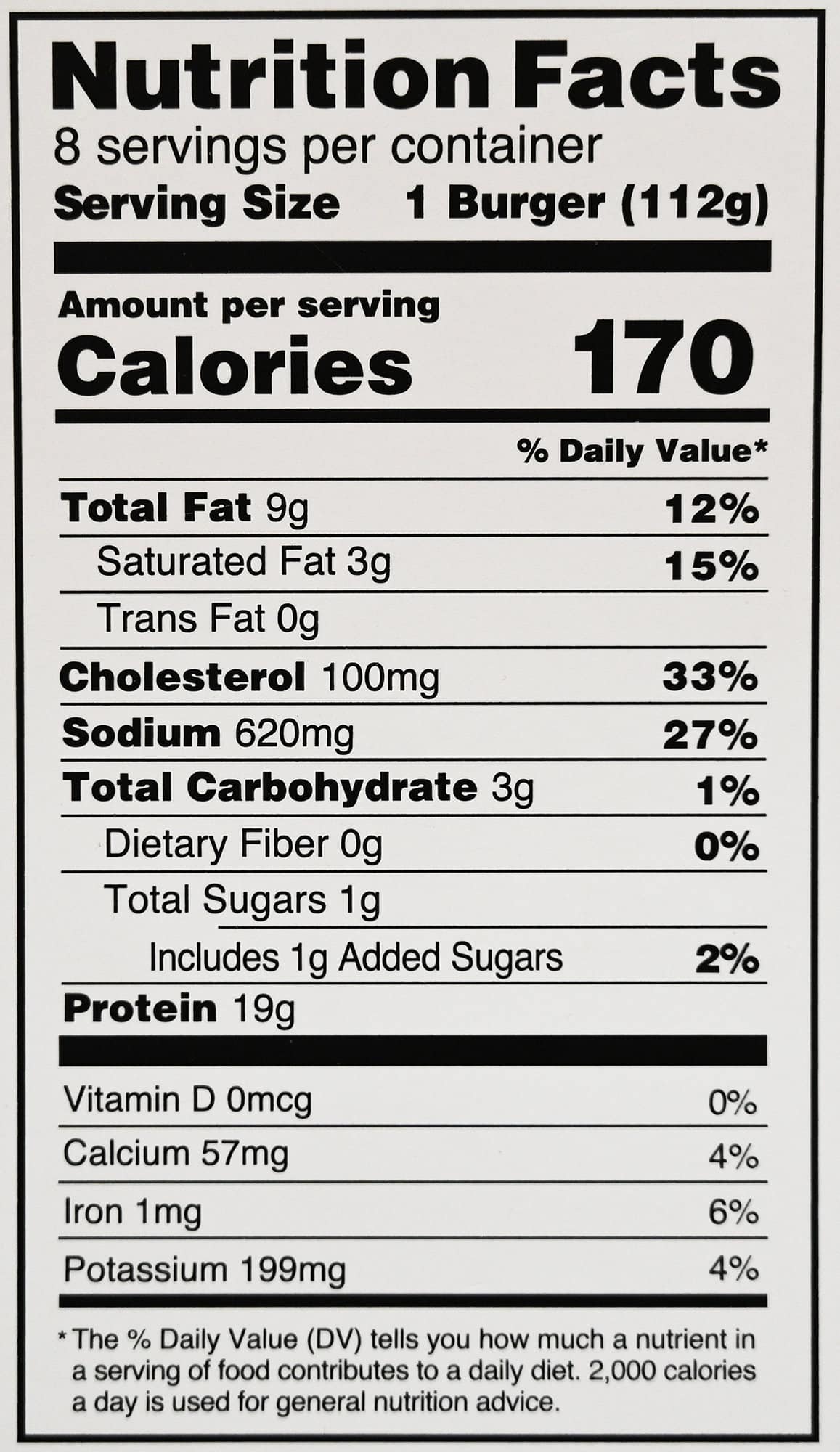 Ingredients
These chicken burgers are fully organic with no nitrates or nitrites and are made from chicken that is raised without the use of antibiotics. The ingredients list is short and sweet with foods you would to make homemade burgers. The only ingredient I don't love is the cane sugar but there's really not much sugar in one burger. The chicken burgers are gluten and soy-free but contain dairy.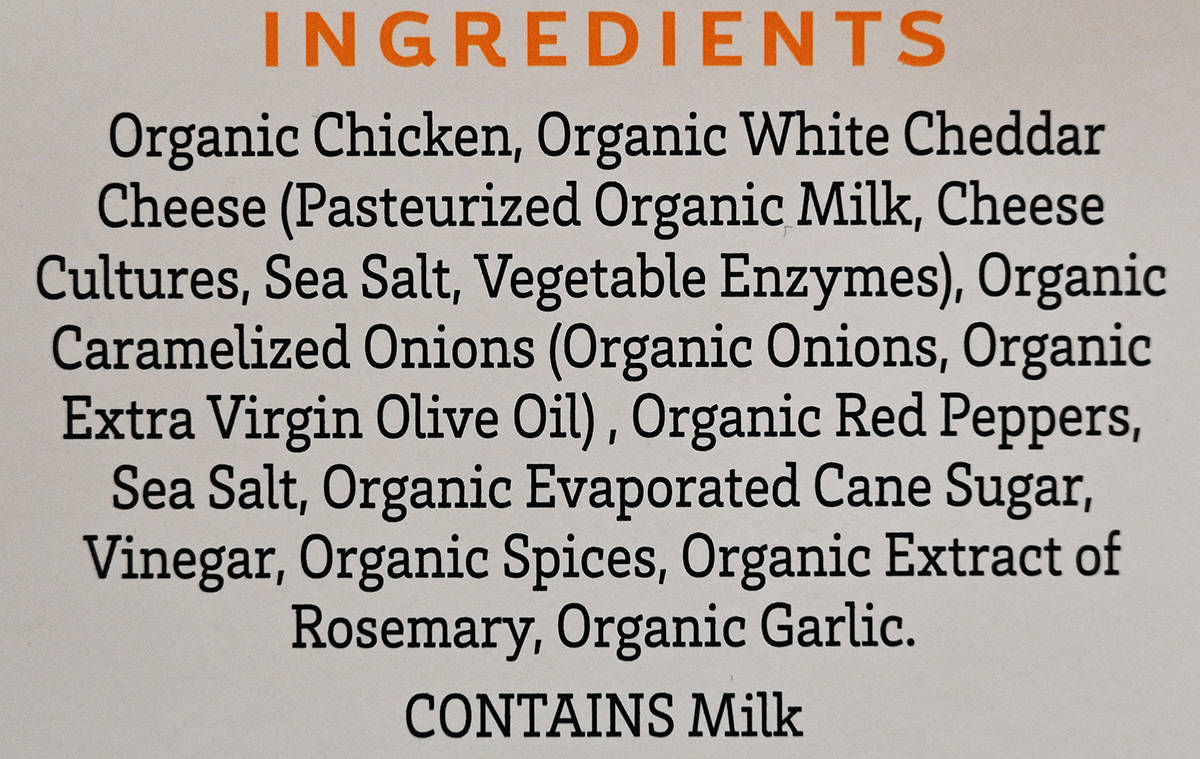 I really appreciate that Amylu uses simple, whole ingredients in their products.
Scoring
Taste: 8.5/10
Cost: 7/10
Convenience: 9.5/10
Nutrition: 8/10
Overall
Give it a try!
I wasn't expecting to enjoy these burgers as much as I did! They're very tasty, and seasoned in a way that makes them quite a versatile protein option.
If you've tried these Amylu Chicken Burgers, what did you think of them? Leave a comment below!
---
Please note that this review was not paid for or sponsored by any third party. This product was purchased by Costcuisine for the purpose of producing this review. The opinions in this review are strictly those of Costcuisine. Costcuisine is not affiliated with Costco or any of its suppliers. In the event that Costcuisine receives compensation for a post from the manufacturer of a product or some other third party, the arrangement will be clearly disclosed (including where the manufacturer of a product provides Costcuisine with a free sample of the product).