These Kirkland Signature Asian Style Wraps are the newest addition to my local Costco's pre-made meal section. I like wraps and most Asian-style dishes, so I had high hopes for them. They're definitely convenient – they're ready to serve right out of the package. Unfortunately, they ended up being fairly disappointing. Where did Costco go wrong with these wraps?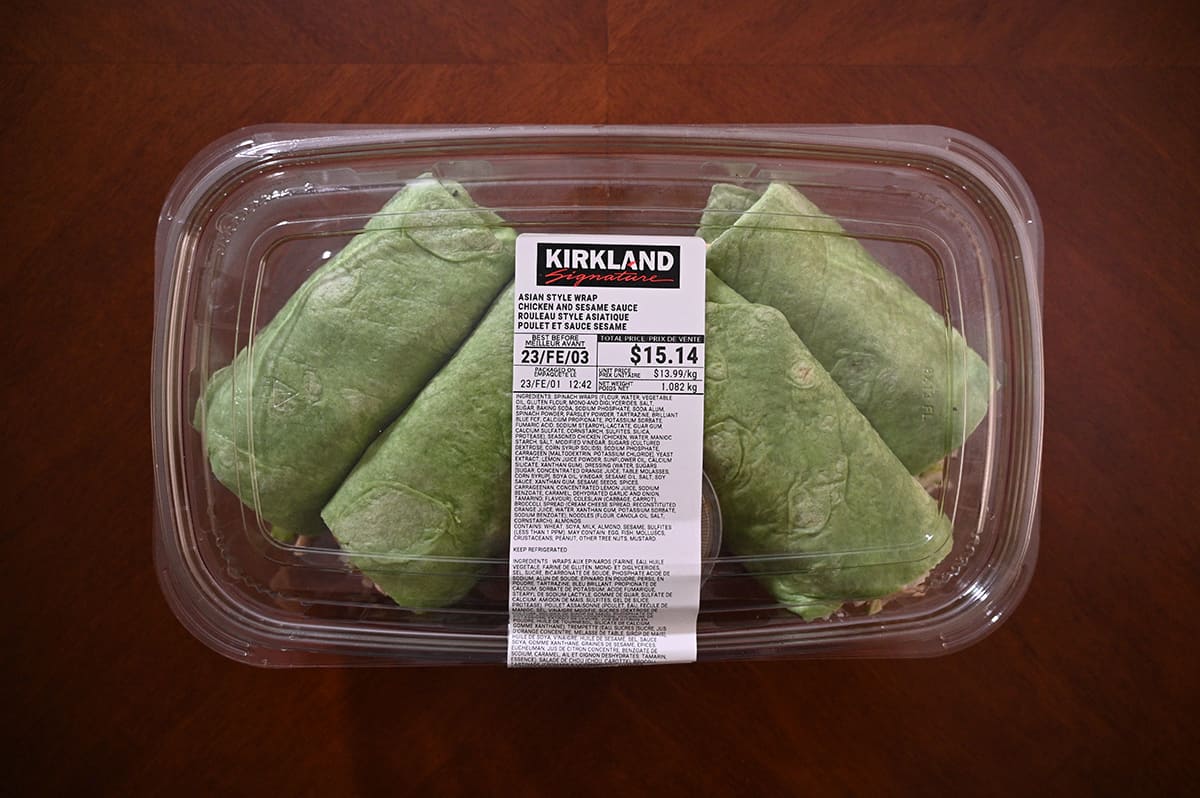 I love when my Costco brings out a new pre-made meal choice and so when I saw these Kirkland Signature Asian Style Wraps I definitely wanted to try them and review them!
Other pre-made meals from Costco are the Goat Cheese, Pecan and Mixed Greens Salad, Kirkland Signature Rotisserie Chicken, Kirkland Signature Quinoa Salad, Kirkland Signature Seasoned Chicken Wings, Kirkland Signature Chicken Penne Alfredo, Kirkland Signature Fish and Chips Meal Kit, Kirkland Signature Chicken Burger Meal Kit, Kirkland Signature Stuffed Salmon and the Kirkland Signature Chicken Pot Pie.
Location in Store
The wraps can be found in the pre-made meal section, the item number is 24290.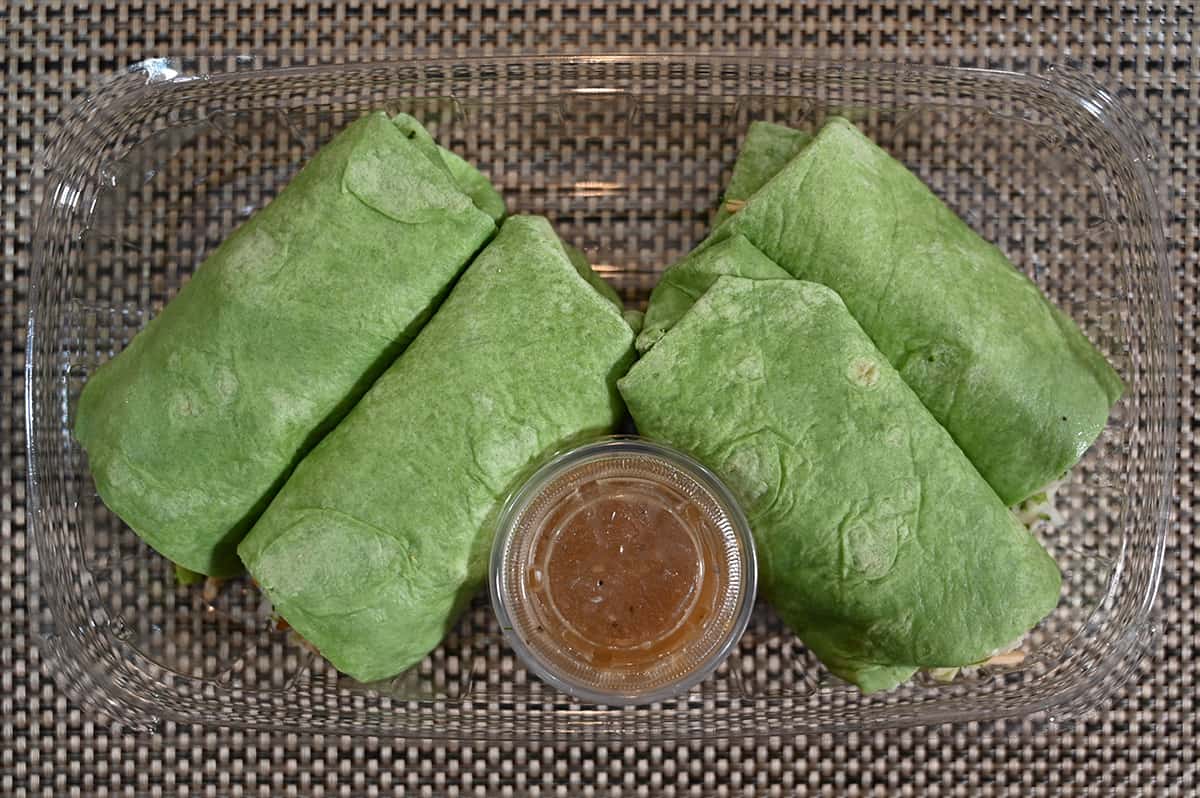 Taste
We left our wraps in the fridge overnight, and they were already a day old when we bought them. Unfortunately, the bottom side got a bit soft/soggy. I think they'd be better fresh.
The wraps are light and crunchy – aside from the chicken, they're loaded with veggies. I was impressed at how crunchy the veggies were even after two days. There isn't that much chicken in the wraps. I would've liked more. There are noodles in the wraps too and they aren't too soft or soggy which I appreciate.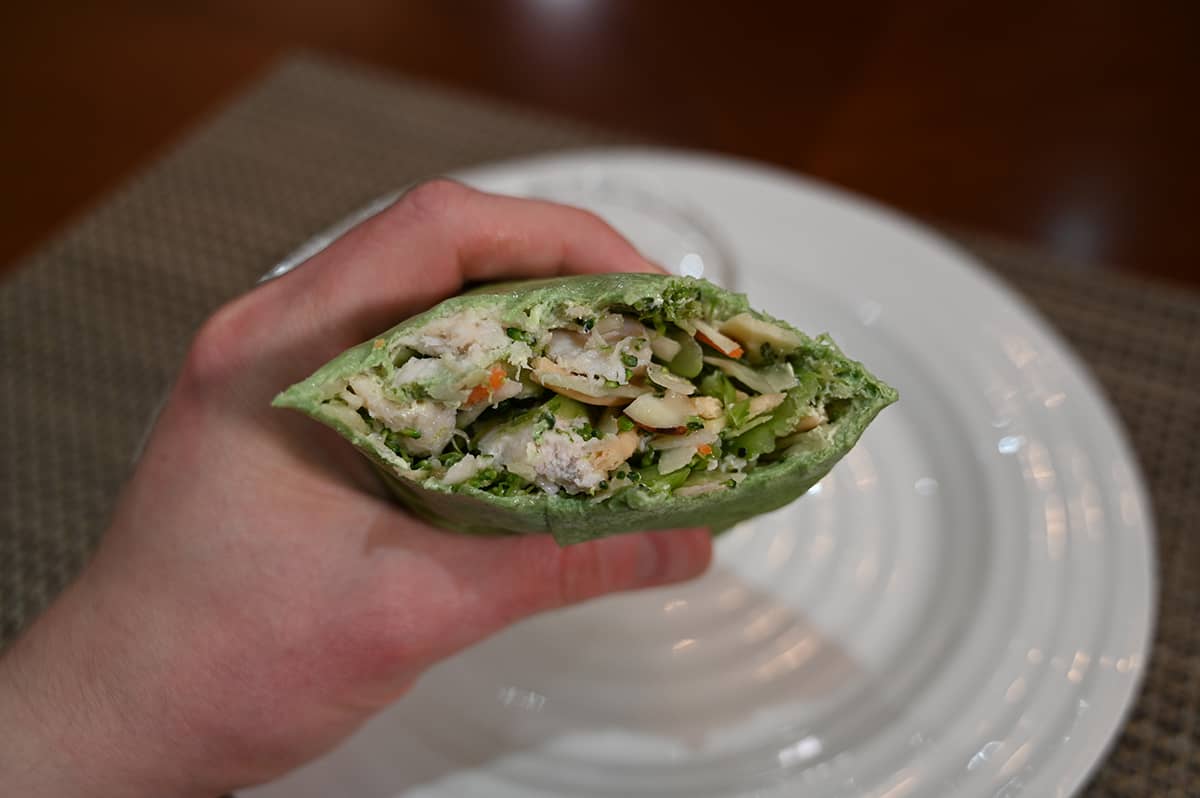 The wraps themselves don't have a ton of flavor. You mainly taste the chicken and the slaw. but they're slightly sweet and you can taste hints of orange juice. The cream cheese is what's used to hold to wrap together. The noodles and almonds add a small amount of additional texture and flavor but I don't love the idea or taste of noodles in a wrap.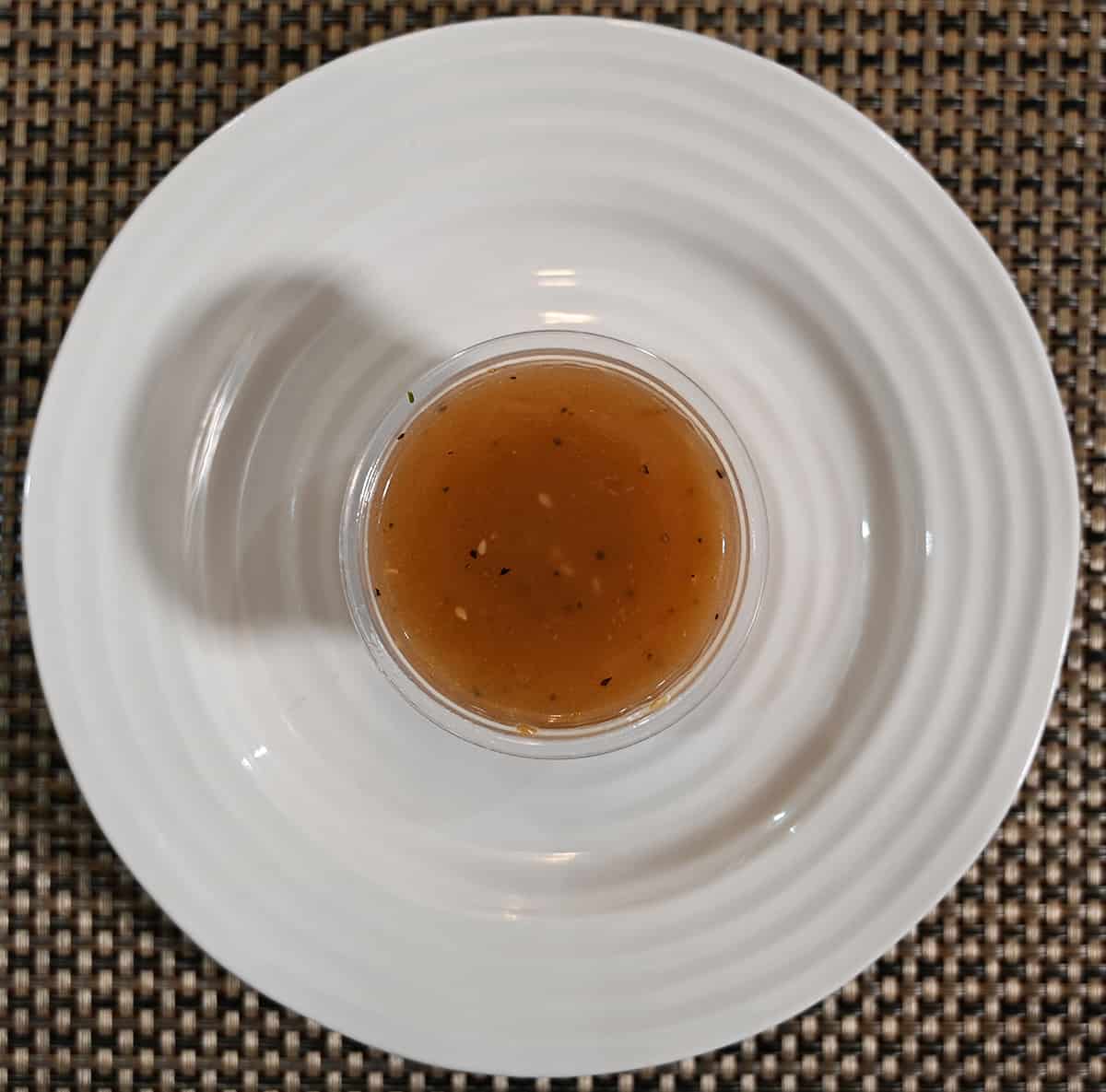 The sauce tastes strongly of citrus with a hint of sesame as well. It's not bad and adds some punch to the otherwise somewhat bland wraps. I think whether you enjoy the sauce or not depends on if you like the flavor of the orange.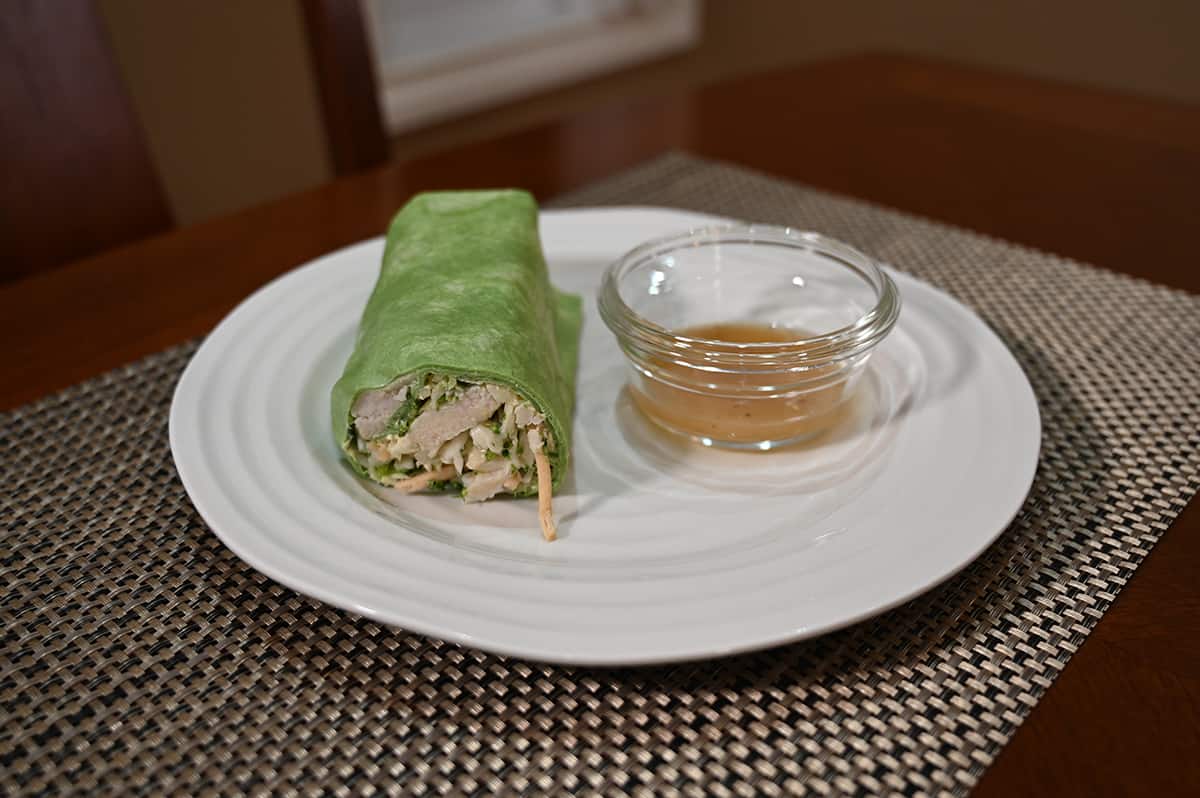 Cost
The wraps cost $13.99 Canadian per kilogram so the cost is dependent on the weight. My container has four wraps and costs $15.14 Canadian which isn't unreasonable! Buying something similar at a restaurant would cost much more.
Convenience
We ate the wraps cold but I think next time I might try putting them in a panini press to crisp them up a bit. Wraps in general are great for lunch or dinner and can be served with soup or a side salad.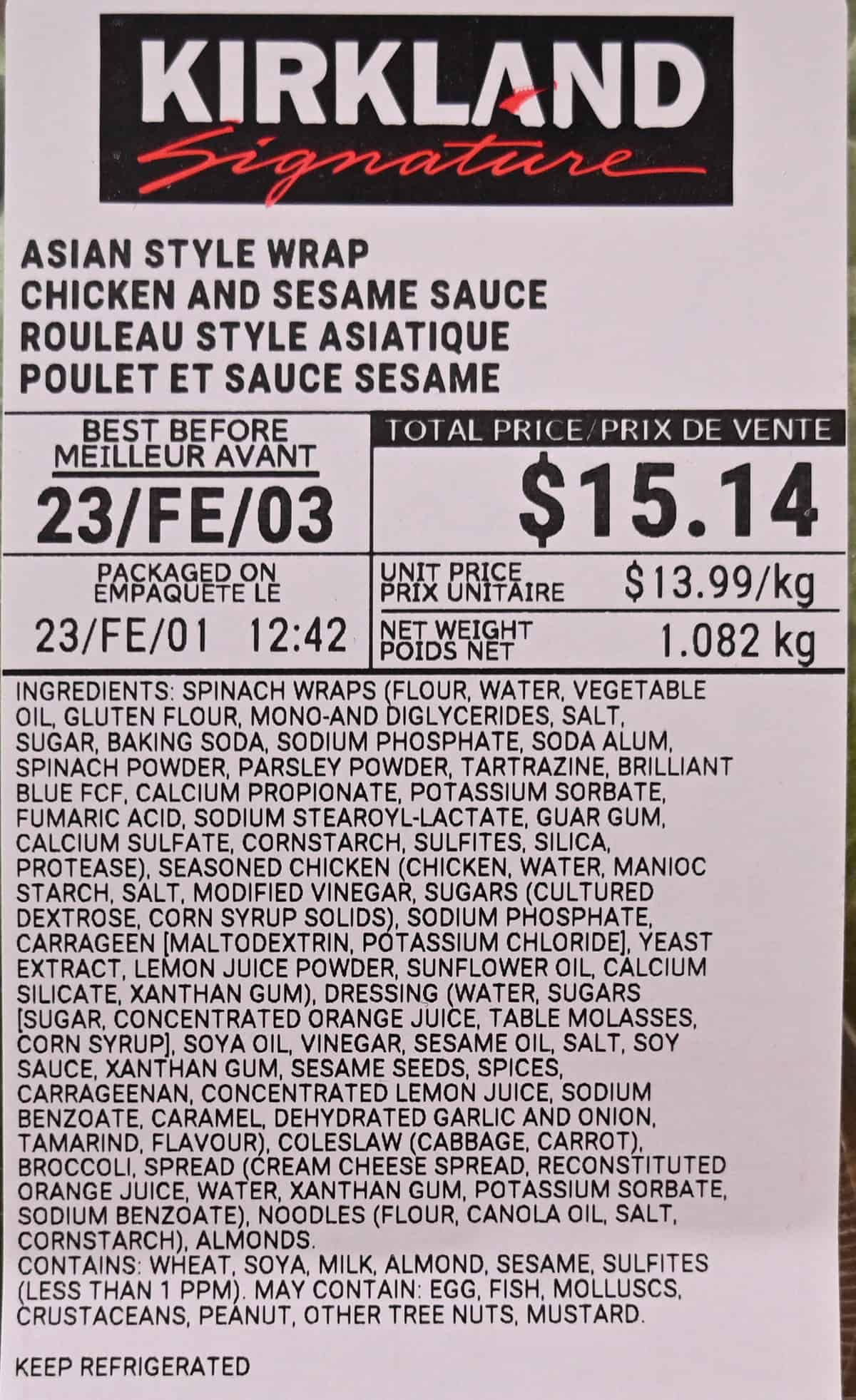 The wraps need to be kept refrigerated and the best-before date is two days from the date I purchased them. I recommend eating these the day they're packaged though because I found ours soggy.
Nutrition
Calories
One wrap contains 490 calories, 20 grams of fat, 59 grams of carbohydrates, four grams of fibre, 13 grams of sugar, 20 grams of protein and 1050 milligrams of sodium. That's a ton of sodium in one wrap! The calories, fat and carbohydrates don't surprise me too much.
Ingredients
Wow! The ingredients list is crazy long and full of chemical-sounding ingredients that I have no idea what are or why they're in the wraps. The wraps contain all of your major allergens. Wheat, soya, milk, almond, sesame and sulfites and may contain egg, fish, molluscs, crustaceans, peanuts, tree nuts and mustard.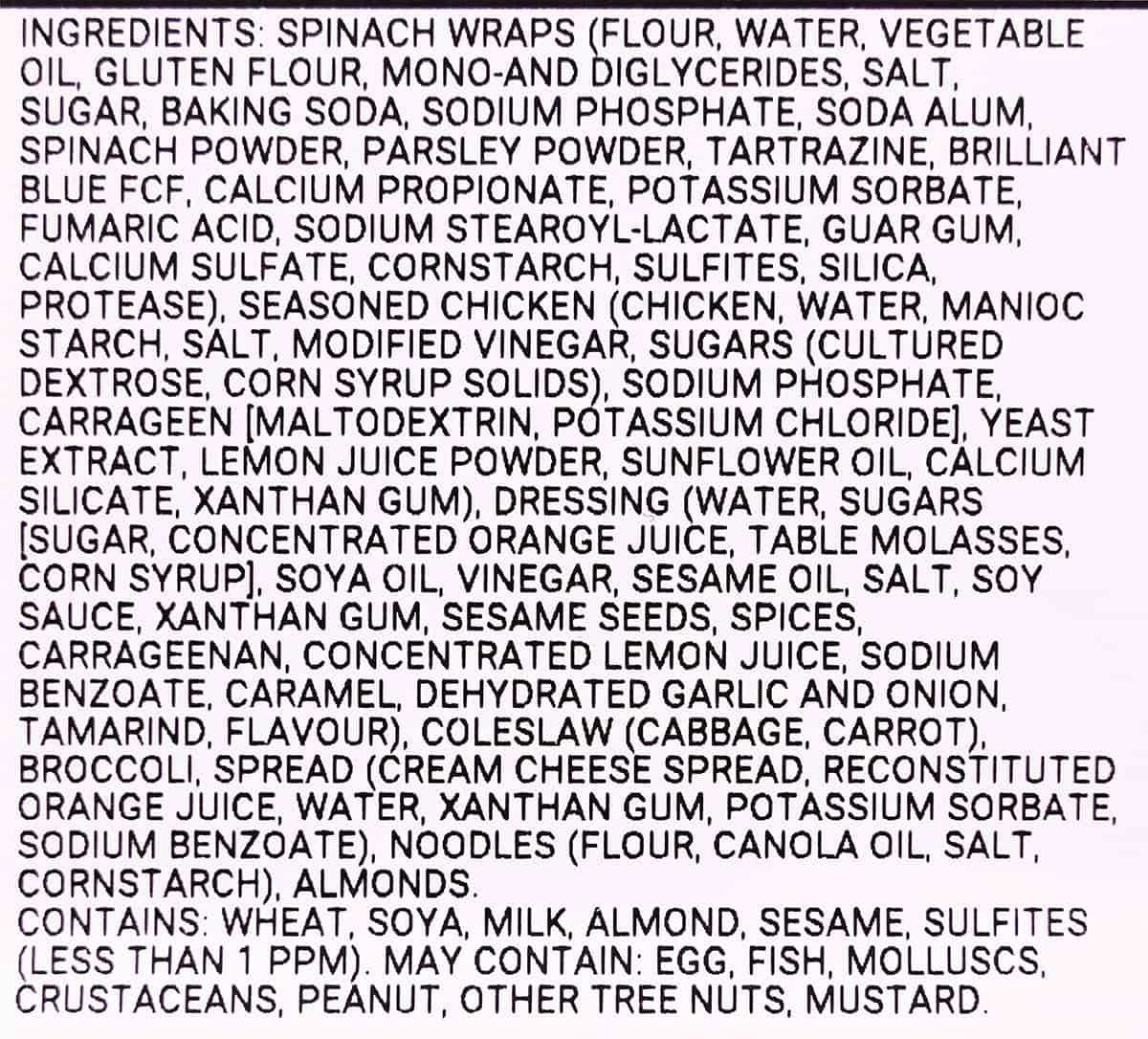 Scoring
Taste: 6/10
Cost: 7.5/10
Convenience: 10/10
Nutrition: 2/10 (The amount of protein per wrap is decent but not
Overall
Walk on by!
Overall these wraps are fine, but nothing special. I don't think I'd buy them again. They're bland and if you don't like citrus you won't like the sauce.
If you've tried these wraps before, what did you think of it?
---
Please note that this review was not paid for or sponsored by any third party. This product was purchased by Costcuisine for the purpose of producing this review. The opinions in this review are strictly those of Costcuisine. Costcuisine is not affiliated with Costco or any of its suppliers. In the event that Costcuisine receives compensation for a post from the manufacturer of a product or some other third party, the arrangement will be clearly disclosed (including where the manufacturer of a product provides Costcuisine with a free sample of the product).