Cold fall and winter weather means it's soup season! I reviewed the Kirkland Signature Organic Chicken Bone Broth a couple of weeks ago and today I'm reviewing the Kirkland Signature Chicken Noodle Soup. The broth has a few different potential uses whereas this is classic chicken noodle soup that's ready to eat – just heat it and serve it.
This convenience comes at a fairly high cost, but if it's as good as the homemade version, it could be worth it. Read on to find out what I thought of the soup.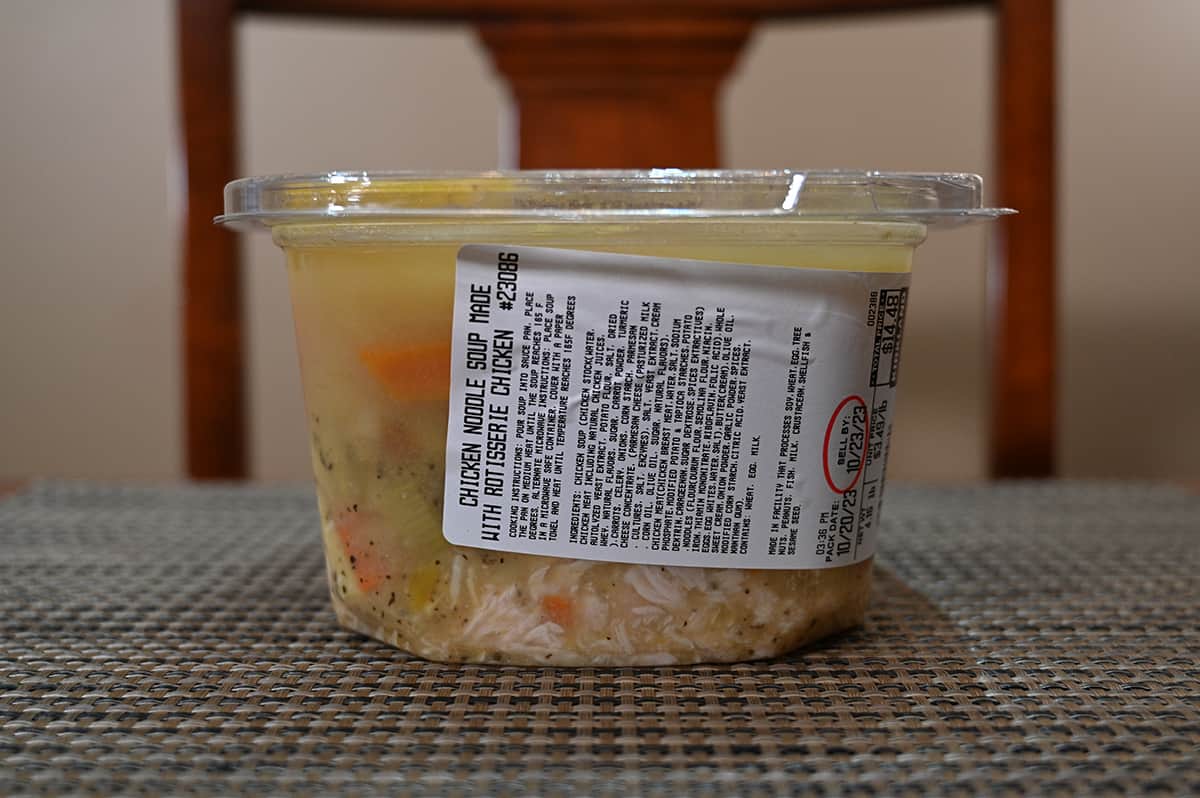 Other pre-made dishes from Costco are the Kirkland Signature Yakisoba Stir-Fry, Kirkland Signature Meat Lasagna, Kirkland Signature Meatloaf with Mashed Potatoes, Kirkland Signature Chicken Quesadillas, Kirkland Signature Mac and Cheese, Kirkland Signature Chicken Vindaloo, Kirkland Signature Enchilada Bake, Kirkland Signature Chicken Pot Pie and the Kirkland Signature Chicken Salad.
Location in Store
This is located in the pre-made meal / fresh deli section at Costco. The item number is 23086.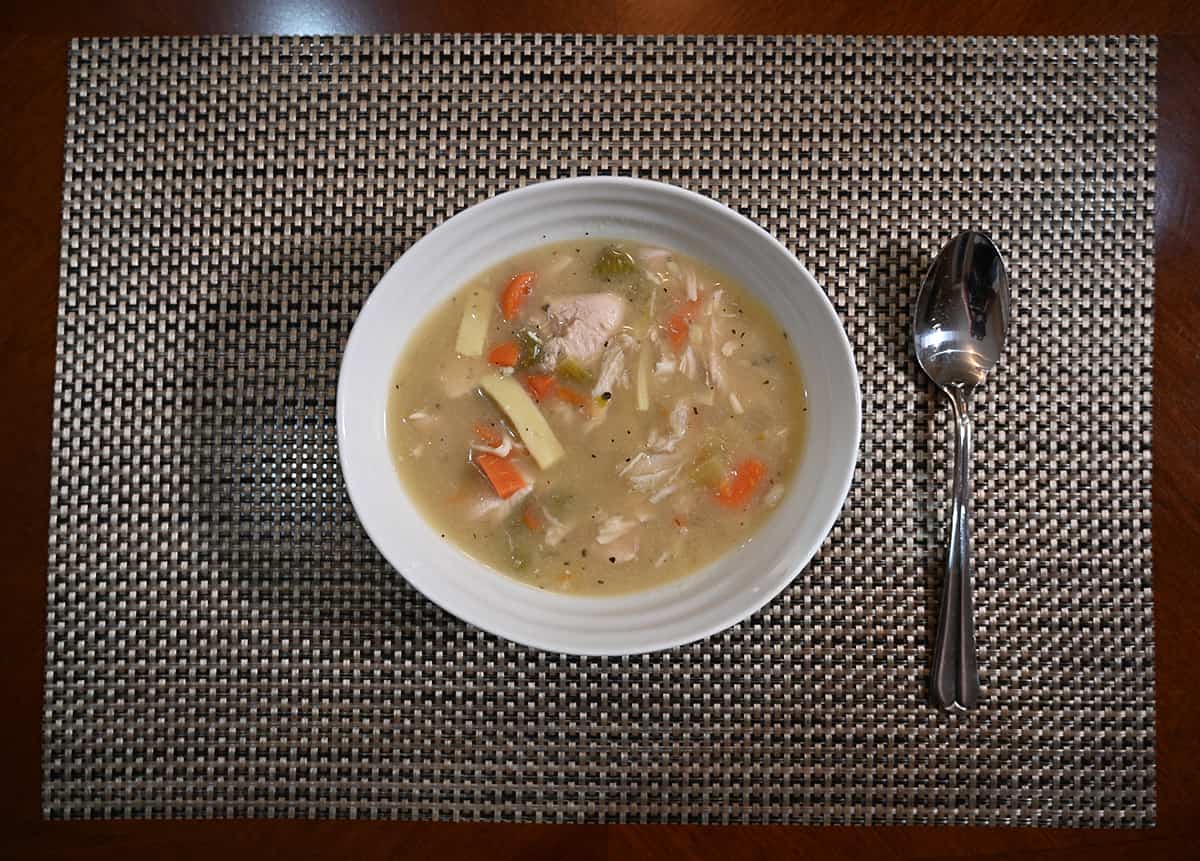 Taste
The noodles are long rectangular flat noodles, I've never seen noodles like this in soup before, to be honest. They're like thick mini fettuccini noodles and I find them a bit tough. I wish there was a different kind of noodle, like bow ties or rotini.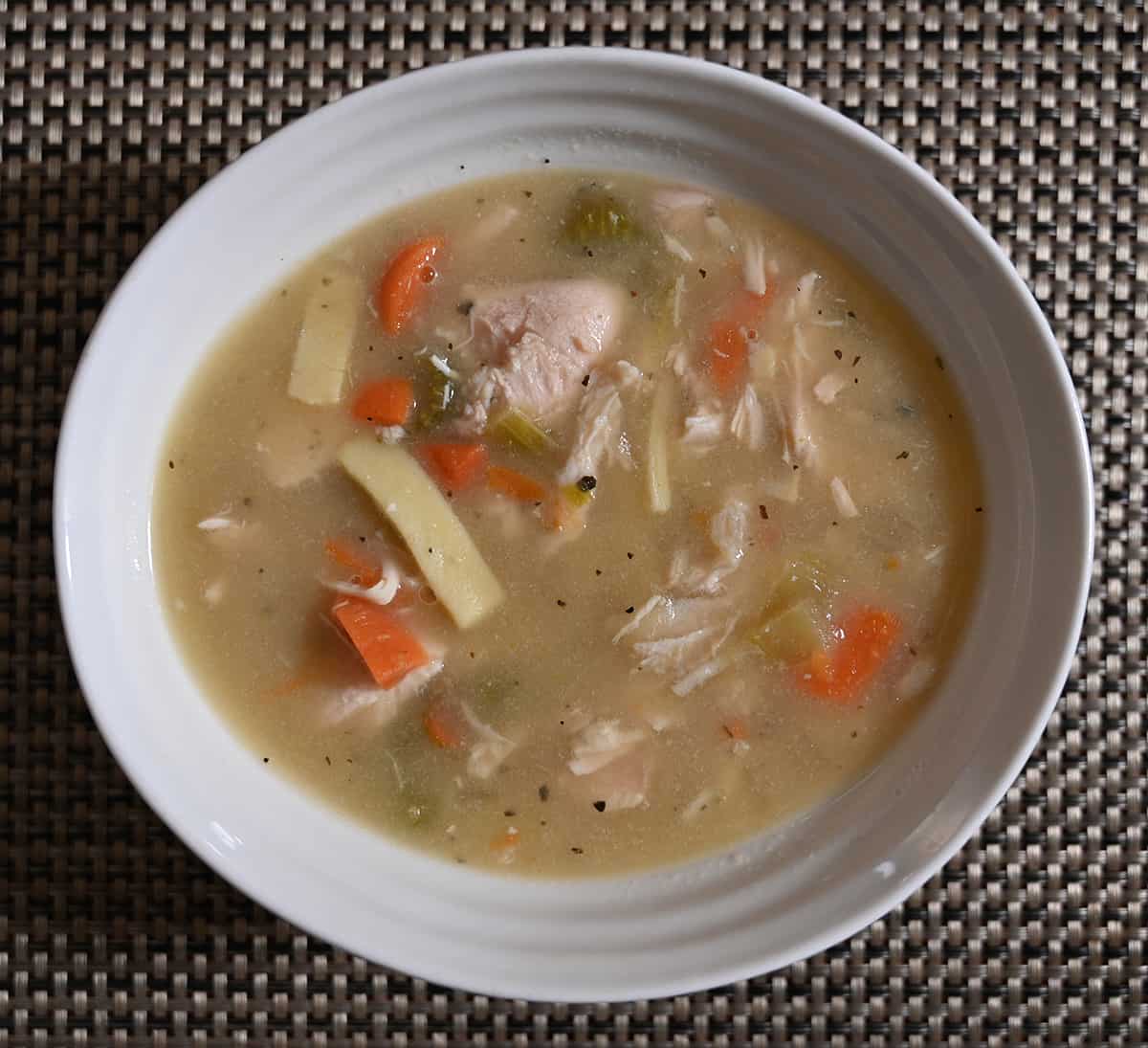 The broth is very salty with noticeable herbs in it, there's a slight peppery or almost taste. I also find the broth very thick and slightly creamy, it's not a thin broth like I'm used to in chicken noodle soup.
It's almost like they used a ton of Xantham gum to thicken it. The chicken is fine, it's the same rotisserie chicken they serve. There are some bigger chunks of chicken and some smaller ones.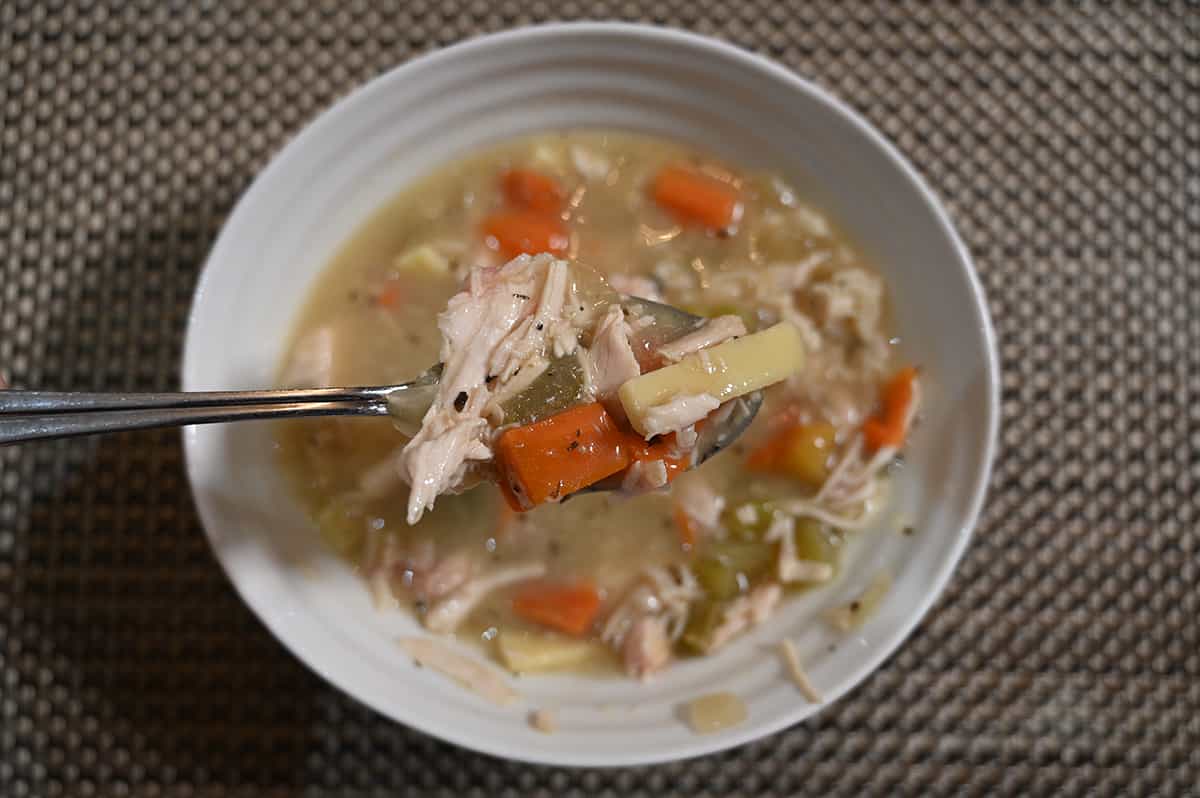 The veggies in the soup are mainly carrots and celery. The carrots are pretty good, they're not soggy but nice and soft. They also have a real garden carrot flavor, some carrots, like the mini baby carrots are really lacking in flavor I find. But not these.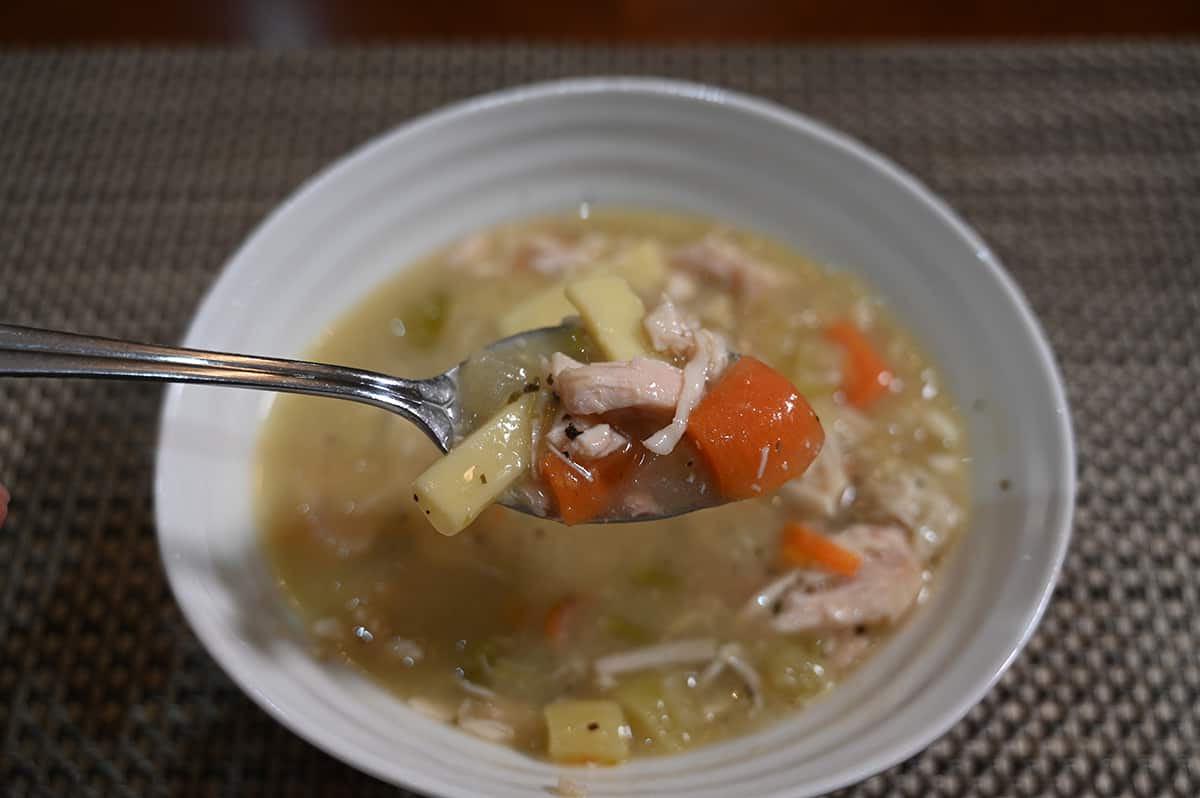 I don't love the chunks of celery. They taste like plastic to me. Overall the soup is extremely salty; I could do with less salt. It's fine and definitely has enough chicken but is very salty and the broth is thicker than I'd like.
Cost
The soup costs $3.49 per pound and I paid $14.48 for the entire 4.15-pound container I bought. That isn't cheap for a chicken noodle soup. It's a pretty big container, but you're definitely paying for the convenience.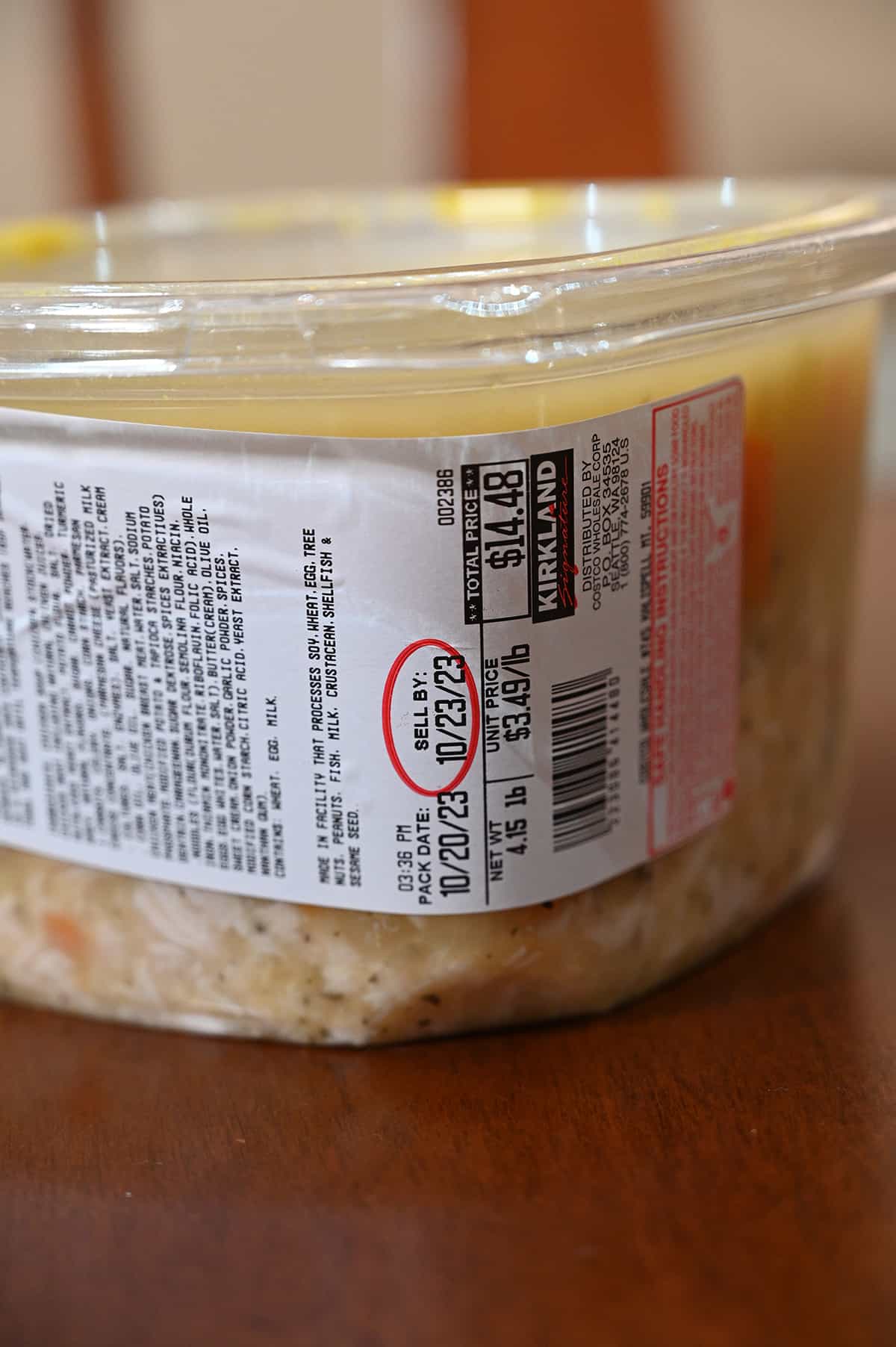 Convenience
The soup is ready to heat and serve. I heated my soup on the stove but you can also microwave it.

The sell-by date on the soup is three days from when it was packaged. I recommend freezing it if you're not going to eat it right away. If you're a single-person household you could easily divide the soup up into freezer-safe storage containers and just heat up one when you like.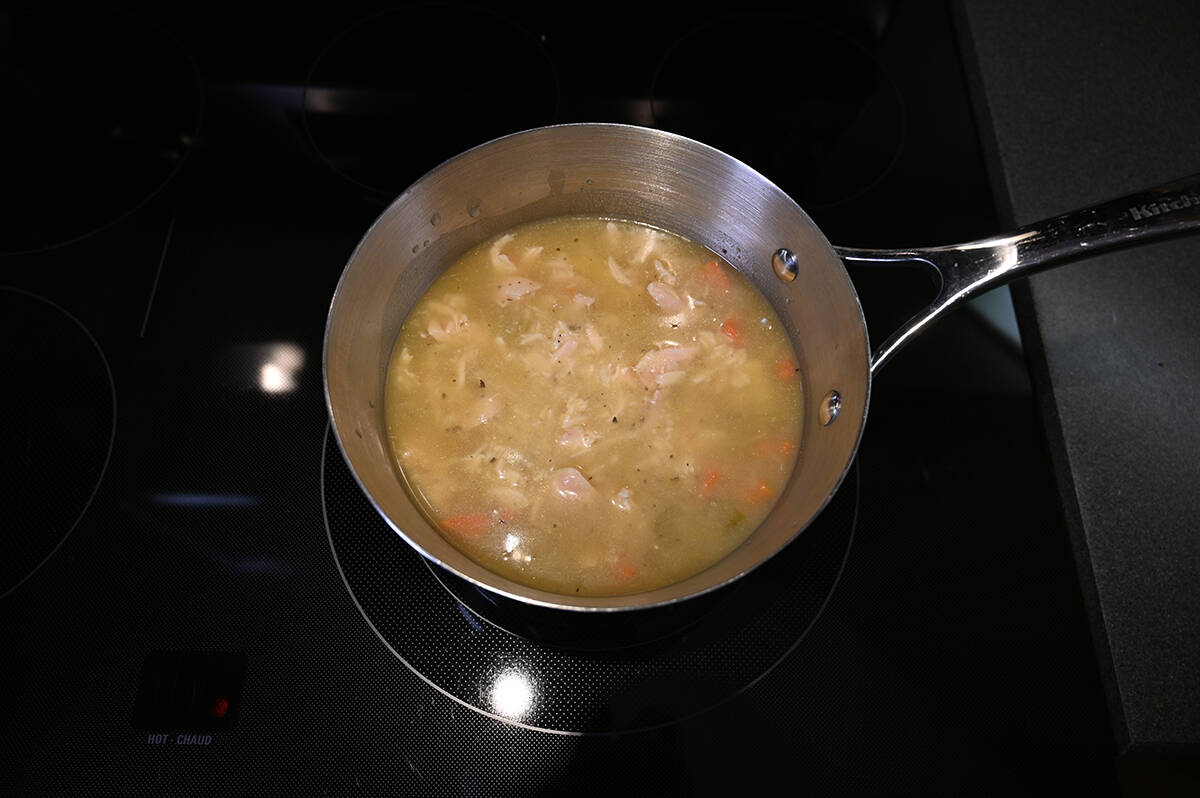 I'm not sure kids would like this because it's more than just your basic chicken noodle soup with thick broth and herbs. I could see a lot of people picking this up when they or a friend is feeling under the weather.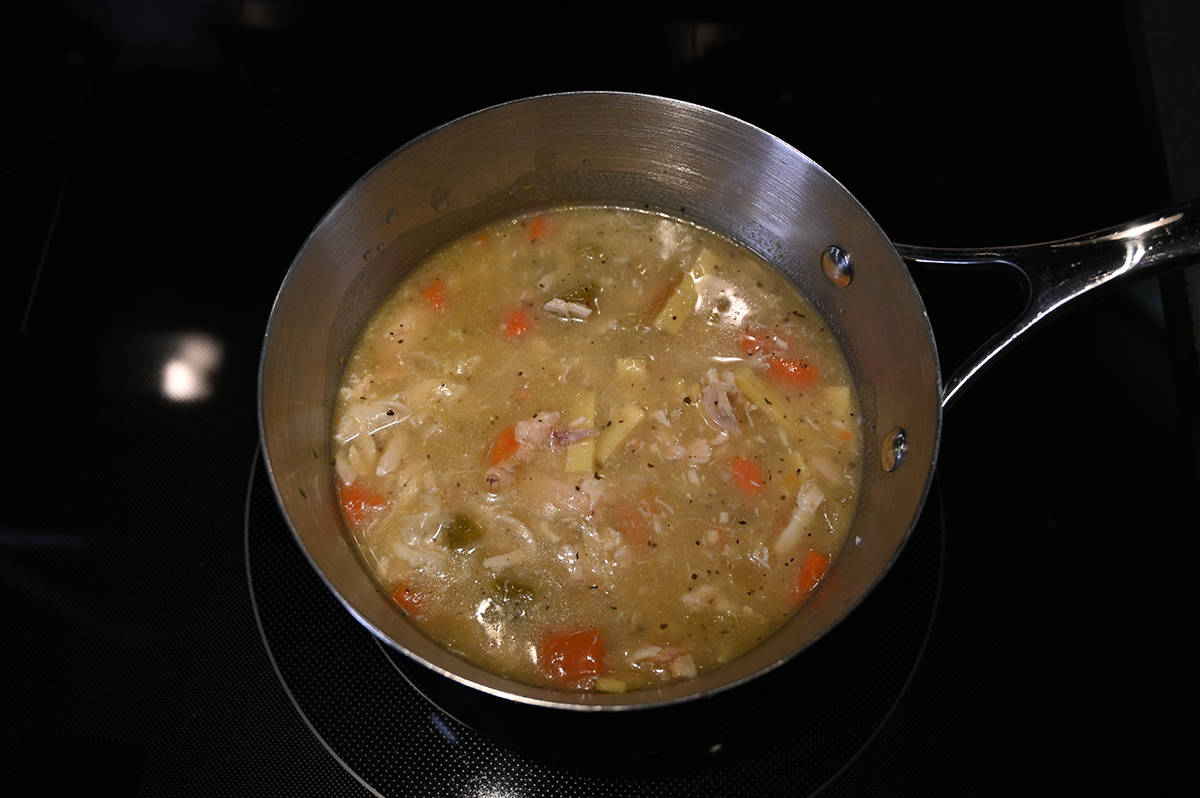 Nutrition
Calories
A 240-gram serving of soup contains 120 calories, three grams of fat, 1040 milligrams of sodium, 13 grams of carbohydrates, zero grams of fiber, two grams of sugar and ten grams of protein.
No wonder it tastes so salty! That's a ton of sodium, more than half your daily intake. The calories and fat aren't that high but neither is the amount of protein in one serving.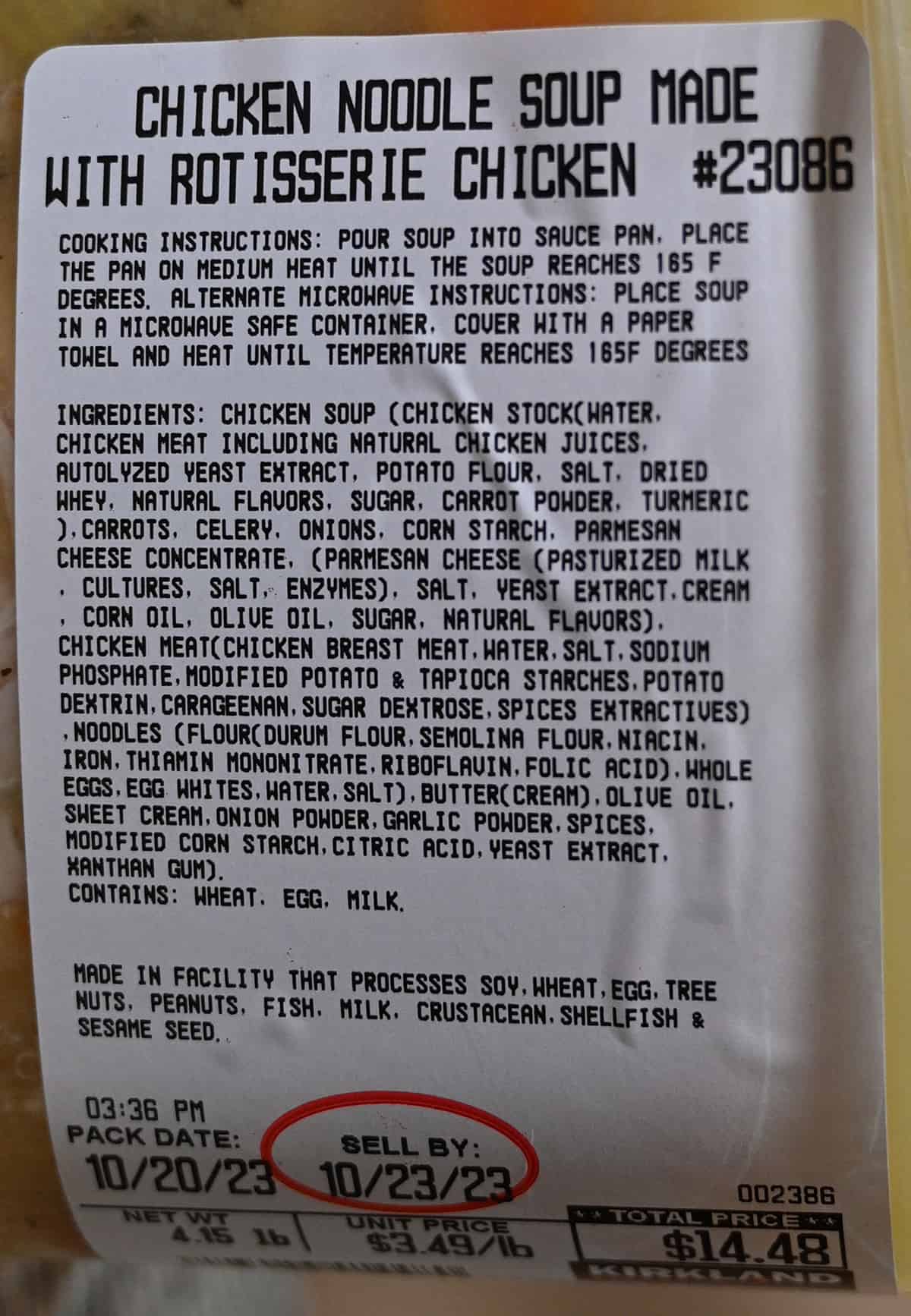 Ingredients
This is a really long ingredients list for a chicken noodle soup. I find it very odd there's parmesan cheese concentrate, that just seems unnecessary for chicken soup.
I don't love how there's sugar in the soup, I wouldn't be adding that to a homemade version. I also would prefer if the broth weren't creamy and they left the butter and sweet cream out.
The soup contains wheat, egg and milk and may contain soy, tree nuts, peanuts, fish, crustaceans, sesame and shellfish.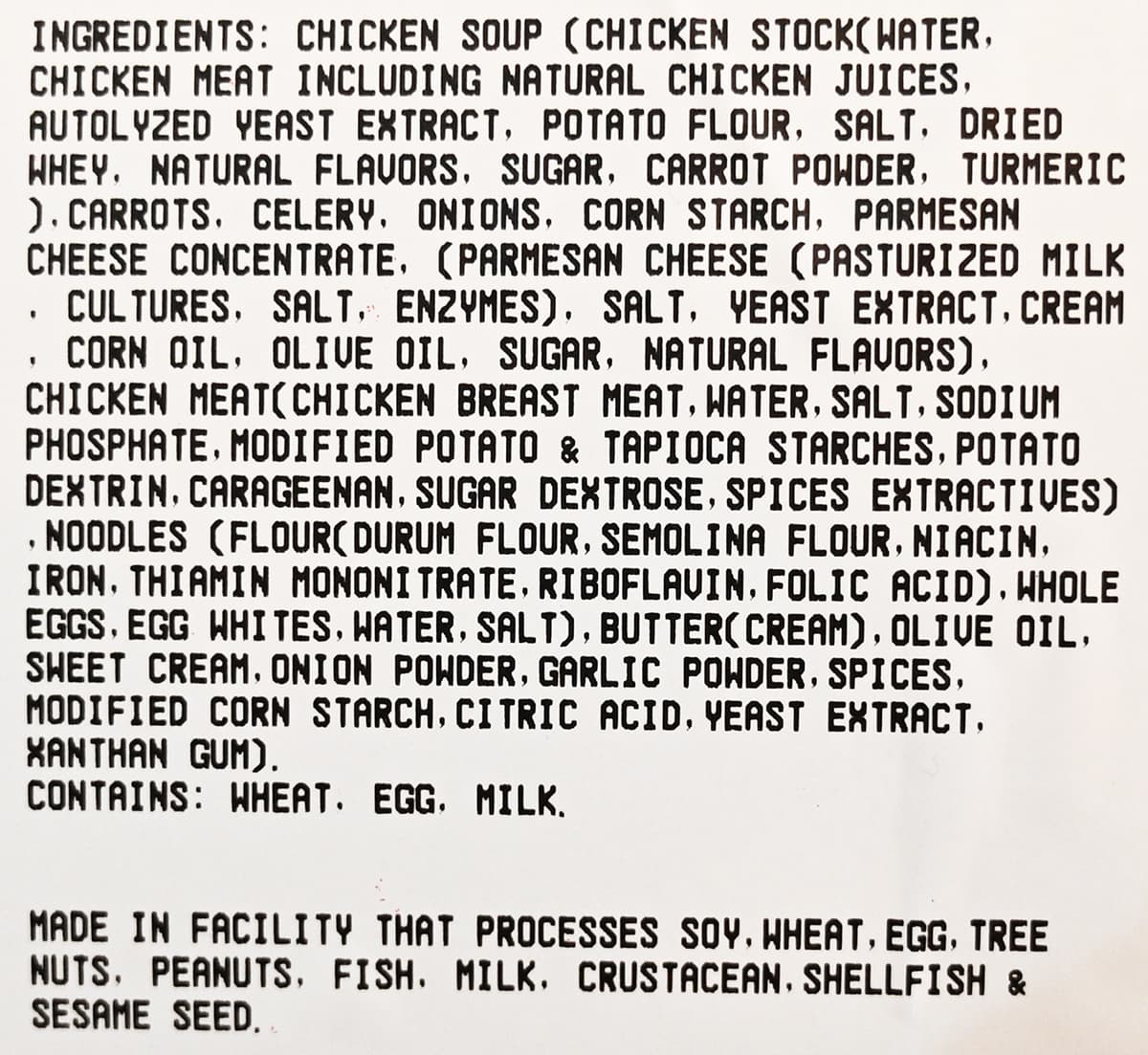 Scoring
Taste: 6/10
Cost: 6/10
Convenience: 10/10
Nutrition: 5/10
Overall
Walk on by!
Personally, I find this chicken noodle soup way too salty and peppery but I've read online that a lot of people really enjoy it.
Have you tried this Costco Kirkland Chicken Noodle Soup? What did you think of it?
---
Please note that this review was not paid for or sponsored by any third party. This product was purchased by Costcuisine for the purpose of producing this review. The opinions in this review are strictly those of Costcuisine. Costcuisine is not affiliated with Costco or any of its suppliers. In the event that Costcuisine receives compensation for a post from the manufacturer of a product or some other third party, the arrangement will be clearly disclosed (including where the manufacturer of a product provides Costcuisine with a free sample of the product).