Costco has quite a few stir fry/noodle options – the Kirkland Signature Chicken Chow Mein, the Kirkland Signature Beef Chow Mein and the Ajinomoto Vegetable Yakisoba are a few that I've purchased multiple times in Canada. The Kirkland Signature Yakisoba Stir Fry with Seasoned Chicken is a pre-made stir fry dish sold at Costco warehouses in the U.S. How does it compare with some of the other Costco stir fry and noodle dishes that I've tried?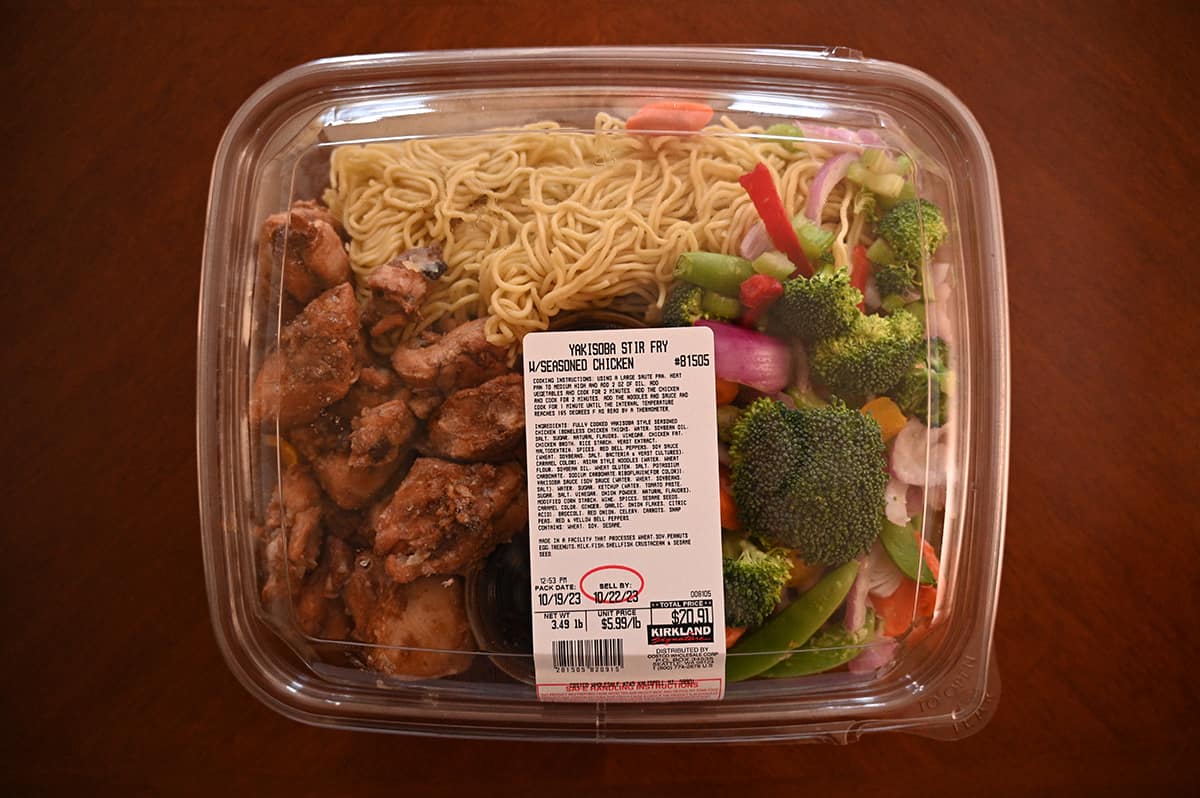 Other pre-made meals from Costco include the Kirkland Signature Meatloaf and Mashed Potatoes, Kirkland Signature Chicken Quesadillas, Kirkland Signature Meat Lasagna, Kirkland Signature Stuffed Salmon, Kirkland Signature Chicken Tacos, Kirkland Signature Enchilada Bake, Kirkland Signature Beef Chili, Kirkland Signature Seasoned Chicken Wings and the Kirkland Signature Mac and Cheese.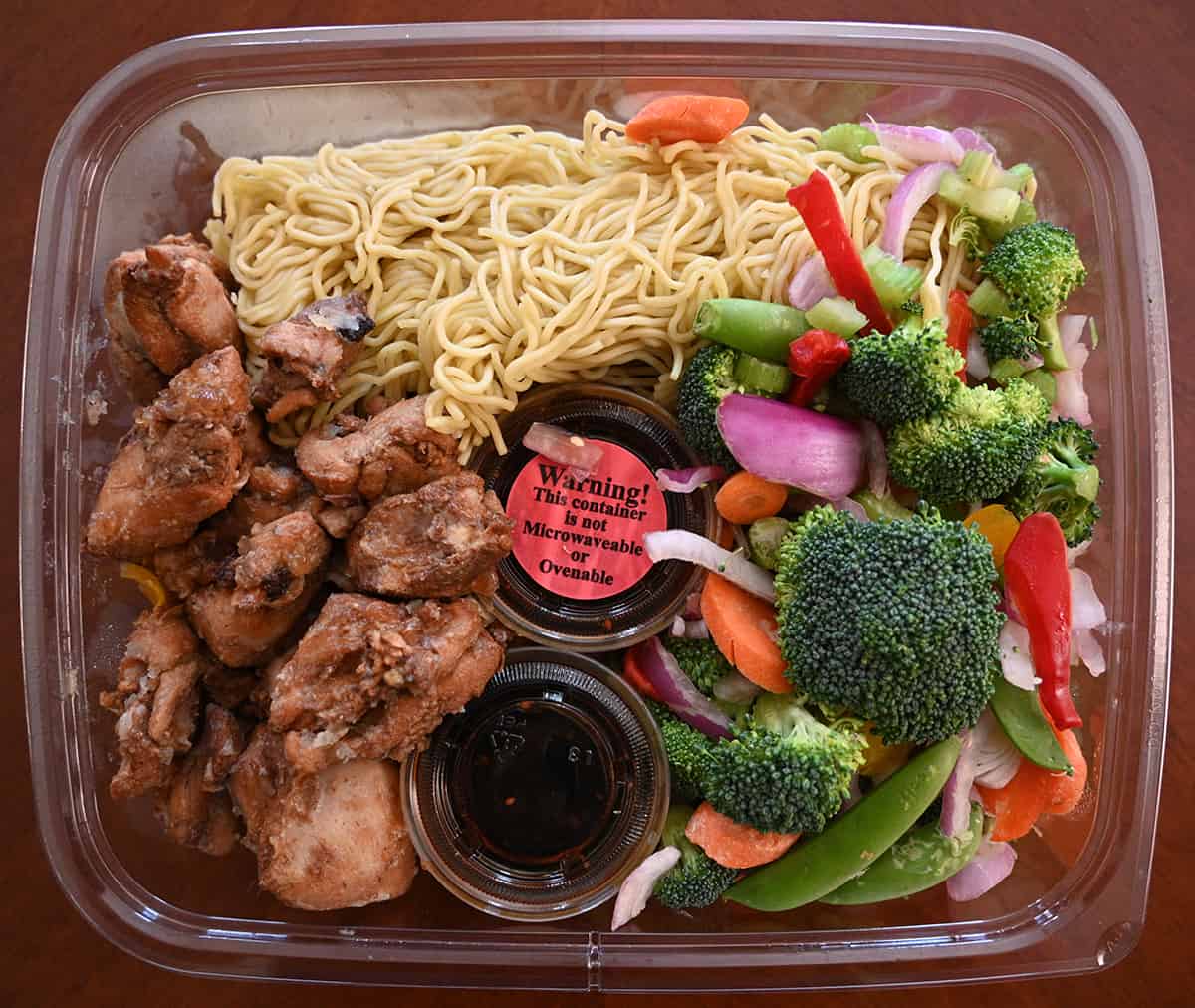 Location in Store
I bought these enchiladas at the Kalispell, Montana Costco and they're located in the pre-made meal, fresh deli section at Costco. The item number is 81505.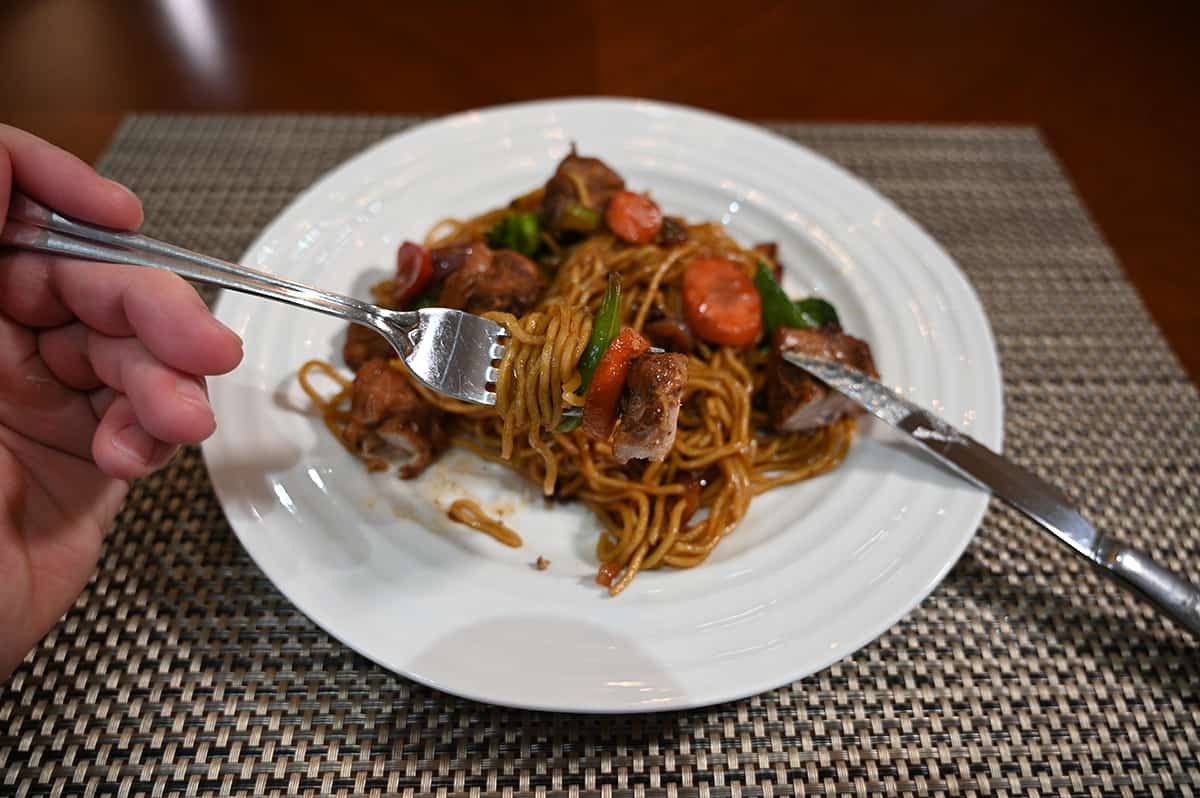 Taste
The dish is well balanced in terms of the quantities of vegetables, chicken and noodles. Even though I cooked my stir fry on the sell-by date, I found the vegetables looked pretty fresh and were still nicely crunchy.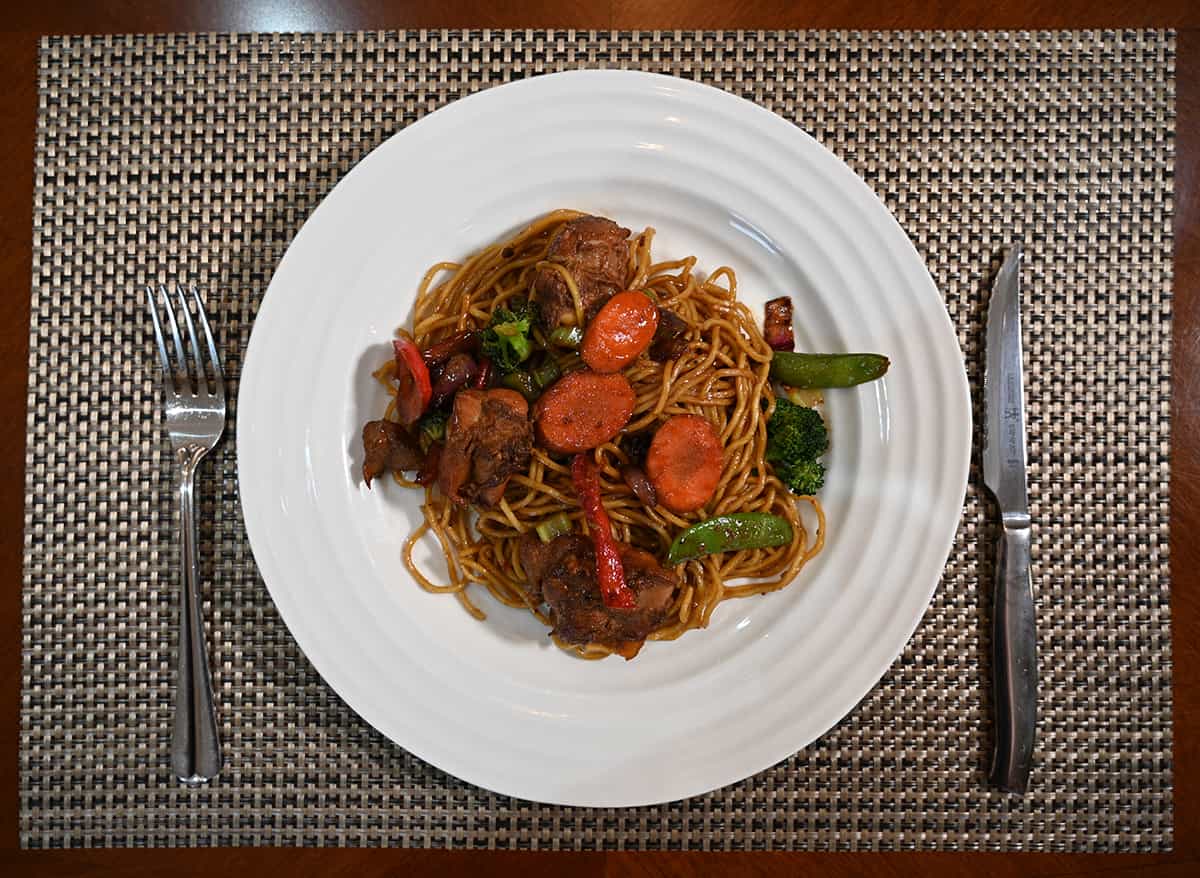 The chicken used is boneless chicken thighs. Obviously, chicken thighs are a bit fattier than say chicken breast, but the quality of the meat was decent. You're going to find some gross bits, but I didn't find many and I really appreciated the fact that there weren't any bones.
I did find the chicken very salty. It was right on the cusp of being too salty for me, but I decided it worked alright with the rest of the stir fry. Even with a bit of extra cook time, I enjoyed the texture of my noodles. The amount of sauce provided seemed pretty generous to me, but I wouldn't say my stir fry was too saucy or greasy. It seemed about right.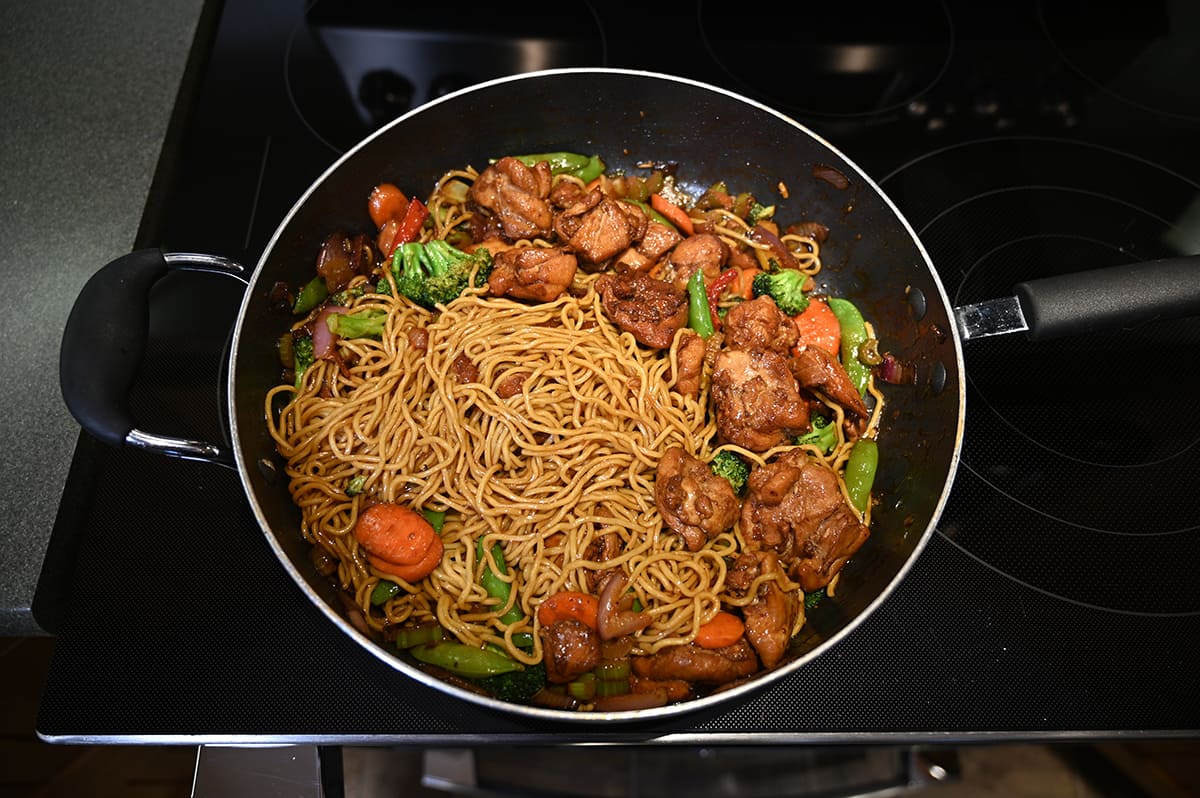 Overall the stir fry was tasty enough, but not super interesting in terms of flavors. Most of the taste comes from the vegetables and the salty chicken. The sauce appears to be a fairly basic soy sauce-based sauce. It's fine, but not exciting or spicy. People who are sensitive to spicy foods will be fine to eat it.
Cost
The first thing I noticed is that this is a pretty big tray of food! I'd say it would easily serve four and probably more like six for lots of families.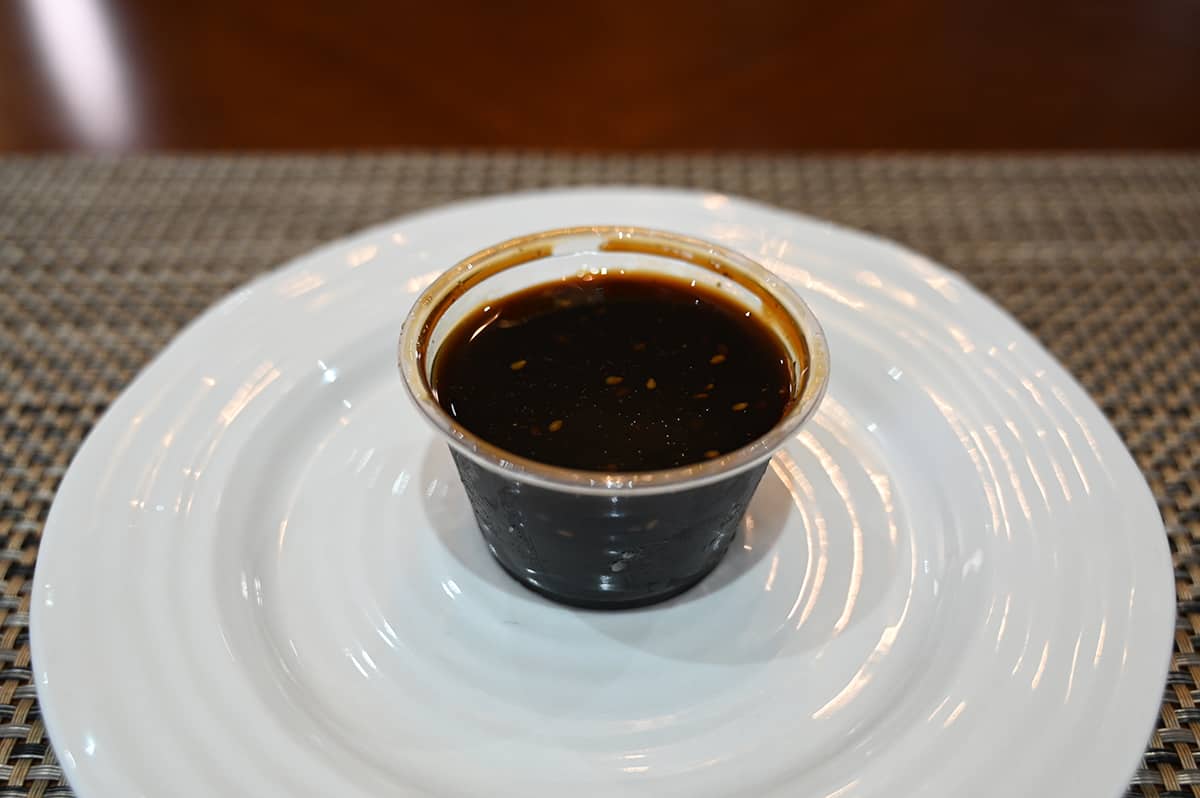 The cost of the yakisoba is $5.99 per pound so you pay based on the weight of the tray. I paid $20.91 USD which isn't cheap, it's similar to the cost of two noodle dishes from a takeout restaurant. I will say there's quite a bit of yakisoba in one container though.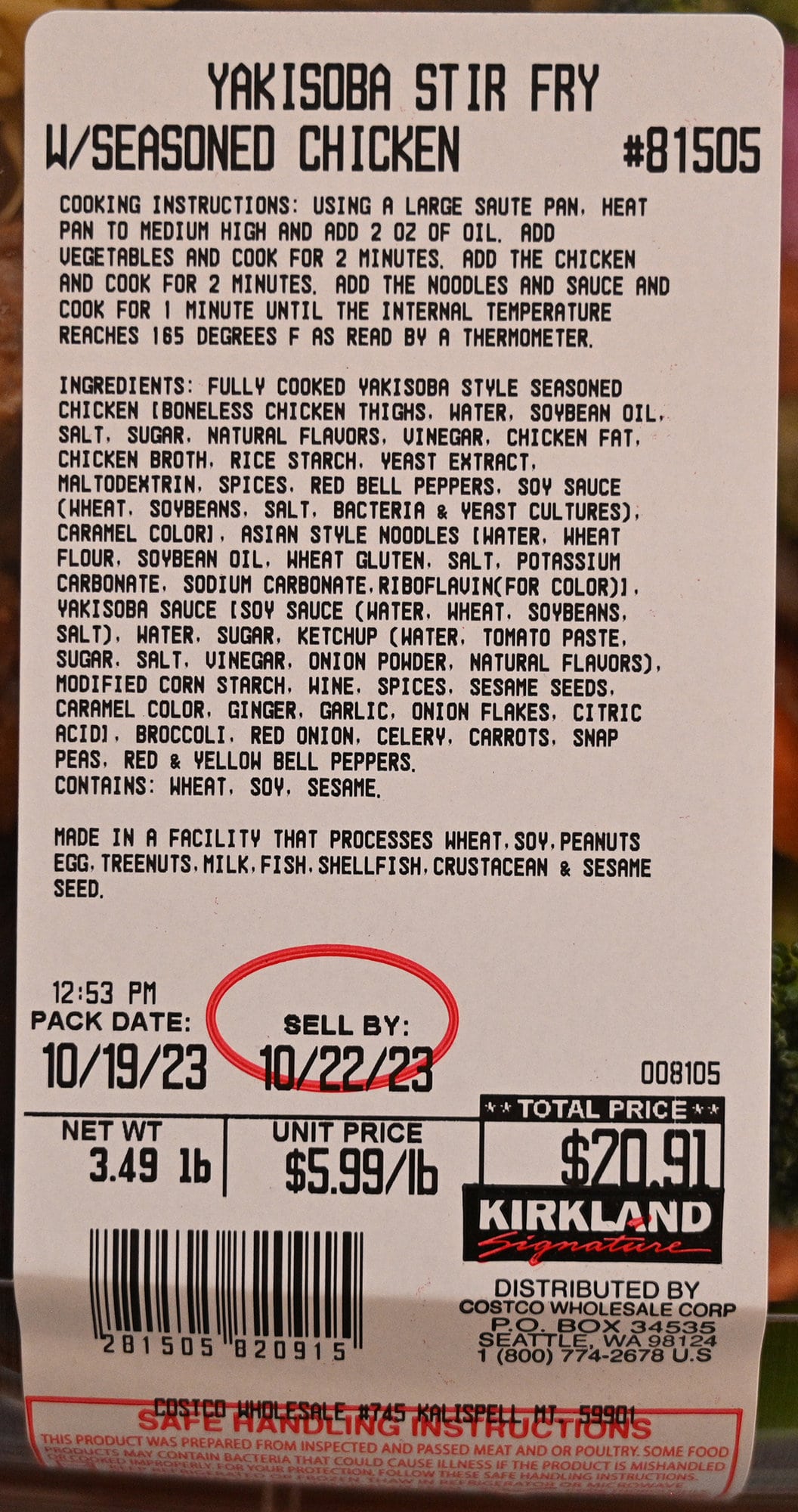 Convenience
I separated my ingredients into soup/cereal bowls to make cooking easier. I had a heaping bowl of vegetables, a big bowl of chicken and then a good amount of noodles. You'll want a large pan or wok to cook this in.

I used avocado oil and found my stir fry was plenty moist between that and the two large containers of sauce provided. I cooked my stir fry more by how it looked and felt vs. what the directions said.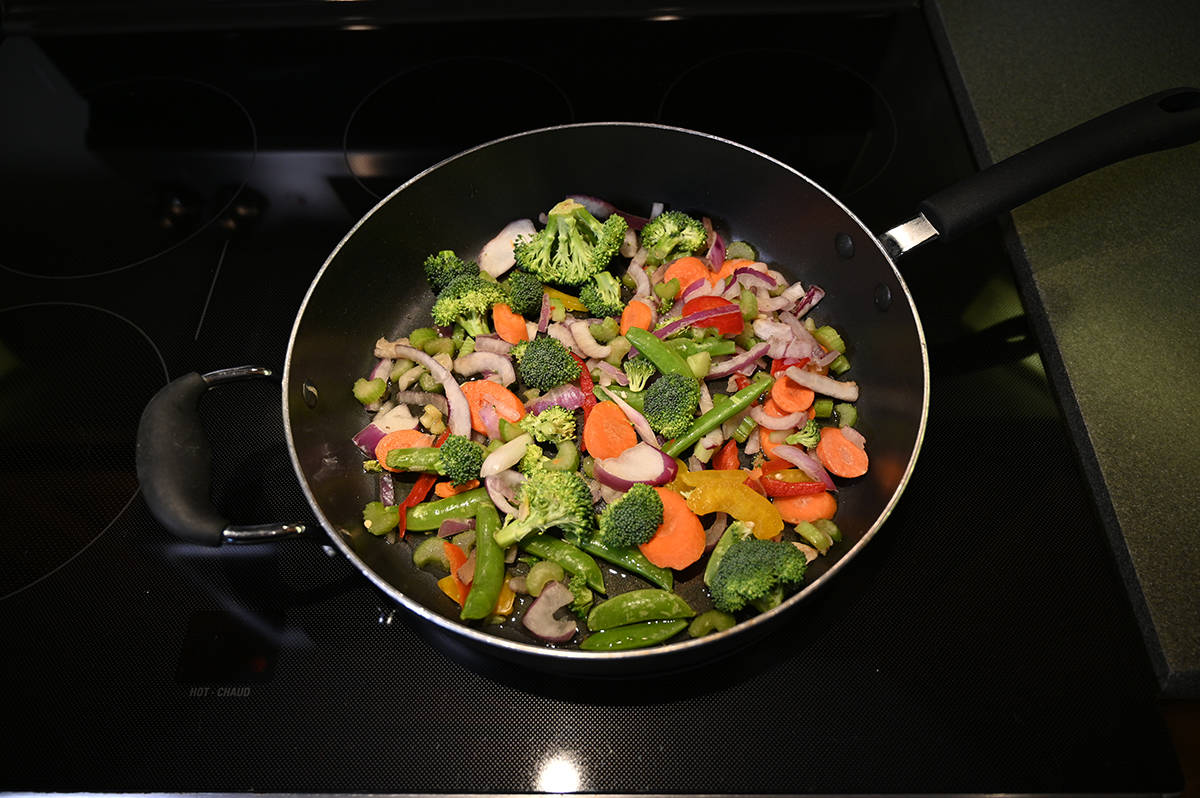 The directions call for a total cook time of about five minutes, but I felt it needed more like eight to ten. I think I ended up finishing at about the nine-minute mark and thought my stir fry turned out well.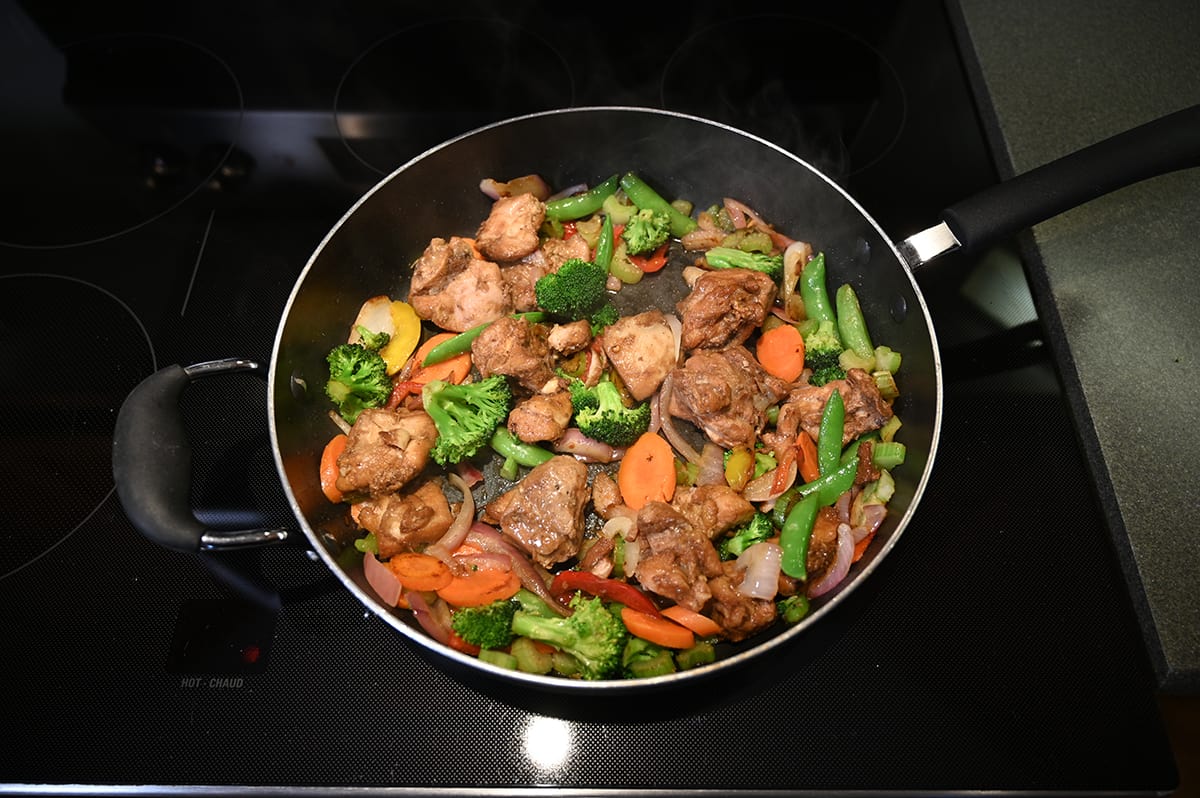 The yakisoba needs to be kept refrigerated and the sell-by date is three days from when it was packaged. I think kids would definitely enjoy the noodles in the dish (maybe not so much the vegetables). I recommend serving this with the Bibigo Steamed Dumplings or the Minh Egg Rolls as a side.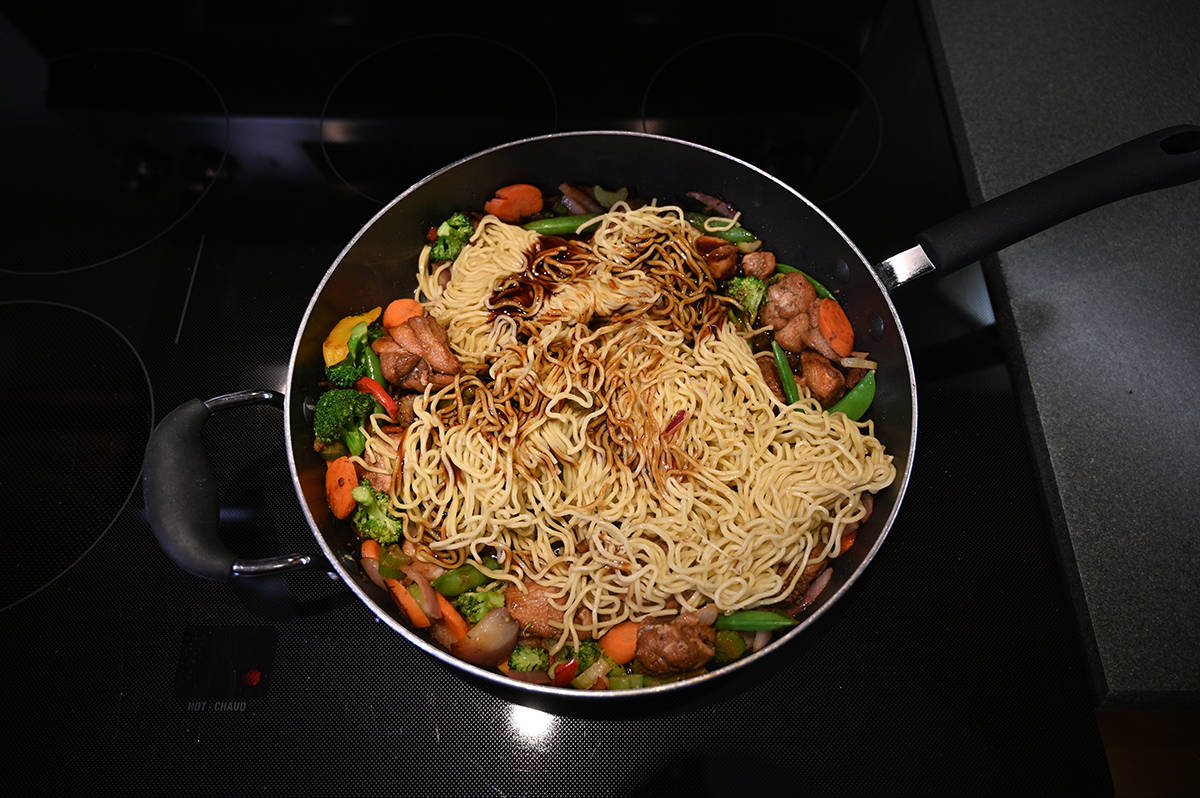 Nutrition
Calories
An eighth of the tray or a 6.75-ounce serving contains 240 calories, five grams of fat, 29 grams of carbohydrates, one gram of fiber, seven grams of sugar, 15 grams of protein and 1010 milligrams of sodium.
That's so much sodium and I pretty much guarantee most people are eating more than 1/8th of the tray for dinner. There isn't really that much calories or fat in a serving but there isn't much protein either.
Ingredients
The ingredients are pretty much as expected! Soy is listed as an ingredient multiple times. I'm glad there's a decent amount of broccoli, red onion, celery, carrots, snap peas and bell peppers in the yakisoba.
This meal contains wheat, soy and sesame but is dairy-free. It may contain egg, treenuts, peanuts, milk, fish, shellfish and crustaceans due to being processed in a facility that processes food with these ingredients.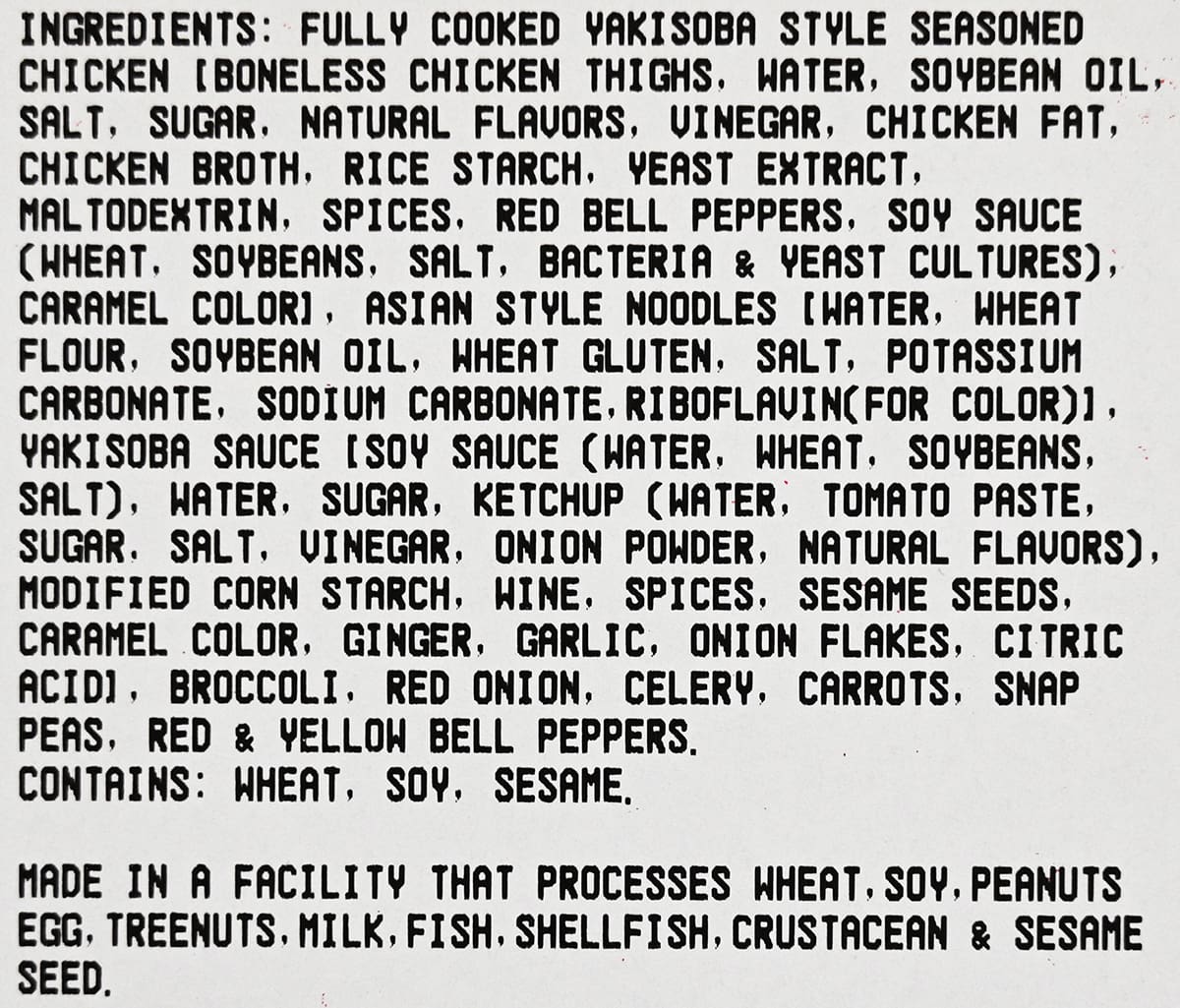 Scoring
Taste: 7.5/10
Cost: 6.5/10
Convenience: 10/10
Nutrition: 5/10
Overall
Give it a try!
Next time I'd use only half the sauce to cut the amount of sodium. I'd also add a bit of sweetness and heat like a sweet chili sauce to make it a bit more flavorful.
Have you tried this Costco Kirkland Signature Yakisoba Stir-fry with Seasoned Chicken?What did you think of it?
---
Please note that this review was not paid for or sponsored by any third party. This product was purchased by Costcuisine for the purpose of producing this review. The opinions in this review are strictly those of Costcuisine. Costcuisine is not affiliated with Costco or any of its suppliers. In the event that Costcuisine receives compensation for a post from the manufacturer of a product or some other third party, the arrangement will be clearly disclosed (including where the manufacturer of a product provides Costcuisine with a free sample of the product).