Hard seltzer seemed to come out of nowhere a few years ago and now it's everywhere! By offering refreshing fruity flavors without a lot of calories, hard seltzer quickly became a very popular beverage. Costco has carried Vizzy, White Claw and Truly hard seltzers, and now they're offering their own Kirkland Signature Hard Seltzer! Does this one offer Kirkland's usual combination of great quality at a low price? Which major hard seltzer brand is it most like? Read on to find out if you need to pick up a case to enjoy before the summer is over!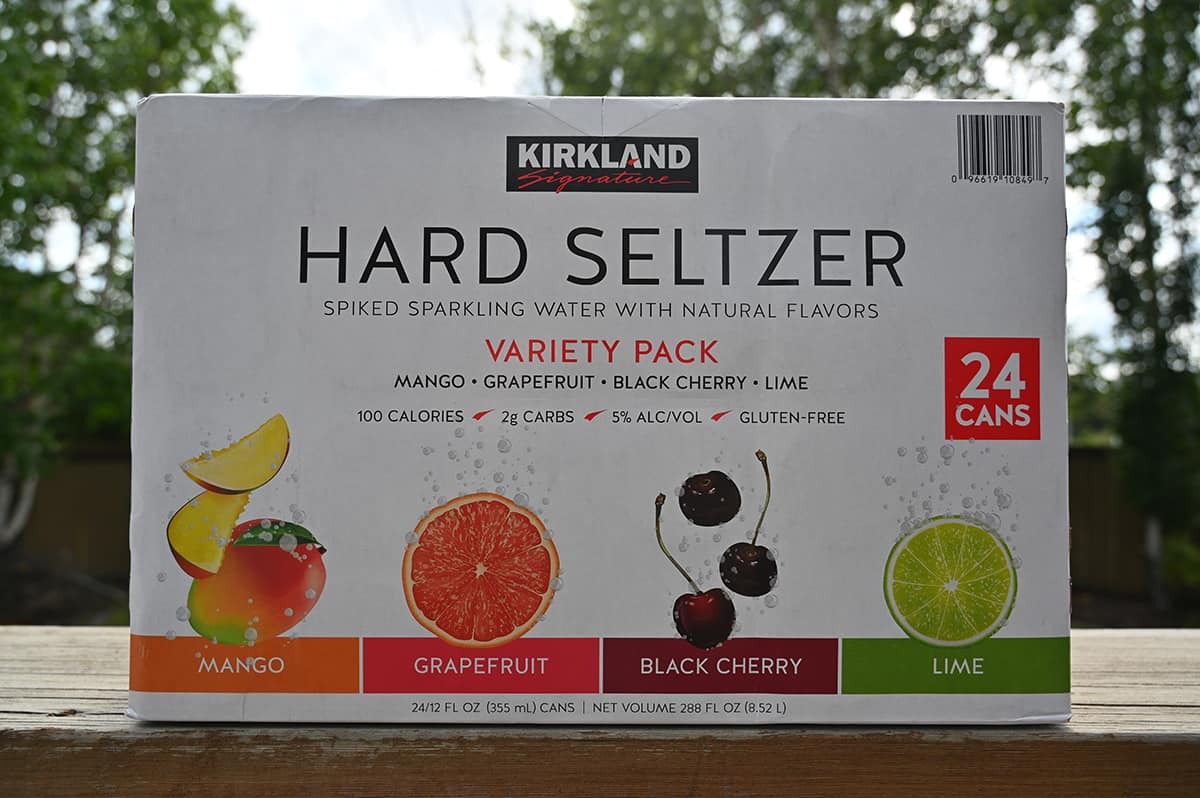 Hard seltzer isn't my favorite kind of drink, so if you're like me and want something else, Costco carries lots of other great alcoholic beverage options! Some other summer drinks that I've reviewed include the Mama Peach and Mama Mango Moscato, the Kirkland Signature Sangria, the Kirkland Signature Golden Margarita, the Kirkland Signature Strawberry Margarita and the Kirkland Signature Margarita Wine Cocktail.
Location in Store
The hard seltzer is located in the Costco liquor section, and the item number is 1433139. I bought them at the Kalispell, Montana Costco.
Taste
If you've never had a hard seltzer before, it tastes a lot like flavored sparkling water – fizzy and fruity, but with a subtle hint of alcohol.
All four kinds of the Kirkland Hard Seltzer smell amazing! Based on the smell, I was a bit surprised when I tasted them and realized that the flavors weren't all that strong. All of the hard seltzers have a nice taste, but they're not overly strong or sweet. That's a positive thing in my opinion. Some of the other hard seltzers I've tried are way too sweet/heavily flavored.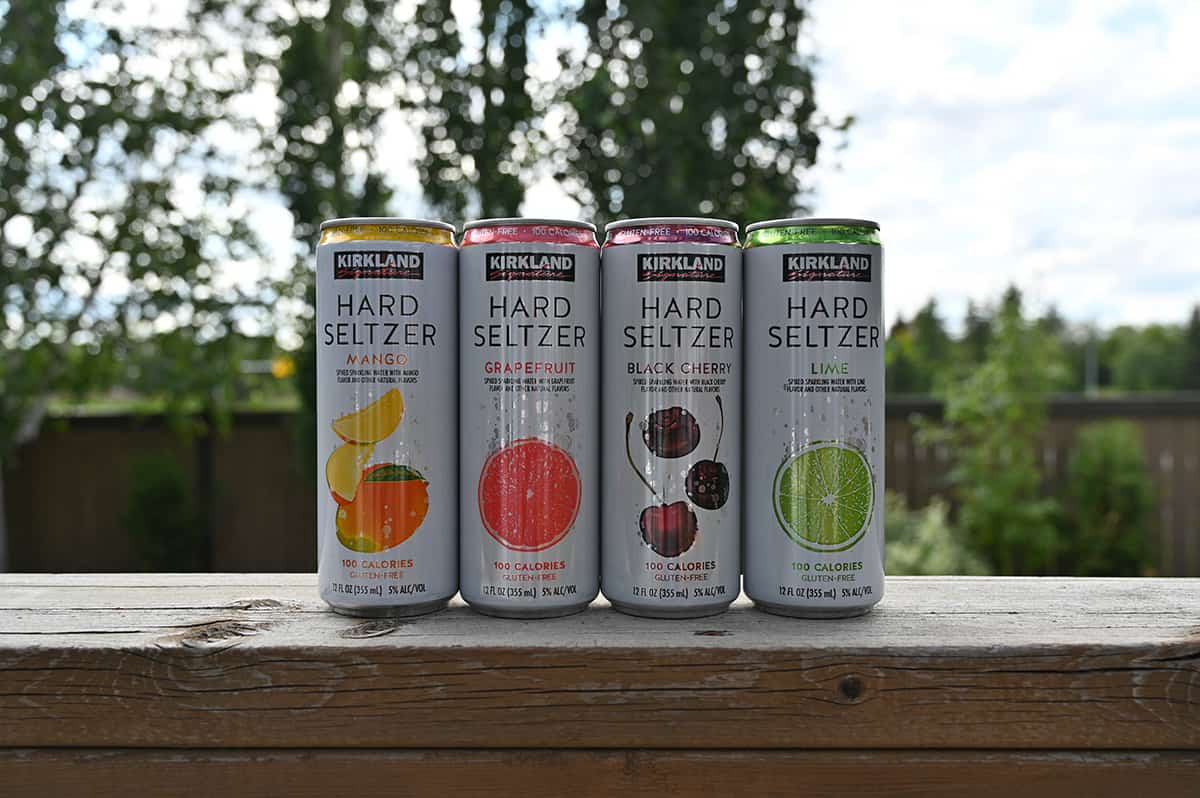 If I had to compare the Kirkland Signature Hard Seltzer to other brands, I'd say they're most similar to White Claw, which also has more understated flavors. I think I may actually like the Kirkland Hard Seltzers better though, which is saying a lot because White Claw is my favorite hard seltzer out of the ones I've tried.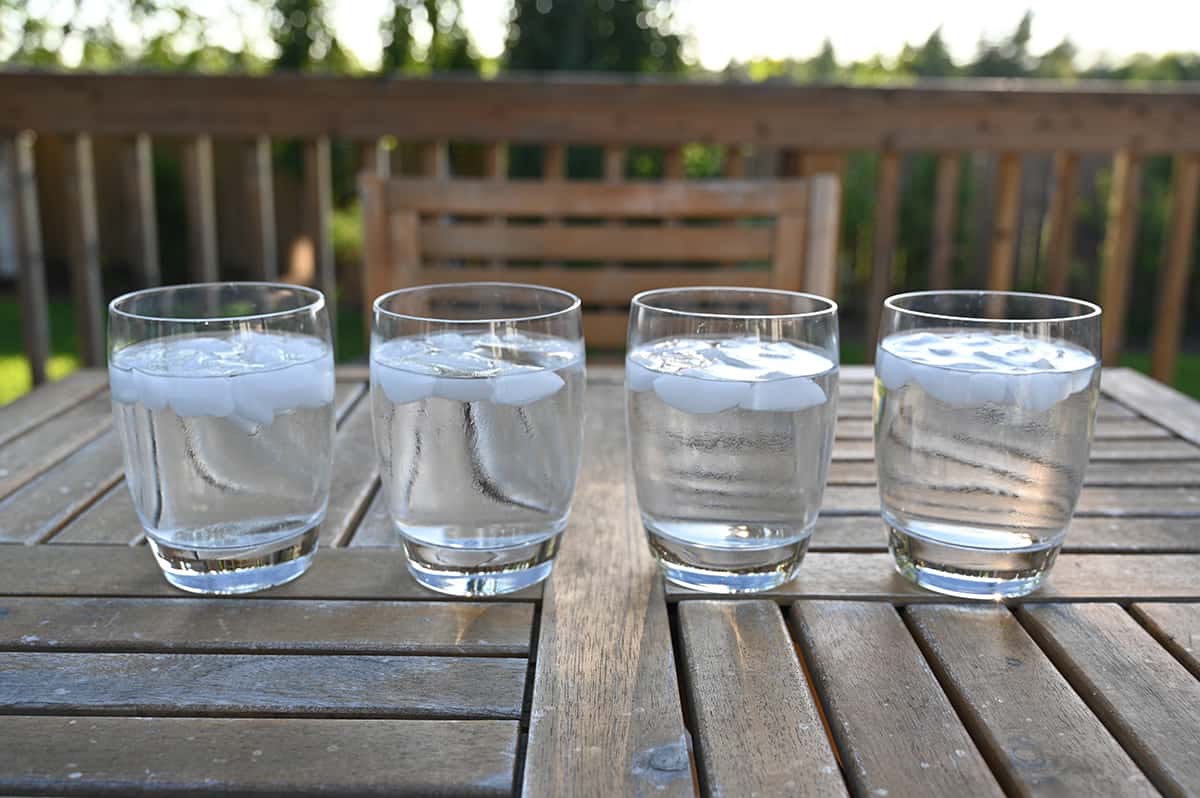 I don't really have anything too insightful to say about each of the different kinds. They all taste a bit artificial, but not enough to bother me. All of them have vibrant flavors, but they're mild enough to be super refreshing and easy to drink. They go down easy! As I expected, the mango and black cherry were my favorites and the grapefruit was my least favorite, but that's just my own personal taste. I usually find lime a bit boring, but I enjoyed the lime flavor quite a bit.
Cost
The box of 24 12-ounce/355-milliliter cans costs $21.99 USD at Costco, which is pretty reasonable for such a big box! It seems especially cheap as a Canadian since our liquor prices are so much higher with all the taxes.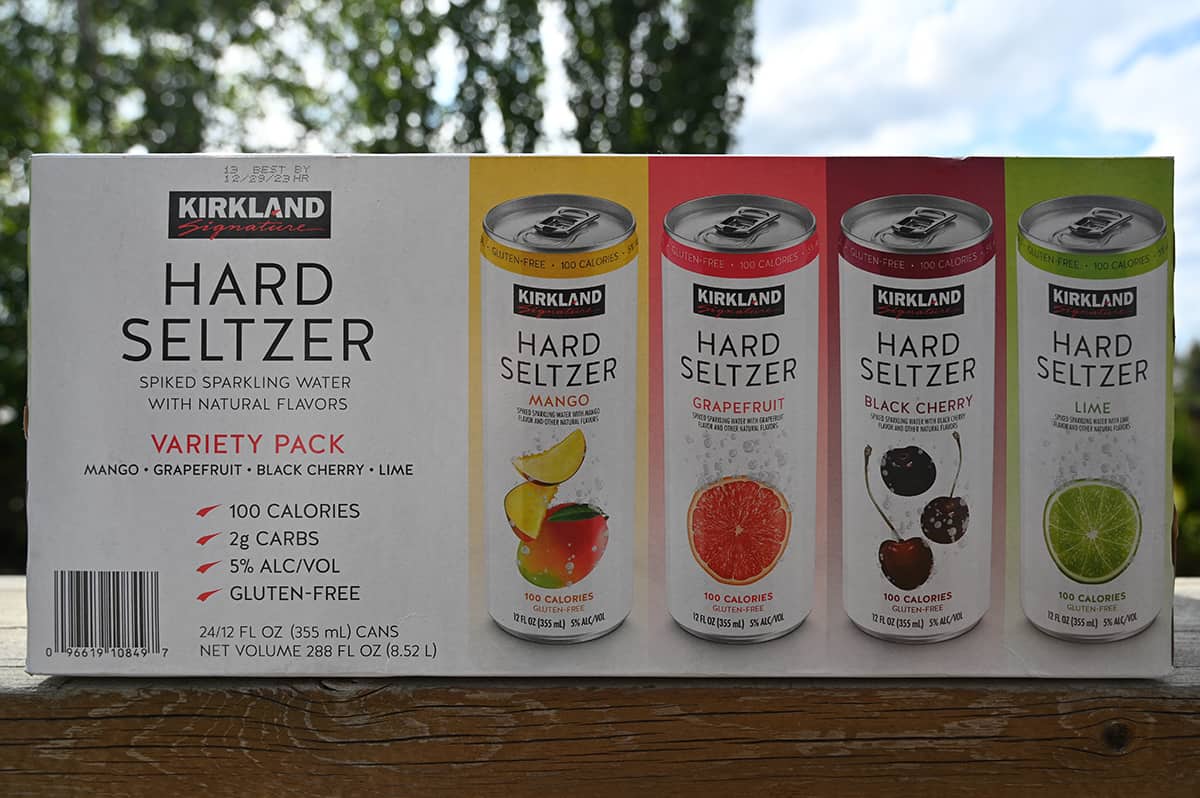 Serving Suggestions
The hard seltzer is ready to drink straight out of the can after being chilled in the fridge. I like it poured over a glass of ice too. Since I've gotten a bit tired of hard seltzer, I've been sprucing mine up a bit by adding an extra half shot of vodka and a splash of fruit juice to make it more like a cocktail.
The fruity flavors of hard seltzer seem to work pretty well for making cocktail-like drinks. Aside from adding extra alcohol, things like muddled fruit, grenadine, cucumber, rosemary and mint could make interesting additions depending on which flavor you're trying to dress up!
Nutrition
Calories
One 355-milliliter can contains 100 calories, zero grams of fat, 10 milligrams of sodium, two grams of carbohydrates, two grams of sugar and zero grams of protein. These hard seltzers are low in sugar and carbohydrates. The calories aren't bad either. Of course, they're empty calories!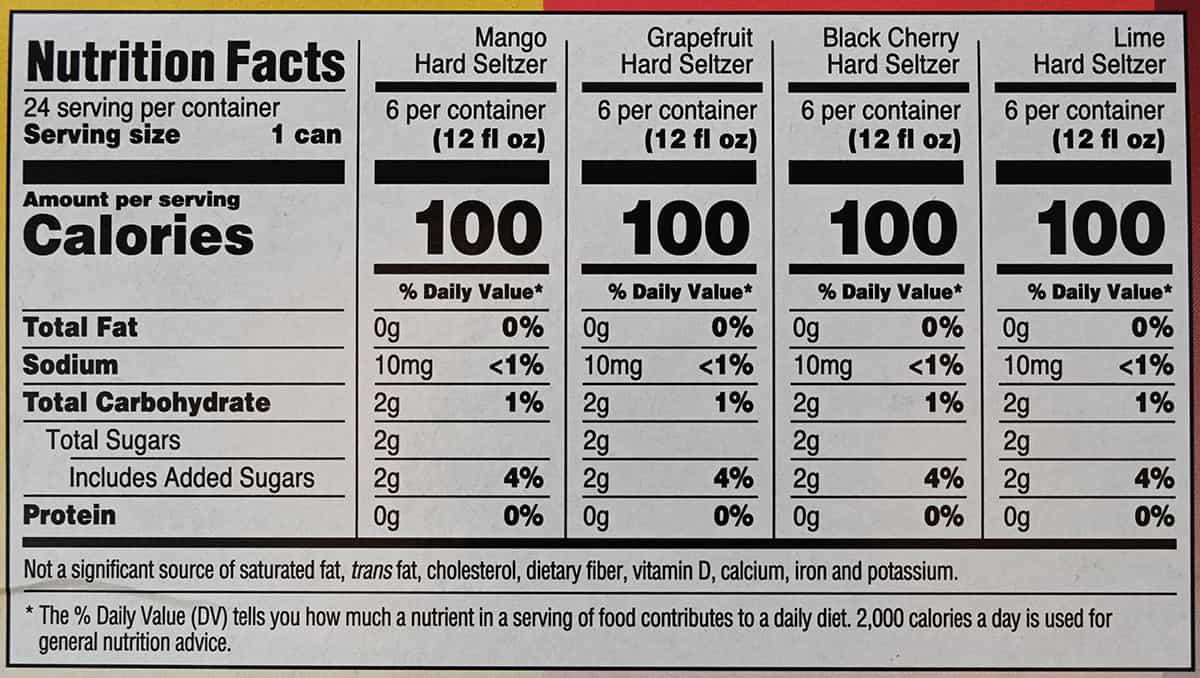 Ingredients
The alcohol used in the Kirkland Signature Hard Seltzer isn't a typical liquor like vodka, rum or gin. It's basically just pure alcohol. It has a mild alcohol flavor and is made from the fermented sugars that come from the fermentation process of gluten-free grains.

Scoring
Taste: 8.5/10
Cost: 8/10
Overall
Must buy if you like hard seltzer!
The bottom line is that these hard seltzers are as good as any brand I've tried, and I've tried quite a few! They're also a great deal.
Have you tried these Kirkland Hard Seltzers? What did you think of them?
---
Please note that this review was not paid for or sponsored by any third party. This product was purchased by Costcuisine for the purpose of producing this review. The opinions in this review are strictly those of Costcuisine. Costcuisine is not affiliated with Costco or any of its suppliers. In the event that Costcuisine receives compensation for a post from the manufacturer of a product or some other third party, the arrangement will be clearly disclosed (including where the manufacturer of a product provides Costcuisine with a free sample of the product).