Someone asked how I stay organized all week!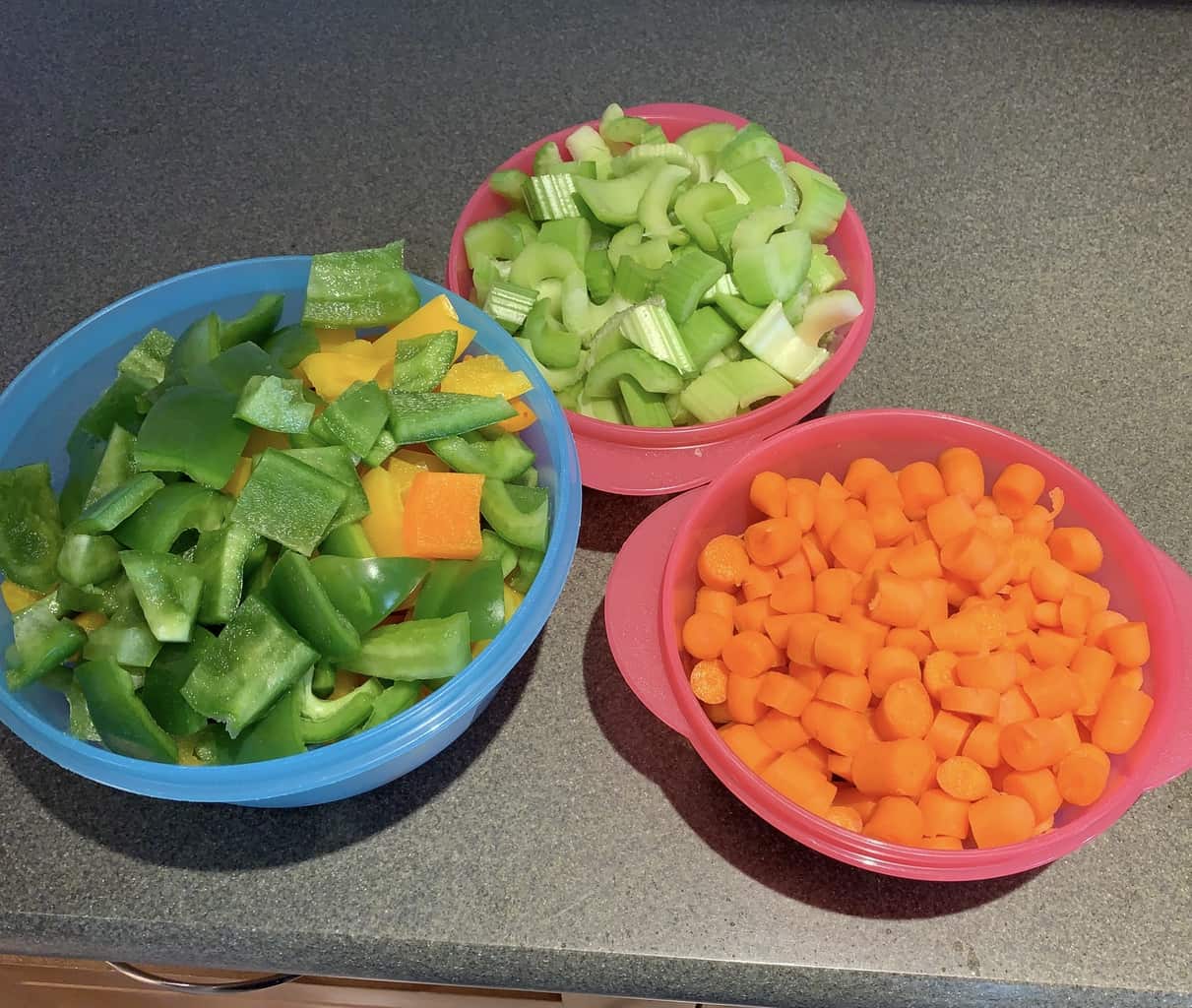 I received a request to do a blog post on how I stay organized during the week working full time and feeding a hungry, hungry husband! First of all I'll say it was a huge adjustment going from feeding myself to my husband and I but now it's just part of my routine!
Meal Planning
I have weeks where I have a million different ideas for meals and then weeks where my mind goes blank. In my opinion, meal planning is the hardest part about staying organized in regards to meals. I generally try to plan all of our meals for the entire week. I leave out one dinner a week assuming that we'll eat out (on the weekends). I've found that the easiest way to make meal planning simple is by being okay with eating the same foods and meals! We definitely don't eat the same meal every single day but there's months where we'll have the same meal three times in the month. This saves mental energy and also increases efficiency! Have you ever noticed how you're slower the first time you make a new recipe and after you've made it five times it takes a lot less time? By eating the same meals I also find we're able to maintain our weight pretty well despite eating tons of treats on the weekend. Although we eat a lot of salads I don't ever feel unsatisfied because we add fruit, nuts, avocado and meat to the salads. They're very filling!
A weekday meal planning list from Costco might look like this:
Monday- Costco Kirkland Signature Mediterranean Pasta Salad
Tuesday- Costco Eat Smart Sweet Kale Super 7 Foods Berry Salad
Wednesday- Kirkland Signature Quinoa Salad from Costco
Thursday – Costco Eat Smart Sweet Kale Super 7 Foods Apple Pear Salad
Friday- Costco Taylor Farms Baja Chopped Salad Kit Taco Salad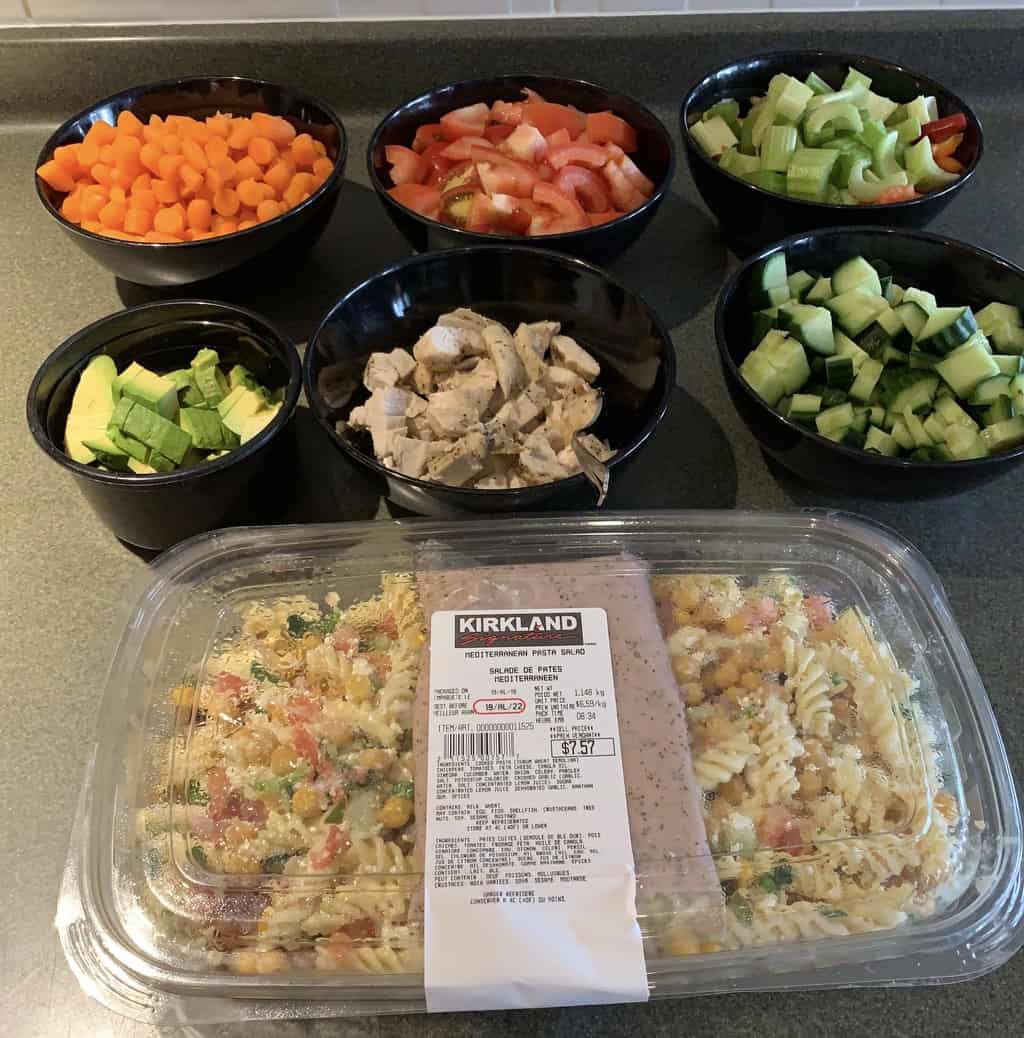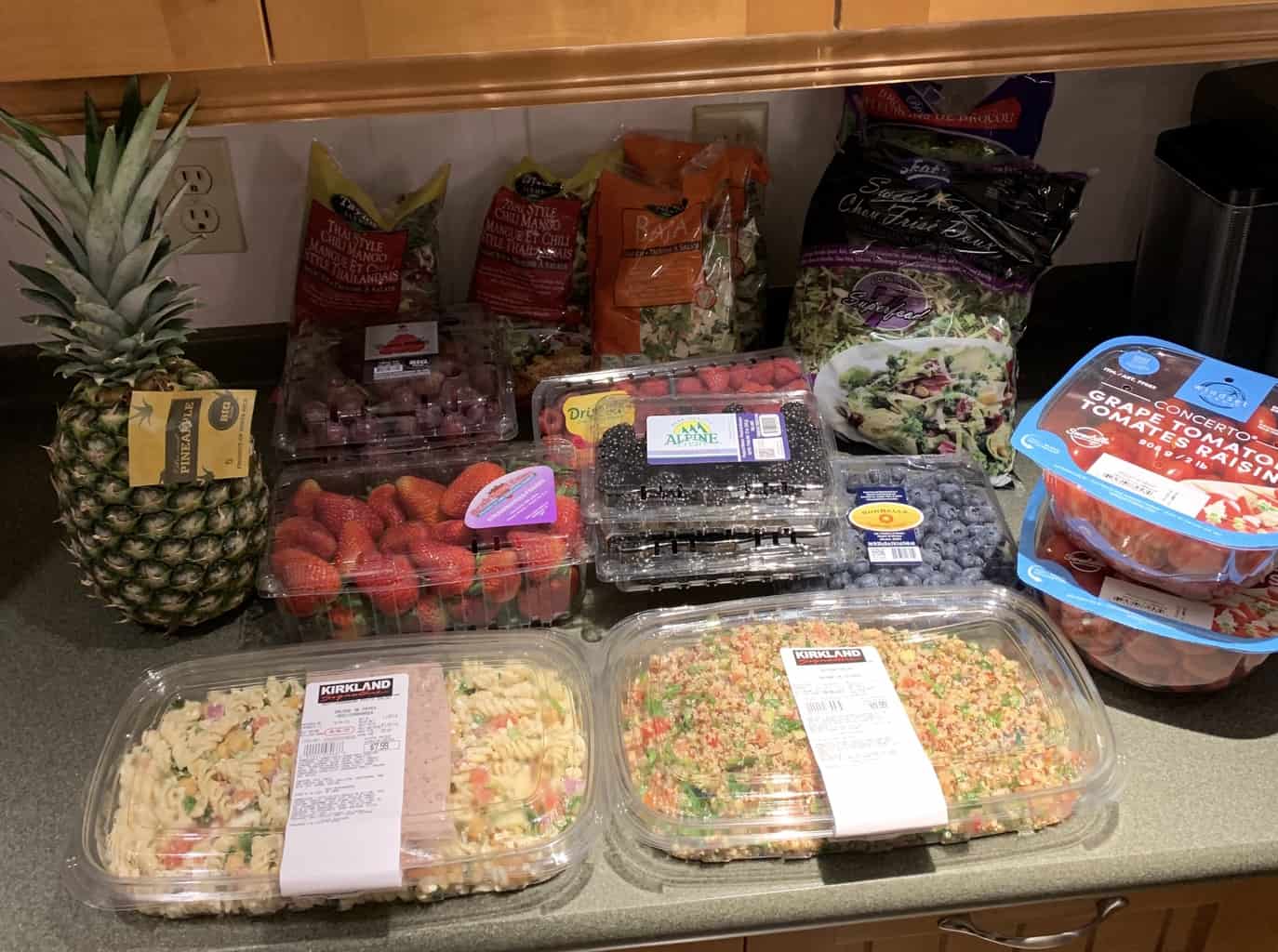 Grocery Shopping
I find it's easy to eat meals like this because they use a lot of the same ingredients. For example, my shopping list might look like this:
– Bell Peppers
– Almonds
– Strawberries/blueberries (can use them in lunches too)
– One apple
– One pear
– Avocados
– 1 can of black beans a corn
– Celery (used in my lunches too)
– Carrots (also in my lunches)
– Cucumber
– One pack of Costco Kirkland Signature Ground Turkey
– One can of chickpeas
– One package of Kirkland Signature Boneless Skinless Chicken Breasts
– Two Eat Smart Sweet Kale Seven Superfoods Salad Kits.
– One Costco Kirkland Signature Quinoa Salad
– One Costco Kirkland Signature Mediterranean Salad
– Two small cans of mandarin oranges or fresh is fine
– Two Taylor Farms Baja Chopped Salad Kits
Meal Prep
There are a few key things I'd like to point out, first of all, it takes a while to get used to trying to be organized and meal prep. If you're generally someone who is very flexible and will decide what to eat for dinner when they stop at the grocery store each night, you may find meal prep to be super tedious and not something you're interested in putting your mental energy into. I can have dinner on the table pretty quickly each weeknight by spending a little bit of extra time on Sunday getting everything ready.
My Sunday meal prep looks like this:
1. Bake Chicken for the week
2. Cut all my bell peppers, carrots and celery for the week. I cut the cucumber on the night of and cherry tomatoes.
3. Chop my almonds and put them in the fridge so I can quickly put them in a fry pan to toast them slightly.
4. Wash my blueberries and grapes and also cut my pineapple and put them in a Tupperware.
By doing this all I have to do is basically open up the salads, throw my veggies in and chop my chicken. I don't pre-cut my cucumber, Concerto cherry tomatoes, strawberries, apples or pears because they don't stay fresh as long. On Sunday I also chop up a big pineapple for the week and I always wash my Costco grapes right after I buy them and store them in a big Tupperware. I also make Sean's lunches for the week which is easy because he eats the same thing for lunch Monday-Friday. I strategically put the taco salad at the end of the week so I can make the ground turkey fresh when I have a little more time and usually I snack on Costco Kirkland Signature Que Pasa Organic Tortilla Chips while making taco salad as a Friday treat!
Any questions?! Let me know!