Crackers and cookies aren't things I think of as healthy, but the brand Simple Mills is doing its best to change that! Their Almond Flour Crackers and Sweet Thins use simple, natural ingredients to deliver crackers and cookies that are nutritious and satisfying. These Simple Mills Organic Seed Flour Crackers follow the same approach. Are they good enough to replace traditional crackers in your cupboard and on your next charcuterie board?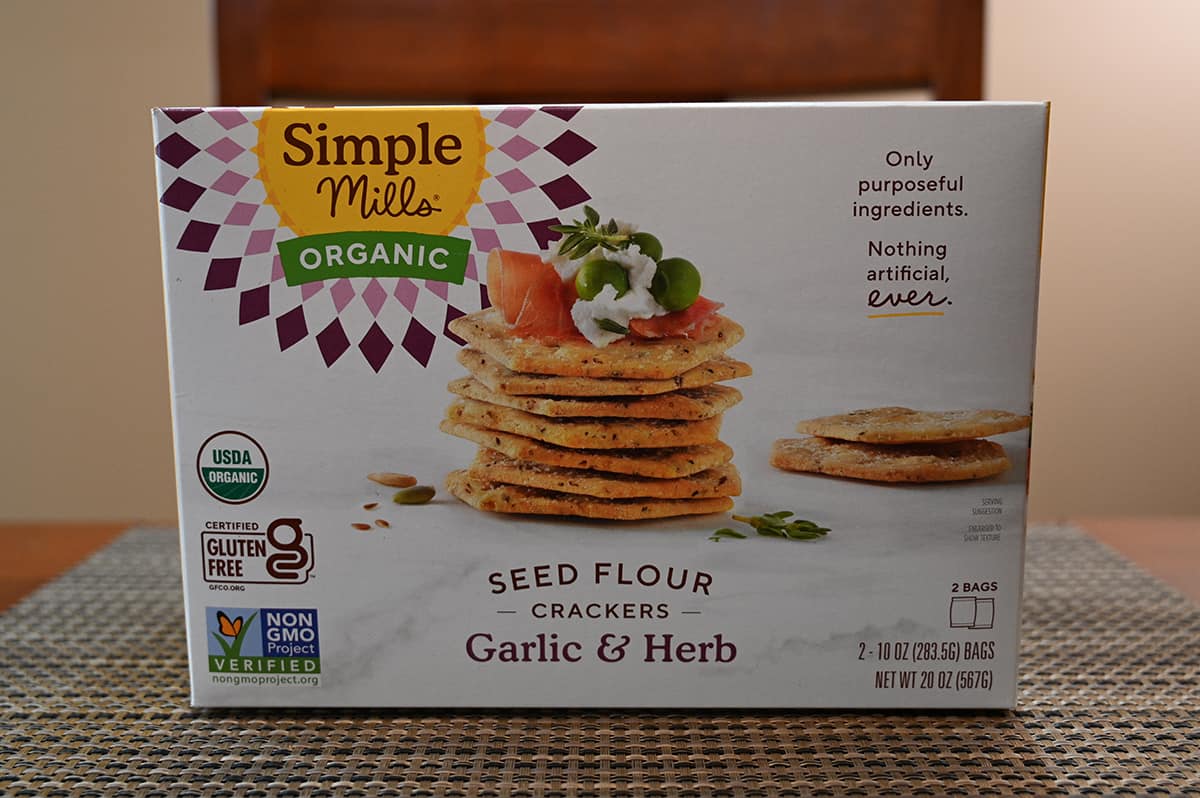 Other snack foods and crackers I enjoy from Costco are the Mary's Organic Crackers, Crunchmaster Multigrain Crackers, Innofoods Garden Crisp Crackers, RW Garcia Organic Crackers, Parm Crisps Snack Mix, Whisps Cheese Crisps and the Kirkland Signature Peanut Butter Pretzels.
Location in Store
I bought these at the Kalispell, Montana Costco and they were in the snack section at the front of the store, near the granola bars and beef jerky. The item number is 1600497.
Taste
I'll start off by saying I prefer the Simple Mills Almond Flour Crackers over these. The garlic & herb flavor of these crackers is pretty strong and some days I want a really flavorful cracker to snack on but a lot of the time I want something a bit milder.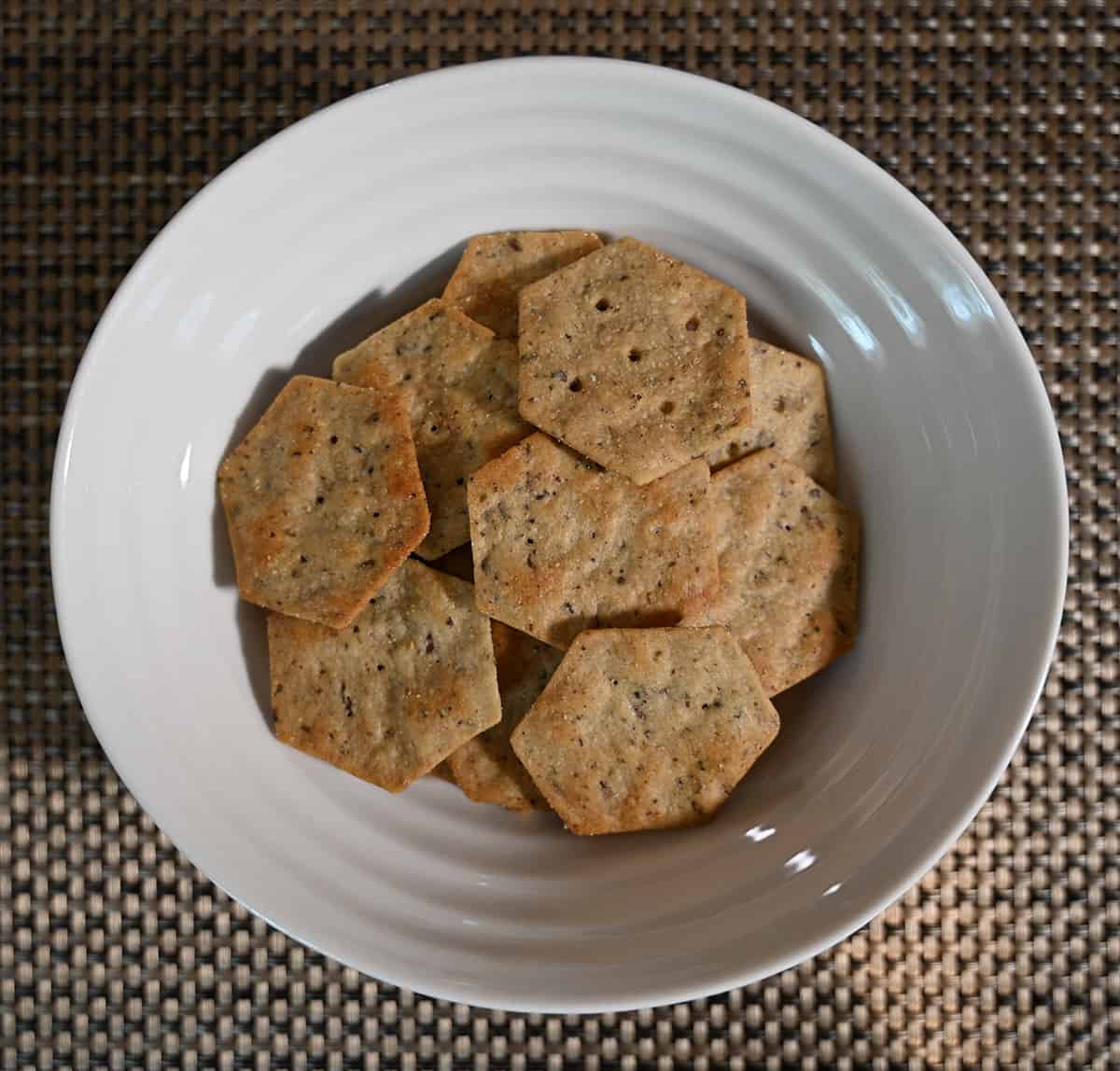 The crackers have a heavy garlic flavor and noticeable hints of onion, rosemary, basil and oregano. They're definitely tasty but I find them really flavorful and only want a few, which might actually be a good thing! They're salty but there's not too much, just the right amount of sea salt.
Although they're gluten-free, they don't taste it! My husband and my mom both had no idea they were eating crackers that were made of cassava and seed flour blend.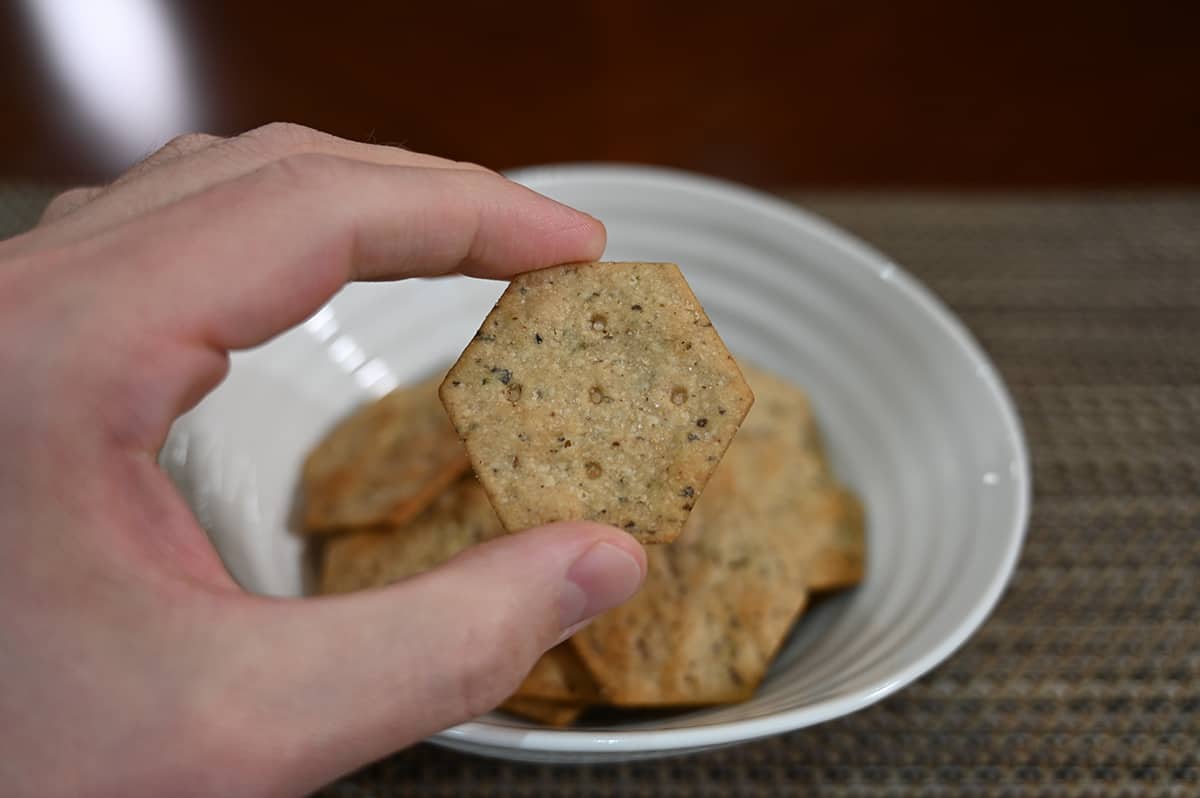 Cost
The 567-gram bag contains two 283.5-gram bags and costs $10.97 USD. That's not bad for a gluten-free product like this, especially considering the crackers are produced using seed flour.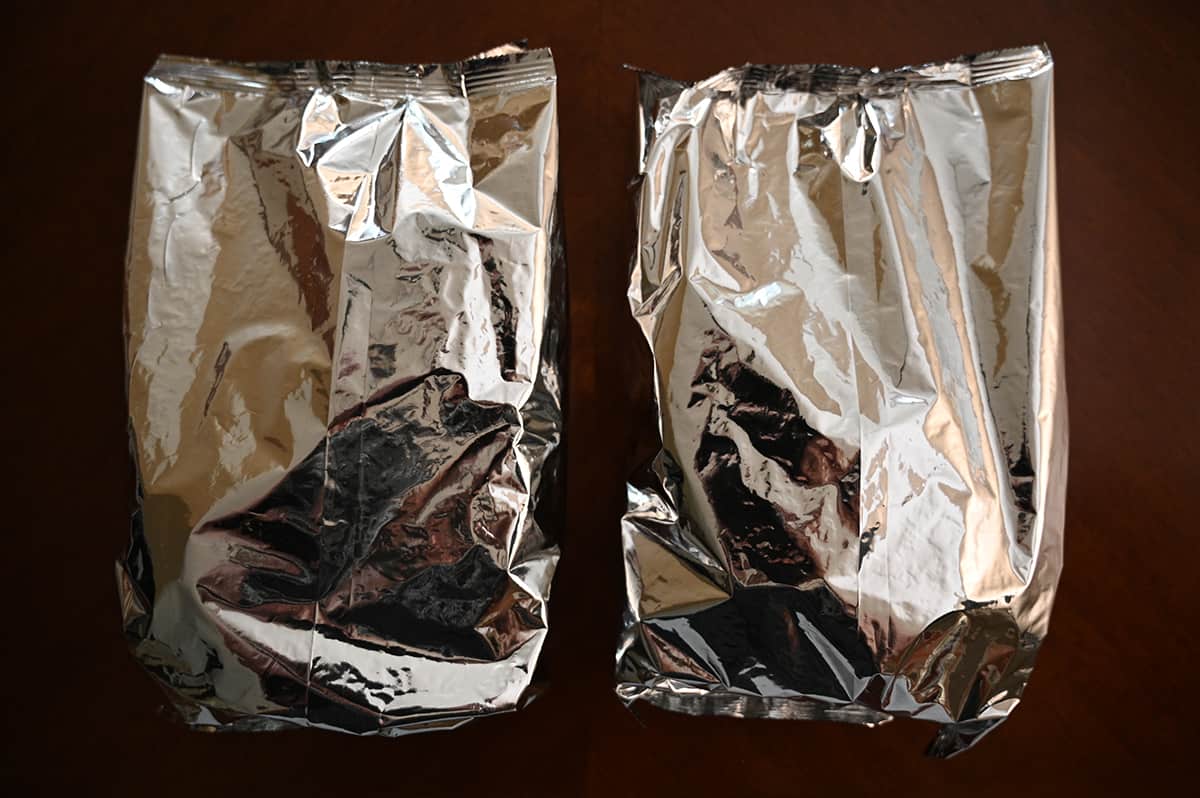 Convenience
Once the bags are opened they do not reseal which is a bit of a pain because I found my crackers went stale quicker than other ones in my cupboard even though I used a clothing pin to seal the bag. This is probably because there are no added preservatives.
The best-before date isn't as long as other crackers either, only just over three months from when I purchased them. As I mentioned before, these crackers are quite flavorful so they won't pair perfectly with every kind of cheese and meat and I feel like they're tasty enough on their own.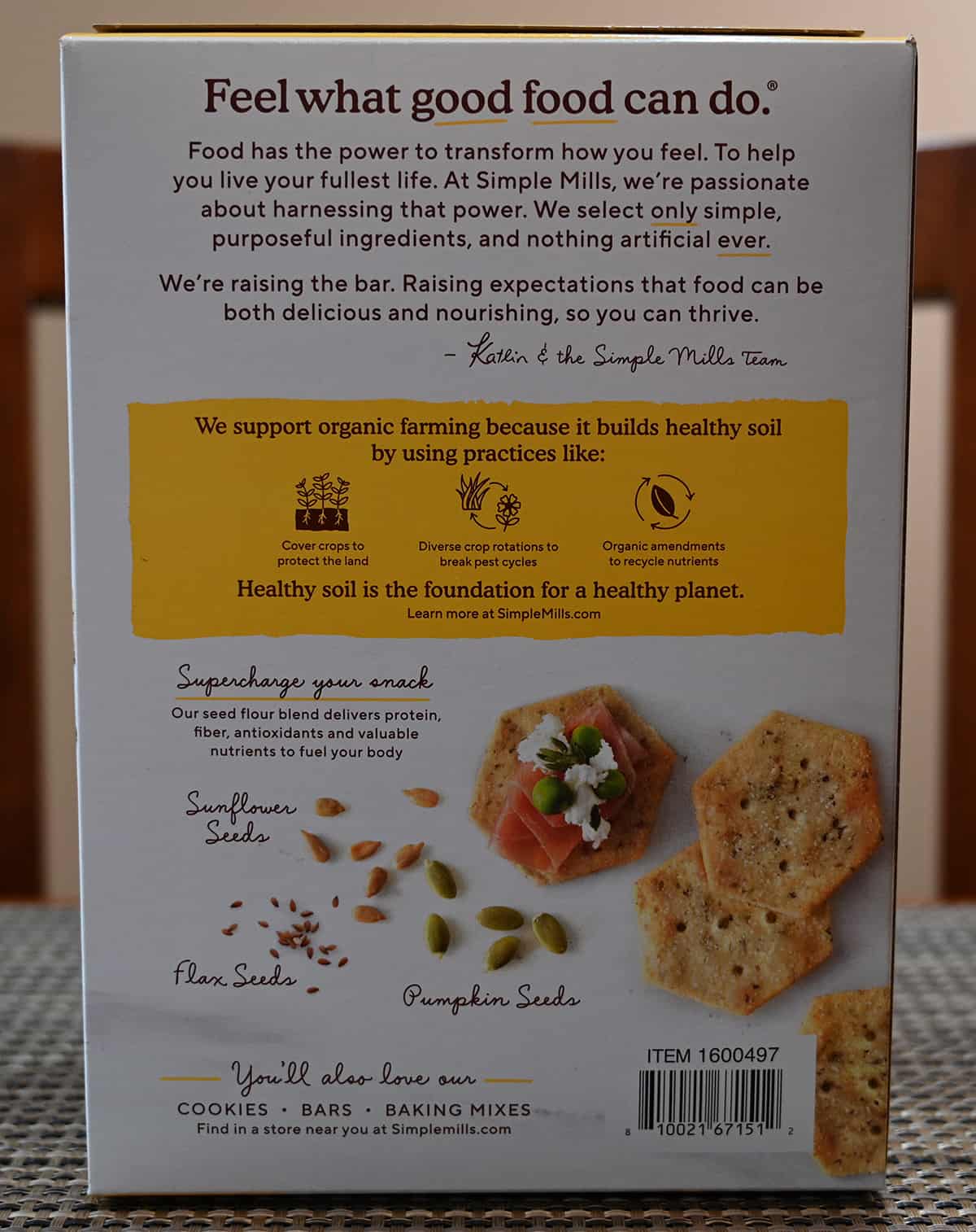 I like them as a snacking cracker but I wouldn't add them to a charcuterie board because I feel like the flavor would overpower and clash with the other ingredients on the board. I also can't think of many dips they'd work well with.
Nutrition
Calories
Nine crackers contain 160 calories, nine grams of fat, 180 milligrams of sodium, 18 grams of carbohydrates, one gram of fiber, zero grams of sugar and two grams of protein. I eat about five as a snack and feel totally satisfied.
Although the calories and fat may seem a bit high, the fat is from the seed flour and it's what helps you feel full and keeps the carbohydrates lower.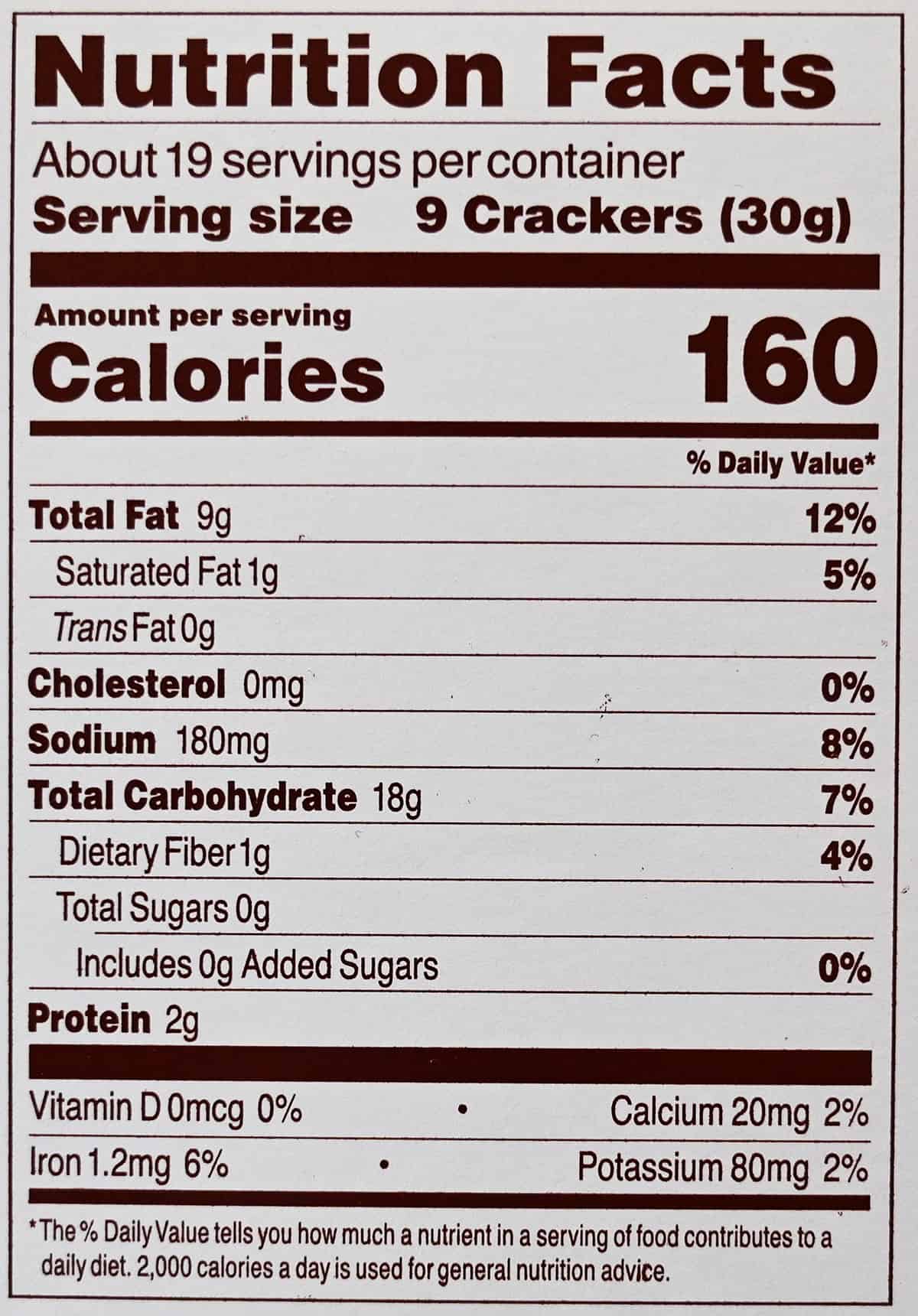 Ingredients
One of the reasons why I love Simple Mills products is because of the clean ingredients! I genuinely feel good about eating these crackers. If you're thinking Simple Mills is sponsoring me or giving me free product, the answer is no, I wish!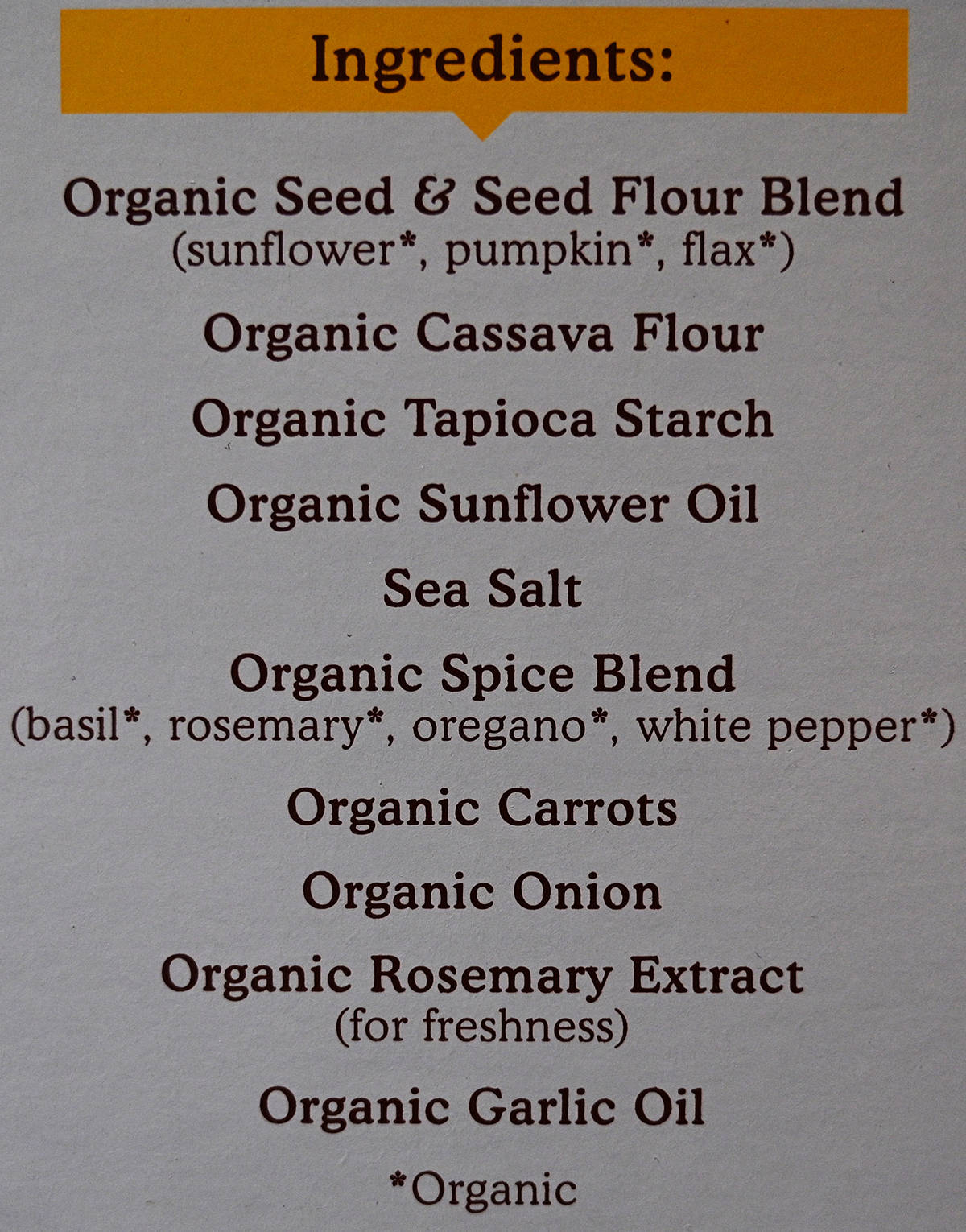 These are gluten-free, organic, Non-GMO certified, plant-based, soy-free and dairy-free! They also don't have any preservatives which is why they expire sooner.
Scoring
Taste: 7.5/10
Cost: 7.5/10
Convenience: 10/10
Nutrition: 8/10
Overall
Give it a try!
I won't be buying these again because I like the plain sea salt almond flour crackers by Simple Mills better but I definitely didn't dislike these. They're great for someone who likes garlic and a really flavorful cracker!
Have you tried Simple Mills products? What do you think of them?
---
Please note that this review was not paid for or sponsored by any third party. This product was purchased by Costcuisine for the purpose of producing this review. The opinions in this review are strictly those of Costcuisine. Costcuisine is not affiliated with Costco or any of its suppliers. In the event that Costcuisine receives compensation for a post from the manufacturer of a product or some other third party, the arrangement will be clearly disclosed (including where the manufacturer of a product provides Costcuisine with a free sample of the product).