This Pulmuone Beef Japchae is the third noodle-based dish that I've reviewed from the company. They all share very similar packaging, though this one can't be cooked in the microwave like the Teriyaki Stir-Fry Udon and Pad Thai. In terms of taste, the Pad Thai was terrible while the Teriyaki Stir-Fry Udon was pretty good. Is this Beef Japchae worth trying, or should you avoid it?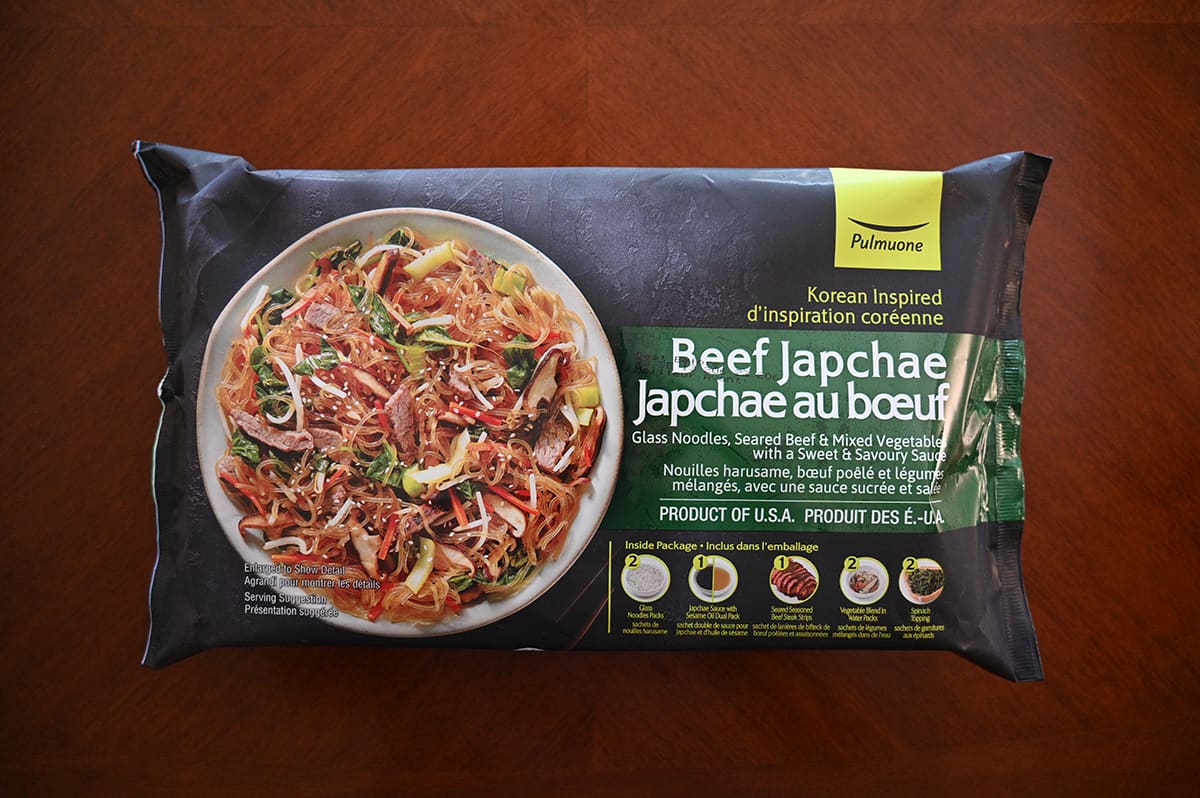 Other similar convenient noodle products from Costco are the Zinetti Internationals Dan Dan Noodles, Kirkland Signature Chicken Chow Mein, Ajinomoto Tokyo Style Shoyu Ramen with Chicken, Ajinomoto Vegetable Yakisoba, Lotus Foods Millet & Brown Rice Ramen and the Authentic Asian Hand Wrapped Shrimp Wonton Soup.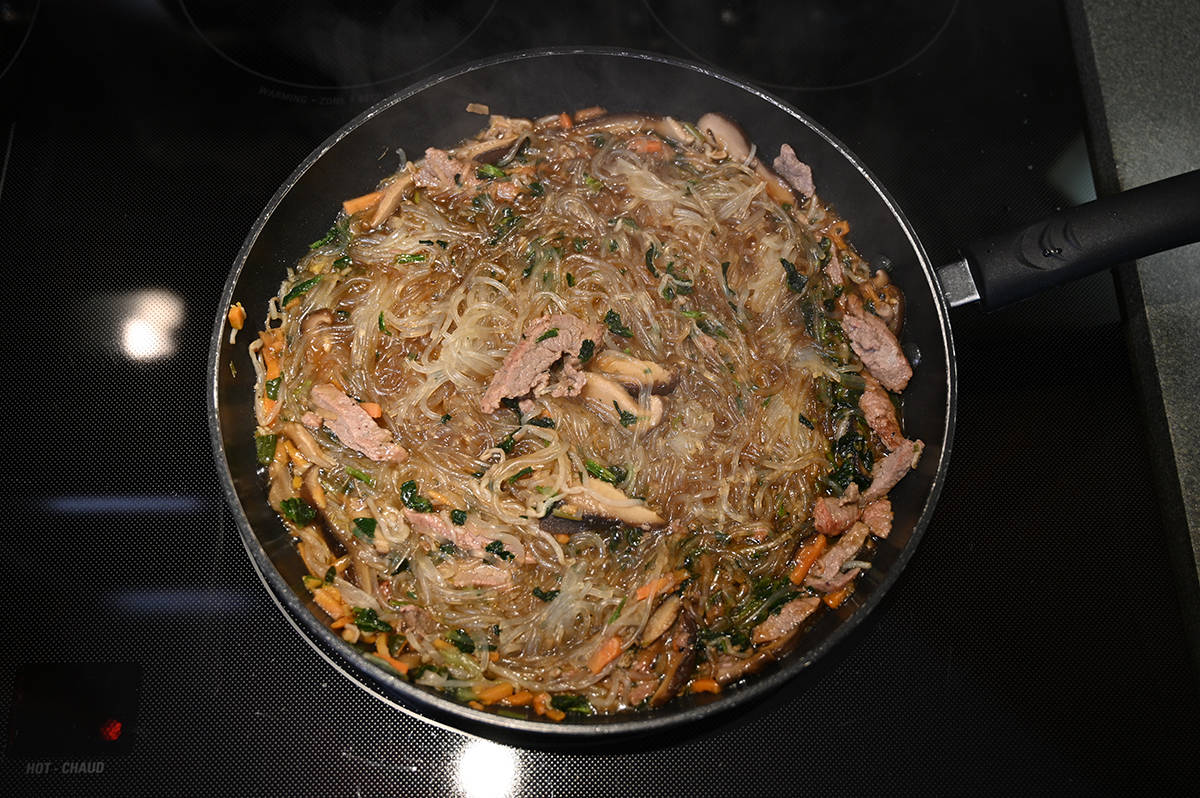 Location in Store
This is located in the refrigerated section at Costco, near the sauerkraut, fresh pasta and quiche. The item number is 1603366.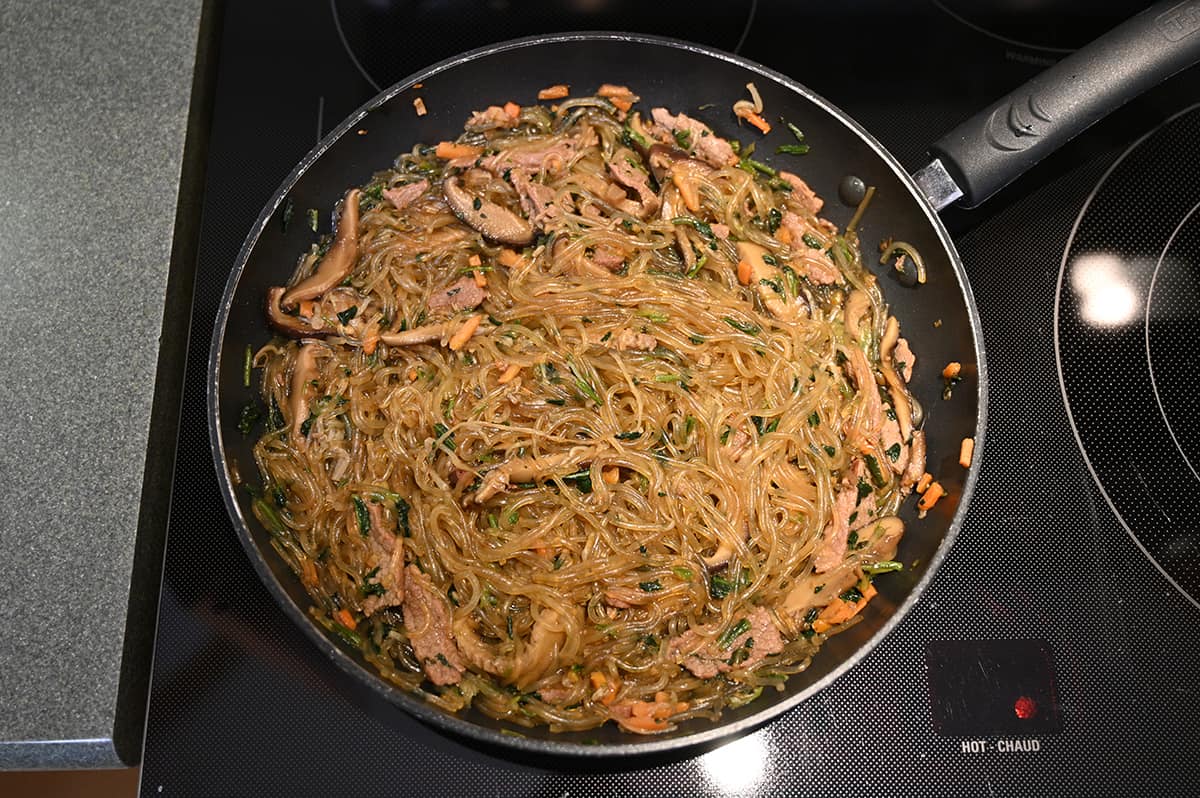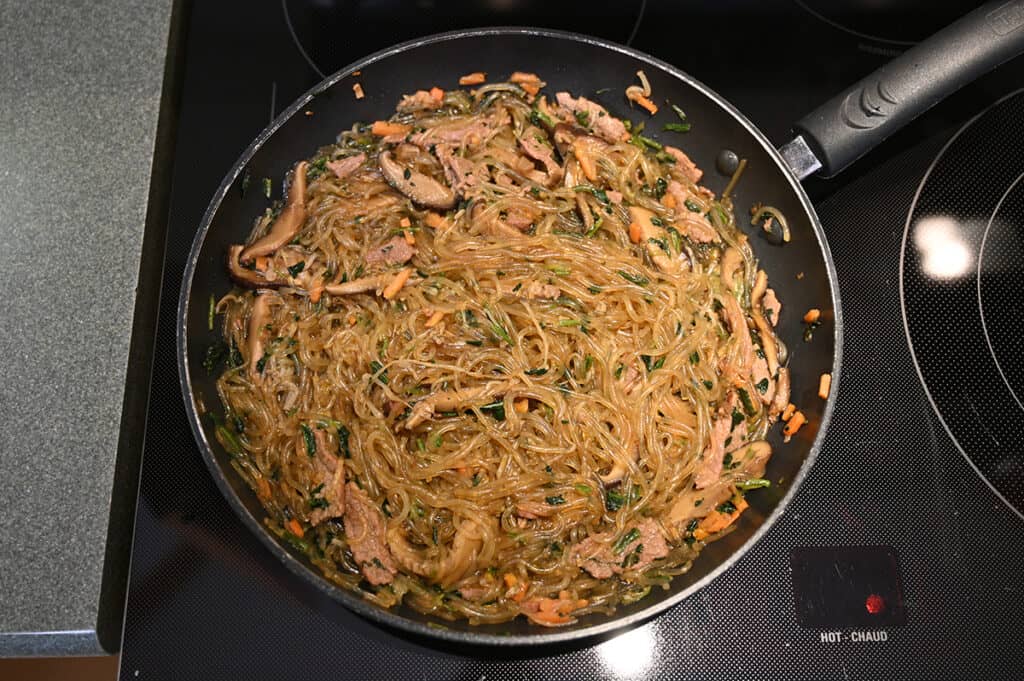 Taste
There are positives and negatives about this beef Japchae. I'll start with the positive. The flavor and texture of the glass noodles is good. They're seasoned well and have tasty soy, garlic and sesame notes. They're very salty-tasting, which I actually like when it comes to noodle dishes. The saltiness explains why the sodium is so high.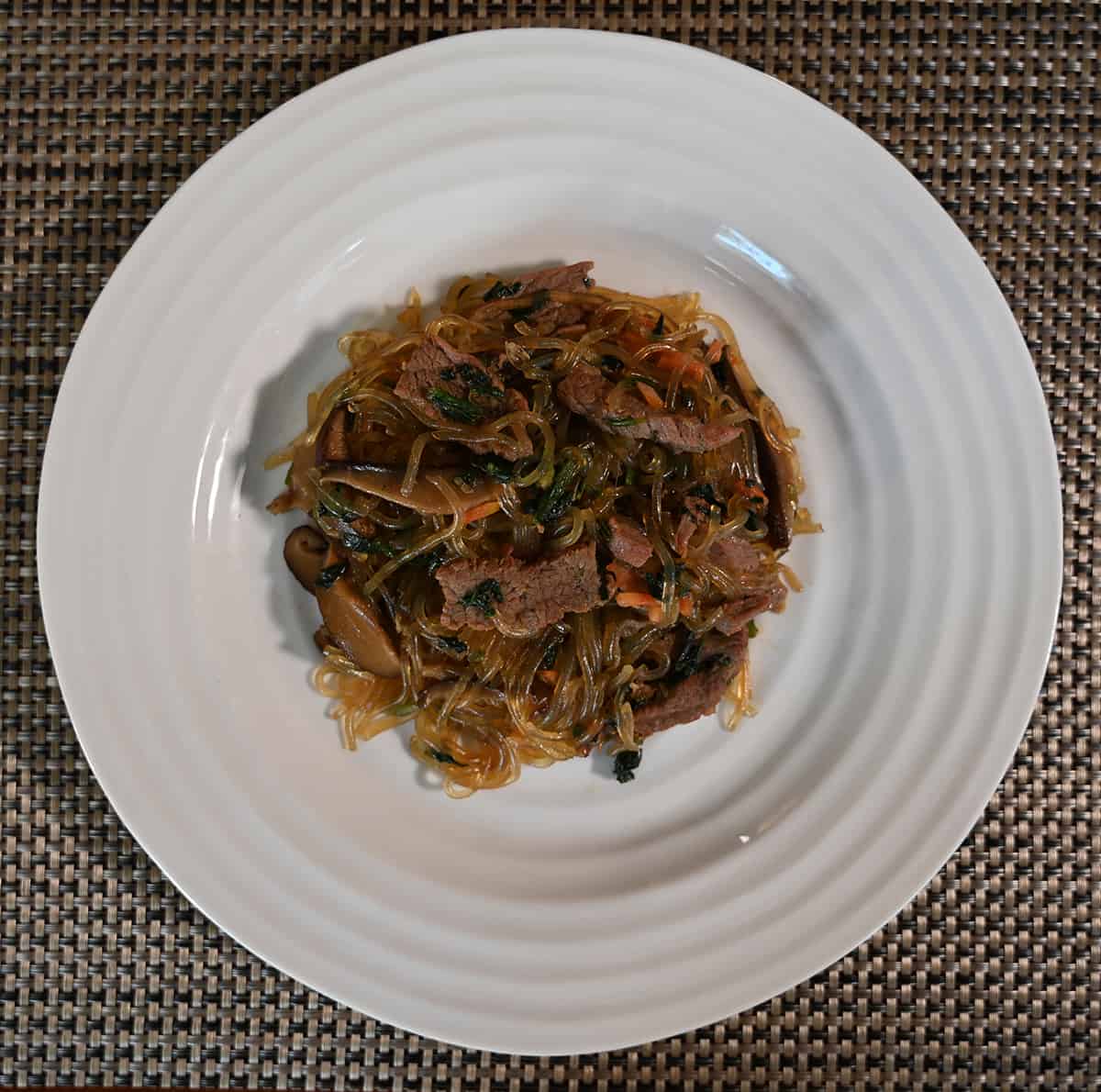 Unfortunately, the noodles are the only good part of this Pulmuone meal. The beef is entirely inedible. It tastes old, it's very tough and chewy and basically is just pure gristle. At least that's how the meat was in my pack.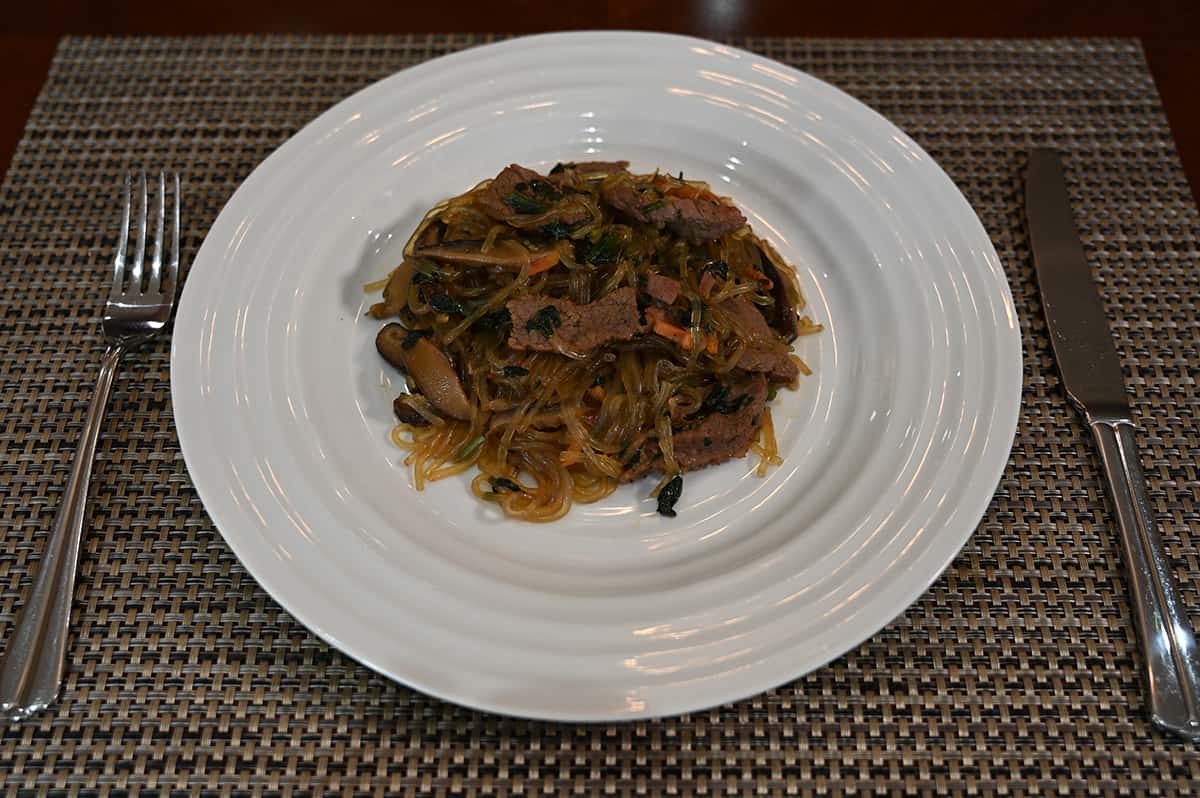 The vegetables are barely noticeable, there are not very many in the pack and if the beef was better I'd go ahead and add my own vegetables to the dish. The vegetables I notice most are mushrooms and carrots but there really aren't many. The spinach topping doesn't really add anything to the dish.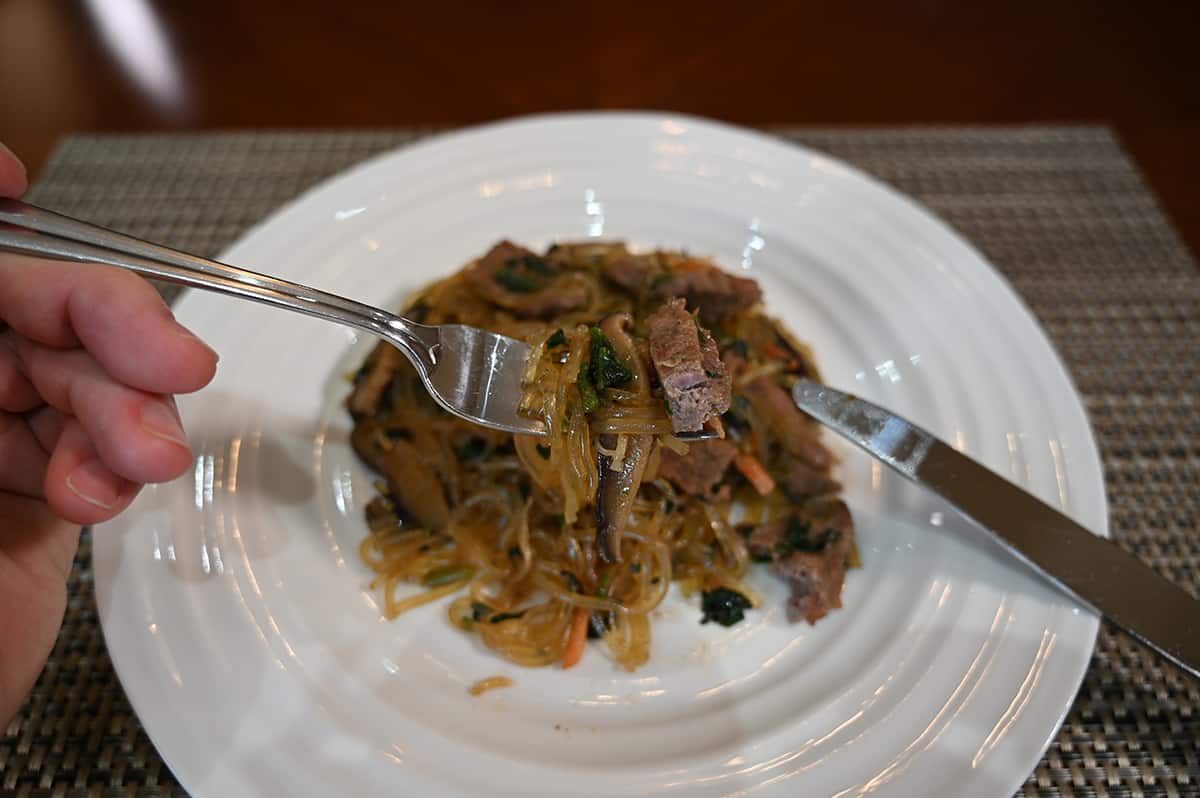 The overall main flavor of the dish comes from the sesame oil. I wanted to like this because I've had Japchae noodles in the past and enjoy them but I can't justify spending the money on just noodles when the rest of the dish isn't great.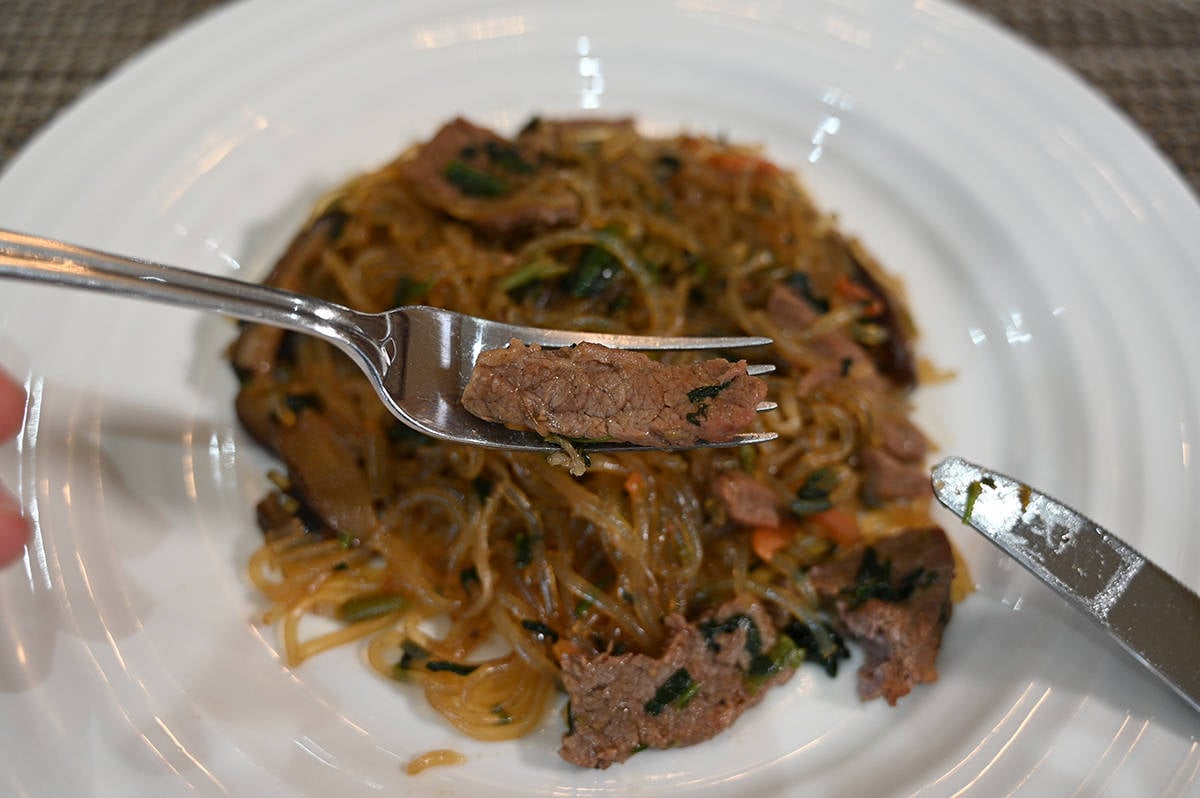 Cost
This is way overpriced at $18.49 Canadian. It's slightly convenient yes but convenience only goes so far when only part of the meal tastes decent.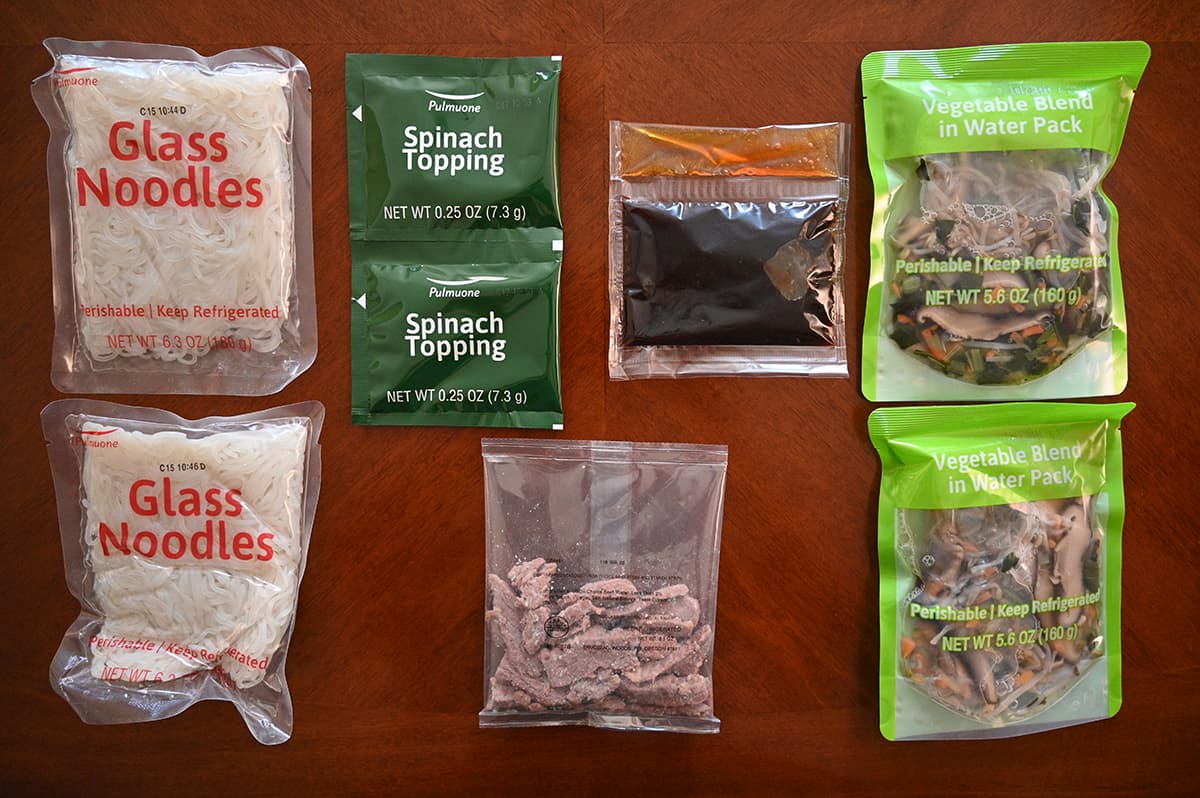 Convenience
I actually don't find this meal as convenient as you'd think it would be! All of the ingredients are supplied but it actually takes a bit of time and effort to prepare.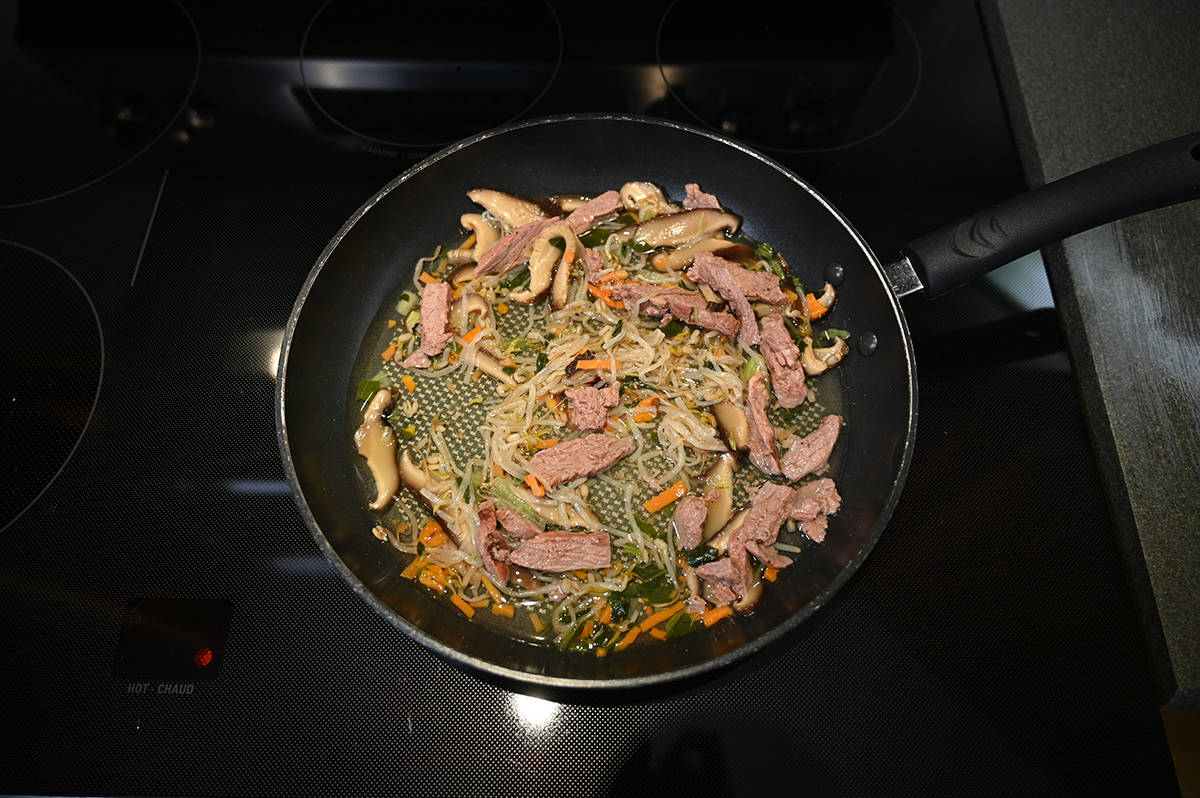 The meal includes two glass noodle packs, one Japchae sauce with sesame oil dual pack, one pack of seared seasoned beef steak strips, one vegetable blend in water pack and two spinach topping packs.

The cooking instructions have a bunch of different steps and the ingredients go in the pan at specific times. It's not as easy as just microwaving it or throwing everything in a pan and heating it.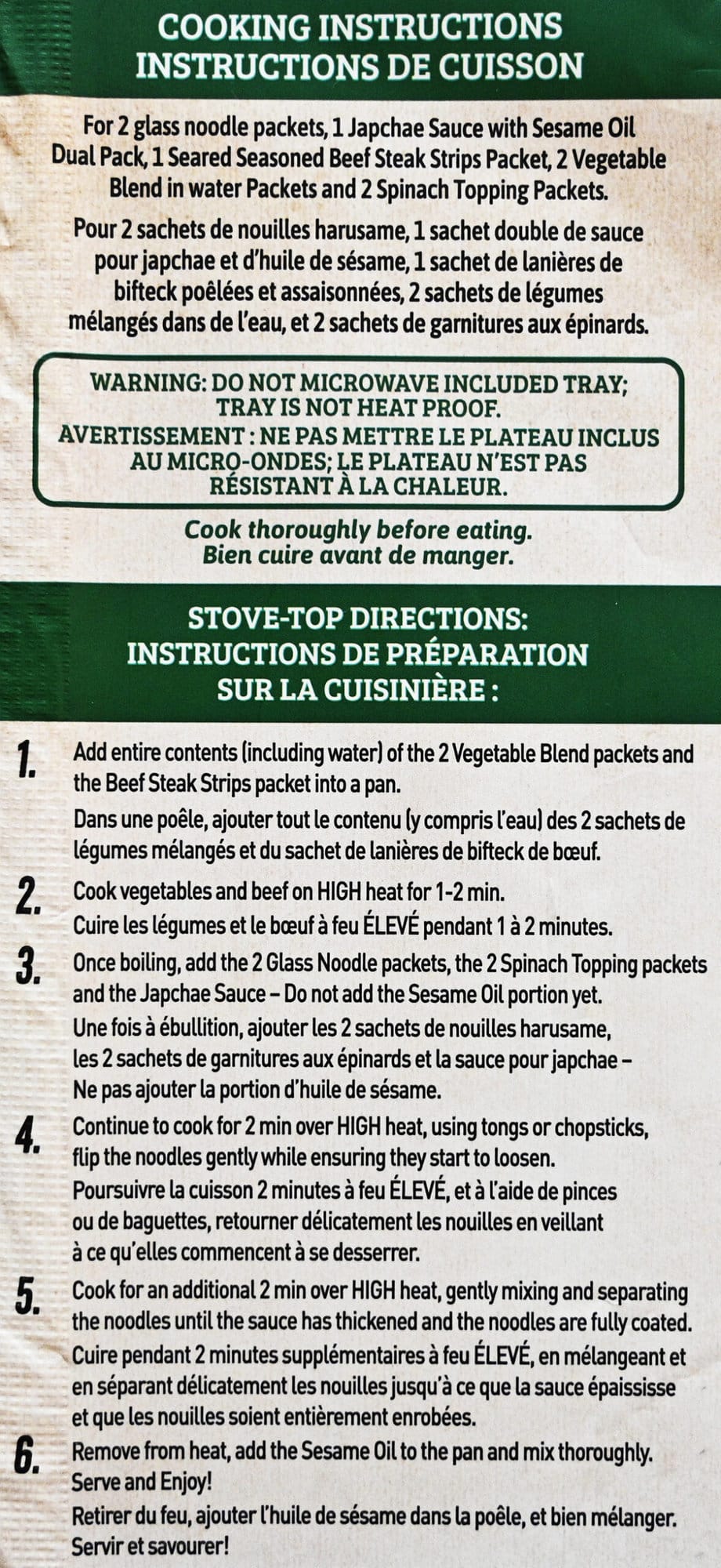 It took me about fifteen minutes from start to finish to cook the beef Japchae. The Japchae needs to be kept refrigerated and the best-before date is a little over a month from when we purchased it.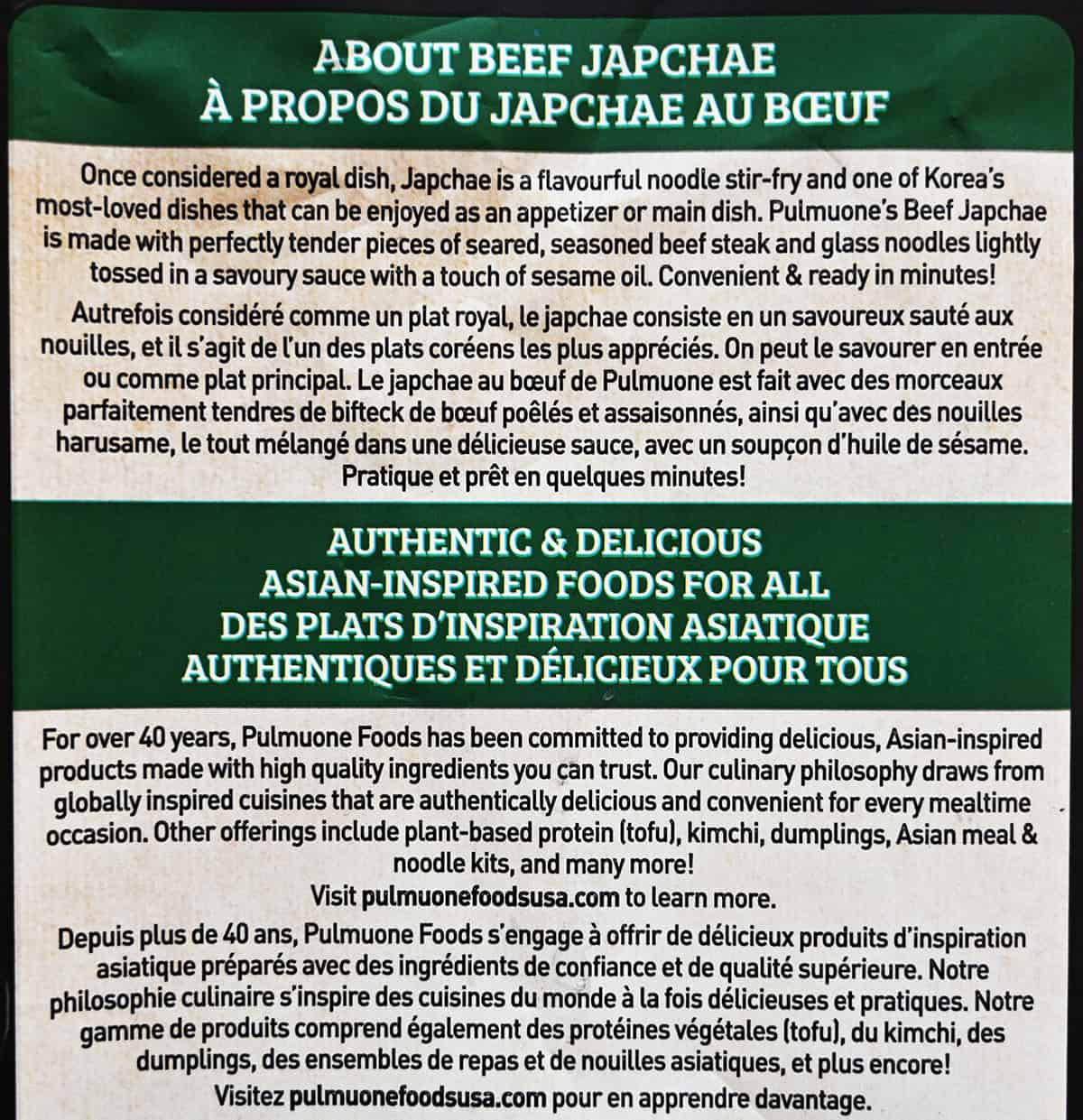 If the beef was better I'd consider adding my own vegetables to this to increase the volume and make it a bit healthier.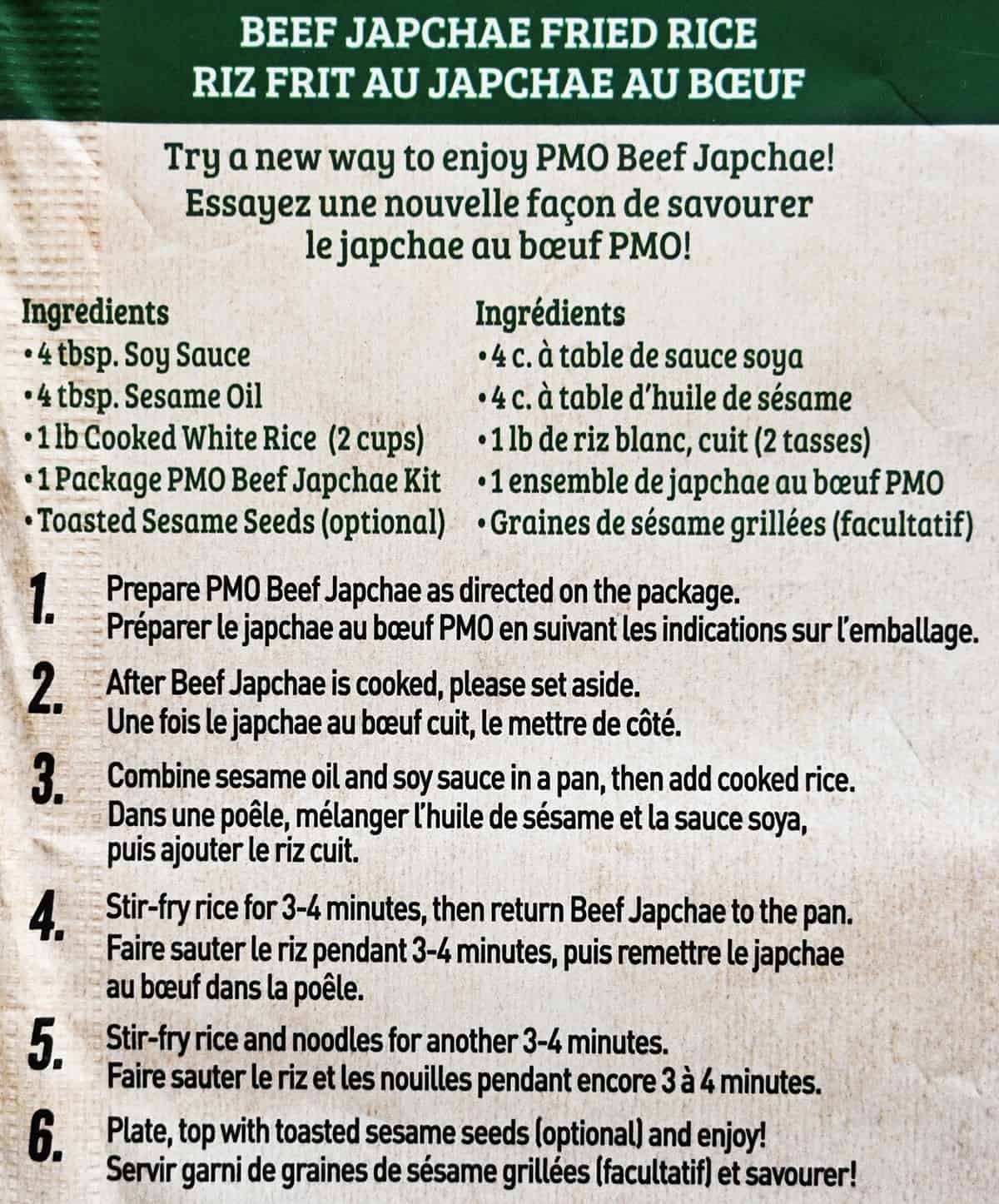 Nutrition
Calories
A 300-gram or 1 and 2/3 cup serving contains 300 calories, six grams of fat, 53 grams of carbohydrates, two grams of fibre, 13 grams of sugar, seven grams of protein and 1010 milligrams of sodium.
That's proof right there that there's not a ton of beef in the dish, not that I want more of the beef but if they weren't skimping on it there would be more protein in the Japchae. The amount of sodium is also extremely high and I don't love the 13 grams of sugar.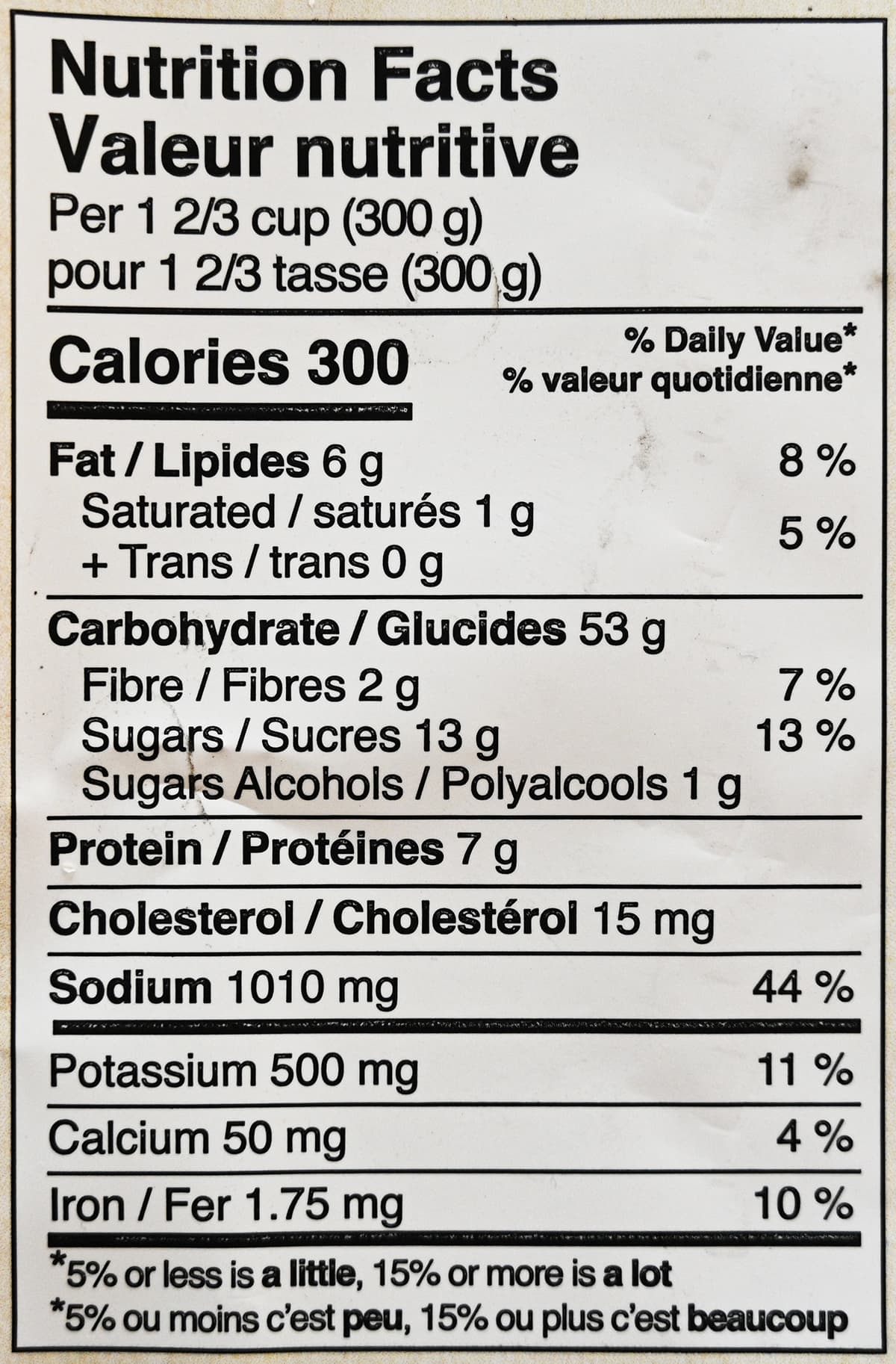 Ingredients
There are lots of preservatives and chemical-sounding ingredients in the Japchae. The dish contains soy, wheat and sesame. If you make this dish from scratch at home you'd be saving yourself lots of unnecessary ingredients and I guarantee it would taste better!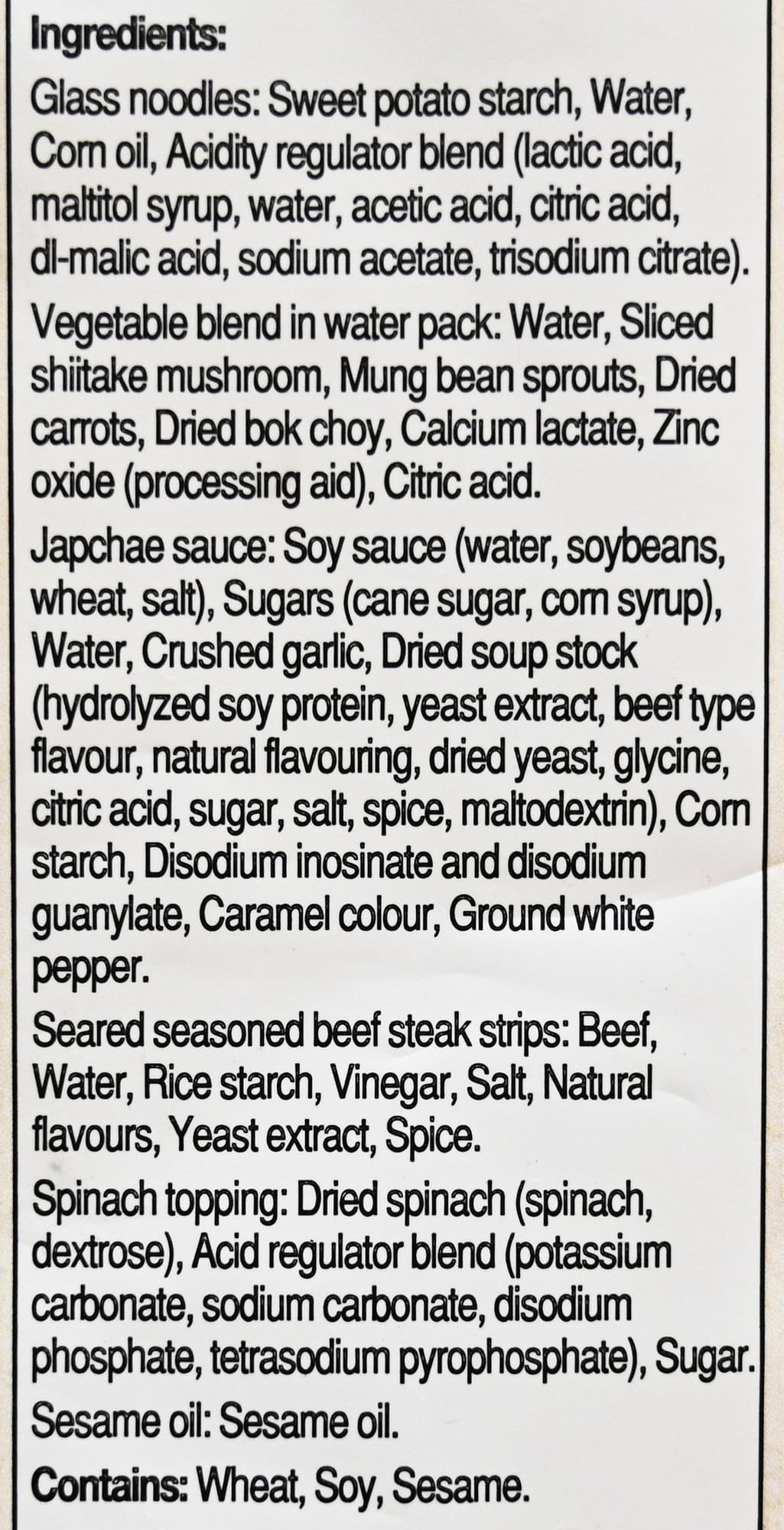 Scoring
Taste: 5.5/10
Cost: 4/10
Convenience: 7/10
Nutrition: 3/10 (A few points for the vegetables).
Overall
Walk on by!
There are better convenient meal options available at Costco than this. Even though I like the flavor and the noodles it isn't worth the cost.
If you've tried this, what did you think of it? Leave a comment below!
---
Please note that this review was not paid for or sponsored by any third party. This product was purchased by Costcuisine for the purpose of producing this review. The opinions in this review are strictly those of Costcuisine. Costcuisine is not affiliated with Costco or any of its suppliers. In the event that Costcuisine receives compensation for a post from the manufacturer of a product or some other third party, the arrangement will be clearly disclosed (including where the manufacturer of a product provides Costcuisine with a free sample of the product).